There's plenty of amazing eats for foodies in Edinburgh. From the city's only whisky distillery, to a visit to Stockbridge for a food market and delicious cake to a new restaurant that serves up amazing North sea crab with butter and a divine char siu bao with a twist, there's plenty to eat in Edinburgh!
10am: Explore Stockbridge
Stockbridge is in the North of Edinburgh and if you happen to want to explore an area just outside the main downtown area, then it is well worth a visit. We timed our visit to coincide with the Stockbridge Sunday markets.
Sunday morning is a sleepy time in Stockbridge and even the markets only get started at 10am. It's a small outdoor market with a focus on Scottish and local producers whether it be cashmere, bread, charcuterie or cheese. There are also stands selling paella or pastries but the hot food offerings start closer to lunchtime.
After walking around the markets we pop down St Stephen's passage to a bakery and coffee shop called Lovecrumbs. The cake display is impossible to resist.
They're wholesome and freshly baked. My violet petal tea matches perfectly with the pink Persian Love cake made with rosewater and pistachios.
Lovecrumbs: 22 St Stephen St, Edinburgh EH3 5AL, United Kingdom. Monday & Tuesday closed. Wednesday to Friday 11am–6pm, Saturday & Sunday 10am–6pm.
12pm: Sunday Brunch At The Arches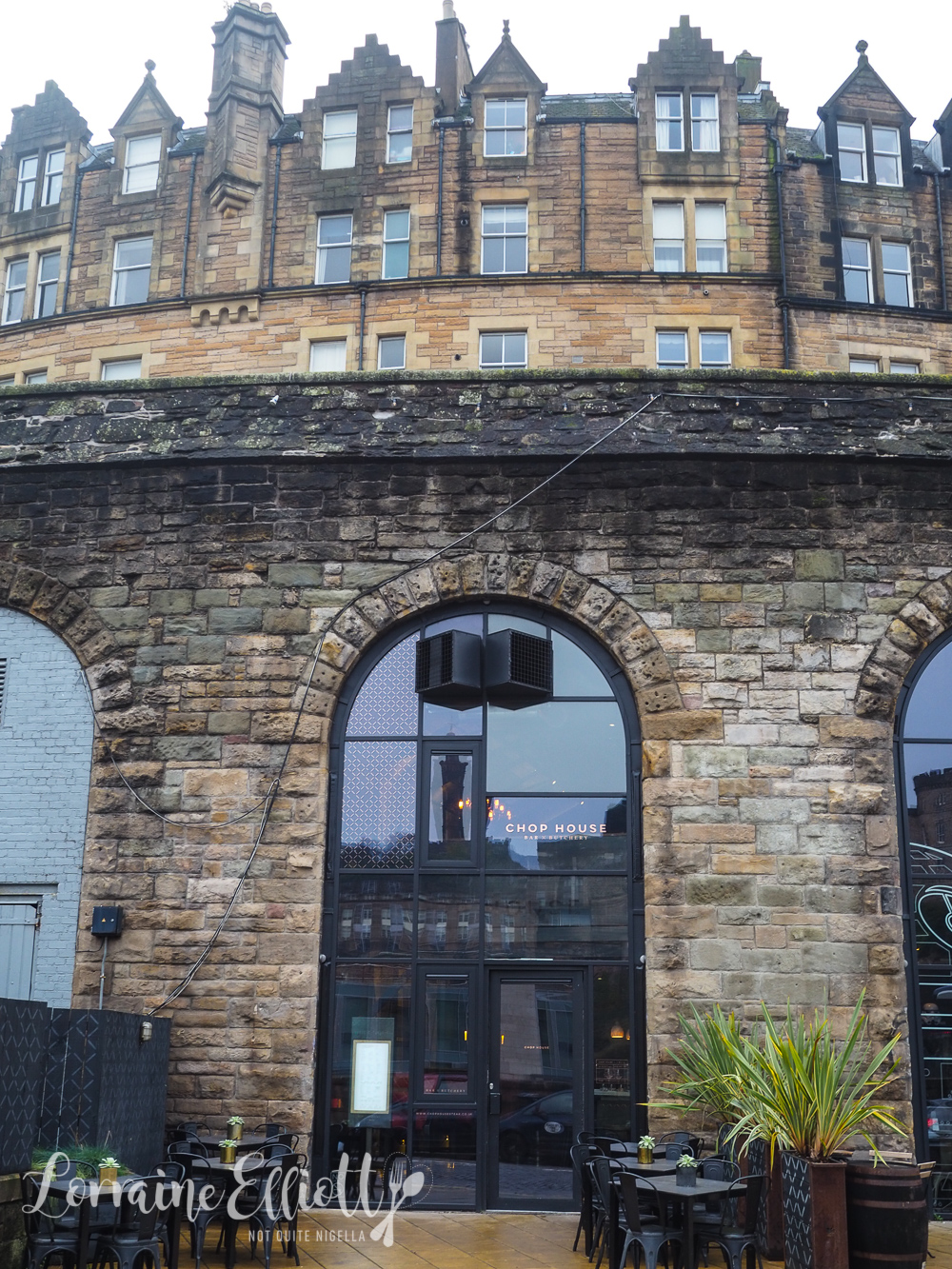 For a hearty Sunday brunch Scottish style head back into town to The Arches on East Market Street to The Chop House.
Start with their fabulously good Bloody Mary-they will make it to the spice level that you desire. They come with a rasher of crisp bacon and half a quail egg on top.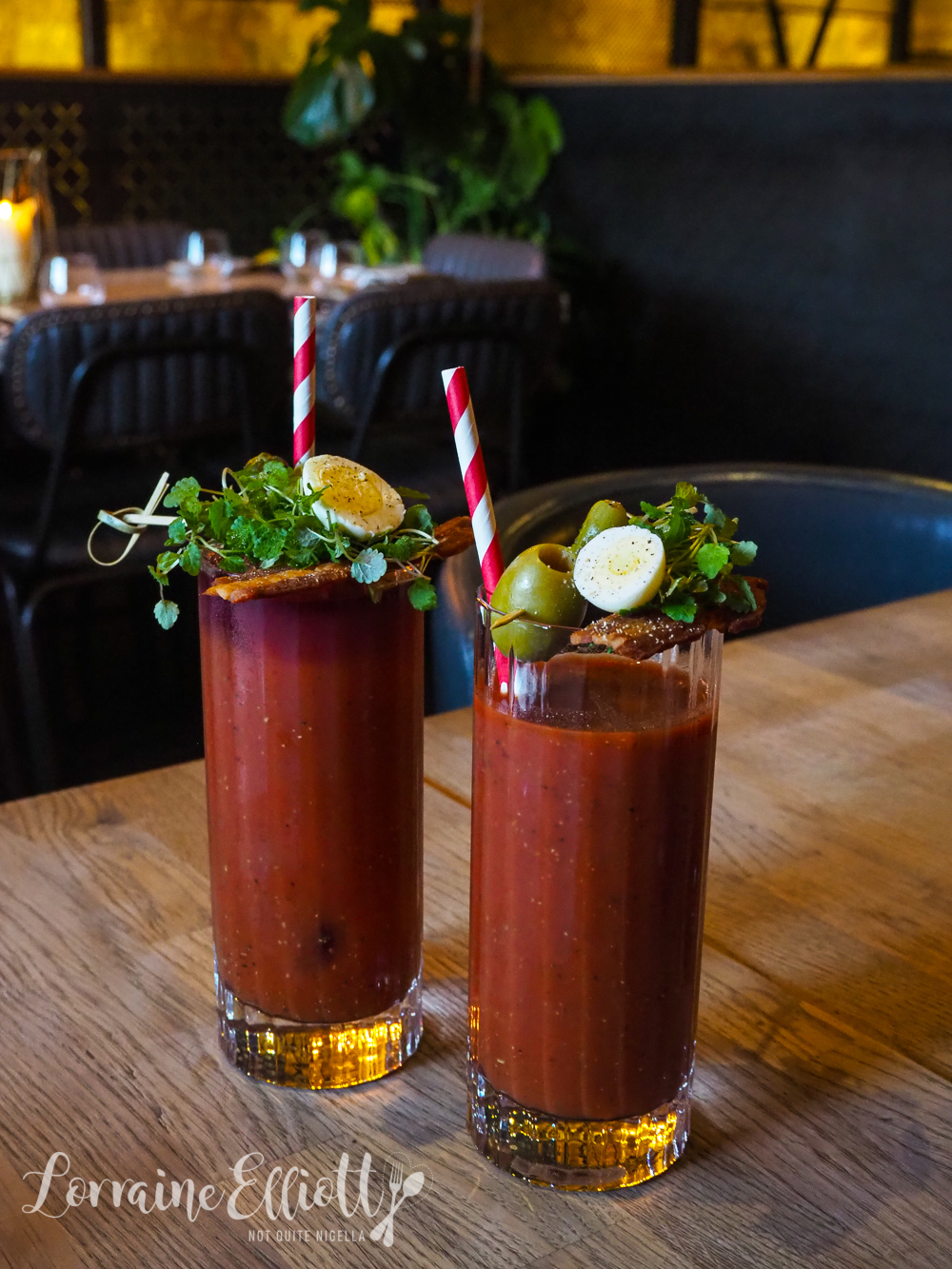 Steak and Dripping Eggs £12.50
The Chop House is known for its in-house dry aged steaks. If you do like your steak medium rare you will have to request this as ours was well done. It comes with two fried eggs and a small pot of bearnaise sauce.
Butcher's Breakfast £12.50
Nothing quite matches the Full Scottish fry up though. Although I rarely order these in Australia it seems the right sort of weather to have one. There's a fat sausage, dry cured crispy bacon, black pudding, haggis, mushrooms, tomato. hash brown and toast. I particularly love the black pudding and haggis with the soft centered poached eggs.
Chop House Market Street, Arch 15 E Market St. Monday to Thursday 12pm–12am, Friday 12pm–1am, Saturday 10am–1am, Sunday 10am–12am +44 131 629 1551
3pm: Holyrood Distillery
"The human factor is important, machines can't smell," says our guide Marco at the Holyrood Distillery in Edinburgh. He's talking about the 6 whisky tasters, 5 human and 1 canine who use their noses to ascertain when a whisky is ready.
While Scotland is known for its whisky, Edinburgh has only recently gotten its first malt whisky distillery in 100 years. Holyrood Distillery is an artisan producer of whisky and gin. It's located at a former train terminus where coal would be brought to residents from the mines. Nowadays the building has a bar and a shop and holds popular tours that show people the whisky and gin making process.
The tours start in a smelling room where people are tasked with guessing the scent of the cotton ball in the beaker. Enter your answers into the tablet and see your score out of 6.
In terms of whisky, theirs isn't quite ready yet. For something to bear the name Scotch Whisky it needs to be produced in Scotland and aged for a minimum of 3 years in an oak barrel. It must be made of three ingredients: water, yeast and barley and must have a 40%ABV.
"The wood is what some like to say is the fourth ingredient," says Marco. There are several different types of wood giving rise to different flavours in whisky. American wood offers vanilla and caramel scents, European oak gives an intense dried fruit aroma from the ex Jerez sherry barrels while the rare Japanese oak (at 4000GBP a barrel compared to the 70GBP for an American ex bourbon barrel) imparts a delicate dried fruit flavour. We try a whisky which has just started the ageing process and it has a sweet, strong vanilla aroma to it.
Along with whisky they also produce gin and there is plenty of that to try from Pink Gin to gin liqueurs, a sweet liqueur made in flavours like apricot & ginger or blood orange & fennel.
Gin started in the 11th century in Italy where it was used for medicinal purposes. It then spread to Poland where it was called Gineva. Then it became popular in England where it was shortened to Gin and became popular during the prohibition era. Today three ingredients make up the holy trinity of gin: juniper, coriander seed and angelica root. And although juniper is often referred to as a juniper berry because of its small, round appearance, it is actually a pine cone.
Holyrood Distillery: 19 St Leonard's Ln, Edinburgh EH8 9SH, United Kingdom. Monday to Wednesday 10:45am–6:30pm, Thursday to Saturday 10:45am–8pm, Sunday 10:45am–6:30pm Phone: +44 131 285 8977
7pm: Dinner At Noto
Noto restaurant is a New York inspired restaurant in Edinburgh central. Noto was inspired by the owner and chef Stuart Ralston's time living in New York and is named after his friend Bob Noto.
The room is simple with creamy walls and branches that drape across the walls. We walk through the front bar and warm up before hanging up our coats. The staff are knowledgeable and lovely.
The menu makes use of British ingredients like North Sea Crab, partridge and local Scottish mushrooms but could be at home in Sydney with its love of fresh flavours and modern Asian cuisine.
We start with cocktails. I have "A Rum With a View" that has Campari and lovely bitters and is described as when you add sugar to grapefruit. Mr NQN has a Bloody Mary that strong in pickled celery.
North sea crab, warm butter, sourdough £8
It looks like most tables order the North Sea Crab and it's one of the restaurant's signature dishes. It is a crab shell filled with a generous amount of crab meat, melted butter, dill oil and chives with two slices of sourdough. It's pretty damn fabulous-rich certainly but also just so generously filled with crab meat I have to resist the urge to lick the shell. Perhaps I would have loved the bread brushed with oil and toasted but I'm finicky like that.
Partridge sausage roll, apple & sage £8
I couldn't resist ordering some game as we don't tend to get much in Australia. This is an absolute beauty (literally, is it not the best looking sausage roll?) and the buttery pastry is filled with partridge meat, apples and sage and comes with a remoulade and a house made tomato sauce.
Char siu pork bao, teriyaki, spring onion £12
Another dish that the restaurant is known for is the char sui bao. It's nothing like any other char siu bao though. It's a feather light bao steamed and then deep fried so that it melts in the mouth. It's filled generously with soft, melting char siu meat with teriyaki mayonnaise, puffed pork and spring onion on top. This is a textural sensation from beginning to end and don't even think about sharing one; get one (or two) to yourself and sit back and let the eyes roll back in your head "When Harry Met Sally" style. It is one of the tastiest things I have eaten alls year.
Fried buttermilk chicken, waffles, caviar £16
The New York or American influence comes to play in the next dish of fried buttermilk chicken with waffles and caviar. The chicken fillets are crunchy and moist and sit atop a split waffle with some maple butter sauce drizzled on top and Attilus Siberian caviar and a buttermilk foam. This is a well balanced dish and you can add more of the maple butter sauce if you want it a bit more sweet (or just eat it on its own like I did).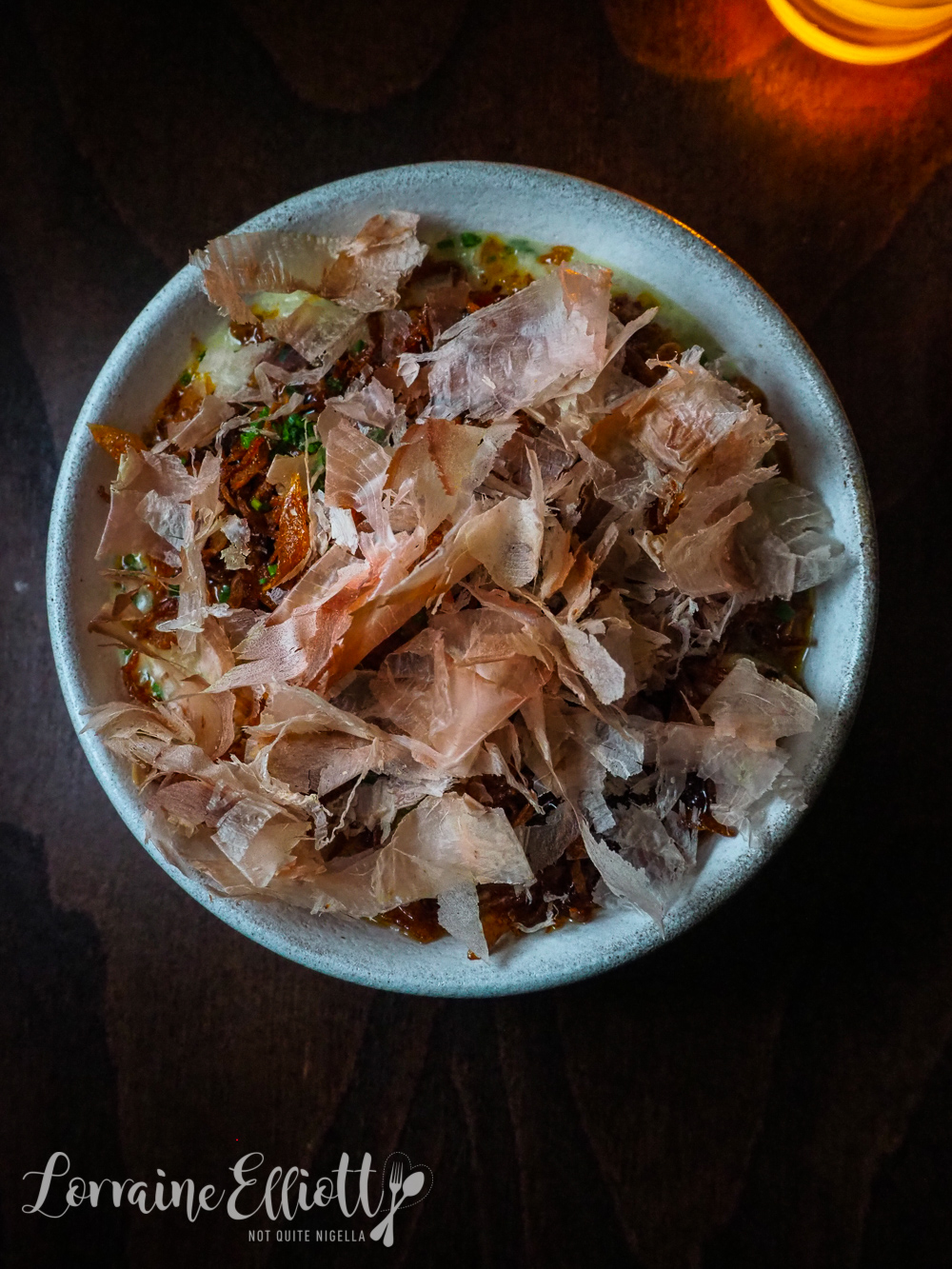 Squid, clams, XO, koshihikari £15
We also try the squid with clams that comes as a little bowl with swaying bonito flakes on top. This hides a layer of Japanese sushi rice with tender and rich squid, clams and a deeply flavoured XO sauce and plenty of fried onions. It's a rich dish so the smaller size is just about perfect.
Fried apple pie, tatin ice cream £10
It's dessert time and we're on a high from all the delicious food. The fried apple pie is a pastry filled with Braeburn apples and deep fried and topped with crumbs and a tarte tatin ice cream. They describe this as a version of the McDonalds apple pie but of course it's so much more than that.
Michel Cluizel chocolate, miso, hazelnut £8
The other dessert might seem perhaps too rich from the description but it's not thanks to some clever balancing of ingredients. It's a 72% Michel Cluizel chocolate with a Pedro Ximénez and miso caramel sauce with blow torched meringue and toasted hazelnuts. In typical understated Scottish fashion describe it as a version of a Tunnock's Tea Cake (the chocolate and marshmallow biscuit) although it is its much fancier cousin.
Noto: 47a Thistle St, Edinburgh EH2 1DY, United Kingdom Monday to Thursday, Sunday 12–9pm, Friday & Saturday 12–10pm. Phone: +44 131 241 8518
So tell me Dear Reader, how many meals a day do you eat when you're travelling? Do you travel to eat?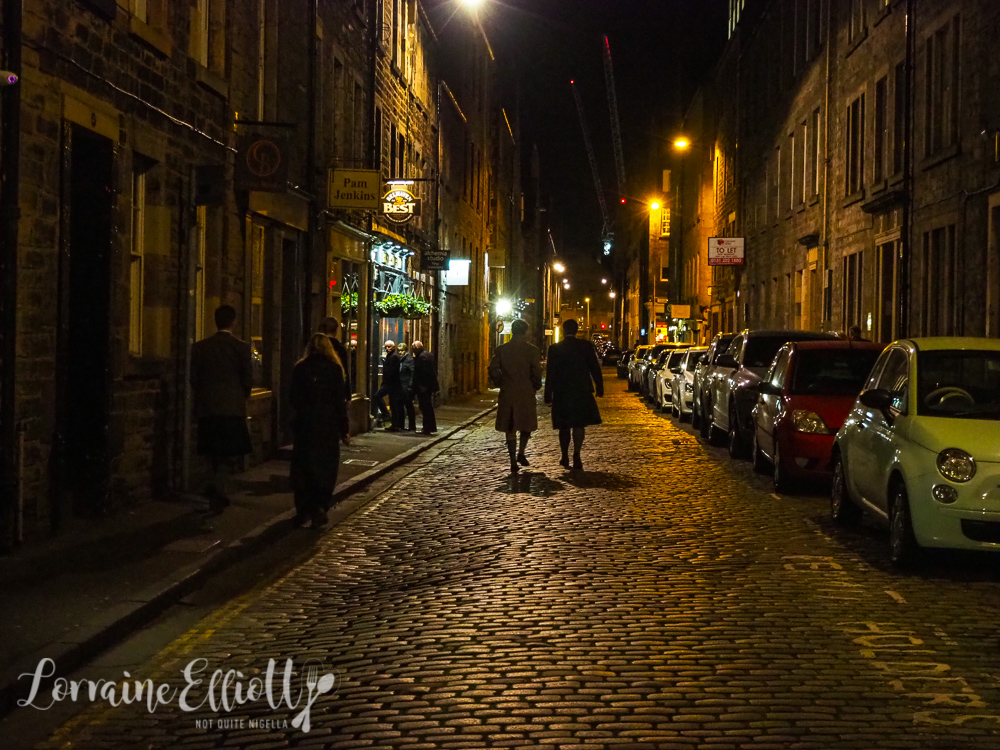 NQN was a guest of Visit Scotland and Visit Britain but all opinions remain her own.