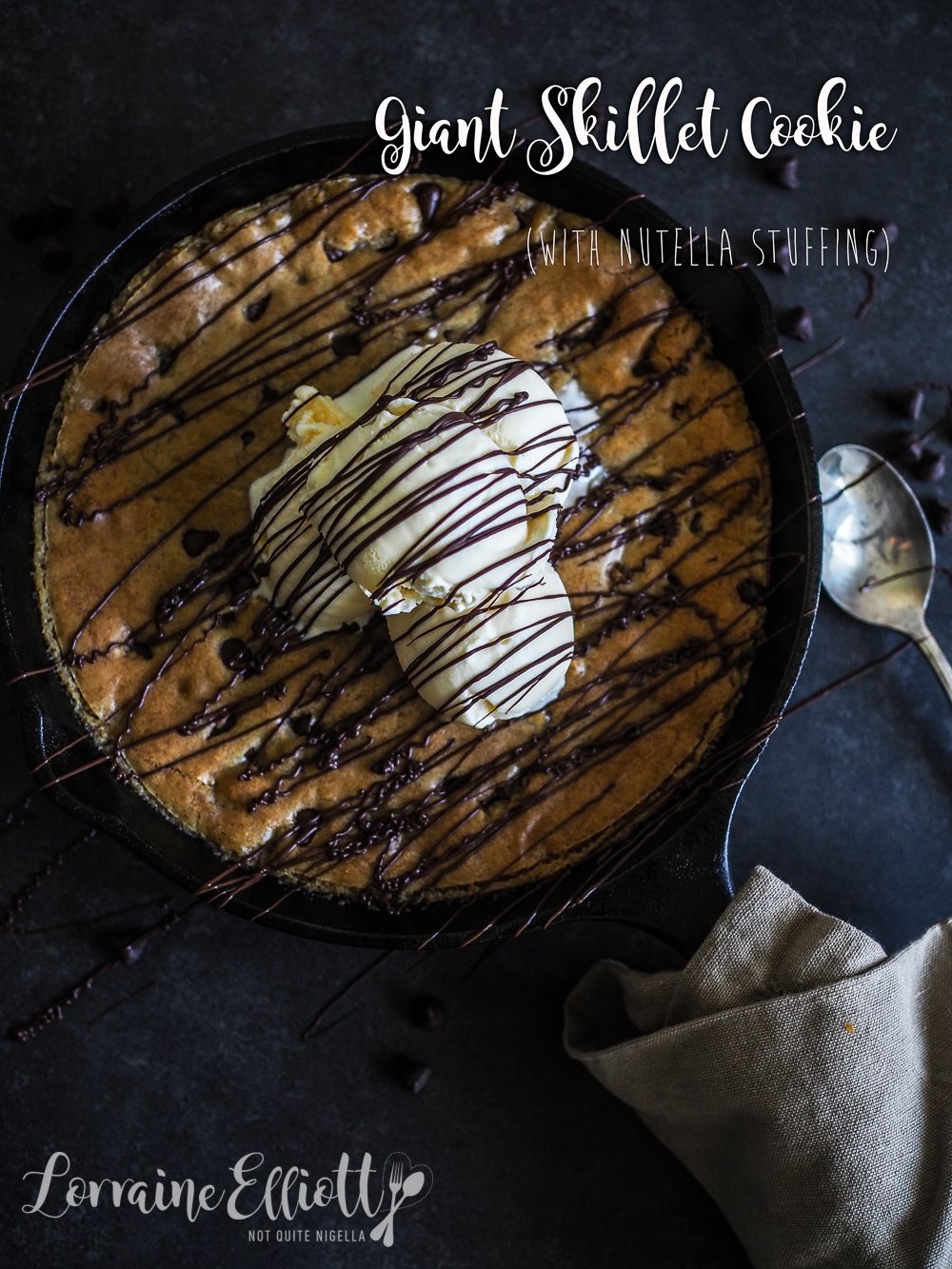 When a regular sized cookie will no longer do! This giant cast iron skillet cookie or pizookie is as delicious as it sounds. An enormous soft, chewy choc chip cookie is filled with gooey Nutella and served with scoops of vanilla ice cream! Staying in to eat has never been so delicious with this family sized dessert!
Cast Iron skillet cookies have been around for years now but it has taken me a while to get around to making one. I'm not sure why, I mean I love cookies and I have the perfect cast iron skillet for it (a housewarming gift from Ivy). And the idea of having a warm cookie, enormous in size straight from the oven with a scoop of vanilla ice cream is just about my idea of heaven.
Options: I made this a classic chocolate chip cookie but you can change things around-replace some of the chips with nuts or change the chocolate to milk or white. You can also replace 1/2 cup of flour with cocoa powder for a double (or triple serve) of chocolate. This also works with any of your favourite cookies. Do you love shortbread? Oatmeal cookies? These all work! If you're out of Nutella replace with your favourite nut butter. And lastly if you don't have a cast iron skillet any frypan that can go in the oven will do - just don't use any with a plastic handle because that will melt!
For those of you working from home with your spouse, how is it going? We've been working together for over a week now and apart from a couple of disagreements it has been actually quite nice. I mean my new co-worker squeezes my ass every time I walk past his desk and has a huge stack of dirty plates next to his desk but it's all ok ;).
Apparently China has a spike in the number of divorces as couples had to co-habit together more intensely than ever before. One woman called Molly Tolsky on twitter has a good tip, "Pro-tip for couples suddenly working from home together: Get yourselves an imaginary coworker to blame things on. In our apartment, Cheryl keeps leaving her dirty water cups all over the place and we really don't know what to do about her."
It's not a terrible idea. When he first started working from home with me Mr NQN said something. It was quite minor so I don't even remember what it was but it was his tone that turned it into the sort of comment that starts an argument. I looked at him and cocked my head. "Do you want to 'control Z' that moment? Do you want to take that back?" I asked.
He nodded and agreed that over this time we each get half a dozen "get out of jail" or control Z free points. So at the moment it's all about compromise, cutting each other some slack right now and those free points!
So tell me Dear Reader, would you like a control Z button for life and how often would you use it? How is it having everyone at home?
For other chocolate chip cookies, try these Inception Pod cookies that are stuffed with another cookie or Pods; these Naughty or Nice cookies with a healthy and a regular choc chip option or my personal favourite super chunky choc chip Milo cookies!
This is a light-hearted look at couples living together but there are situations when women and children are living with their abusers in a domestic violence situation due to the COVID-19 isolation. If you would like to give to a Women's Community Shelter please click on this link as they will need our help now more than ever.
DID YOU MAKE THIS RECIPE? Share your creations by tagging @notquitenigella on Instagram with the hashtag #notquitenigella
Skillet Cookie Pizookie Stuffed With Nutella
An Original Recipe by Lorraine Elliott
Preparation time: 20 minutes
Cooking time: 25 minutes
Serves 6 people
125g/4ozs. butter, melted
1 1/4 cups brown sugar, firmly packed
1 teaspoon vanilla extract
1 egg
1 1/4 cups plain all purpose flour
1/2 teaspoon baking powder
Pinch salt
3/4 cup espresso chocolate chips or dark chocolate chips
1/2 cup Nutella
1/4 cup espresso chocolate chips or dark chocolate chips, melted to drizzle on top
Ivy bought me some espresso chocolate baking chips from America!
Step 1 - Preheat oven to 180C/350F and line the base of a 22cm/8.5inch skillet with parchment and butter the sides well.
Step 2 - In a bowl mix the butter, brown sugar, vanilla and egg together until well combined. In a jug measure the flour, baking powder and salt and whisk. Add to the wet mixture and mix until just combined adding the chocolate chips.
First layer using half the dough
Then spread the Nutella
Step 3 - Divide dough in half and place one half in the prepared skillet pressing out to the sides. Spread the Nutella in the centre leaving about a 2cm/1inch border and spread the rest of the cookie dough on top. Bake for 20-25 minutes or until the top is set (you want it to be gooey in the middle).
Then top with the remaining half of the dough!
Step 4 - Serve with ice cream. Melt the extra chocolate and place in a piping bag and pipe over the ice cream.