Don't let life go pear shaped with these delicious pear recipes! Transform pears into a wonderful Italian pear and chocolate breakfast cake, the EASIEST one bowl pear tea cake or a show stopping whole spiced pear and chocolate loaf cake that also happens to be gluten free. There's also the prettiest, lightest pear and ricotta cake or good old fashioned spiced red wine poached pears!
DID YOU MAKE THIS RECIPE? Share your creations by tagging @notquitenigella on Instagram with the hashtag #notquitenigella
This delight breakfast Italian Pear & Chocolate Breakfast Cake was sent in by a Dear Reader Robbie who first tried this cake at the hotel Ai Lumi in Trapani, Sicily. It is foolproof and is made to impress!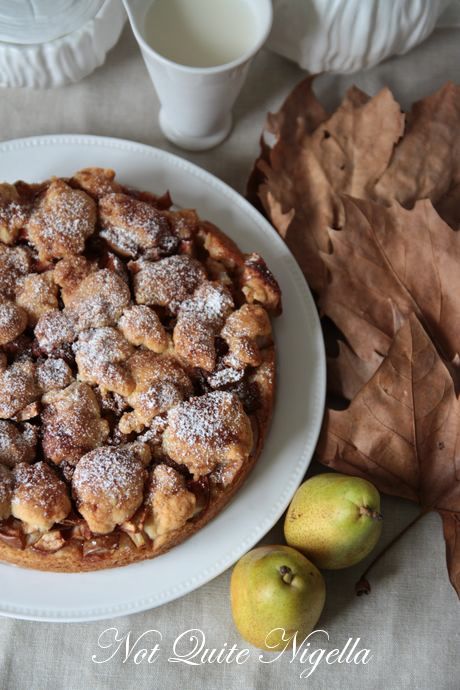 I've been making this cake for over a decade now and I recommend trying this at least once. It's easy absolutely but doesn't taste easy with a wonderful buttery topping! You can use tinned or fresh apples too!
This is another striking cake that starts with spiced poached beurre bosc pears. These are submerged in a rich gluten free chocolate cake batter and when you slice into it, you get a beautiful cross section of pear!
If you're looking for something simple but crowd pleasing with pears you can't go past classic spiced red wine poached pears. These Gluwein flavoured pears take on a beautiful rubied glaze once cooked. Serve with vanilla ice cream or yogurt.
The last cake is also a beauty. This Italian ricotta and pear cake has two outer layers of hazelnut dacquoise and the filling is made up of pieces of rum poached pear in a creamy, soft ricotta cheese filling. This is a special occasion cake Dear Reader!
So tell me Dear Reader, have you tried any of these pear recipes? Which one do you like the sound of?