A Blue Mountains summer can be the pitch perfect time to visit with warm, sunny days and cooler nights. Find out all of the fun, new things that the Blue Mountains has to offer from new restaurants, star gazing to Army Truck tours of scenic views!
Beyond The Black Top Adventure Tours
"There are only 154 of these vehicles made," says Paul Davies, the owner and operator of Beyond the Black Top Adventure Tours. The vehicle he is pointing to is an army truck, affectionately named "Wombat" ("because it is fat and slow" explains Paul). Wombat is the eye catching Army truck that he takes his 3 hour tours on. It's designed perfectly for the purpose, guests can look straight out of the vehicle, breathe in the fresh mountain air and wave to the many people that wave or stare in surprise when they see Wombat cruising past them.
Beyond the Black Top Tours was named as a reference to getting off the bitumen or off the road (it is also a reference to the Keith Urban song, "Where the Blacktop Ends"). Paul takes people out in a traditional 4WD on all day tours of the Lost City but today we are on a 3 hour Army Truck tour of the hidden gems and sights of the Blue Mountains.
Most first timers to the Blue Mountains opt for the Three Sisters and Echo Point but on subsequent visits may want something a bit different and that's where Paul comes in. He loves taking people out to see other, less common lookouts and prefers taking out smaller groups on private tours. Each tour is designed to suit your preferences, walking ability and whether you've visited a site before.
Mountain Devil seed
We don't actually get that far off roading in Wombat. Rather Paul parks the truck and then we walk most of the way to the view. On the walk to Landslide Lookout he points out the Mountain Devil plant where the seed initially looks like two devil horns. He brings us to Landslide Lookout so named because of the landslide that occurred there. A coal miner was said to have first noticed the cracks at the top of the cliffs in 1929 and people waited for up to 2 years hoping to catch a glimpse of the mountain splitting and collapsing. At 4am one morning it happened with not a soul watching. The views are spectacular with the undulating valley below.
Landslide Lookout
Then Paul takes us to Boar's head and shows us the white flannel flowers that proliferate along the walkway - as the name suggests the petals feel as soft and velvety as flannel. We then hop into Wombat to head to Blackheath where he shows us the spectacular Wind Eroded Cave and the incredible pattern formation. It's a short walk to Anvil Rock with its incredible views.
All of these walks have short access walks so are ideal for all age groups. He peppers the walks with intereseting information about each (I don't want to give away everything that he says on his tour). The 3 hours fly by and we have such a wonderful time seeing all of these new spots beyond the typical ones. We make plans to come back and do the all day tour of the lost city as we enjoyed it so much.
Beyond The Blacktop Adventure Tours: Pick up from your accommodation. 8am-6pm 7 days a week. 33 Echo Point Rd, Katoomba NSW 2780. Phone: 0430 348 616. https://beyondtheblacktop.com.au/
Tempus, Katoomba
Since our last visit there are a couple of new restaurants open in the Blue Mountains that people are very excited about. Tempus is a wine bar and restaurant on the main street of Katoomba. It was originally the location of the Bank of NSW and during COVID-19 lockdowns owners Baden Evans and chef Jason Lee Cole undertook the onerous task of transforming the space into a restaurant with kitchen.
This involved stripping back 7 layers of paint from the safe as well as crafting the wooden bar using reclaimed wood from Baden's family property out west. All of the tables are made using reclaimed wood and this is part of Tempus's ethos of sustainability, seasonality, community and place. During the evenings from Friday to Monday (and daytimes on the weekends) they operate at Tempus but on weekdays they operate as Tempus Up Early serving The Little Marionette coffee and lunchtime snacks. They also open on Monday nights and this is when a lot of locals come and eat out once the visitors have left for the weekend.
Pineapple clarified Sour
There is an all Australian wine list with some harder to find, boutique wine labels. I'm going for something soft tonight so I have the mango and black tea kombucha made locally by Bulla Booch while Mr NQN enjoys the pineapple clarified sour cocktails, one of the drink specials that evening.
Halloumi with Pineapple Chilli Salsa $6 each
We love the sound of a lot of the appetisers so we order a few of these to share. The halloumi with pineapple chilli salsa is a wonderful bite to start with. The salty, squeaky halloumi goes well with the sweet and spicy pineapple chilli salsa.
Oysters, Lemon Pepper Granita $6 each
The oysters need a bit more brine left in them but the lemon pepper granita is a clever alternative to freshly squeezed lemon.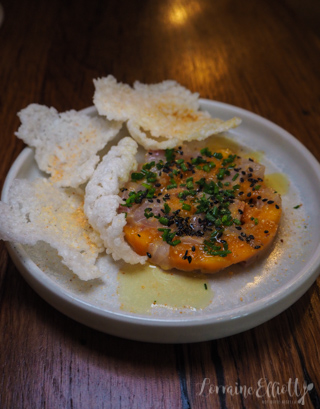 Kingfish, mango, jalapeno, rice cracker $22
The raw kingfish is served with fresh mango and jalapeno on house made rice crackers. Mr NQN and I almost had a fight over this dish it's that good. There were 5 rice crackers and normally I let him have most of a dish but we split this in half exactly.
Chargrilled Baby Gem $16
Another delightful dish the chargrilled baby gem lettuce with kombu seaweed, olive oil and macadamias. There is so much umami flavour in this vegan dish from the kombu and the toasted macadamias give this a great crunch too. I make quick plans to try and recreate this at home.
Burrata, Grilled Peach Tomato, Balsamic $20 with Sourdough with cultured butter $5 each
And because nobody ever regrets ordering burrata we ordered their burrata with grilled peach, tomato and balsamic vinegar. We also order a serve oftheir very good house-made sourdough with house-made cultured butter.
Duck Breast $45
Given how many starters we had we decided to share one main. The duck breast has a delectable apricot glaze, house-made kimchi and sprouts. The duck is excellent, especially paired with the kimchi and the whole combination works really well and we drag the bread through the sauce left on the plate. It is on the pricier end for a duck breast but it is very tasty.
Potatoes with Red Gum Smoked Salt $14
The two sides that we had with the duck were the potatoes with red gum smoked salt. The smashed potatoes were satisfyingly crunchy and the red gum smoked salt was a tasty change from plain salt.
Greens $15
We also made fast work of the greens with crunchy green beans and broccolini with toasted nuts and a delicious ginger and shallot vinaigrette.
Choccy Mousse $16
We have room to fit in one dessert and it's hard to choose because all four of them sound very appealing but we settled on the chocolate mousse because it was recommended to us. It's a richly flavoured but light in texture chocolate mousse with a lightly earthy pearl barley infused whipped cream and big chunks of house-made honeycomb made with Malfroys Gold honey. It comes in a serve that is big enough to share and we wonder if we have time to come back for a second visit to try the rest of the menu on this trip.
Tempus Katoomba: 66 Katoomba St, Katoomba NSW 2780. Friday 5–10 pm, Saturday & Sunday 12–10 pm, Monday 5–10 pm. Phone: (02) 4760 8630. https://www.tempuskatoomba.com.au/
Unique Patisserie, Katoomba
On busy Katoomba Street lies Unique Patisserie, a classic Australian style patisserie and cake shop that also happens to serve Malaysian food. Four years ago Sok Chhet opened up the bakery and cafe in partnership with a chef. The dish that flies out the door is the very popular Assam Laksa, a spicy and sour tamarind based broth sort of world's away from a creamy coconut based laksa. Their assam laksa is so popular that she has people buying 20 batches of it at a time to take back home to Sydney.
There are of course the requisite Australian bakery items like vanilla slice, apple pie and eclairs. There are also items like Beesting cake, St Honore and a cute lemon meringue pie resembling a beehive. Make sure to check out their meringue selection with a wide variety of animals on offer (the meringue penguins and blue elephants are standouts). I watch as Sok gives customers little treats with their meals and she gives me a beesting cake and a St Honore while another woman receives a second slice of cake.
Get in quick for a savoury pie, especially if you want to try one of the best selling curry pies. I was lucky the day that I visited because they are usually sold out but perhaps the unseasonably warm weather was on my side. As I sit there sipping water I watch two women come in for the curry pie and Sok has to gently let them down that I had already ordered that pie. Their face falls.
There are two curry pies, a chicken curry pie and a curried beef one and I had the latter with big, soft chunks of beef inside and a good amount of sauce cushioning the beef. The pie pastry is soft and melts in the mouth.
Bah Kut Teh With Rice $19.90
I try the Bak Kut Teh (meaning meat bone tea), a deep bowl of richly flavoured, lightly spiced broth, dark in colour with big chunky shiitake mushrooms, tofu puffs, soft cooked pork ribs and tofu skin or yuba bundles. It's perfect for the chilly evenings in the mountains and Mr NQN and I are both very much taken by this.
Nasi Lemak Rendang Beef $19.80
The Nasi Lemak comes with either chicken curry or beef rendang and I choose the latter. There's a mound of coconut rice, crackers, peanuts, pickles, half boiled egg and the soft beef rendang.
Assam Laksa $16.80
And then comes the Assam Laksa. Assam laksa is trickier to make than the other more easily found laksa with lots of blended or pounded ingredients like Vietnamese mint and plenty of shredded fish. This has such a wonderful punchy flavour to it that is tempered with the chopped pineapple in it that gives it a balanced sweetness. I can see why people order big lots of this to take home as the thought crosses my mind too.
Unique Patisserie: 169 Katoomba St, Katoomba NSW 2780. Open 7 days 9 am–5 pm. Phone: (02) 4782 7887/
Ates, Blackheath
Another evening we are meeting our Blue Mountains based friends Jen and Nick from Meltdown Artisan chocolates for dinner. When we decided to do a star gazing tour together I suggested we grab dinner beforehand. Our dinner is at Ates (pronounced Ar-tesh), the Turkish word for fire. The fire is the 100 plus year old wood fired oven that has sat in place at the restaurant for many years through its incarnations like Fumo and Vesta.
We're sitting in the back courtyard area with wood to feed the fire on one side and a verdant wall of green on the other. The menu is designed to share and we start with the Bulla Booch mango black tea kombucha and pineapple old fashioneds.
Wood Fired Focaccia $5 each
Since it has been open, they've become known for one thing in particular that has a huge following: their focaccia. This focaccia has weight to it, comes in enormous, chunky slices and is well seasoned with salt and oil. Don't make the mistake that we did and try and split a piece between two people. As soon as we dredge each fat, spongy slice through some sauce we order two more pieces it's that good. And if you are a fan, they have the focaccia for sale during their early morning weekend bakehouse along with a range of other pastries.
Local Heirloom Tomatoes, Peach, tarragon cream $24
We like the sound of the appetisers so we order three of these to share. The first is the local heirloom tomatoes, sweet from the summer sun with slices of white peach and paired with tarragon cream. It's the perfect pairing for the focaccia.
Hiramasa Kingfish Collar, jalapeno and sudachi $18
But save some focaccia for the hiramasa kingfish collar flavoured with an intense jalapeno and sudachi (or yuzu) kosho. The kingfish is tender, especially those half orbs where the luscious pockets of meat lie. Use your hands to ensure that you suck out all of the flavour from those bones and then drag the focaccia through the slick of bright green oil.
Raw Ocean Trout Potato Galette, Gochuhang $12 each
Another recommendation from our waitress is the potato galette. These are individually served (three bites' worth) with a crunchy, golden potato galette base, fermented cabbage, gochujang and slices of raw ocean trout on top. They do end up a bit pricey when you add them all up but they're very satisfying.
Roasted Heirloom Zucchini, smoked eggplant and labne $40
I suspect all of these dishes are designed to be great accompaniments to the focaccia. The roasted heirloom zucchini are tiny zucchini around the size of a finger, paired with smoked eggplant and labne for a saucy, well seasoned vegetarian main.
Wood Roasted Pork Neck, sweet nad sour peppers, bagna cauda $52
The wood roasted pork neck is very smokey in flavour and paired with sweet and sour capsicum peppers and bagna cauda. The pork is smoked so it is cooked through but the centre appears pink.
Russian Honey Cake $16
When we first sat down and saw that there was Russian honey cake on the menu they told us that there was only three slices left so we reserved one for our dessert. This multi layered biscuit cake is layered with a honey buttercream. On the side is a salted yogurt mousse. The texture of this cake is so beautifully light yet has a lovely spiced honey flavour to it. We finish our dinner with just minutes to spare before we head to our next adventure: star gazing!
Ates: 33 Govetts Leap Rd, Blackheath NSW 2785. Thursday & Friday 5:30–11 pm, Saturday & Sunday 8:30–11 am, 12–2:30 pm, 5:30–11 pm. atesblackheath.com Phone: 0472 793 326
Blue Mountains Star Gazing
After dinner we head out to Wentworth Falls picnic area to join the Blue Mountains Stargazing Tour. There a crowd has gathered and are listening rapt by astronomer Paul Payne's talk about the sky. He has set up a telescope for viewing and everyone waits their turn to take a look through it. Blankets are offered for the chilly mountain night and mugs of hot chocolate are given to all tour guests.
Paul points his laser towards Jupiter, a mere 48 light minutes away. This means that when we look at Jupiter we are seeing Jupiter 48 minutes ago and we are always looking back in time. This planet, his second favourite after Saturn, is much closer than the nearest star to earth which is 4.3 light years away. Hundreds of kilometres above are thousands of satellites moving across the sky. He tells us that if there's a light that is moving in the night sky it's a satellite. There are two types of satellites in space: artificial satellites like a space station and natural satellites like the moon. Satellites don't have light, rather they're illuminated by the red light from the sun.
Although he points out that he is an astronomer, not an astrologer, he explains that there are 88 constellations. On the ecliptic plane of the solar system are the 12 zodiac signs through which the planets move. This evening we have almost a full moon and when he fixes the telescope on the moon he warns us that after we look at the moon we will continue to see it in our eye as it is so bright. And peering into the telescope there it is, an incredibly bright moon with tiny craters visible across it's pock marked surface.
That segues onto the topic of stars towards the end of our 90 minute tour which seems to have flown by as quickly as well....earth racing around the sun at 30kms a second. With the laser he points out a star in the night sky that is slightly rosy red in colour. A red star is an indication of dying star. He points out how unusual it is to see a dying star among young stars. The stars would have started off at the same time but because this star was so large it has started to die.
"You all would not exist without stars. The atoms that we are made of were once made of stars. You are made of star stuff," he says.
Photo: Brenden Neaton
Blue Mountains Stargazing: https://www.bluemountainsstargazing.com.au/
NQN was a guest of Beyond The Blacktop Tours, Tempus & Blue Mountains Stargazing. The meals at Unique Patisserie and Ates were paid for independently.