Marramarra Lodge is NSW's newest luxury lodge to open on the banks of the Hawkesbury River. Accessible only by boat, it includes your choice of luxury tent or bungalow accommodation with all meals and drinks included. This adult's only lodge also ideal for a special stay or celebration.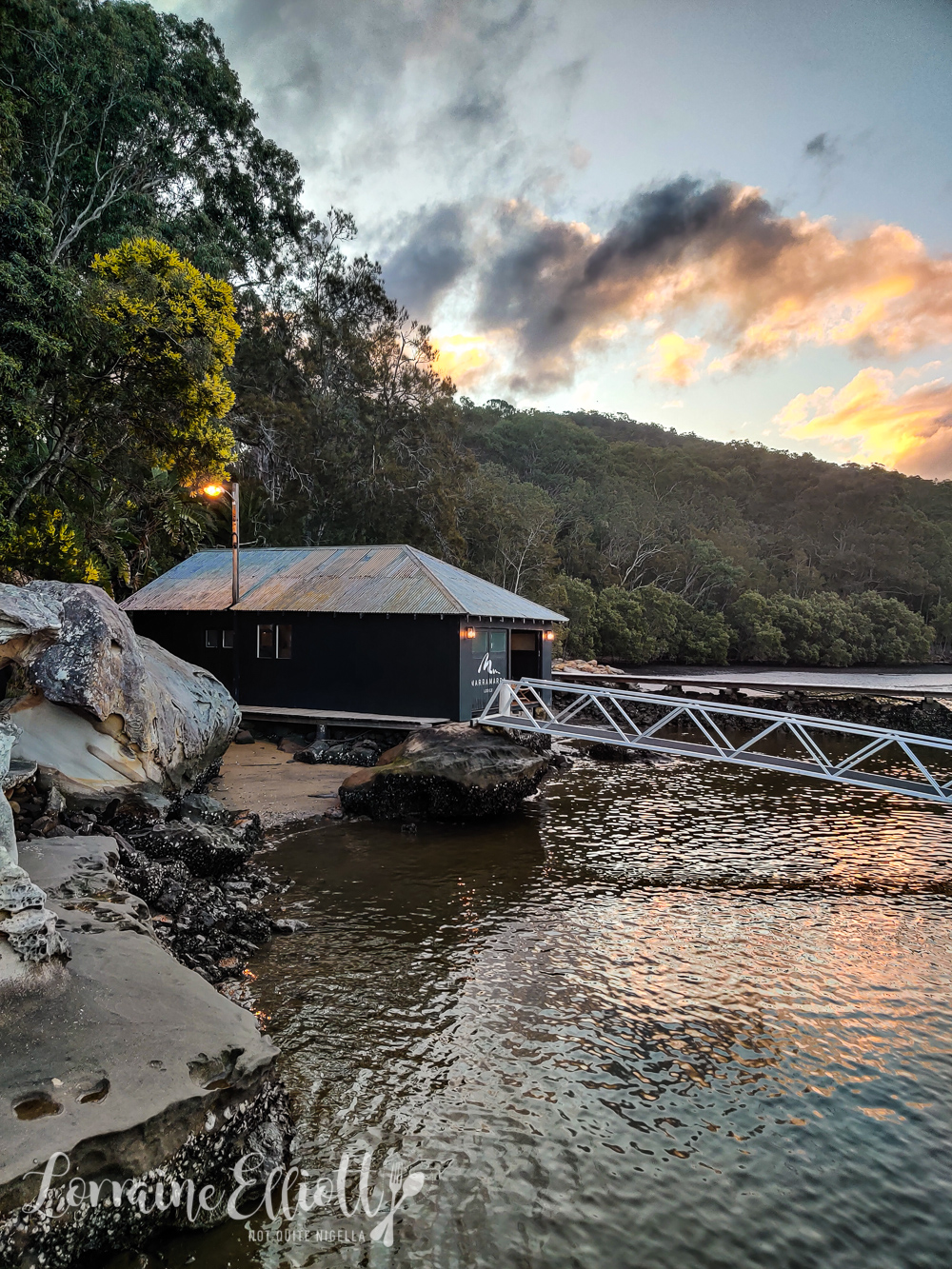 The burning question from most prospective guests when they're looking to book is what is the difference between the tents and the bungalows? Marramarra Lodge's pavilion tents and bungalows and both are exactly the same inside, it is just the outside covering of canvas or wood that is different (and a slight difference in tariffs, the tent is $1,300 per night and the cabins $1,500). The owners of Marramarra Lodge are a group of four from the South Coast of NSW.
While the tariff doesn't quite reach the heights of say other luxury lodges like Wolgan Valley, Marramarra also offer an all-inclusive experience with food and drink. There is also one key difference between the lodge and other hotels and that is the full length of stay. Guests arrive at 2:30pm and depart at 1:30pm which is almost a full day unlike many hotels where you check in at 3pm and check out by 10:30am.
Mr NQN and I board the boat at 2pm from Mooney Mooney and take the 30 minute ride over during which they explain a little about the history of the area and property. Most guests arrive by boat but there is a helipad on the property too should you choose to arrive in style.
Life is unhurried here. Shona, the wonderful general manager greets all guests at the jetty and we are shown around the main lodge building Carter House built in the 1920's. This is where guests can relax and help themselves to drinks or food. We sip glasses of sparkling before being shown to our room.
We are staying in the Wallaby tent near Carter House. We also happen to be visiting on that very gusty winter's weekend at the end of August.
The tent canvas can be noisy in high winds although it is quite airtight. To keep warm there is an air conditioner above the bed that keeps the tent toasty warm.
Our tent has a king sized bed, comfortable leather lounge and a fridge with mini bar snacks and tea and coffee making facilities. The mini bar is also included in the tariff and there are chips, chocolate, soft drinks and one small bottle of sparkling wine. There is also a plate of chocolate truffles from the chef.
The bathroom is large with dual sinks made of carved out boulders and a rainfall shower. There are Sodashi toiletries and soft towels. The only thing missing is a bath, ideally one near the window to watch the Hawkesbury River below (we hear there might be plans to install baths in the future).
There is wifi but it doesn't reach to most of the accommodation but it is fast at Carter House so we download some shows over dinner to watch later. Next to Carter House is a gym, spa and outdoor swimming pool.
At 4:15pm we make our way back down to the jetty to go on a sunset cruise with four other couples (all very socially distanced as the boat can fit more). Yes this is an adult's only lodge where people are invited to reconnect and relax. The hour long or so cruise features oysters and sparkling wine and is lightly narrated so that you can just sit back and enjoy the views interspersed with well timed facts about the area. The cruise ends at the oyster catchments where the oysters that we are eating come from.
There's plenty of time to change and relax a bit before dinner at the Budyari dining room. Budyari is the local Dharug dialect for "Good and Proper". The room itself focuses on the view outside and is a little minimalist. Still the food is what is on show.
We are having the four course Djilba menu, named after one of the six Australian indigenous seasons of the year. All food and matched wine is included in the tariff. Their Michelin starred Executive Chef Meyjitte Bougenhout hails from France but his food is Modern Australian.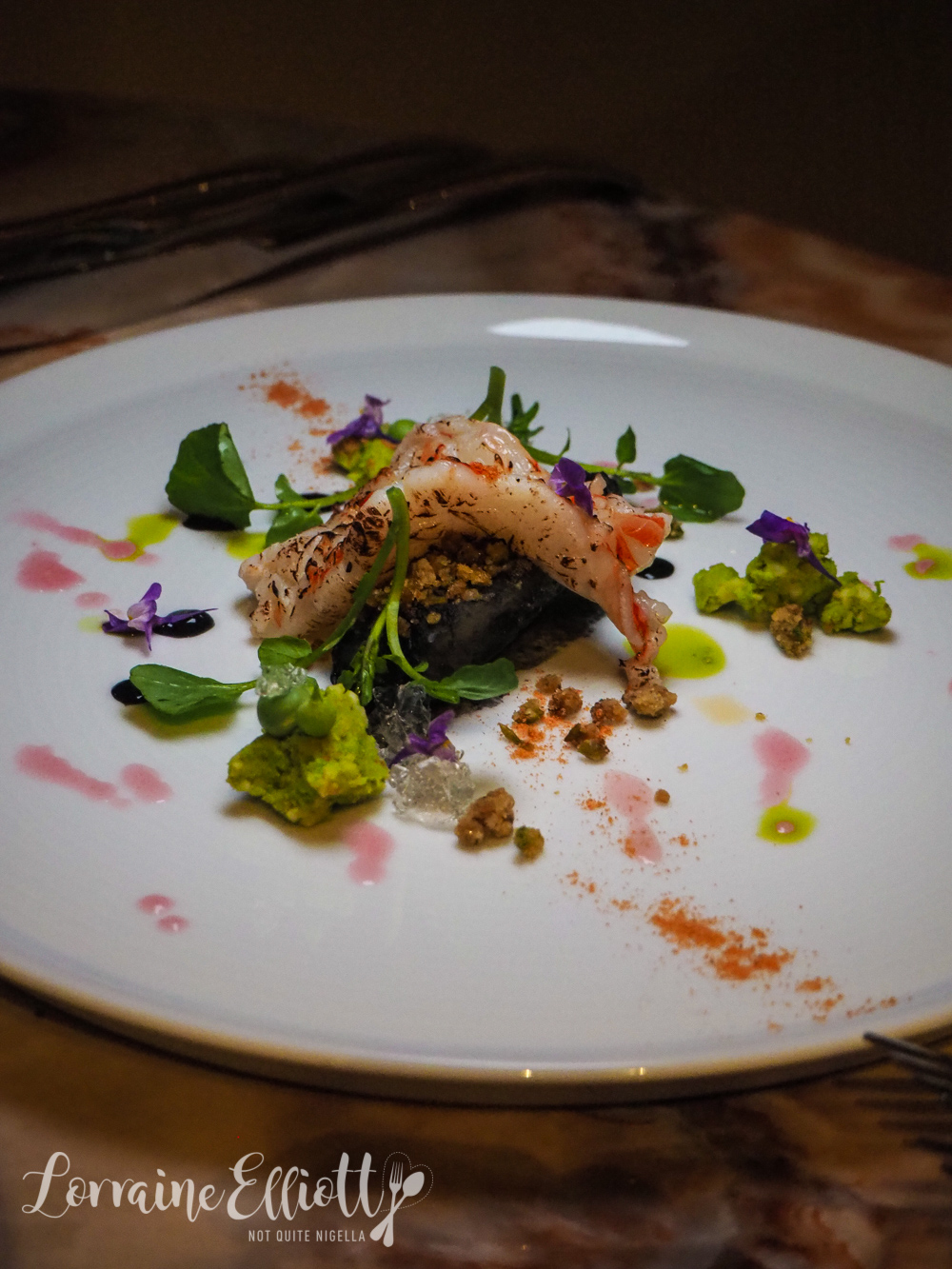 Brooklyn Prawns, Burnt Wood With Pioneer Semillon, Hunter Valley, NSW
The first course is a pretty dish featuring Brooklyn prawns caught from the river outside. Every day the fishermen go out to catch the prawns and deliver them straight to the chef. It's served with Botanica Distillery gin gel and peas on a "driftwood" log or cassava painted black to resemble burnt driftwood.
Glacier 52, Lovage, Corals served with Arrowfield Chardonnay, Hunter Valley, NSW
The Glacier 52 toothfish is served with a cheesy squid ink sago from Bar Island and dehydrated milk foam on top. It's a good sized course and rich and intense with a hint of citrus that pairs well with the rich umami flavour.
Duck, Figs, Hazelnut served with The Vault 2014 Cabernet Sauvignon, Coonawarra, SA
The duck breast is well cooked and has a nice gingery hit to it. The Manjimup truffles shaved on top of the duck are a nice surprise.
Aspirin
The "Aspirin" is their version of a palate cleanser. It has a strong almond aroma to it as well as pop rocks and finger lime beads. It's like an experimental form of seltzer.
Winter Tree Moss served with Heggies Vineyard 2019 Botrytis Riesling, Anaston, SA
Although the menu mentions one dessert, we are given two different ones. The first one is a chocolate dessert with a paper thin chocolate cigar, dried berries, pistachios and red wood infused ice cream, quince gel, quince shavings and a buttery crumble.
The second is like an apple pie but with a very buttery shortbread, rhubarb ice cream and a tangy sorbet on top. It's hard to choose which one we like better-Mr NQN loves the fruit but I love the chocolate one.
After a great sleep we get up the next morning with sunlight streaming into the tent. Breakfast is served back at Carter House. One small criticism is that the breakfast window is short at 8:30-9:30am which is not conducive to a lie in on a Sunday. Everyone pretty much arrives at 9:25am. We enjoy the house made toast with our choice of two toppings. My choice is bacon jam and smashed avocado.
Mr NQN loves the striking breakfast panna cotta with strawberries, raspberries and blueberries. He also tries the date loaf with house made tamarillo jam and apple butter.
We relax back in our tent enjoying the extra time as we would usually be rushing to pack everything up after breakfast. Others who are staying longer can go for a kayak to neighbouring Bar Island.
I shower and pack slowly and at 12:15pm we head down to the boat shed for a 2 course private lunch for two served with wine.
Hapuka, Hakesbury River Prawns, Cauliflower, Goats Cheese
We start with hapuka fish topped with Hawkesbury River prawns, cauliflower puree and goat's cheese. It's perfect for this setting where the water twinkles and laps at the edge of the boat shed.
Braised Beef Brisket, Chocolate, Truffle Paste, Puff Potatoes
We also try the braised beef brisket with a bittersweet chocolate, truffle paste and delicious crumbed potato balls.
Chocolate Square, Coffee Ice Cream, Kumquat
Mr NQN's dessert is a chocolate mousse square with coffee ice cream, candied cumquat and caramel.
Cheese Platter, Quince Variation
I busy myself with the cheese platter with brie and peppercorn cheddar, quince paste, quince gel and quince crisps with a paper thin crackers and almond bread.
I am also busy plotting how we can just stay here in the boat shed for just a little bit longer, enjoying the water and sunshine.
So tell me Dear Reader, do you like it when everything is included in your stay? And would you choose a tent or a bungalow?
NQN and Mr NQN stayed as guests of Marramarra Lodge but all opinions remain her own.
Marramarra Lodge
4 Fishermans Point, Berowra Waters NSW 2082
Phone: 0435 891 111
marramarralodge.com/