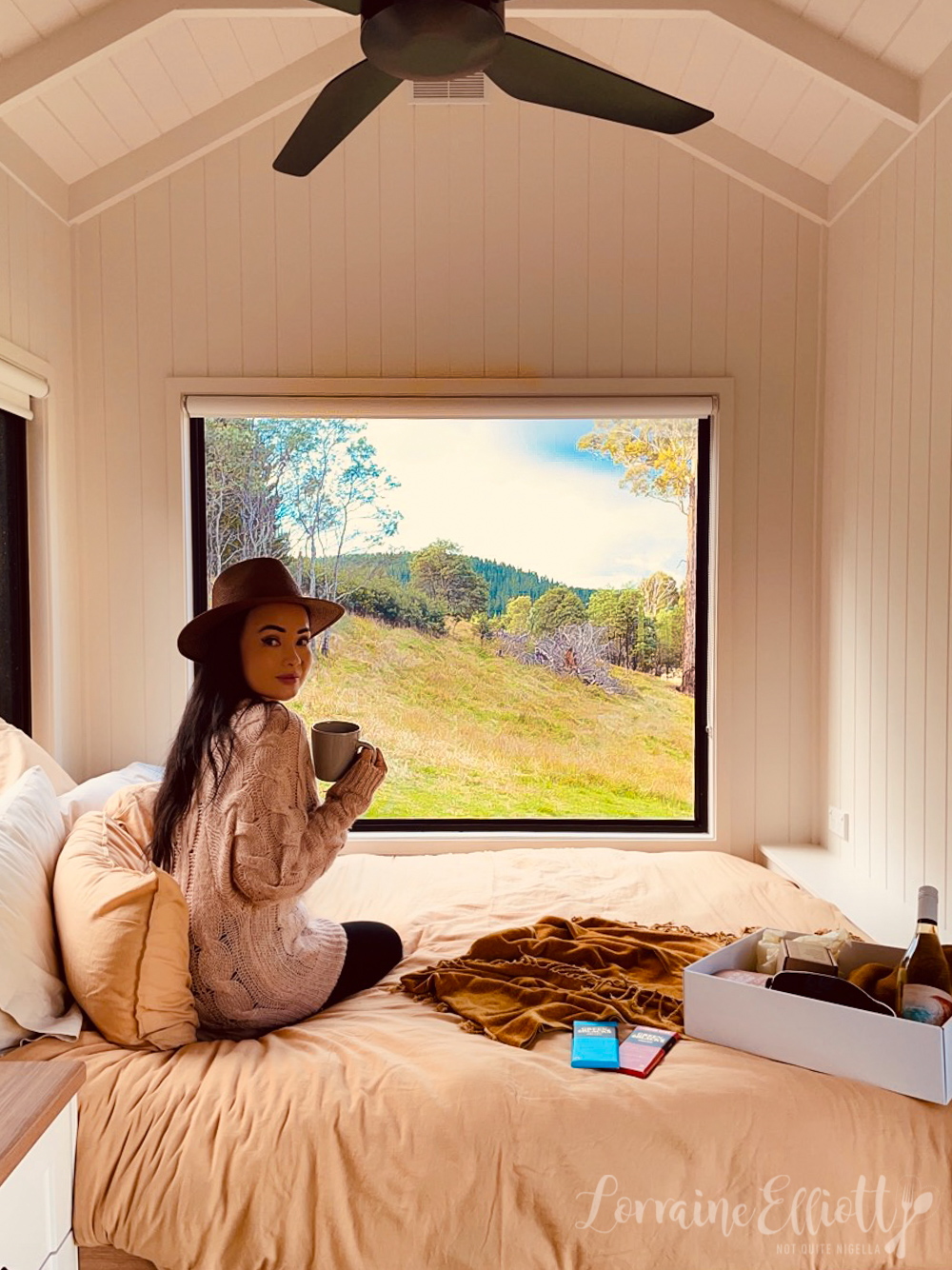 It's time for a Tiny House stay! So what are these Tiny Houses like to stay in? Are they suitable for claustrophobics? Is there plenty to do? Come along to our very first stay in a tiny house in Oberon in the Blue Mountains!
Dear Reader, I'm not going to lie. I was wary. Very wary actually. My claustrophobia has gotten worse over COVID and when I was asked if I wanted to try a Tiny House I was a bit hestitant. But Mr NQN received some good news at work and I wanted to help him celebrate in his style. That meant a remote location in Oberon off the beaten path where he would indulge in one of his favourite pastimes: mushroom picking. A weekend in a tiny house in Oberon was made for him even if it wasn't for me.
In2thewild are one of the many companies that offer tiny houses. Their proposition is offering guests the chance to "rewild". Honestly if someone asked me if I wanted to rewild I'd probably reply, "No I'm good". But with Mr NQN in mind I went onto the in2the wild website and selected Akira because a) it was one of the few houses available (spoiler: they're very popular) and b) it was within a reasonable driving distance from Sydney. There are houses all over NSW as far as Byron, Queensland and Victoria but neither of us wanted to spend a day driving. Some of the houses are dog friendly, but alas Akira wasn't as it is on a working farm with territorial dogs and lots of sheep.
A few days beforehand they sent an information pack by email where you tell them what time you're arriving and they describe the facilities of the house and give you directions on how to get there. Akira was so remote and off the grid that they recommended that we save the directions to our phone because there is no reception near there. They also gently suggested that we leave our devices behind because there is no internet and the house is solar powered with limited electricity. There was also a little mention that Akira is one of their coldest locations too. It was then that I could hear the Jaws music but we packed our shared bag (note singular) and went on our way.
Usually people leave on Friday afternoon for a weekend away but we delayed our arrival to Akira until Saturday because of the rain forfeiting our first night. I'm glad that we did because even homing pigeon Mr NQN said that we would have struggled finding the house at night in the rain without internet so if I can offer any advice, I'd recommend booking Akira on Saturday and Sunday night so you can drive there during the day unless you're familiar with its location.
The Saturday was bursting with intermittent sunshine-we literally had four seasons driving up the Blue Mountains with some towns shrouded in cloudy mist while others were soaking in sunshine. When we got close we switched to the picture directions they had given us - it's not just a matter of putting an address into the GPS. We're lucky that they gave such comprehensive directions with pictures as one of the signs was missing. One direction suggests that we not drive over 30kms down a road in case we puncture a tyre. This sends me into panic.
"Oh my god, what if we puncture a tyre? We can't call anyone! Drive slower!" I said waving my hands about.
"This reminds me of Schitt's Creek," said Mr NQN eyeing me warily while driving.
"Which bit?" I ask him.
"Alexis," he replies.
He's not wrong, she's very relatable especially in this instant but I'm not going to admit that.
"Rude. Nature is always trying to kill you," I reply. Note to self: get it on a tshirt.
We arrive at Akira. I walk around it and survey the proportions. It's indeed tiny but I slide open the door and it's cute. So cute that Alexis Rose would find it charming. And then there's the outlook-the picture window frame view that you cannot draw your eyes away from. I had discussed tiny houses with a friend and she pointed out that they usually have large windows so that it doesn't feel claustrophobic and indeed this helps enormously.
The kitchen is well fitted out with cutlery for four, cooking utensils and a bar fridge with a freezer. There's a two hob gas stove top but no oven or microwave. Outside there's a gas BBQ and a firepit. Firewood for the firepit can be pre-ordered and it is $25 per bag and the money goes to the local farmer or cleaner who provides the firewood.
The bathroom has a compost toilet. Not all compost toilets are created equal - some are like wind tunnels while others smell of wood chips and the fear of something worse. This has neither and is close to a regular toilet as you can get. There's a sink, mirror and a shower with a monsoon head. It is stocked with Leif shampoo, conditioner and body wash.
There's also a loft bed above the bathroom accessed by wooden ladder if you are sleeping 4 people but we remain on the main bed as I can't peel my eyes away from the view. The house is big enough for everything except my yoga mat so we leave that in the car. As we've arrived around 3pm, by the time we settle in it's almost 5pm and the chill is setting in so Mr NQN quickly goes outside to start the barbecue. He cooks up some lamb arrosticini which are Abruzzese lamb skewers made up tiny cubes of lamb. I season them with some saltbush and salt and serve them with salad.
I mix up a salad dressing using the oil, salt and pepper provided and add a splash of Gewürztraminer in place of vinegar which works surprisingly well. We have also brought with us supplies to make a cheese and charcuterie platter and dessert is chocolate. Oh and they weren't kidding when they said it was off the grid. There's one bar of internet if you walk a bit further down the paddock. I toss up being cold vs messaging my friends and staying warm wins out. One cupboard holds a range of board and card games and we take out Scrabble and play a couple of games until it's almost midnight and we go to sleep. The bed is fairly comfortable with lots of pillows to choose from.
"How will we know if someone is coming to kill us? Nobody can warn us!" I whisper to Mr NQN as we are falling asleep.
"Why would someone want to kill us?" he asks.
I mumble something about a hitman and how I'd like some warning and then fall asleep with my charged kindle in my hand. But hey at least it's not sapping the electricity.
Prior to our stay a couple of things had me worried. The first had to do with my enemy: leeches. I'm happy to report I saw none on my stay and I have the weather gods to thank for keeping things sunny. The second was the electricity running out. Akira is entirely solar powered so if you use up the electricity then it won't recharge until the next day (and hopefully it's a sunny day). There is an electronic panel that shows how much electricity you have and they advise you to keep an eye on it. I presume summer and winter would be a challenge at Akira as it can drain quite quickly if you're using the air conditioner.
Having said that, the house was very well insulated and there were no gaps so we kept warm that evening only turning on the heat around 10pm so that we were warm when having a shower before bed. We were never freezing unless we went outside at night and when we went to sleep the power was at 50% and then in the morning by 11am it was fully recharged as it was a brilliantly sunny day. The house is also north east facing so it gets a lot of sun in the morning that heats up the whole house during the day.
The next morning we wake to the gentle bleating of...sheep? Slowly a flock of sheep make their way just outside our tiny house and walk past giving us a cautious stare on the way. After they pass Mr NQN goes for a quick forage around us for Saffron Milk Cap mushrooms. This man adores getting lost in a forest collecting mushrooms. He comes back with a basket of orange hued mushrooms.
I fry some up along with a punnet of exotic mushrooms I had brought from home and shave some truffle cheddar on top and make a coffee using the coffee bags provided. Then Mr NQN sets off for a day of mushroom foraging in the forests. I spend the day reading my kindle, eating chocolate and putting on a face mask. Also I did venture down to the paddock to get a bit of reception just to let my friends know that we weren't attacked by leeches.
So tell me Dear Reader, have you ever stayed in a Tiny House? What did you think of it? Do you think you'd enjoy it?
NQN and Mr NQN stayed at Tiny Akira as part of a GREEN & BLACK'S competition to win a Tiny House stay but all opinions remain her own.
Tiny Akira
https://in2thewild.co/new-south-wales-escapes/