Dear Reader, I must confess that I think a part of me married Mr NQN so that I could survive the world. Or at least negotiate its many crevices and turns with more assuredness that I would normally have. You see he makes up for a part of me that is really lacking. He has nature skills and coordination for which I am deficient.
One example is when we were storing someone's painting for them to pick up. I leaned the frame against the wall near the door ready for collection.
"Honey, don't fall on that painting" I cautioned him.
"Why on earth would I fall against a painting that is leaning against the wall?" he asked me curiously.
"Ummm... because, I'm not sure, but just don't" I answered, not quite knowing the answer to his question but a part of me still thought that it was a valid warning.
Over the next day he would joke saying "oops!! I fell on that painting leaning on the wall!" to which I would laugh and protest "well you don't see the Mona Lisa leaning against a wall on the floor, it must happen!"
I suppose I do help him in some ways. When we first met after he first moved to Sydney from the town of Coffs Harbour, his dinner consisted of a 1 kilo tub of yogurt or a box of supermarket donuts. It was probably a response to being denied sweets or junk food for most of his life. His mother Tuulikki reports that he downed sixteen ice creams the first time he tried ice cream at a school camp.
So tasked with making a cake for his birthday I decided to make him a donut cake. It needed to feed everyone that was coming to his dinner. The bonus of this cake was that it was much easier than one would think. The bundt cake is a cinch, only a bit of creaming and then adding the rest of the ingredients is quite straightforward. There is a heavenly aroma of cinnamon as it is baking. The decoration is really in the buttercream and the chocolate icing and sprinkles. And Queen Viv remarked that when tasting it, the texture of the bundt cake was remarkably similar to that of a donut (which was what I was hoping to achieve but unsure whether I had).
And of course I had to tell him that when it was sitting on the table ready to be brought to the restaurant, "honey don't fall on the cake ok?" ;)
So tell me Dear Reader, what sort of food did you eat when you first moved out of home? Were you making things from scratch or eating out? And are you the kind of person that trips over things and falls on paintings (like me! :P )?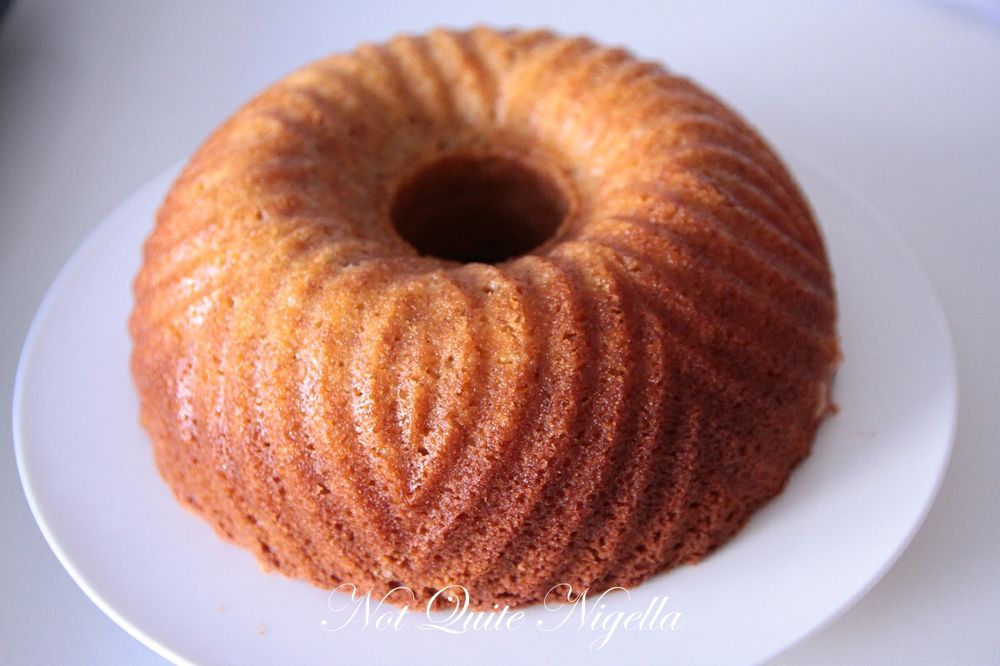 Cinnamon Donut Cake
Makes two 23cms/9inch diameter bundt cakes for both donut halves
300g/10.6ozs. butter, softened
4 cups caster or superfine sugar
8 eggs, at room temperature
4 cups plain all purpose flour
4 teaspoons baking powder
2 tablespoons vanilla extract
1 tablespoon ground cinnamon
1 1/3 cup milk soured with 4 tablespoons lemon juice
For vanilla buttercream filling
1/2 cup or 1 stick or 125g unsalted butter, softened
3-4 cups icing sugar, sifted
1 teaspoons vanilla extract
For chocolate icing
1 tablespoon corn or glucose syrup
1 cup icing sugar, sifted
Step 1 - Preheat oven to 160C/320F. Generously spray two identical bundt tins with oil spray (or you could halve the mixture and do one cake at a time as I did as I didn't have two identical bundt cake tins). In a mixer fitted with a beater attachment, place the butter and sugar and beat together for 3 minutes. Then add vanilla and then the eggs one at a time incorporating between each addition. Mix the baking powder, soda and cinnamon with the flour and on the lowest speed, add this and then quickly add the milk. When incorporated, place in the tins, smooth the top and bake for 45 minutes or until a skewer inserted inside comes out clean. Allow to cool - I also stick the whole tin in the fridge to help release them from the tin once they've cooled off.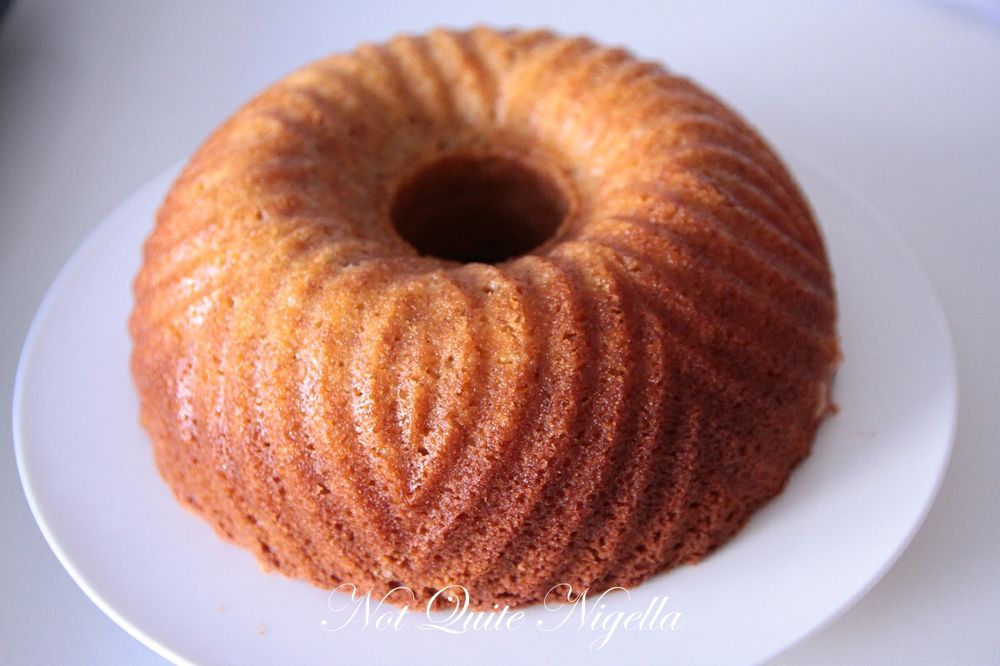 Step 2 - While the cake is cooling, make the buttercream. Place the butter in a large mixing bowl. Add 2 cups of the sugar and then the milk and vanilla. On the medium speed of an electric mixer, beat until smooth and creamy, about 3-5 minutes. Gradually add the remaining sugar, 1 cup at a time, beating well after each addition (about 2 minutes), until the icing is thick enough to be of good spreading consistency.
Step 3 - Have both cakes ready and completely c0ol. Invert one upside down and spread with buttercream. Place the other cake right side up on top of the upturned cake.
Step 4 - Make the chocolate frosting. In a small saucepan, heat the butter, syrup and milk until the butter has melted. Add the chocolate and stir until melted and then add the icing sugar. Working fairly quickly, spoon the icing on top of the cake and then add sprinkles before it sets.