Have you ever tried mochi donuts Dear Reader? These gorgeous stretchy textured donuts are baked, not fried and are so simple to make. They are glazed with a simple blood orange icing and stay wonderfully fresh for a few days. Bonus: they're also gluten and dairy free too! If you love that stretchy mochi texture, these are a pushy recipe!
What are mochi donuts? These donuts are similar to mochi cakes which are sticky, stretchy, chewy rice flour cakes. The donuts also take on a lovely chewy texture to them and they're one of my favourite donut types. For those new to mochi they will be quite different to regular donuts but in a good way.
Although I'm not a coeliac or gluten free eater, I decided I wanted to make some gluten free donuts based on my Hawaiian mochi passion fruit cake because I wanted to see how they would turn out. They turned out even better than I would have hoped!
What is glutinous rice flour? It's different from regular rice flour (do not use plain rice flour). In Australia you'll find it at Asian grocery stores, usually from Thailand by this brand (look for the green writing). In other countries it is called Sweet Rice Flour or Mochi flour.
Where to buy a donut tin? You will need a donut baking in to make these donuts. I get asked this question a lot. I bought my donut tin from Big W a few years ago but they seem to be out of stock. You can find them on amazon and I bake enough donuts to find them worth buying.
Tips for making mochi donuts:
1 - The number one thing about making mochi donuts is getting them out of the tin. The batter is a cinch to mix up but getting the baked donuts out of the tin can be a bit of a challenge (it just takes time).
2 - Use a non stick donut tin. It will just be a bit painful otherwise.
3 - Butter your tin well. Like really well. These mochi donuts like to stick to the tin. I found that spraying with oil didn't work as well as buttering with butter or a non dairy butter substitute.
4 - Let the donuts rest in the tin for 30 minutes or so. When they're hot they're delicate (like all cakes). Once cooled pry them away from the tin with a butter knife and scoop out with a spoon. This takes a bit of time but they'll come off in one piece because of the glutinous flour (unlike regular flour where the donut might break apart).
5 - Mochi donuts are best when they're slightly warmed. This brings out the stretchy quality. But they're still stretchy and delicious when cold too.
Normally Mr NQN can be a bit funny about donuts as he doesn't like deep fried food. I mean he wolfed down the loukoumades but normally I have to convince him to eat deep fried food. I left these for him as I was going on a staycation and he wolfed them down in no time. I think it was a combination of the chewy moreish texture and the sweetness that he loved. I came back from one night away and the entire lot was gone, an empty box with crumbs remained.
That day was also time for Mr NQN's first haircut since late last year. Our normal hairdresser and friend Elly has now moved to the Central Coast and no longer comes into Sydney to work so he found a place nearby. The only place that was open was a hipster hairdresser. He was a bit concerned because Elly knows what sort of haircut he wants and he knows I don't like super short hair or a shaved head but he didn't know how to express what he wanted and didn't really have a photo because he loathes photos of himself.
He picked me up after his haircut and was very excited. "I've discovered what I need to ask for!".
"It's a Keanu haircut!" he said.
Keanu Reeves has had quite few haircuts over the years but it turns out that Mr NQN's go-to haircut is Keanu on the cover of Point Break. "I know what to ask for now!" he said excitedly showing me a picture of Keanu.
So tell me Dear Reader, have you ever tried mochi donuts? Whose haircut do you have?
DID YOU MAKE THIS RECIPE? Share your creations by tagging @notquitenigella on Instagram with the hashtag #notquitenigella
Blood Orange Mochi Donuts
Rated 5.0 out of 5 by 3 readers
An Original Recipe by Lorraine Elliott
Preparation time: 20 minutes plus 30 minutes cooling time
Cooking time: 30 minutes
Degree of difficulty: easy
Makes 18 donuts
220g/7.8ozs. caster or superfine sugar
2 eggs, at room temperature
2 teaspoons finely grated blood orange zest*
1 teaspoon vanilla
250g/8.8ozs. glutinous rice flour
2 teaspoons baking powder
1/2 teaspoon salt
360ml/12.1flozs. coconut milk
50g/1.7ozs butter substitute, melted plus extra for buttering the tin
Blood Orange icing
3 tablespoons blood orange juice*
1.5 cups icing or powdered sugar, sifted
To decorate
small segments of blood orange*
Pink cachou balls
Gold leaf
You can also use oranges in this if blood oranges aren't in season. The colour of the icing will just be different
Step 1 - Preheat oven to 180C/350F. Grease a donut pan very well with the butter substitute. In a large bowl whisk the sugar, eggs, zest and vanilla together for 1 minute. Whisk the rice flour, baking powder and salt together in a small bowl and add the flour to the egg mixture with the coconut milk and melted butter in 2-3 lots and mix until smooth. Whisk to get rid of any lumps.
Step 2 - Place the batter in a jug and pour into the prepared tin just a little smidgen under the top and bake for 25-30 minutes or until lightly golden. Cool in the tin for 30 minutes. Use a butter knife to pry the edges from the tin and the use a teaspoon to lift the donut-it may be a little bit stubborn but it should come out in one piece and not break. Cool on a cooling rack set on top of a baking tray (to catch any icing drips later).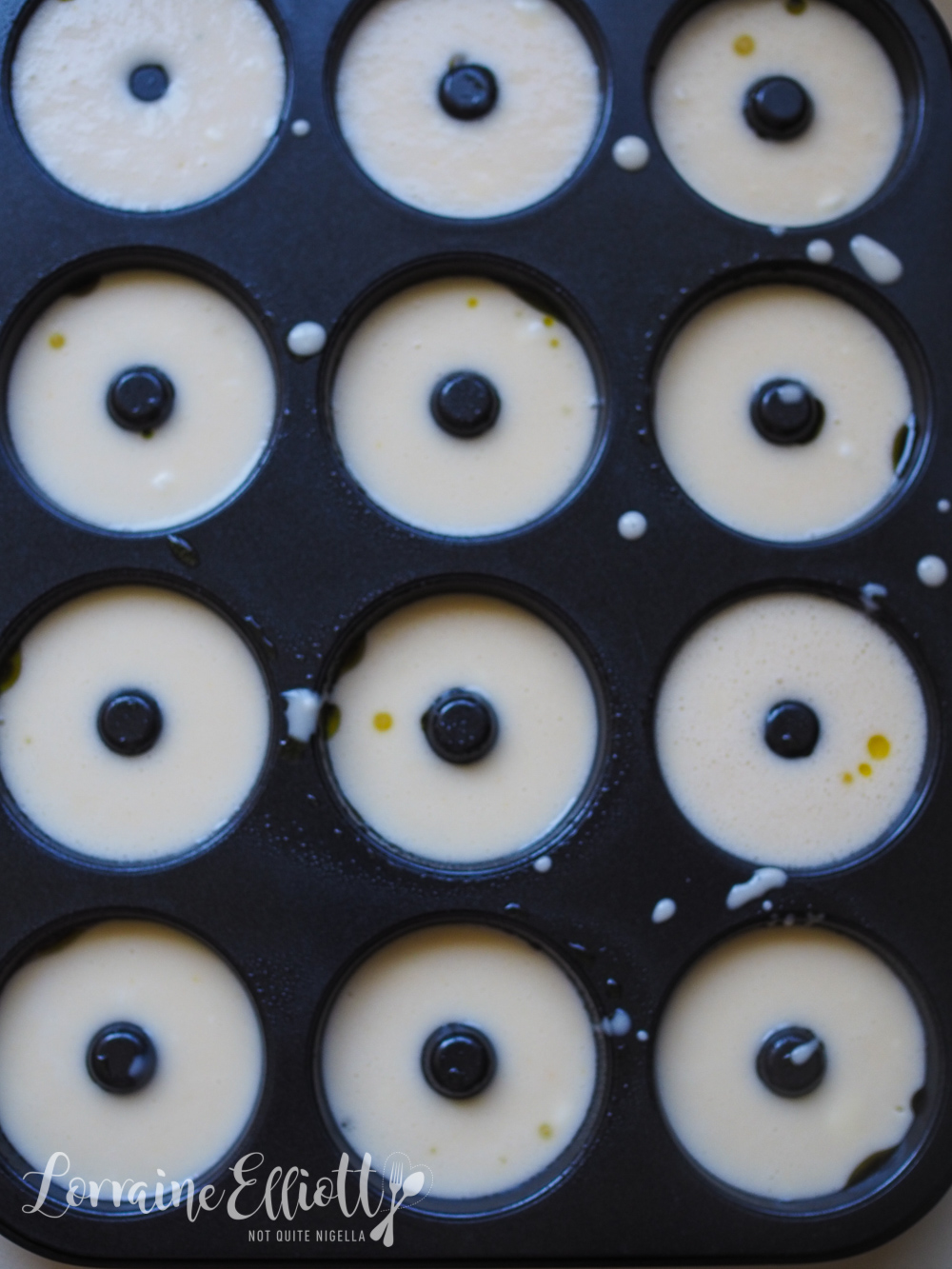 Step 3 - Mix the icing sugar and blood orange juice together in a bowl to form an icing and use a teaspoon to spread the icing on top of the donuts. Place them back on the rack. Add a tiny slice of blood orange, cachou and gold leaf before the icing sets hard.