It's almost time for Greek Easter but even if you don't celebrate, it's the perfect time to serve this glorious Greek lamb shoulder and lemon potatoes. This Greek lamb is wonderfully soft and given a piquant twist with a lemon marinade and a mustardy garlic paste. To pair with the lamb, Greek lemon potatoes are tender with a gorgeous lemon flavour. This is a pushy recipe Dear Reader!
Greek Orthodox Easter is on May 2nd this year. The Orthodox church follows the Julian calendar while Western churches use the Gregorian calendar, hence the difference in dates. Lamb is usually on the menu during these celebrations-in Greece it is spring while we are in Autumn. Nevertheless I feel like Autumn and Winter really lends themselves to slow roasts and rich meats like lamb.
The key to this Greek style lamb is the liberal use of lemon that permeates through the meat and marinates the lamb overnight as well as slow cooking the lamb shoulder until it is so tender and pries apart easily with two forks.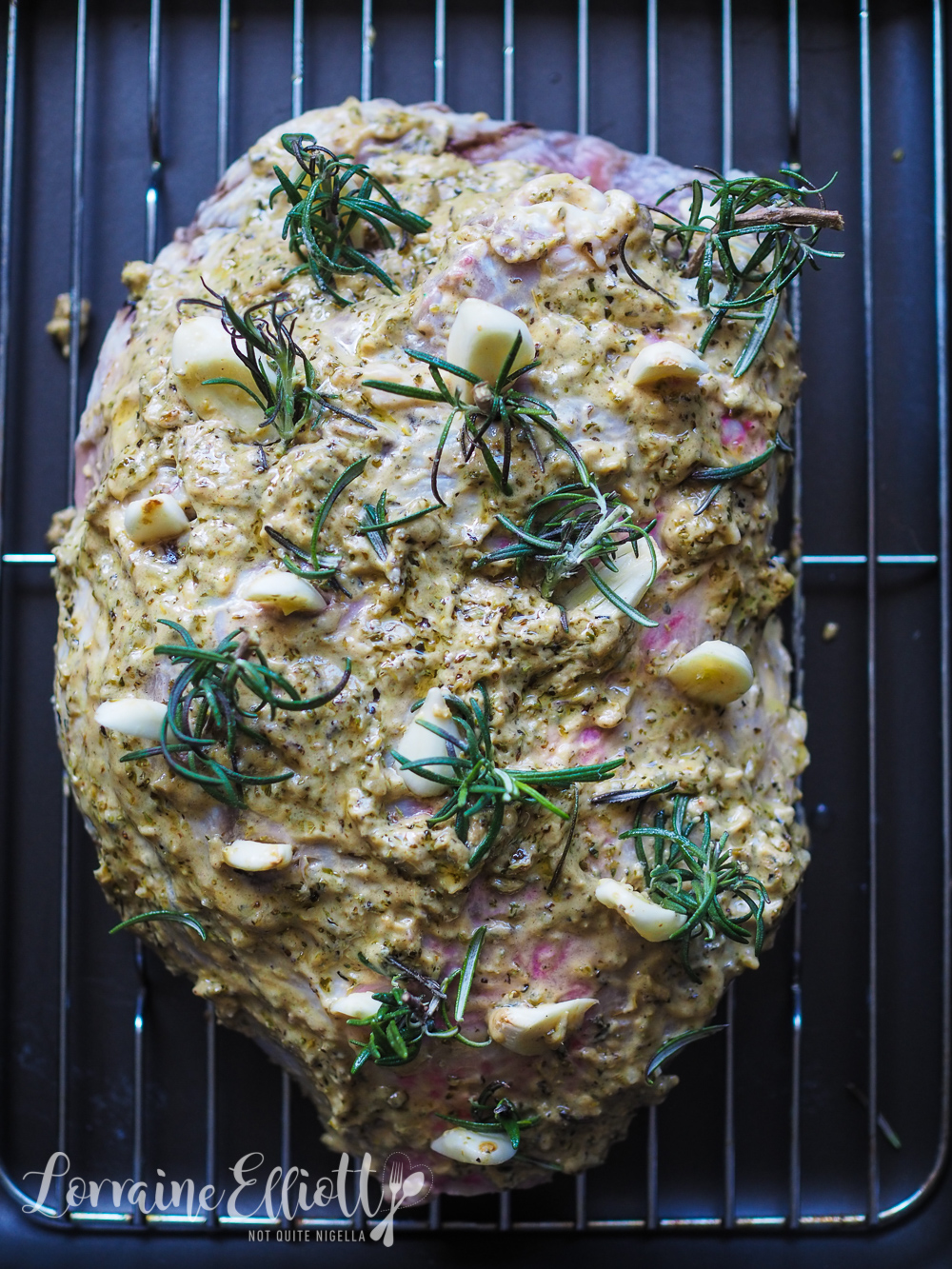 The best Greek lamb I ever ate was imbued with the wonderful flavour of lemon. Lamb can be quite a divisive meat and its glorious tenderness can also be strong in flavour which doesn't suit some people. I happen to be married to one of those people as Mr NQN shies away from it. However I managed to replicate that lemony flavour from that memorable lamb dish and Mr NQN said that it was his favourite lamb dish ever. I used lemon in both the marinade to tenderise the lamb and in the basting sauce and paste.
Greek lamb is usually cooked with garlic and rosemary and normally not smothered with a paste on top but again this was in aid of flavouring the lamb, much like with the lemon. This Greek lamb recipe (sans the paste) was using tips from chef David Tsirekas of Perama and Xanthi who recommended studding the lamb with garlic and rosemary, roasting it on a rack and then using the drippings to roast the steamed potatoes. There's a certain lustful logic to the idea of collecting all those delicious juices and using them to roast the potatoes. I was helpless to resist.
Lemon potatoes
Lamb shoulder is my favourite lamb cut. While some prefer leg of lamb, I love the unctuousness of lamb shoulder. The only thing is that while leg of lamb cooks relatively quickly in 1.5 hours, lamb shoulder needs longer time as the fat is marbled through the shoulder rather than sitting on the outside of the lamb as with the leg. Lamb shoulder is a bit more mistake-proof too while leg can become dry easily. With this additional time, you are rewarded with the softest, most tender, almost gelatinous meat and skin. Trust me, it's worth it.
This lamb shoulder cooks for 8 hours so that you can start it in the morning at 10am and it will be ready by the time that dinner rolls around at 6pm-7pm. Your potatoes will also be ready by then too and you don't have to attend to this much at all. I made this Greek lamb shoulder and potatoes using products from Grecian Purveyor. They have some absolutely beautiful Greek products and I feel like they definitely contributed to the success of this Greek lamb and potatoes.
Other lamb recipes: Greek style Shepherd's Pie, Vietnamese Style Sticky Mint & Lime Lamb Shoulder, Lamb Raan Roast, Slow Roasted Garlic Lamb Shoulder or take a peek at the lamb section!
Perfect side dishes to accompany this Greek lamb and lemon potatoes: Greek broad beans in tomato (you can use green beans if broad beans aren't in season) or this classic green salad.
Make your Greek Easter complete with Tsoureki bread!
We invited our friends Valentina who is Greek Cypriot and her husband Peter over for dinner to have this. Someone smarter than me wouldn't invite one of the best Greek Cypriot cooks over for a Greek lamb feast but I wanted her honest opinion on it.
I love having people over but our apartment is small so it's not ideal and the dining table is my working station. For dinner parties, our agreement is that I cook and Mr NQN cleans (under much protest).
My friends are so easy going and real and we can be ourselves around each other (I mean who has the energy to deal with pretentious people?). I loved it when Valentina asked if we could have Married at First Sight on in the background. I know it's a trashtastic show but we are all addicted to it (Mr NQN and Peter included) and it was the finale.
Mr NQN was even happier when we suggested that we eat our dinner in front of the television rather than at the dining table which meant all he had to do was clean the coffee table!
I set up the dishes in the kitchen so that everyone could help themselves. Valentina was so generous in her praise of the lamb and potatoes and declared it spot on. It was nothing short of one of the best nights of entertaining full of good food, wine, shared gossip and watching tv together. And I wouldn't change a thing.
So tell me Dear Reader, do you have casual get togethers where you eat in front of the tv? Do you like lamb? Do you prefer lamb shoulder or leg?
DID YOU MAKE THIS RECIPE? Share your creations by tagging @notquitenigella on Instagram with the hashtag #notquitenigella
Greek Lamb & Lemon Potatoes
Rated 5.0 out of 5 by 6 readers
An Original Recipe by Lorraine Elliott
Preparation time: 30 minutes
Cooking time: 8 hours
Start this the night before
Serves: 6 people
1.5kg/3.3lbs lamb shoulder
Juice of 2 lemons (around 1/3 to 1/2 cup)
4 cloves garlic, peeled and sliced thinly
2 sprigs fresh rosemary
For paste
3 tablespoons mustard
3 tablespoons extra virgin olive oil
1 tablespoon dried oregano
2 teaspoons salt
Finely grated zest of 1 lemon
For baking
2-3 cups beef stock (can also replace 1 cup with white wine if desired)
4 tablespoons honey
Note: your lamb shoulder should already be trimmed but if not, make sure that there's a thin layer of fat on the lamb. Lamb shoulders vary in size-this was 1.5kgs but they can go up to 2.5 kilos so adjust your time accordingly (generally at a minimum cook lamb shoulder for 90 minutes per 500g/1.1lbs at 160C/320F). Smaller joints do tend to shrink when baking so just keep that in mind if you're presenting it to guests.
Step 1 - First marinate the lamb in the lemon juice overnight. I place it in a ziplock bag and lay it flat in a tray and turn it halfway through so that both sides were "lemoned".
Step 2 - Preheat oven to 160C/320F and place a rack or trivet on a baking tray and place lamb on the rack reserving the lemon marinade. Mix all of the paste ingredients together. Spread the paste over the lamb.
Step 3 - Make some deep cuts with a sharp knife and wedge in garlic slices and sprigs of rosemary. Cover tightly with foil and roast for 3 hours.
Step 4 - After 3 hours take the lamb out of the oven and drain the pan juices and fat from the lamb for the potatoes. Spoon some of the lemon marinade over the lamb over the paste and add 2 cups of the stock to the baking dish, cover again tightly with foil and return to the oven for another 3.5 hours. Add 1/4 cup of water to the leftover lemon marinade. Every hour spoon over some more lemon marinade over the lamb. You don't have to use it all, just a tablespoon or so is fine. Add the extra cup of stock if it is drying out.
Step 5 - By now the lamb should be very tender and soft. Spoon some of the honey over the top of the shoulder (heat the honey for 10 seconds in the microwave if it is too stiff) and increase heat to 200C/400F and roast the lamb uncovered for 20-30 minutes (you can also put the potatoes on now). Let lamb rest under the foil for 15 minutes before serving. I pull it apart with forks and then serve it drizzled with the remaining lemony mustardy jus in the bottom of the pan.
Greek Lemon Potatoes
1.5kgs potatoes (Dutch Cream or Desiree in Australia or Yukon Gold in America)
1/3 cup/80ml/2.7flozs. pan drippings from the lamb above
1/4 cup/60ml/2flozs. lemon olive oil
4 teaspoons salt
1 teaspoon dried oregano
1 teaspoon semolina (optional, adds crunch)
1/2 teaspoon black pepper
1/4 teaspoon sugar
Step 1 - Steam the potatoes until starting to become tender (you don't want these soft enough to eat, you still want them firm). Cut into wedges.
Step 2 - Preheat oven to 200C/400F and line a baking tray with parchment or spray with oil. In a large bowl mix the pan drippings, olive oil, salt, oregano, semolina (if using), black pepper and sugar and toss the potatoes in this mixture. Bake for 30-45 minutes (the length depends on how large your wedges are) turning halfway.