Dining room-ha!
After stepping off a long, arduous flight to L.A. my first instinct is to reach for food, particularly as we are in the land of some of my favourite foods. While we are in the cab speeding to the nearest In N Out Burger I clap my hands together in excitement and chant "In N out! In N out!". The cab driver looks at me like I have taken leave of my senses and Mr NQN rolls his eyes and smiles. For the entire flight here, he has been listening to me chattering about the burgers I will order: a 4x4 burger and the fries "animal style".
Umm.. that looks a little close!
In N Out Burger isn't fancy stuff. It's a burger chain which is frequented by celebrities (Gordon Ramsay is apparently a fan and it was mentioned in the film The Big Lebowski), celebutantes and regular folk with over 200 branches across the Western United States. We pull up nearby and the cab driver asks "Would you like me to drive through or do you want to eat in?" which we chuckle at. I haven't quite gotten to the stage of hailing a cab to take me through a drive thru (but give me time). We alight and I promptly almost get run over in my excitement (ack, we keep looking for cars on the wrong side of the road!). A plane flies just overhead. There's a row of cars that snakes around the Drive Thru and there is an In N Out employee with an electronic ordering board taking orders.
We walk in and it's very busy this Fourth of July. In N Out has a (not so) secret menu with items that do not appear on the in store menu.  The in store menu is simple and features just three types of burgers: a hamburger, a cheeseburger and a double double (two patties and two slices of cheese). There are also fries, soft drinks (including pink lemonade-weee!) and shakes in strawberry, chocolate and vanilla. The secret menu however has items such as a 3x3 (three  patties, three slices of cheese) and a 4x4 (four patties and four slices of cheese) . You can also bling up your fries by asking for them "Animal style" which are French fries with melted American cheese, "spread" and barbecued onions. Or you can go "low protein" by getting it in lettuce instead of in a bun.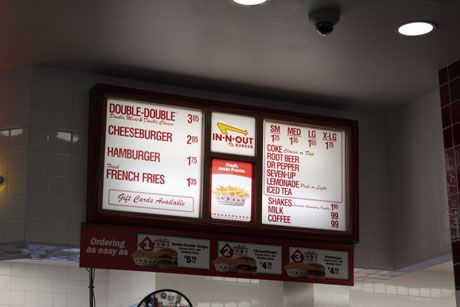 Open since 1948 they proudly boast that their meat is without fillers or preservatives and is not frozen. There are no freezers, microwaves or heat lamps and everything is made fresh to order. They reportedly have hand sliced vine ripened tomatoes and they slice the fries daily at each store.  Shakes are made using real ice cream. I place my order with the friendly clerk and he asks
"Are you going to give the 4x4 a go?".
"Well I'm going to give it a go. Have you tried one?" I ask him.
"Well I tried a 3x3...once..." he admits.
_gulp_
Our tray of goodness
The 4x4 $5.05
I have to admit the 4x4 doesn't look as intimidating as it sounds. Mr NQN scoffs and says "I'll finish that in no time". He was after all, the man that faced off with the 1 pound burger at Counter Burger and lived to tell the tale. It's beefy and cheesey with a layer of spread which is like a less tangy tartare sauce, American cheese (much like McDonalds cheese), onion (optional), lettuce and tomato. It's gooey and a large pool of cheese and sauce gathers at the bottom of the wax paper. It's nice and fresh and very, very gooey. And you of course may know about the infamous story where What Up Willy ordered a 100x100 burger which caused management to put a restriction on the maximum size of a burger to a 4x4.
Grilled Cheese $1.90
Bizarrely, the grilled cheese which is like a cheeseburger without the patty is quite good. Perhaps it was the beef overload from the 4x4 but I would venture to suggest that a vegetarian might be happy enough if they got this as the salad is nice and fresh and the lettuce crispy. It comes with more onion than the meat patty burgers.
French fries Animal $3.25
These would have been really good if the fries were warmer. Oddly, given how furiously fast the kitchen is working and the turnover, they are quite lukewarm. The cheese hasn't had a chance to melt yet but we both agree that the onions and  sauce are good and the cheese would be too if it were more melted and the fries hot.
Strawberry Shake $1.95
"Ooh look at this, the nutritional information!" I say to Mr NQN while sipping the strawberry shake. I put it down shortly after when I realise that the strawberry shake which is perfectly nice and not too sweet, is worth just under 700 calories. Umm errrr...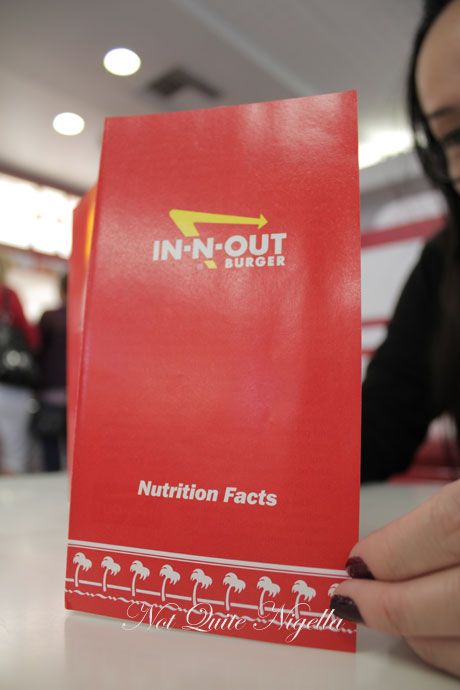 Nutritional information pamphlet: don't go there girlfriend.
Hamburger Animal style $1.75
Just for the road, we order a hamburger "Animal style" which comes with a lick of spread and is said to be slightly different as it has a mustard cooked beef patty. The bun is more toasted than the other ones and it's not bad although cheese does add to the whole burger experience and we think the cheeseburger "Animal style" would be a better option. And yes I do like saying "Animal Style" when ordering food. I may request that when we next visit a posh restaurant just to see their reaction :P
Pink Lemonade $1.25
The pink lemonade is quite refreshing and not too sweet. It's like a regular old fashioned lemonade with a bit of fizz to it. It is not as sweet as Lift or Solo and much more lemony than clear lemonade.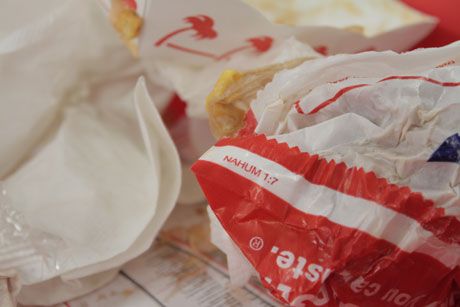 Bible reference on a burger packet
And before we leave we flip over the cups and the burger sleeves to see whether they actually contain bible verses-and they do! This reportedly began in the 1980's under Rich Snyder's ownership of In N Out. It's almost like a subliminal message so we wanted to check this out for ourselves.
_Bible reference on the bottom of a cup
_
Another bible reference on a burger packet
So tell me Dear Reader, where do you think I am off to next? ;)
In N Out Burger
9149 South Sepulveda Boulevarde, Westchester, Los Angeles, CA, United States
http://www.in-n-out.com