It's pumpkin season and whether you're a fan of the vegetable or just have lots of pumpkins left over from Halloween then I have some delicious pumpkin recipes for you to try. There is the best pumpkin soup (big claim I know!), pumpkin fries, hasselback pumpkin, a pumpkin and rice soup or roasted pumpkin for vegans. You've got every celebratory meal covered from now until Christmas!
Did you make this recipe?
Share your creations by tagging @notquitenigella on Instagram with the hashtag #notquitenigella
I know that this is a big claim and this pumpkin soup is not one of those thick ones that you're probably used to but once you try you, you may become addicted to it like I do. I don't cook pumpkin soup any other way now!
Pumpkin...fries? Is there nothing that pumpkin can't do? These kabocha fries are deliciously crisp and spicy and a wonderful alternative to potato wedges or fries!
I think the motto is, anything potato can do, pumpkin can also do! And this whole butternut hasselback pumpkin is a great way to serve up a side dish for a Thanksgiving or Christmas meal. With a few tips (it's not just cutting up a pumpkin) you'll end up with a delicious side dish!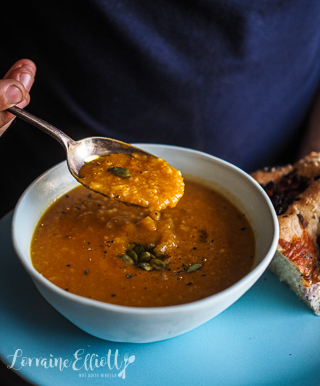 This Dutch curry and rice pumpkin soup is such a wholesome, healthy soup. It has no added cream or butter, it's vegetarian, hearty, creamy without cream, low in fat and easy. What are you waiting for? ;)
Everyone loves roast pumpkin and now you can make a delicious roast pumpkin with caramelised onions and pecans that is perfect to serve to vegans too!
So tell me Dear Reader, how do you like to cook savoury pumpkin?