It's almost Easter and that means it's time for a new spin on my traditional Hot Cross Bun recipe. This year's sweet HCB flavour is...Sticky Date! Luscious medjool dates are soaked in spiced port and then folded into the softest dough. On top of these, soft, plump buns is a salted butterscotch glaze! This is a pushy recipe if you love hot cross buns!
This hot cross bun recipe is based on my popular classic bakery hot cross bun recipe. They're what I look forward to the most (as well as the time off) during Easter. The history of hot cross buns can be traced back to ancient pagan celebrations of the spring equinox, which were later incorporated into Christian traditions. The buns were originally made as a symbol of the sun, with the cross representing the four seasons and the phases of the moon.
The first recorded use of the term "hot cross bun" dates back to the early 18th century in England, where they were sold by street vendors as a popular Easter treat. The buns were often associated with Good Friday and people believed that they had special powers to ward off evil spirits. It was said that a hot cross bun baked on Good Friday would never spoil and that hanging a hot cross bun in the kitchen would protect the house from fires and evil spirits!
Interestingly, in the 16th century Queen Elizabeth I passed a law limiting the sale of hot cross buns to certain religious holidays such as Christmas, Good Friday, and burials. This law helped to establish the bun as a traditional Easter treat. That's not the case here as we see them creep into supermarkets months before usually in February.
So each year I make a new flavour using my classic hot cross bun recipe that uses a tangzhong roux to make the buns super soft. This simple little step that takes less than 5 minutes produces THE BEST Hot Cross Buns and every year I get so many people tagging me on their HCB creations! This year I made a savoury hot cross buns with bacon and cheese. Other HCB flavours that I've made include: Chocolate Hot Cross Buns, Carrot Cake Hot Cross Buns, Nutella swirl hot cross buns, Apple & Cinnamon hot cross bun, Finger Bun hot cross bun. There's also a Hot Cross Bun Loaf and gluten free hot cross buns as well as a Thermomix Hot Cross Bun recipe! These two recipes don't use the tangzhong method but you could easily adapt them or do them as they are: Cinnamon Choc Chip Hot Cross Buns, Spiced Honey Buttered Hot Cross Buns.
I gave Mr NQN a big batch of these to take into work along with a slab of butter. I had frozen the HCBs just after baking and cooling them and I gave him strict instructions to heat them up in the microwave (there's no oven or toaster). A few days later I sent him on his way with a box of these and a big chunk of foil wrapped butter. And I waited and waited back to hear from them. At morning tea I checked my phone - nothing. During afternoon tea I checked my phone - again nothing. Maybe they didn't like them? That night when I picked him up for dinner he casually mentioned, "Everyone loved the hot cross buns. I even got a pic of them with them."
I looked at him exasperated. "Why didn't you tell me? You know I've been waiting all day to hear back about it!" I exclaimed, letting out a huge sigh of relief. He should really know better.
Apart from this recipe I've also got some exciting photos to share with you today Dear Reader now that my kitchen has finally been finished! We were just waiting for the rangehood and now everything is done (although with a Federation home, nothing is ever done). I still can't believe it. Let me walk you through what we did.
The kitchen's focal point is a long island with a stone benchtop. The benchtop is made of Xlastra 12mm Statuario Extra Porcelain which is an engineered stone made in Italy. It has grey marble look veining without the difficulties of having marble that stains and scratches very easily as it is so porous. Usually islands are 1 metre wide but I am not tall enough nor do my arms stretch enough so we made the island 940mm wide and over 3 metres long.
I definitely need that pink step ladder!
One thing that I recommend is to have lots of drawers. These hold so much in them over cupboards and there are 5 sets of drawers in this kitchen or 15 drawers in total. One of the most (unexpectedly) expensive things were the hawa pull out pantry doors in the appliance cupboard that slide into the side of the cupboard when retracted. I mean who knew right? This was all painted in Porters North Sea colour. NOT Dulux North Sea Blue which my kitchen maker originally painted it in! SMH. They were finished with brass handles.
And that brings me to my oven. I always wanted a Falcon oven and this was a dream come true. Falcon ovens are made by the same company that makes AGA stoves which are beautiful but I prefer the look of Falcons. The 900mm oven is electric and the stovetop is gas which is the best of both worlds as I think the steady heat of electric ovens is better for baked goods while the fast heat up of a gas stovetop is better for cooking. The oven door has a tray so that it is easy to take things out of it! It's actually genius. I love this oven although I think if I were to do it again I'd possibly get the 1200mm oven just to fit a bit more (but it fits plenty as it is). Falcon were kind enough to give me a trade discount too.
The rangehood style was something that my builder and hacked together. I love the whole look of these decorative types of rangehoods but this style has not made its way to Australia yet. It's popular in America and is often a feature of estate homes and mansions but I couldn't find anything like it here. So we hacked it! I bought a rangehood and Peter put a primer coat and then painted it in Porters North Sea to match the cabinetry. The brass straps aren't actually brass. I remembered that brass needs polishing and there was no way I was getting up there to polish the brass straps. So we used aluminium straps painted brass. This was also less expensive but also doesn't require any polishing at all. I went with a Qasair rangehood which is made in Melbourne and it's very quiet and powerful (not sponsored). One good piece of advice I was given when buying rangehoods is to go with a brand that specialises in only rangehoods, otherwise they may be noisy and not powerful enough. There are about 4-5 brands that do.
It has always been my dream to have a fridge with an ice dispenser (when I was a kid I thought that it was totally a sign of success) and I've never had a big enough kitchen to have one until now. Our French door fridge is one of the best purchases and holds so much in it. We had it plumbed in so that it just makes ice by itself - sometimes at night you can hear it making ice which scared us at first haha! It dispenses cubed or crushed ice and also chilled water. I will say that the water, despite having a filter does not taste great. We have a reverse osmosis water filter fitted at the sink for drinking water.
Sink-wise we have a dual butler's undermount fireclay ceramic sink and brass goose neck tap. I find that a ceramic sink needs a lot more work than a stainless steel one and while I love the look of it, any little specks show up on the white so I'm constantly wiping down the sink. If you are thinking of getting a ceramic sink I'd recommend fireclay as it is more durable as it has been fired to a very high temperature. The downside is that it is pricier but it more durable and stain resistant. In fact if you drop plates or a cup in a fireclay ceramic sink they're more likely to break than the sink.
One thing that I would change was to make my pantry bigger. It's a small pantry and just doesn't hold enough for me. There is also a pull out cupboard to the right of the oven where I keep all of the oils and vinegars etc but the both are just not big enough. Thankfully I have storage in an adjacent room that I have converted to a pantry and appliance storage cupboard. I also kepy my old fridge so that I have two which has made my life so much easier especially when having guests over for dinner!
So tell me Dear Reader, do you have any kitchen design tips? And do you like hot cross buns?
Did you make this recipe?
Share your creations by tagging @notquitenigella on Instagram with the hashtag #notquitenigella
Sticky Date Hot Cross Buns
An Original Recipe by Lorraine Elliott
Preparation time: minutes plus 1.5 hours resting time
Cooking time: 35 minutes
Serves: 15
1.5 cups/210g/7ozs medjool dates
1 cup/250ml/8.8flozs port wine
1 teaspoon ground cinnamon
25g/1oz bread flour
1/2 cup/125ml/4flozs water
1/2 cup/120g/4ozs. brown sugar
1.5 teaspoons salt
2 eggs
1 cup/250ml/8.8flozs milk
3.5-3 3/4 cups/525g-560g/18.5-20ozs. plain all purpose or bread flour
1 tablespoon/20g/0.7oz instant dried yeast
1.5 teaspoons ground cinnamon
1 teaspoon ground nutmeg
1 teaspoon ground ginger
1 teaspoon vanilla bean paste
1/2 teaspoon ground cloves
60g/2ozs butter, cubes, softened
Flour crosses
40g/1.41ozs. plain flour
Around 4-5 tablespoons water
Glaze:
80g/2.8ozs butter
80ml/2.8flozs. cream
135g/4.8ozs brown sugar
1 teaspoon vanilla bean paste
Pinch of salt
Step 1 - First pit and finely chop the dates and place in a small saucepan. Heat with 1 cup of port and cinnamon until simmering and cover and set aside to plump up for 20 minutes. Make the tangzhong or water roux. Take 1/6 cup/25g/1oz of the flour and whisk with 1/2 cup/125ml/4flozs of water in a saucepan until smooth. Heat on low to medium heat and whisk until it thickens to become a roux. You want it to reach 65ºC/149ºF - it will take 3-5 minutes so just watch it so that it doesn't go over that temperature. Remove from the heat and whisk in the brown sugar, salt and eggs. Then gradually add in the milk and whisk together until combined.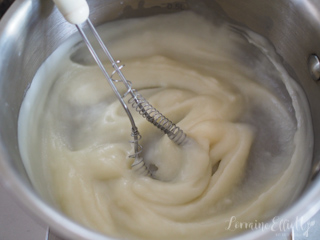 Roux mixture
Step 2 - Place the rest of the bread flour (use 3.5 cups and then add the extra 1/4 cup later if you need it), yeast, cinnamon, nutmeg, ginger, vanilla and cloves in the bowl of an electric mixer fitted with a dough hook and whisk to distribute the spices and yeast.
Risen dough
Step 3 - Add the milky tangzhong mixture to the flour mix and knead until it comes together to form a dough. Add the butter cubes one at a time. Add a bit more flour if the mixture is too wet. The dough needs to be elastic and stretchy but not break and can take up to 18-20 minutes kneading with the mixer. You should be able to pull it apart between your fingers and see through it without it breaking. Roll it into a ball making sure that there are no cracks on top of the ball and allow it to rise in a warm place. It should take less than an hour.
Before the second rise
Step 4 - Preheat the oven to 180C/350F. Drain the dates very well. Mix the flour and water together to make a pipeable paste and place in a small piping bag. Punch down the dough add the drained dates and knead to mix them in well so that they are evenly distributed.
Troubleshooting: your dough will be sticky but try not to add too much flour. A little is fine because flour varies from supplier to batch but adding too much will affect the texture of the buns. Instead, add a little flour and then lightly oil your hands just before shaping them.
After the second rise
Step 5 - Line a 30x20cm/12x8 inch baking tray with parchment. Flour your hands and a surface and shape Easter buns. I weighed mine and they were around 90g/3ozs each and I got around 15 of them. Do not give these a long rise, as long as they puff up a bit that is perfect. Cut a small hole at the end of the piping bag and pipe crosses on top and then bake for 30 minutes.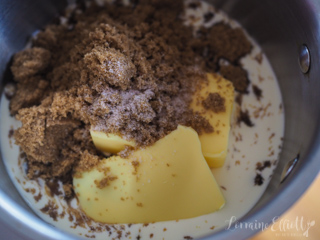 Making the glaze
Step 6 - While the buns are baking make the salted butterscotch sauce glaze. Place the butter, cream, brown sugar and salt in a small saucepan and heat until simmering. Simmer for 5 minutes whisking to ensure that the butter is incorporated and not separate. Once done remove from heat and whisk in the vanilla. Once the buns are baked, generously brush this glaze over the buns. Serve the buns with butter and the extra butterscotch sauce and a glass of the spiced port as reward for the cook.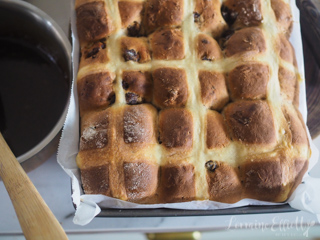 Before brushing with glaze