SFO or San Francisco Airport is a multi award winning airport for sustainability and food. There are four terminals and seven boarding areas between them and passengers can go between terminals using the AirTrain, a free service 24/7, 365 days a year that stops at each terminal every 4 minutes. So what can you do at SFO if you've got a few hours to spare? It turns out quite a lot from robot vending machines, a museum, meeting the WAG Brigade, local food businesses, their very own 5 star hotel as well as a host of sustainable initiatives. Bring your water bottle and come along for a tour of SFO.
You can never tell how good an airport will be from the destination. Take LAX, with so much potential (and people passing through!) but so little cohesiveness. But San Francisco Airport or SFO is another story. Most recently in April 2023 it was voted the best airport for food in America by Food and Wine magazine. Around 80% of their restaurants are local brands rather than national chains and SFO has spearheaded a range of sustainable initiatives with their Zero Waste Policy. No shops or lounges are allowed to sell plastic bottles and all packaging must be compostable with more than 95% of the waste at the airport either compostable or recyclable diverting the waste from landfills and incinerators.
The glass windows of the airport also have a technology called "dynamic glazing," that assesses sunlight, temperature and time to ascertain the ideal tint level and uses a low-voltage electrical charge to activate a ceramic coating applied to the outer pane of the glass to harvest as much natural daylight as possible. This reduces the need for daytime interior lighting and keeps the nighttime glare down and its effect on pilots flying in.
The newest terminal at SFO is the Harvey Milk terminal 1, the first terminal named after a person. Harvey Milk was a prominent political figure and first openly gay man to be elected to public office. He was on San Francisco's Board of Supervisors and championed gay rights. He was shot and killed alongside his colleague San Francisco Mayor George Moscone in 1978. This is also the newest terminal and flies both domestic and international flights. All terminals can be accessed post customs by walking or the AirTrain.
Hydration Stations
As soon as I pass through the security screening I see a couple of filtered water stations or Hydration Stations. Many travellers know to bring an empty refillable bottle and avail themselves of the three types of complimentary tap water. There's cold, hot (for tea) and room temperature water all dispensed with a touch free sensor operated mechanism. Sparkling water is an option coming soon. The water comes from Sierra snowmelt from the Hetch Hetchy reservoir located in Yosemite National Park and from within two protected local watersheds in the Bay Area and there are over 40 water filling stations across all of the terminals.
WAG Brigade
In 2013 SFO launched a program called the WAG Brigade and these trained therapy animals range from dogs, cats, rabbit and a pig are in place almost every day of the year to greet guests. The program was designed to take the stress out of travel for passengers, particularly passengers that experience anxiety when flying.
Each WAG Brigade member has undergone numerous evaluations to assess their suitability and temperament across a range of different social situations. Each wears a harness saying "Pet me" and the handler or owner wears a vest denoting that they are part of the WAG brigade. This is all done on a voluntary basis. I was lucky enough to meet a lot of the WAG Brigade at the Qantas gate party and they are all adorable. At the moment LiLou, a pet therapy pig is on holidays and she is the only pig on the WAG brigade at the moment. But you may see Alex the giant Flemish rabbit or pups Fonzie, Luna, Brixton, Lia or Noodles walking the terminals.
SFO Museum
The Departures Level of the International Terminal Main Hall is home to America's only accredited airport museum that rotates around 40 exhibitions annually. This month features costumes from the San Francisco Ballet. The Aviation museum is currently located in the pre-security area so anyone can walk in (although it is set to move to a post-security area). It has many volunteers on staff, many former flight attendants that are now in their 80s. Couples have also been married in the Aviation museum. As SFO is a public space and owned by the City and County of San Francisco 3% of the budget is spent on arts including every changing galleries, sculptures and art pieces.
**Coffee at SFO **
There are several brands that sell coffee at SFO and Ritual coffee makes great coffee and is a local brand. They test their coffee regularly for acidity to ensure as smooth a brew as possible.
For something fun, head to the end of the Harvey Milk terminal 1 to catch Cafe X's Robotic Coffee Bars to see a robot in action making your coffee. There's a variety of tea and coffee available. Scan the QR code, order and pay on your phone and then the robot will go about making your brew. How much action making your coffee depends on the coffee you order. The fruit tea that I wanted was sold out so I ordered a honey cold brew which is already well, brewed so it was a lot of robot dancing arms and then the arm of the robot presented me with my coffee which was pretty damn good.
Food At SFO
While there are some national chains (McDonalds, Wendy's) around 80% of businesses at the airport are local chains or small businesses that are local to the Bay area.
Harvey Milk Terminal 1:
If you're looking for something healthy try Proper Food that features healthy items like salmon teriyaki, gluten free breakfast sandwiches or their popular green tea soba noodles.
If you're craving fried chicken Starbird is said to have great chicken tenders (tip: go for a kid's size).
At the end of this terminal is where you'll find Cafe X's robotic coffee bar.
There is also Vietnamese, Mexican and Filipino food on offer here.
Terminal 2:
Napa Farms has a range of pizzas, sandwiches and giftable food goodies available in Terminal 2 and the International Terminal Gate G.
Terminal 3:
Yankee Pier serves seafood while Pie Five Pizza Co. makes pizzas to order. Plus there's a Sees Candies (anything with nuts or the brittles is so good!) store there too.
Ed Lee International Main Hall:
If you're craving a mission style burrito 24th & Mission Taco House makes great burritos in a range of fillings including a vegan soy chorizo. This is also where the Aviation museum is located.
International Terminal Gate A:
Head for an outpost of the famous San Francisco favourite Boudin Bakery or Gott's Roadside for burgers from the popular Californian eatery.
International Terminal Gate G:
Napa Farms is an artisan farmer's market at the airport. Their most popular eat-in items are pizzas that are made to order and they focus on locally grown and gluten free ingredients. The chicken pesto pizza is quite good although I'd probably go for a margarita or pepperoni next time. Take a seat at the bar and order a drink and pizza or sandwich (we hear the Cuban is excellent).
They also have an excellent range of edible gifts including the Model bakery cookies and muesli from Napa but you have to get in early to nab a 6 pack of the English muffins. I got myself some Model Bakery peanut butter cookies and cheddar cheese popcorn by Thatcher's.
Onion Rings $13.95USD
Next door is Mustard's the outpost of the popular Napa Valley bistro from wine country pioneer and James Beard Award winning cookbook writer Cindy Pawlcyn. This full service bistro has comfortable booths and televisions playing sport. The onion rings are an Instagrammable stack piled high of thinly sliced onions fried until crispy with a tomato apple ketchup.
Little Gem Caesar Salad $19.95USD
My favourite item is the Caesar salad which they've had on the menu since 1983. They blend the anchovies in the dressing and use crunchy little gem lettuce, crunchy croutons and grated parmesan cheese. It's so moreish and crunchy and I finished most of this.
Mustards Fish and Chips $25.95USD
If you are looking for something more substantial their fish and chips are made with fresh and not frozen rock cod with a super crunchy beer battered coating and very moist fillet inside. They come with French fries, a fresh and tasty slaw and house made tartare sauce that had a nice chunky texture to it.
Stay at SFO
SFO airport also has its very own 5 star hotel. The Grand Hyatt SFO is a short AirTrain ride away. Airport and transit hotels usually get a bad rap but the Grand Hyatt brings all of the luxurious details of the brand to the airport. The hotel is a brand new build and underwent a competitive tender process where potential hotel brands had to provide amenities and 24 hour shops that catered for international guests. In the end the Grand Hyatt won the space and the hotel opened in October 2019.
As I've got a few things to do at the airport I'm staying here for one night before heading to Napa Valley and the room has everything that you would need. My Runway King room #1126 is a king room with a runway view with soundproofed floor to ceiling windows. While it isn't a huge room at 350 sq. ft or 32 square metres it has a few things to feel right at home like a tea kettle (many American hotel rooms only have coffee makers) with Rishi organic teas - they know their clientele can come from other countries. The bathroom is spacious and has Balmain toiletries and there's a vial of pillow mist on the bed, robes and slippers to make you feel comfortable. Most importantly the room has a very comfortable bed and there is excellent service from all of the staff from check-in to room service.
Internet is fast and free for unlimited devices and the hotel is also pet friendly. The hotel is about 15 minutes drive away from the city or 20 minutes by BART (Bay Area Rapid Transport). For AvGeeks there are plane-spotting guides and binoculars so that you can watch all the action on the runway.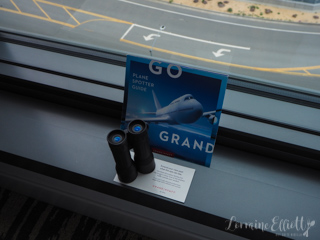 The shops and restaurants on site are designed to cater for guests from all over the world. There is Australian coffee available and a wide range of both tea and coffee and healthy options like sushi and salad available 24 hours a day.
Spam Fried Rice $22USD
A little tip: breakfast at Quail + Crane is well worth a stop. There's all the classics like avocado toast and eggs bene but the SPAM fried rice has a blanket of chilli oil crisp under the two eggs fried sunny side up, matsutake shoyu mushrooms and capsicum.
Spiced Apple Pancakes $19USD
If you're more a sweet tooth try the apple pancakes with a trio of fluffy pancakes, sweet spiced stewed apples, whipped butter and maple syrup on the side that tastes like a pancake version of apple pie.
The Grand Hyatt SFO has a range of art including an enormous installation in the lobby of the hotel that cascades into the Quail + Crane restaurant below. This is said to represent the fog (named Carl, it's a thing) and the ocean, grass and different cultures that inhabit the land under the fog. To get your bearings, there's an impressive mosaic tile installation that is a green map of the Bay Areas' green space made up of hand cut glass and stone mosaic. The gold dot marks the spot of the hotel.
So tell me Dear Reader, have you ever stayed at an airport hotel and been impressed? Do you have a favourite airport and why?
NQN stayed as a guest of the Grand Hyatt SFO but all opinions remain her own.
SFO
San Francisco, CA 94128, United States
https://www.flysfo.com/