These chewy, bright Raspberry Ripple cookies are as pretty as they are delicious! Made with lots of raspberries and coconut and sprinkled with sugar before baking they're like deliciously oversized and tastes like the most perfectly sweet raspberries!
I love the flavour of raspberry and coconut and I'm always trying to think of delicious ways to combine them. I've made a Raspberry and coconut layer cake, Raspberry Coconut Ice, Raspberry and Coconut loaf, Raspberry & Coconut Pie, Raspberry & Coconut Cupcakes, Raspberry Coconut Vegan Birthday Celebration Cake and Iced Vovo Raspberry Coconut Pavlova but I haven't made cookies with that combination. I actually saw these cookies on Instagram explore on LaneandGreyfare and I really liked how they looked but I did find that when I baked them they didn't really look like them and they were a bit gummy in texture, perhaps from the cornstarch mixture replacing the egg. I also wanted them to have more raspberry flavour and I went through almost a kilo of raspberries testing out these cookies! Almost everyone I knew got a batch of these raspberry ripple cookies!
Tips For Making Raspberry Ripple Cookies!
1 - Yes there's not a huge amount of butter in these cookies, just 60g or 2 ounces. That's not a misprint.
2 - Do not use fresh raspberries for these cookies as fresh raspberries are too soft. Frozen raspberries are perfect in this recipe.
3 - If you don't have raspberry flavouring, strawberry can sometimes work as well or just omit it. These raspberry ripple cookies have got a lot of raspberry in them so you don't really need it.
4 - Be very sparing with the colouring. I add tiny drops a little at a time.
5 - I use egg white to bind this cookie together rather than egg yolk as the yolk gives these cookies a yellow colour and I wanted a pretty pink shade.
6 - Make sure to rest the dough in the fridge for 15 minutes or they will spread too much and be very flat.
7 - I bake these cookies one tray at a time.
8 - Bake these cookies in the middle or the coolest part of your oven so that they don't get too brown around the edges. Most ovens have a top and bottom browning element so baking items on the middle rack is best.
9 - I added some white chocolate chunks on some of my cookies, you can add them if you want to!
Now that we are in the midst of winter, using frozen fruit makes sense and I always buy bags of it and keep it in the freezer. And the night before I bake I always leave the butter out so that it comes to temperature a bit quicker. I still find that it is still hard so I have to microwave it on the lowest 10% setting but at least it takes less time and seems to become soft without any of it melting.
One night we were sitting in the lounge room having dinner in front of the tv. Often Teddy and Milo will curl up in front of the fireplace in their beds and rest as they've already eaten. Sometimes Teddy will go outside to patrol the garden for possums but Milo will know what's good and just stay with us where it is warm. The two dogs are so different in personality. Little Teddy is brave and beautiful but anxious whereas Milo's tv theme song is "Don't Worry Be Happy" as nothing bothers this happy boy. Like his mum he likes to be comfortable but Teddy like his dad doesn't mind going out in the cold.
But then we heard this strange noise. It was coming from the kitchen. It was like a rhythmic tapping. "Did you hear that?" I asked Mr NQN and he stopped and muted the tv. It turned out that noise was Milo who had snuck away from his spot in front of the fireplace and was trying to jump up to retrieve the butter that I had left on the bench and the tapping was his paws jumping back and forth. A couple of months ago he had managed to grab himself a stick of butter and devoured the whole thing and promptly vomited it out. Clearly he didn't remember any of that trauma and as far as he was concerned, butter was a delicious prize! So now I have to leave the butter out but in an airtight container that I suspect he can still smell through anyway!
So tell me Dear Reader, are you very different from your siblings? Would you rather be comfortable and warm or do you prefer more rugged adventure?
Did you make this recipe?
Share your creations by tagging @notquitenigella on Instagram with the hashtag #notquitenigella
Raspberry & Coconut Ripple Cookie
An Original Recipe by Lorraine Elliott
Preparation time: 15 minutes plus 15 minutes fridge time
Cooking time: 18 minutes
Makes: 6 oversized cookies
150g/5ozs. cake flour*
3/4 teaspoon baking powder

Fat pinch fine salt

60g/2ozs butter, softened

165g/5.8ozs caster or superfine sugar
30ml/1floz milk
1 teaspoon raspberry flavouring
1/2 teaspoon vanilla bean paste
A few drops of pink and red food colouring
20g/0.7ozs egg white
15g/0.5oz shredded coconut
100g/3.5ozs frozen raspberries, roughly chopped
2 tablespoons white sugar to roll, extra
Cake flour can be bought at the supermarket. You can also make it at home. To make 1 cup/150g/5.2ozs of cake flour replace 2 tablespoons of plain all purpose flour with cornflour/fine cornstarch and whisk well. I usually mix up a big batch of this and keep it in a container ready for baking cakes as it produces a softer texture.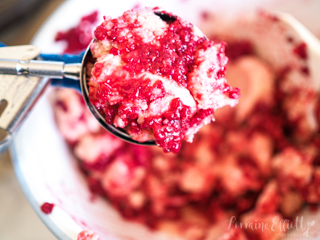 Scooping the dough
Step 1 - Whisk the flour, baking powder and salt together in a jug or bowl and set aside. Beat the butter and sugar together in an electric mixer until soft and pale. Add the milk, raspberry flavouring, vanilla and a couple of little drops of food colouring and beat to combine. Then add the egg white and mix. Add in the flour mix and beat on low speed until just combined. Stir in the coconut and then the raspberries. Scoop into balls and place on a plate in the fridge for 15 minutes.
Placing them on a tray to rest
Step 2 -While the dough is resting, preheat oven to 160C/320 fan forced or 180C/350F without a fan and arrange your rack to be on the middle of the oven. Line 2 trays with parchment. Place 3 dough balls on one baking sheet (they spread to be around 10cm/4inches) and sprinkle with a teaspoon of sugar and bake for 15-18 minutes. Cool on the tray. Bake the second batch of the cookies in the same way.