This vegan birthday celebration cake is something very special. Made with coconut and filled with raspberries it's unbelievably moist and easy to make! It's layered with raspberry jam and buttercream and decorated in blushing pink buttercream, giant sprinkles and raspberry lollies. This is a definite pushy recipe. I called her Samantha.
This cake was made for my friend Sammie. One day she told me that she had always dreamed that I would name a cake Samantha. She looked so sad and mournful when she said it that I felt terrible because it would have been so easy to name a cake after her had I known. "How about I make a cake for your birthday and called it Samantha?" I suggested. I asked her for her favourite flavours and colours and that's how this pink raspberry and coconut birthday cake came about.
For party cakes I always tend to use my vegan cake recipe and make a variation on it. There are three reasons why I like it:
1 Any vegans that are there can eat it.
2 It's very easy and just requires a bowl, jug and whisk (ie. no mixer).
3 It is very moist and stays that way for days so you can make it ahead of time.
This raspberry and coconut cake is in my top 5 of cakes! The combination of raspberry and coconut is absolutely wonderful and I make sure that there's a lot of raspberries to keep it moist. Even if you don't want to make a party cake I hope you'll give the un-iced cake a try because it is so delicious! You absolutely won't be able to tell that this cake is vegan.
Tips for Making A Vegan Birthday Celebration Cake
1 - I always make the cake part the day before to give it time to cool down and firm up a little. Then I ice the cake on the second day.
2 - You need just two easy ingredients to replace eggs in a cake: vinegar and bicarb (aka baking soda) are all you need in place of eggs! I use a ratio of 2.5 teaspoons of bicarb for 4 tablespoons of vinegar. I swear that the cake smells like it has eggs in it when it comes out of the oven!
3 - To counteract the flavour of the vinegar (which is admittedly quite mild), I always use plenty of vanilla and coconut flavouring.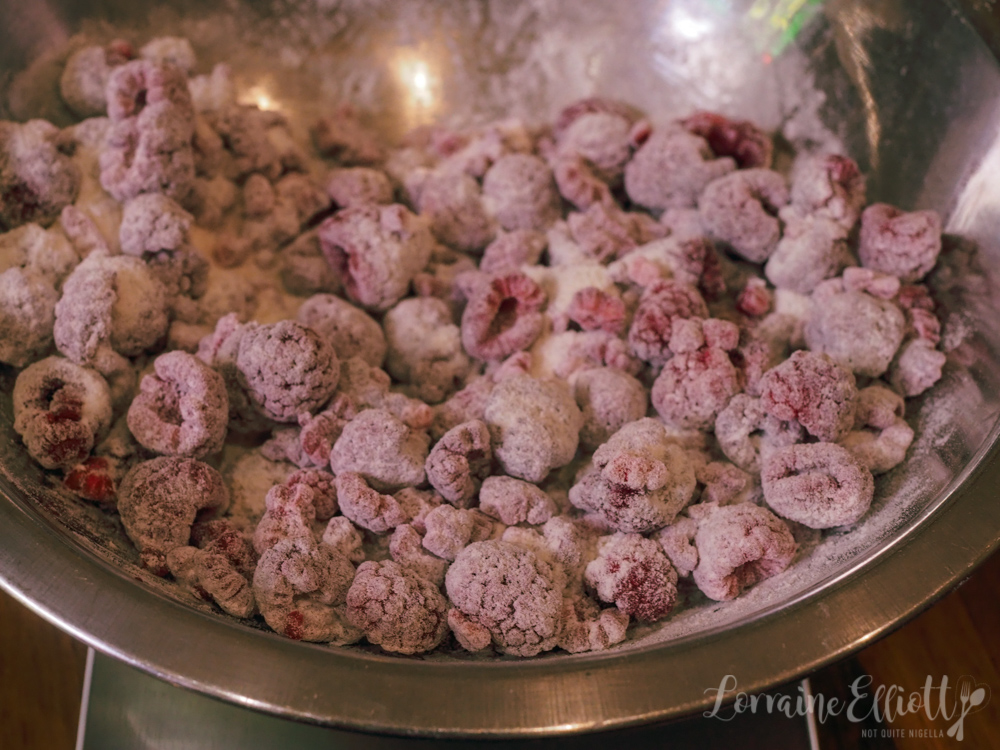 Frozen raspberries rolled in flour mixture
4 - To ensure that the fruit doesn't sink to the bottom, roll the fruit in a few tablespoons of the flour mixture (also using frozen, unthawed raspberries is totally fine).
5 -I like to use glass bowls to mix cake batter so that I can check underneath if there are streaks of flour.
6 -This mixture makes great muffins and cupcakes. Bake cupcakes or muffins at 170C/388F for 25-30 minutes.
Baking a little ramekin or cupcake sized cake to check for taste
7 -If you're making a cake but want to make sure that it tastes good before serving it I always make a little cupcake sized cake so that I can try it. This bakes in around 20 minutes.
8 - My crazy little tip that I always do to make sure that the cake is soft is rest my cake batter in the tin on the counter for 10 minutes before baking to allow the glutens to relax. I don't know anyone else that does this but I swear it produces a softer cake!
9 - I love this cake with either raspberry jam or buttercream but then again I don't have much of a sweet tooth. If you have a sweet tooth use both between layers!
10 - I slightly adapted Sammie's favourite buttercream recipe and it was so easy to make and delicious!
As I mentioned this cake was for Sammie and it had to be good because I had already let her down the week prior. While our builders are amazing we had the runaround from the solar people, the oven deliveries didn't go according to plan and the vet cancelled on us twice. And the only day that I could get in to see the vet was a day that I had said to Sammie that I would make her a dog cake for her dog Teddy Roo's birthday party. I had to break to Sammie that I didn't think that the cake would happen.
I hate letting people down so I needed to make sure that I did a good job on her birthday cake. I don't often make people birthday cakes any more because not a lot of people appreciate the work that goes into a birthday cake but Sammie made me such a cute poodle cake I had to make her one too. I assembled her cast of favourites: pink buttercream, giant sprinkles, raspberry lollies and Jammie Dodger biscuits. The final piece de résistance would be adding her figurine of Teddy Roo her dog in the corner with buttercream on his little nose looking as though he had stolen a bit of the cake!
As it's a cake that feeds around 12 people, Sammie distributed slices among her friends. The next week I was chatting to one of her friends Lucy and she asked to see a photo of the cake as she had only seen a slice and I showed it to her complete with the detail of Teddy Roo eating the icing out of the cake. Lucy burst out laughing. She had received the slice with the buttercream scooped out and felt a bit shortchanged because she loves buttercream and wondered why there was a chunk missing and wondered where her buttercream was!
So tell me Dear Reader, do you feel bad when you have to let friends down? What are your favourite flavours and colours for a cake? And do you like buttercream or do you prefer the cake part?
DID YOU MAKE THIS RECIPE? Share your creations by tagging @notquitenigella on Instagram with the hashtag #notquitenigella
Raspberry Coconut Birthday Celebration Cake
Rated 5.0 out of 5 by 3 readers
An Original Recipe by Lorraine Elliott
Preparation time: 90 minutes (best started the day before)
Cooking time: 1 hour 5 minutes
Serves: 12 people
For Cake
450g/1lb. cake flour*
400g/14ozs. caster or superfine sugar
110g/3.8ozs desiccated coconut
2.5 teaspoons bicarb of soda
1 teaspoon salt
250g/8.8ozs. frozen raspberries
400ml/14flozs coconut milk
160ml/5.4flozs. water
230g/8.1flozs. coconut oil (melted or in liquid form)
4.5 tablespoons white vinegar
1 tablespoon vanilla bean paste
2 teaspoons coconut flavouring
For buttercream frosting
850g/1.8lbs icing or powdered sugar
240g/8ozs. butter or butter substitute, room temperature
3 teaspoons vanilla extract
5-6 tablespoons milk or milk alternative
Pink food colouring
A few drops raspberry flavouring
To decorate:
6 raspberry heart biscuits (vegan ones)
200g/7ozs raspberry jam (optional)
Please note this recipe uses two 16cm/6.3 inch cake tins. This gives the cake a nice, taller and narrow look
Cake flour can be bought at the supermarket. You can also make it at home. To make 1 cup/150g/5.2ozs of cake flour replace 2 tablespoons of plain all purpose flour with cornflour/fine cornstarch and whisk well. I usually mix up a big batch of this and keep it in a container ready for baking cakes as it produces a softer texture.
Step 1 - Preheat oven to 170C/338F and grease and line the base and sides of 2x 16cm or 6.3 inch baking tins. In a large bowl whisk the flour, sugar, coconut, bicarb and salt. Take out 3-4 tablespoons of this flour mixture and toss the raspberries in this in a bowl and set aside. In a large jug whisk the coconut milk, water, coconut oil, vinegar, vanilla and coconut flavouring until emulsified. Make a well in the centre of the dry mixture and gradually add the wet mixture in stirring. Make sure there are no lumps or hidden streaks of flour.
Step 2 - Add the raspberries and any flour into the batter and stir to combine and distribute the raspberries. Scoop into the two tins evenly and rest on the counter for 10 minutes. Then bake for 1 hour 5 minutes or until the centre springs back when pressed (this is a deep, high cake so it takes a bit longer to cook than a flatter 20cm/8inch tin). Cool completely in the tin and remove and wrap up in cling film.
Step 3 a traditional method-Make the buttercream. Beat the icing sugar, butter, vanilla and 3 tablespoons of milk with electric beaters on low speed for a minute. If the buttercream is looking stiff add the remaining milk tablespoon by tablespoon. Beat for 3-4 minutes on high speed until pale and fluffy. Spread over the cold cake.
Step 3b Thermomix directions: place the icing sugar in the bowl and set to 30 seconds speed #6. Add the butter and set to 5 minutes, reverse speed 4. After 15 seconds add 3 tablespoons of milk. After 2 minutes add the food colouring and raspberry flavour and more milk if needed.
Step 4 - Take a cake disc and place on a cake turntable. Slice the tops off the cakes so that they are even and slice each cake in half horizontally so that you have 4 cakes. Smear a teaspoon of buttercream in the centre of the cake disc (so that the cake sticks to it) and place one cake on the base and spread with buttercream and then jam (don't bring the jam all the way to the edge, see above). Repeat with the remaining cakes.
Step 5 - Make a crumb coat using some of the icing. The crumb coat is to catch any cake crumbs and should be a thin layer of icing. Place in the fridge for 20 minutes to firm up and dry and then spread another thicker layer of icing on the outside. I use a piping bag with a plain tip and I piped some buttercream around the cake. Then use a tall scraper to scrape the buttercream until smooth. If there are any spots that need filling add some icing on those and repeat scraping and filling until smooth-you may have to do this half a dozen times.
Filling in the gaps with more buttercream
Step 6 - Add sprinkles around the base. I tilt the cake a little and press sprinkles into the bottom inch of the cake. Then take a #867 or French star piping tip and fit it in a piping bag. Pipe tall rosettes leaving a little space for the cookies. Add the cookies and place raspberry lollies on top of the rosettes and add a candle in the centre.
Pressing sprinkles around the base
Step 7 - Dog figurine detail: Using a spoon scoop out a corner of the cake around the height of the dog figurine's mouth. Dab a little buttercream on the dog's nose.