Looking for a recipe that uses up Zucchini in the most delicious way? Try this zucchini hummus dip! It uses up 1 kilo or 2.2 lbs of zucchini and makes a deliciously creamy and healthy zucchini or courgette dip. Perfect for snacking, lunchboxes or for entertaining!
Zucchini is one of those vegetables that people are always looking for recipes for. When you grow zucchini it appears in abundance during summer (although I was still getting it in my very seasonal winter vege box) and a recipe that uses up a lot of zucchini in a really delicious way is worth its weight in gold. This dip is so beautifully creamy but has no dairy in it and is vegan too!
The zucchini dip recipe uses roasted zucchini strips that are easy to do at home. If you have any delicious flavoured olive oils this is the time to use them up. I don't know about you but I tend to buy flavoured olive oils and then forget about them and I have a little collection of them. I used a fantastic garlic and chilli olive oil to brush on my zucchini. I brush them on both sides and then slide them into the oven and forget about them for 30-40 minutes. How long they take depends on how thickly you've cut your zucchini. I don't cut them too thinly, around 10mm or 0.4inches is fine. I find that any thinner and they just disintegrate on the baking tray.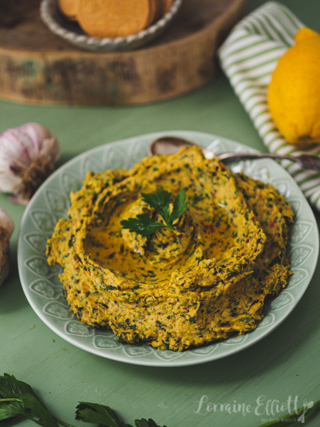 I've made two versions of this dip: one is vegan and one is not vegan and uses bacon in the dip. Both are delicious and basically you can choose your own adventure based on what you want to eat. Zucchini goes really well with flavours like bacon and chilli because it's quite a mild tasting vegetable and benefits from these flavour boosters. I also find that this dip is even better in 1-2 days time as the flavours develop and meld together!
Other recipes that use up a lot of zucchini: Zucchini Pickles, Zucchini Coconut Bread, Incredible Zucchini Slice, Stanley Tucci's Zucchini Pasta, Zucchini and Chilli Bread and Italian Roasted Zucchini.
I brought this zucchini dip to a bring a plate party and it was a big hit. I made two versions, one with bacon and one without and labelled them accordingly. They both disappeared equally quickly.
There was one girl that loved the vegetarian version a lot. She came up to me and said, "Is that your dip?" and I answered yes. "That dip slaps!" she said. I looked at her surprised and it took me a split second to realise that she was complimenting me and not insulting me. "Haha thanks!" I said laughing weakly because at this point in time I felt like a total granny trying to understand the lingo of the "kids". I had to excuse myself and recover from that for a good 5 minutes as my head filled with thoughts of early retirement.
So tell me Dear Reader, do you ever feel out of touch? What do you do with a lot of zucchini?
Did you make this recipe?
Share your creations by tagging @notquitenigella on Instagram with the hashtag #notquitenigella
Zucchini Hummus
An Original Recipe by Not Quite Nigella adapted from Feasting At Home
Preparation time: 15 minutes
Cooking time: 40 minutes
1kg/2.2lbs zucchini

1/4 cup/60ml/2flozs garlic and chilli olive oil for brushing

2 cloves garlic, peeled

50ml/1.7flozs lemon or lime juice

3 teaspoons tahini

40g/1.4ozs fresh parsley, leaves only

2 teaspoons chilli oil or Muraca Spicy Hot Cream Peppers chilli

Salt and pepper
Step 1 - Preheat oven to 180C/350F fan forced and line two large baking trays with parchment. Top and tail the zucchini and slice into strips around 10mm or 0.4inches thick. Place the zucchini strips on the parchment and brush with the oil. Turn them over and brush the other side. Roast for 30-40 minutes until lightly browned.
Step 2 - Place the zucchini strips, garlic, juice, tahini, parsley and chilli paste in a food processor and blitz until smooth. Season with salt and pepper and serve with bread or crackers. Will keep in the fridge for up to 1 week.