Don't get me wrong, I love the restaurant Shanghai Night, but my husband loves it even more than me and possibly more than most of their customers. Every time I suggest going to a new restaurant, he always pipes up with "What about Shanghai Night?" with a plaintive puppy dog eyed look. He even asked to be taken here for his birthday in favour of other, more "special occasion" restaurants.
What is quite so loveable about this decor challenged, brightly lit busy shanghai eatery? The Dumplings of course! Luckily our friends Miss America & Queen Viv are also dumpling lovers. We are so enamoured of these little beasties that we order 4 different lots (that's an official count of 44 dumplings in total!) plus other dishes.
There's a man in the left back corner of the restaurant that sits in a panelled section laboriously making the dumplings, if you watch him, he takes his time crafting each one and there is no rushing.
The specials are printed in English and Chinese (sometimes only Chinese) on bright scarlet cardboard on each wall and a look at the well-worn laminated 10 page menu (see full menu at end of story) in front of us shows us a dizzying array of tempting dishes. There are a number of choices for vegetarians too.
Shanghai dumplings are different from the Cantonese Yum Cha variety of dumplings. There is no smooth semi transcluent delicate skin on these. These are sturdier more robust dumplings made for the cold northern temperature. The stars of the show and the first to arrive are definitely the Mini Pork Buns or Xi?olóngb?o ($5.80 for 8 dumplings). They're not exactly bun like, forget visions of Char Sieu bows. They're relatively thin skinned dumplings filled with soup and minced pork and when you bite into them, you get a squirt of hot gingery pork soup. Absolute heaven (or hell if you bite into one without waiting and scald your mouth). If you have a look at the picture you can see the sides and bottoms of the skins are slightly rose tinted and full of the deliciously gingery pork soup waiting to burst out.
A huge plate of 18 steamed pork and mushroom dumplings arrives ($6.60). This dish would have to define "value for money". The skin is thick, floury and firm and the pork & mushroom filling is comfortingly good and flavoursome. The mushroom flavour is subtle but if you try the other 3 flavours (pork & coriander, pork & aniseed or pork & garlic chive) the flavour is distinct. Nothing fancy here, just very tasty fill-er-up food and yes you read correctly, you get 18 of these for $6.60!
The pan fried pork buns with shallots ($7.80 for 10 dumplings) arrive and they're wonderfully crispy on the bottom and cushioney soft and chewy on the top. The filling is the same as the steamed pork and mushroom dumplings. The texture is very moresish and I find myself eating more of these than the others dipping the crispy bottoms into the oyster sauce from the chinese broccoli.
The last dumplings are the Shanghai Shao Mai sticky rice dumplings ($6 for 8 dumplings). I am a big sticky rice fan and I also love chinese pork sausage (Lup Cheong: chopped pork, pork fat, salt, honey or sugar, soy sauce and Chinese five-spice powder) and these dumplings are aromatic and flavoursome with the lup cheong, shiitake mushroom and smoky sesame oil with absolutely perfectly cooked sticky rice.
I'd heard that the House Speciality is the Nan-Jing salted duck ($10.50) so we ordered this. It arrives and it looks nothing like a duck, its pressed duck dipped in a gingery and aromatic herby sauce. The texture is quite firm, a little like a duck flavoured thai fish cake or hard tofu. Interesting and I'm glad I tried it but I think I prefer to reserve stomach space for the dumplings.
The best looking dish of the night must certainly belong to the chinese broccoli with oyster sauce ($8.80). A perfectly laid out retaining wall of chinese broccoli heavy with leaves (my favorite part) arrives and its perfectly cooked with a large distribution of the delicious oyster sauce.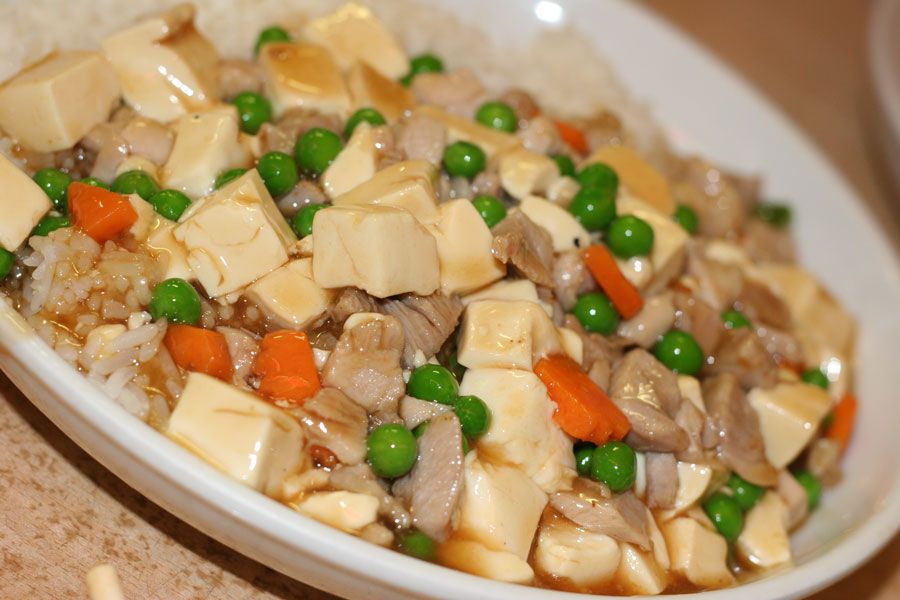 One of my favourite dishes is a rather unspecial sounding offering: Tofu and chicken mince on rice ($6.50). Its my regular order during winter when the comforting texture soothes and the size fills. There is some variation in this dish whenever we order it, sometimes its beautifully gingery, sometimes there is a lot of of the delicious sauce. Tonight's needs some soy sauce to add some saltiness. Its huge and filling and perfect for times when nothing else but a big warm bowl of rice, pillow-soft tofu and saucy goodness will do.
Our last dish is the Chinese New Year rice cake in XO sauce ($9.80). Its like a chewy, starchy firm pasta. The new year cake is cut in little oval discs with some stalks of spring onion and savoy cabbage interspersed throughout. Its beautifully spicy and they're generous with the XO sauce, but we're completely full from stuffing ourselves with the dumplings so this gets largely left behind. Its a huge plate and a little goes a long way of this.
We receive a complimentary dessert which is a first and is not par for the course. I think our camera suggests to them that we are from a newspaper even though we deny it when they ask. Its a dish we've ordered and enjoyed many times before: Sweet white fungus and papaya ($3.80). Don't let the name put you off, its a refreshingly sweet papaya scented syrup with slippery white fungus which has a ultra thin cartilege texture to it and goes down a treat.
And the damage? $61.80 for the four of us and there's even a takeaway container leftover. After at least 20 visits here, we're still surprised when we get our bill.
Shanghai Night
275 Liverpool Rd
Ashfield NSW 2131
Phone +61 (02) 9798 8437
open 7 days 10am-10pm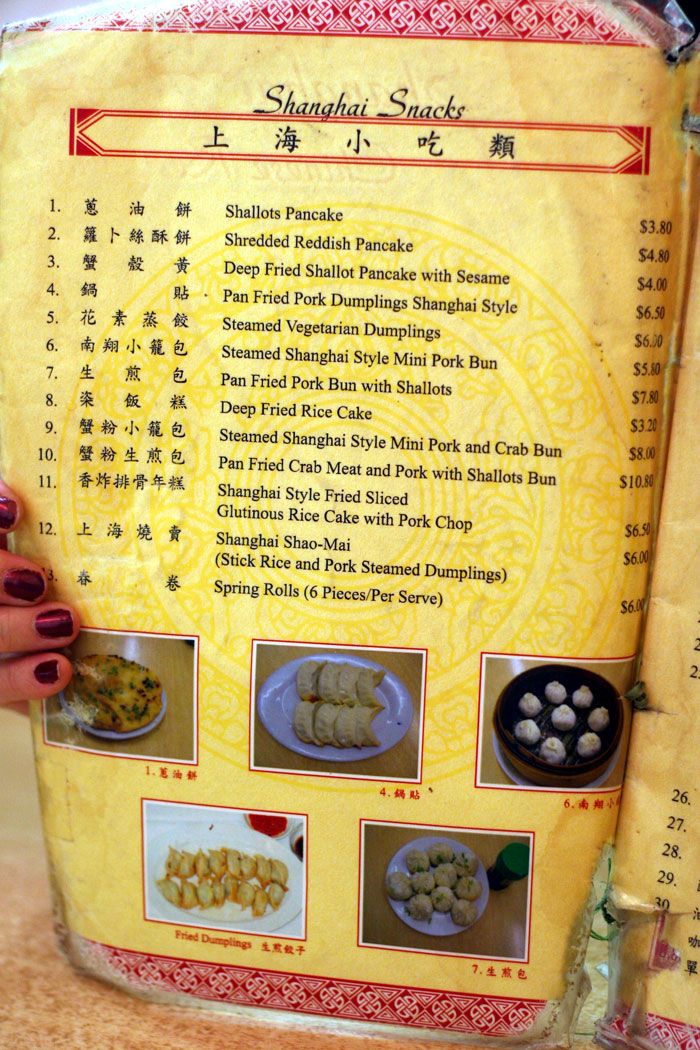 ](https://images.notquitenigella.com/images/shanghai-night-at-ashfield/s-menu-6.jpg)](http://www.notquitenigella.com/wp- content/uploads/2007/10/s-menu-6.jpg)
](https://images.notquitenigella.com/images/shanghai-night-at-ashfield/s-menu-10.jpg)