Catching a movie at 6.30pm is a perilous experience for me. I fear for my stomach you see. I hate the idea of feeling hungry but not being able to do anything about it, being trapped in a cinema with a movie running. And I'm one of those people that the cinema hates for I do not indulge in the Candy bar often (unless its a swoon-worthy Dendy ice cream). So rushing to the cinema one week night we ensured that neither of us would experience hunger pangs by grabbing something quick from the Food Court. We were looking for a place called Pho Garden, apparently serving bird bath size bowls of Pho soup but alas, it looks like it has closed down. We settle for another place, recommended to us called Shanghai Gourmet. Prices are laughably small with nothing over $7 with most larger items hovering around the $6.60 range. We choose the pork and vegetable won ton soup ($5), the chicken steak and noodles ($6.60) and the mini pork buns ($6.60).
We wait for our trays to be stacked with our goodies and shuffle them off to our table. I am slightly disappointed as we get smaller plastic bowls and we eye off other diners with large cavernous ceramic soup bowls. My fears are laid to rest when I taste the burnished, glossy skinned chicken sitting on a bed of cold braised boy choy. Its wondrously soft and falls of the bone yet is crispy skinned on the outside, a most wonderful dichotomy. I'm not certain where the steak part comes into play, its chicken chopped up chinese BBQ takeaway style. It has a slight herbal aftertaste to it but nothing unpleasant. I reluctantly offer some of the chicken to my husband who also approves greatly. The noodles, medium white wheat noodles are swimming in a lightly flavoured chicken and spring onion broth. Its decent and filling but there's no doubt that the chicken is the star.
My husband's pork and vegetable won ton soup is filled with juicy wontons and bok choy in a similar broth. Its good and filling and I do like the wontons (I can be fussy as far as wontons go) but the chicken steak noodles have clearly won over this crowd of two.
We've waited a few minutes for the mini pork buns to cool and good thing as we've learnt the hard way that hot squirts of liquid are not good orally or sartorially. When we bite into these, they're fairly similar to the Mini pork buns at Shanghai nights but missing the gorgeous ginger laced soup. Its a much more bland offering and whilst its not terrible, we know we've had better.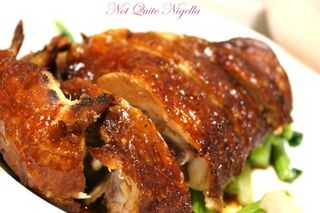 Checking our watch, we've got 10 minutes before the movie starts and our stomachs are full to bursting. Good thing too as we've got 2 hours of movie to watch without food. And I know that my mind will be drifting away from the plot towards the chicken again secretly hoping that they'll still be open when the movie finishes.
Shanghai Gourmet
Level 2
Mandarin Centre Chatswood
Corner Albert Avenue and Victoria Street Chatswood
Ph: +61 (02) 9904 8883
Open: 10am til late 7 days