I don't know a great deal of good places in Chatswood so when Carrie and I were meeting up to discuss things, I let her choose. For whilst I have a long list of places I'd like to eat, there was a yawning gap as far as Chatswood was concerned. And despite my usual effort of coralling people into going places, I was pleasantly surprised when I let someone else choose where morning tea would be. Ten Ren Tea is on the busy Victoria Avenue in Chatswood and you would never know it but walking through the store and out to the courtyard is a tropical, lush, green oasis, right in the middle of crazy, busy Chatswood.
The menu is huge consisting of Iced Milk teas; cha (tea) with fruit, icees, Exotic Icees, Traditional teas, Border Infusions (ground black tea, rice and sesame) and Cha for healing  as well as a page full of Vegetarian snacks and sweets.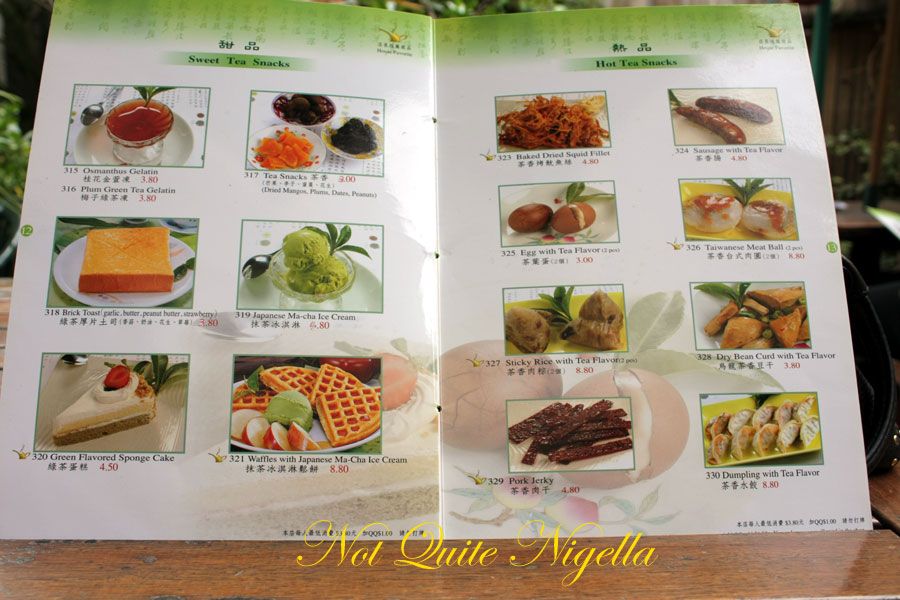 I order one of the House Favourites, a sweet potato green milk tea with complementary additions. Yes it's hot but I'm also persuaded to also order a Crushed Ice with Rose Oriental Beauty tea ($7.50). Carrie orders a green milk tea and a Green Tea crushed ice with 8 treasures ($7.50) . Looking around we see that it's a haunt for students and there is even a special note on the menu that says "No card games allowed"
Sweet potato and green tea with QQ $7.50
The tea pot arrives on a tray with a small bowl of boiled sweet potato, some QQ (the delicious chewy small pearl sago balls) and the complementary additions is actually a single biscuit which is not exactly something I would have necessarily advertised. The tea is very milky and already sweet and incredibly, every sip tastes just like sweet potato. It's addictive and I could see myself sitting back here and relaxing for hours tending to a pot of this and cradling a cup of sweet potato tea.
Green Milk Iced Tea with QQ
Carrie's Green Milk Iced Tea isn't bad, not particularly strong in green tea flavour but milky and icey cold.
Green Tea crushed ice with 8 treasures $7.50
Her Green Tea crushed ice with 8 treasures is a mountain of shaved ice, sweetened condensed milk and a variety of beans. Yes beans! If you're familiar with asian desserts, you'll be familiar with the concept of sweet beans and these are indeed very tasty. The whole thing needs to be eaten quickly though as it starts to melt and drip down the sides of the plate.
Curiously I wonder where my Crushed Ice has gone and apparently they've forgotten about it completely. Whilst I would have loved to have tried it, the pot of tea is actually quite filling so I am happy to let that pass. Maybe it's because of how relaxed I've become in this tranquil setting.
P.S. As you may or may not know, I was selected to be a judge in the DMBLGIT January 2009 roundup and it was an honour to judge the entries. To check out the results, please see Zorra's site here to see all of the deserving winners.
Ten Ren Tea
389 Victoria Avenue Chatswood NSW 2067
Tel: +61 (02)9884 7668