I love to travel for food. It helps having a car and a husband and friends also willing to travel for food. To us, a night out is not going to a bar but it's bundling into the car and driving somewhere that we seldom get to and eating a fantastic meal. This particular evening, Queen Viv and Miss America and I are on the pursuit for dumplings. Xiao Long Bao to be precise at Miss America's and my husband's request. Of course I am not averse to these little gems pursuing them across Sydney like a fashion lover lusts after the latest Limited Edition bag. Traversing the North to the South is not an easy driving experience this Friday night but we eventually get here. Queen Viv and Miss America have busied themselves waiting for us with a visit to the nearby pub.
The enormous menu, about 50cms high, contains 30 pages worth of items, all pictured. There are 300+ dishes and we can only imagine Gordon Ramsay's head spinning at the large menu. We ask the waiter their specialty and it's crab, as evidenced by the many pictures of crab and the fishtank. He also recommends something from the salted Duck egg yolk page and the Eel menu page. And of course we have to have some dumplings because that's why we came here.
A childhood favourite of mine, I recall when my  dad used to painstakingly make his own soy milk. This one is from a bottle but nevertheless refreshing and not too sweet.
A little bit more expensive than your average dish here, this 900g crab is delicious. Absolutely so. In fact any reservations we may have had about ordering it are replaced by moans of pleasure. Suddenly, in our pursuit to extract as much flesh as possible we become seasoned crab eaters prying almost all of the fresh from the shell. And because I adore the sauce, a complex and very hard to describe one but yes aromatic as the name suggests, I hold onto the plate and spoon up every drop of sauce.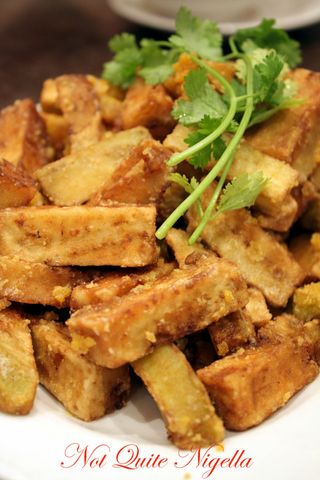 Out of the salted egg yolk dishes we opted for a vegetable version. The eggplant is meltingly soft inside the rich salted yolk covering although we find it lacking in salt. A request for chili sauce yields a much better combination and despite the surprising richness of this dish, we finish it.
The sauteed boneless yellow eel is a surprise in looks and flavour. With a rich black bean and hoi sin style sauce, the eel is thinly sliced along with the garlic chives. The sauce is rich and unctuous and is the kind that you hang into to dip the eggplant and the steamed roll into.
More a deep fried roll, this roll is pillowy soft inside from steaming but then deep fried to a crispy, slightly sweet texture outside. It's very hot, indeed prising a piece off this garlic bread looking roll risks a finger burn or two but dipped in the eel sauce proves satisfying, although by itself it is less so.
These aren't bad at all, flavoursome and all intact with a soupy interior. However it's hard to go past Shanghai Night's Xiao Long Bao for flavour.
The sturdy workhorse dumplings of the range are the steamed pork dumplings. Less refined and more filling these stodgy little beasties are good. Admittedly they're usually quite hard to do badly.
As dessert barely registers a blip on the 300+item strong menu, we go back to Queen Viv's house for dessert and a debrief on an all-hit meal well enjoyed by all.
Shanghai Yang Zhou House
177 Forest Road, Hurstville, NSW
Tel: +61 (02) 9580 9188
Open 7 days 11:00-3.30pm; 5:30-10pm
Cold dishes available from 11:00-10pm
Nearby parking available in Tracey Street, free after 6pm.