There's a lot to be said for standing out in a crowd. Especially if it's for good reasons rather than bad. On busy restaurant Glebe Point Road, Flying Fajita Sistas stands out for its name and whimsical artwork depicting Mexican winged fairies. It's not your typical sombrero decorated Mexican food joint. The atmosphere is that of a funky family or best friend run restaurant. I'm assuming the girl at the front in the bright blue Mexican style dress (with a touch of Tree of Life) is one of the said sistas.
We walk upstairs past the intriguing 4 row display of chili sauces named the "Wall of Pain" featuring such stomach clenching sauces as "Sudden Death" and "Kiss Your Ass Goodbye" and walk past 3 staff members who in turn greet us with a big smile and hello. It's all very welcoming and we're left to ponder the menu, full of sopes, dips, burritos, tamales, enchiladas, chimichangas and of course fajitas done with a myriad of different fillings from Achiote pulled pork, chicken and mole rojo, corn & cheese, mango & cheese (vegetarian), sweet chipotle chicken, King prawns, steak, frijole beans (vegetarian) and braised chile and onion (vegetarian) . Narrowing the choice down to just one is hard but I am convinced by my waiter's recommendation of the Pulled Pork Quesadilla ($18.90). I also order a single tamale ($6) as I've yet to try one, only knowing of the phrase "hot tamale".
We order and sit back and enjoy the view. There's a cute little private balcony with enough space for two couples. It's hard to talk as there isn't a lot of soundproofing and since it's Saturday night and everyone around is a bit jolly, we mostly lip read.
Whilst we are waiting two small trays of mexican spiced green olives arrive-they're delicious and lightly spicy.
We're not waiting long when our dishes arrive on round edged rectangular plates and they've got us drooling from the look and aroma. My Quesadilla with Achiote Pulled Pork ($18.90) has four huge quarters of crispy edged quesadilla which are absolutely packed with soft, stringy but delicious pulled pork. There's so much pork filling that it's bursting out in a blissful, bounteous manner. They quesadillas are covered with a glorious riot of red cherry tomato salsa and accompanied by salad and mexican rice. Delicious as it is, I simply cannot finish this large a serve and the remaining half is gratefully snatched up by my eager and hungry husband who adores this. He has this earmarked for a future visit.
The King Prawn Fajitas come out on a sizzling cast iron tray on a bed of sauteed onions and capsicum along with a separate warmer of 4 flour tortillas and a cute compartmentalised tray of fillings ranging from sour cream, guacamole, jalapenos, pineapple, cheese, chili sauce and sour cream as well as salad, mexican rice and black beans.
They smell heavenly and I am eager to assemble my Fajita. There isn't a great deal of each topping and each compartment is quite shallow to boot, with only a tiny handful of cheese and the chili sauce is very mild. The mexican rice and black beans are a great combo together though and I find myself going for these rather than a second Fajita (also due to impending satiety). My husband complains that while it tastes fabulous, he would need double the amount for him to get full. Anneli though finds it just right for her and the Assman wants another 1/2 serve to feel full. What is good though is that the cost of ordering King Prawn Fajitas is the same as the Vegetarian or Frijole bean version.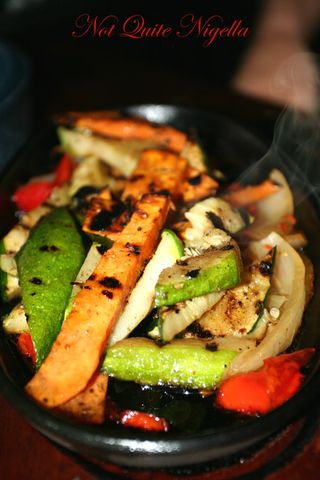 I try some of the Vegetarian Fajitas and the vegetables made up of sweet potato strips, zucchini and capsicum are delicious. Actually I could see myself ordering this and being quite happy with it.
I try some of the Chimichanga ($18.90), a name that has Tuulikki stumped so that we resort to calling it a Chitty Chitty Bang Bang for her. It's a deep fried flour tortilla filled with Frijoles and fried til crispy. It's good if a touch dry due to the frying, the outer reminiscent of that of a Samosa. Still the filling is delicious and Tuulikki is immensely happy with her selection.
I try some of A's Frijole cheese scorched Enchilada ($18.90) and whilst it's good, I know that the Pulled Pork will always get my vote over the Frijoles although I do like the softer less crunchy at the edges of the Enchilada and melted cheese on top.
Throughout our meals, the water is regularly topped up by our waiter and we're asked if anything is needed without being too pushy. Nothing is ever a problem and they seem genuinely interested to see that we enjoy our meals.
Curiously my Tamale never arrives but by then I am too full from my meal to even consider this and they deduct this from the bill without any fuss. Our bill arrives in a cute little card decorated with the Flying Fajitas design. As we can't do much talking and we are full to bursting, we'll forego the desserts, exit past the mix of traditional and modern Mexican painting and photographs and the Ubiquitous Wall of Pain and get farewelled by the Sista in the blue dress.
Flying Fajita Sistas, Flavours of Mexico
65 Glebe Point Road Glebe 2037
Tel: +61 (02) 9552-6522
Fax: +61 (02) 9552-6855
http://www.flyingfajitasistas.com.au/