Time ran away from me this month and I had intended to make a special dish for the 4th of July (Independence Day in America) so I thought that the next best thing would be to eat American food. I have an obsession with American things, particularly American retro - my Twin Peak's Cherry Pie is a prime example of this. I blame it in a steady diet of American TV growing up which continues to this day. So when I read in Grazia and on Simon's site that the Big Rig Diner was an American style diner in true American fashion, it jumped to the top of my list. Part of the Ruby Rabbit venture, Mr NQN and I tried to book for a Sunday afternoon via the mobile number only to find out that they're only open at night for this month. So after traipsing through the city and Surry Hills one evening, my magical friend The Second Wife and I are peckish having devoured not very much except finger food in the last few hours. We find ourselves at the door of the Big Rig Diner.
They weren't kidding - it's a diner alright. There's booth or bar style seating only and a jukebox playing Elvis. As it only opened officially the day before and we are on Oxford Street, the pans aren't yet covered in a coat of grease and there isn't someone called Irma tending to the tables. The staff are all young and good looking but oh so friendly. We're shown our menus which is a single photocopied page. The food ranges from their famous homemade chili, fajitas, pies as well as of course burgers and hot dogs. Prices are very reasonable ranging from $9.50 to $19.50 particularly given that they're American sized servings too. And it needs to be said - they play some fabulous music here too (think Jump by Van Halen, Fleetwood Mac, David Bowie and Nirvana's Smells Like Teen Spirit).
Our waiter who has The Second Wife and I giggling like schoolgirls takes out order. He recommends the Fajitas, the Hot Dog and a serve of fries and we're happy with that order and of course what else should we wash this down with but a Coke if we're going for the true American experience. Drinks are $5.50 each.
The fries come out first and it's a huge bowl of super crispy chips seasoned with a chili spice with a ladle of hot, rich beef chili poured on top. We liked the idea of these as we were drawn to the their "Famous Homemade Chili" and wanted to try that so ordering these meant that we could. It's crispy and drippingly good with the lightly spiced chili (although there's Tabasco on the table if you want extra heat) and I think back to my husband and how much he'd love this.
Our Big Rig Hot Dog is rather big and sits in a lightly toasted sesame seed bun. We opted for the Big Rig version rather than the classic and ours is filled with a pork and fennel sausage, caramelised onion and topped with melted brie and tomato chili jam. The combination is delicious, particularly with the melted brie, sweet onions and juicy, flavoursome sausage although the chili jam doesn't seem so much a chili jam rather than a sauce but that's not a bad thing as a super sweet, thick jam would be too sweet against the already sweet onions.
Chicken Fajitas $16'
Our Fajitas are brought out and the serve is big and could have fed both of us. The sizzlling plate of chicken is char grilled and very tender and moist with a distinct char flavour. It's accompanied by tomato, lettuce, cheese, sour cream, guacamole and four flour tortillas. We do our best to finish these but the sizes of the meals have gotten the better of us.
"Have you seen the Butterscotch room?" our waiter asks us which is music to my ears! I'd read that the Butterscotch room is a room out the back that you only see if you're nice to the grill staff. We eagerly go in, past the autographed Breakfast Club framed picture (staff are taking bets as to how long until it gets stolen) and we enter the Butterscotch room. It's quite amazing looking in an Alice and Wonderland way. He explains that people can go through to have cocktails here once they've eaten in the diner. They can then walk through the phone booth to a Motel Room out the back which can be used for private parties. The phone booth and Motel room aren't ready yet but they sound like a lot of fun. I should also point out the restroom which is currently being renovated (and doesn't have a lock) is plastered with pages from a rather interesting "How To" book which makes for entertaining reading.
And if the night wasn't already sprinkled with a bit of magic, who else walks in but Chris Taylor from the Chaser TV Show! I am a bit stunned and want to tell him about my idea for a Chaser stunt but before I can he leaves.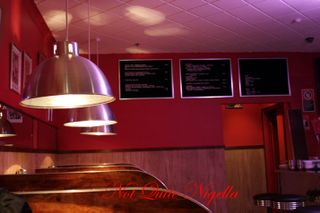 The only thing missing? Cherry Pie for dessert of course!
So tell me Dear Reader, which song would you choose on a Diner jukebox?
](http://www.notquitenigella.com/wp-content/uploads/2009/07/thedaringbakers.gif)
And I'm rather excited to be featured on the Home Page of the Daring Baker's website. Click here to read more and to meet other Daring Bakers members! And yes you read it right, I'm taking this venture full time thanks to the support and encouragement of my sponsors and husband. So if you know anyone in the food, wine or tourism industry that would love to support Not Quite Nigella please let them know that there are sponsorship or advertising opportunities here!
Big Rig Diner
231 Oxford Street, Darlinghurst, NSW
Tel: +61 (02) 9326 0044
Open Tuesday to Saturday, 6pm until late (or as early as 3am or 6am on Fridays and Saturdays!). In August, the Big Rig will be open for lunch as well and in September it will be open for breakfast, lunch and dinner.