Our driver's sign. Poor guy must have been so disappointed to see that he was picking me up and not _the _Nigella haha!
After our lovely stay at Otahuna Lodge our driver drove us to Christchurch airport where we boarded a plane to Wellington. Here streets have cute names like Bunny Street and houses are perched perilously high on the edge of cliffs and require cable cars to access them. The main shopping street is called Cuba Street which we will later visit.
We check into Ohtel, a boutique hotel with very cute and quirky touches. The room has a distinct Scandinavian/New Zealand feel to it with details such as a little notepad in a case with a small pen, a doorless bathroom (instead is a double layer curtain although this does mean that you have to be comfortable with your room mate bodily functions and can avoid walking into the glass at one end which we almost do several times), designer teas, thongs or flip flops for guests instead of slippers, vintage style furniture, nice organic toiletries and free wifi. It's as if a designer boutique mated with a hotel. The lobby is like a cafe, in fact it is a cafe too and the whole hotel has 10 rooms in total.
The bathroom with the curtain door!
We're picked up by David from Hutt Valley Tourism who is taking us to lunch at La Bella Italia, one of the Hutt Valley's and Wellington's most famous restaurants. The restaurant is located in Petone, a short drive from Wellington city centre. Petone literally means Belly Button as it's about the centre point of New Zealand We drive past an artesian spring in the centre of town where a resident is filling up large bottles with the water that flows freely for everyone and is known as "Petone water".
Antonio Cacace
We meet Antonio Cacace who is originally from Sorrento in Italy. His restaurant is set in a warehouse space as it also serves as a shop and deli. The son of a Michelin chef, he imports the food directly himself from Italy. He tells us of when his father was asked to change his tablecloths and flatware in order to appease the Michelin judges but he refused to do so.
He seats us at "Antonio's table" in the corner of the store which affords us a bird's eye view of the whole space. Aged only four when he first began serving at his father's restaurant he had to carry the plates on top of his head as he couldn't reach and over the next 20 years his father taught him the business. Interestingly, his grandfather had thoughts of opening up an Italian restaurant in Wellington many years ago so he feels that he is fulfilling his ancestor's footsteps.
_Prosciutto de parma and buffalo mozzarella
_
We start off with a 16 month aged prosciutto de parma and buffalo mozzarella .  Antonio was the first to import this into Wellington which he started doing so 5 years ago. He also imports buffalo mozzarella which is air freighted from Campagna every 14 days and he currently sells 360kgs of mozzarella and almost 1 tonne of prosciutto a month. The mozzarella is light and fluffy as a marshmallow and the prosciutto is soft and nicely darkly cured without being tough.
Pressed Octopus
Our next entree is a very interesting dish. As Antonio gets 750kg of space in his container sent every fortnight he decided to order some octopus from Italy. Here he cooks it and presses it with  aspic and slices it incredibly thinly. The result is fantastic-the octopus is very tender and I've never eaten anything like this before as it's like a paper salami of octopus. "Of course (it's tender), it's from the Mediterranean sea!" he says with a wink. It's paired with Italian olives, beans, potatoes and extra virgin olive oil.
Linguine with Paquino cherry tomatoes and New Zealand clams
Our next dish is a linguine which has a sauce made of paquino cherry tomatoes in oil and New Zealand clams. The tomatoes are sweet, the pasta beautifully al dente and the clams briney and meaty and the sauce has a slight bite of chilli to it.
Antonio's mum
Gnocchi that Antonio's mum makes fresh
His mum is visiting from Italy and she shows us how gnocchi making skills. She's fast, her fingers light and she makes the ridges using a fork. And the secret to light gnocchi? Using dry potatoes like the Agria variety.
Gnocchi with tomato and mozarella
The gnocchi comes up next, dressed simply with a tomato sauce and buffalo mozzarella. It's fantastic yet simple the gnocchi so light and toothsome.
Mixed leaf salad with tomato and olives
We then help ourselves to the mixed leaf salad, expertly dressed in Balsamic vinegar and extra virgin olive oil. The sun dried tomatoes are sweet and the olives lovely and salty.
Antonio fillets his speciality
Salted caper and gherkin whole Tarakihi
Our last dish was his late father's signature dish. It is a whole tarakihi fish with chopped up gherkins from Umbria and salted capers from Sicily. He tells us his father used to say "When fish is fresh, 80% of the work is done". What's amazing is that I expected the gherkins and capers to impart an extremely salty and vinegary flavour but it's mild and delicious with the thick fish perfectly cooked.  With reluctance, we have to opt out of dessert as we're running out of time and Antonio and his mum bid us farewell.
Cultured
_The sampler plate of cheeses and products _
We then take a walk down Jackson Street where there is a strong food community. Our first stop on Jackon Street is to Cultured, a boutique cheese shop that sells New Zealand cheese exclusively. The lovely owner Wendy along with her husband took flight from the dreaded corporate world (sounds familiar? ;) ) and they opened up the cheese shop in November 2009 after attending a cheese making course in July 2009. We quickly learn that New Zealand is a country that embraces Slow Food and its ideals and this is evident particularly in the cheese industry.
Wendy Adams from Cultured
Molly the cow
She shows us one handmade cheese supplier called Cwmglyn in Eketahuna. Run by a 70 year old woman, these cheeses are made using a one cow one cheese policy so that you can buy the cheese from one of her cows like Molly (see pic above) where only Molly's milk is used.
"Over the Moon" Buffalo Volcano cheese
Other cheeses that they stock are Over the Moon, and a good range of sheep, goat's and buffalo milk cheeses. We try the Over the Moon Buffalo Volcano cheese (that they stock exclusively in Wellington) on local Rutherford and Meyer Gourmet wafers . It's rich and gorgeously mild and she tells us that buffalo cheese was at first a hard sell as people were unaccustomed to it.  It's a little ironic upon tasting it as buffalo is amongst the mildest of milks and much milder than goat's cheese. I want another piece but I refrain as I've had such a big lunch but it's just so lovely and rich.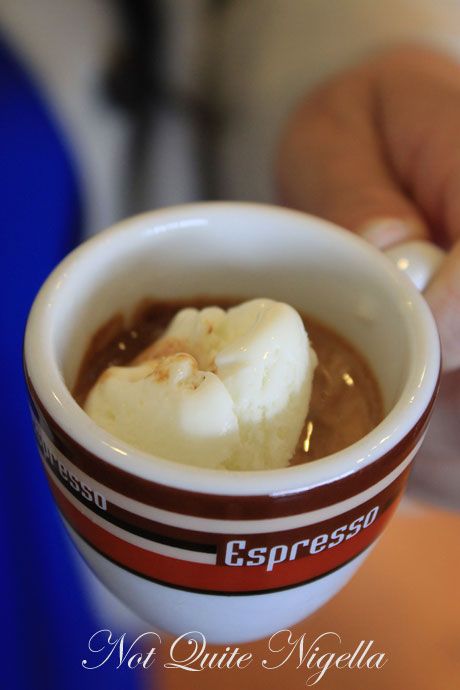 We also try a Damson Plum paste from The Damson collection in Hawkes Bay which is much like a tangy quince paste, a sheep's milk ice cream  from Blue River dairy, Invercargill (yep the place where Bert Munro, the World's Fastest Indian lived) and made with roasted Ripe Fair Trade Organic coffee beans from Petone which is sublime. The Mango Yoghurt is thick and rich with a similar flavour to yogurt you get here in Australia although a tad thinner and comes from Piako, Auckland. The Buffalo yogurt from Clevedon Valley Buffalo company is very mild, much like a yogurt version of buffalo mozzarella.
Sheep's Milk ice cream
Our next stop is their cookbook only shop called Bookfeast. There are currently only two shops in New Zealand that only stock cookbooks and this store was started 5 years ago. Inside they also hold cooking demonstrations and invite people for book launches where the owner will cook food from the book.
Coming into Wellington Harbour by ferry
We take the ferry back over to Wellington City centre which stops to pick up people from Somes Island. This used to be a quarantine island but now serves as a tourist attraction. Only 250 people a day are allowed onto the island with only 150 people at a time and  it's popular as a picnic or walking site. Two caretakers live there full time now.
And where to now? We're onto more Wellington adventures next!
So tell me Dear Reader, have you ever been mistaken for someone else?
NQN and Mr NQN travelled and stayed in New Zealand as guests of Tourism New Zealand
La Bella Italia
10 Nevis Street, Petone, Wellington, New Zealand
Tel: +64 4 566 9303
Website: www.labellaitalia.co.nz
Opening times:
Monday & Tuesday 7.30am till 5pm
Wednesday - Saturday7.30am till late
Sunday 9am till 5pm
Cultured
185 Jackson Street, Petone, Wellington, New Zealand
Tel: +44 027 269 8161
http://www.cultured.co.nz/
Closed Monday
Tuesday-Friday 10-6pm
Saturday 10-4pm
Sunday 10-2pm
Bookfeast
173 Jackson Street, Petona, Wellington, New Zealand
Tel: +44 4 576 0486
Ohtel
66 Oriental Parade
Wellington 6011, New Zealand
Tel: +44 (04) 803 0600