Birds sing in the background, a sheep bleats nearby, I hear the nearby quack of a duck and the deep moo of a cow. Is that traffic that I hear? No, absolutely not, that's the last thing I expect to hear at Breckenridge Lodge, nestled in Hawke's Bay adjacent to a vineyard. We've finally arrived in Wine Country, Hawke's Bay, New Zealand!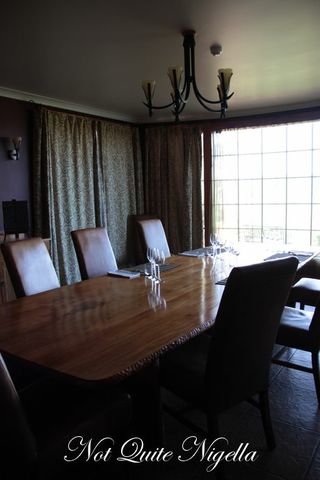 Owner Malcolm Redmond is a chef and we will be staying at the lodge tonight as well as having a cooking class and chef's table experience. Malcolm is easy going and a great host. It's surprisingly hot and after a long driver we cool down with some Antipodes sparkling mineral water - I clearly overestimated the chill factor here in my outfit.
The lodge has five rooms, all named after foods. I'm originally given the Lavender room but the wifi doesn't reach that far so I swap with Krissy for the Rose room. The room has a bath (oh joy!) and they have their own toiletries made for them using the Pacific Blue lavender that is grown on the grounds. There's an orchard full of organically grown fruit and a kitchen garden. There is a common fridge and preparation area just outside the rooms where guests can help themselves to plenty of refreshments as well as tea and coffee.
We take a walk through the gardens where seven chickens roam and help out with egg supplies. For fruit, there are apricots, peaches, pears, apples, persimmons, strawberries, plums, feijoas, raspberries, blackcurrants and gooseberries.  The chickens fertilise these and dig and aerate the ground.
The pond has some deep throbbing frogs and there's a cut little green door hut that Malcolm built for his son. All of the water on the purpose built property is rainwater and Malcolm cooks and preserves the produce so what you'll have for dinner or breakfast is likely to be a jam from the garden or some vegetables from there too.
We walk to the kitchen area where we will be sitting at the chefs table while Malcolm cooks. Guests can also do cooking classes with Malcolm where he will teach techniques and recipes and these classes are open to non guests too who want to expand their cooking repertoire. Or if eating is more your forte, you can sit back and enjoy a perfectly cooked meal in the dining room. But who are we kidding? Krissy and I plant ourselves where the action is in the kitchen overlooking the gardens. Malcolm has worked at Jean Georges and Le Bernardin as well as around the world. Every year he works at Jean Georges for quick stints during winter here when the season is quiet. He has also worked at Huka Lodge in Taupo and was the resident chef at the home of New Zealand's Governor General in Wellington.
But first, what happened to that lovely trout that we caught earlier that day? Krissy and I have our fishing licenses ready to show Malcolm and we ask if we can have it as sashimi for an appetiser. No problems he says taking the trout from the fridge. He runs a boning knife along the backbone of the fish removing a fillet and removes the skin from each trout fillet.
Slicing the trout thinly he serves it with soy, mirin and lemon juice and then some wasabi. Heaven! Before we know it our first fillet is gone...oops!
We take a quick peek into the dining room. There are four other guests this evening who will be dining together while Krissy and I sit at the chef's table in the kitchen. Meanwhile we watch as Malcolm busily prepares our meals.
There's a sizzle as Malcolm puts some South Island salmon in the pan to give them colour and then places them in the oven. He shows us the puree that he made earlier which is peas blitzed with Chardonnay and wasabi. We watch as he plates up the dish and he adds some leaves from the garden which he picked this afternoon. The salmon is absolutely succulent and moist inside. The pea puree in particular has a distinct flavour that complements the salmon and the wasabi gives it taste rather than a sinus clearing effect.
He is a lovely, sweet and welcoming host that doesn't mind when we wander into his pantry to check things out. It is a very impressive pantry with a multitude of fascinating ingredients.
The turbot is local from Hawke's bay. He recommends using a very hot pan to seal it so that the fish avoids stewing which can draw the liquids out. And to demonstrate this, the turbot is so juicy and moist and soft I am melting. The orange segments from his garden picked today, and I'm not usually a fruit and protein sort of person, just goes perfectly it. He uses the juice from the butter and fish and orange juice and adds cream and herbs for a divine sauce.
OK who is counting the number of courses we've had? ;) This is the main and the beef is local and served on a quennelle of creamy, mashed agria potato, sautéed green beans, carrots and a portobello mushroom jus. The beef is tender and the dish is perfectly seasoned and the mash so, so very creamy. And there's something so lovely about being in the kitchen with Malcolm while he cooks as he is so calm and still able to talk to us and we also learn all sort of chef tricks of the trade!
This is the cheese course and it is a Kikorangi cheese which is a boutique blue cheese that he serves with divine pears poached in merlot and cinnamon, locally made gingerbread by his chef friend and a beetroot juice which is reduced down to a syrup without any sugar added.
I've thrown poor Malcolm a curve ball as I am fading fast due to not being able to sleep for the past few nights( I think I'm still on Sydney time). So when Krissy sees that I am dropping off, she suggests going upstairs and having my shower first and getting ready for bed and she will bring my dessert up for me. Brilliant! After a lovely shower using the lavender products I am ready for bed. And half an hour later my chocolate fondant arrives along with a cup of sleepy time tea. The cup of liquidy centered fondant is rich and gooey with a satisfyingly crackly top. I take a sip of tea, set my alarm for 5.30am for our next leg. But my heart and mind is still downstairs, stealing glimpses of that amazing pantry and watching Malcolm cook.
So tell me Dear Reader, if you had a choice, would you prefer to dine in a dining room or dine at a chef's table in a kitchen? And have you ever done a chef's table experience?
Breckenridge Lodge
1 Breckenridge Lane Napier 4183, New Zealand
Tel: +64 (06) 844 9411