_Useful Arts! A Yayoi Kusama decorated building.
_
I love a good food tour and the idea of working off some calories while sampling food is enormously appealing to me. Of course walking for a few hours doesn't necessarily negate a three course lunch, chocolate and coffee tasting and delicious home made cakes but every bit counts right Dear Readers? And if anything Wellington is a good city to be doing one in as the main city area is and compact. Mr NQN and I meet our Zest Food Tour Guide Stephanie, in the heart of Wellington and we join our other tour participants, two ladies from Auckland and New Yorkers Alexia from Frommer's and her husband Tim who works in publishing. And get comfortable because it is a long story as it is a very comprehensive guide to Wellington! ;)
Mojo Coffee
We start with some architecture, the silver ball above us represents the five ferns that grow in New Zealand. Our first stop is to Mojo coffee, one of the most well known coffee makers in Wellington. Wellington is known for its cafe culture with nineteen coffee roasters in total.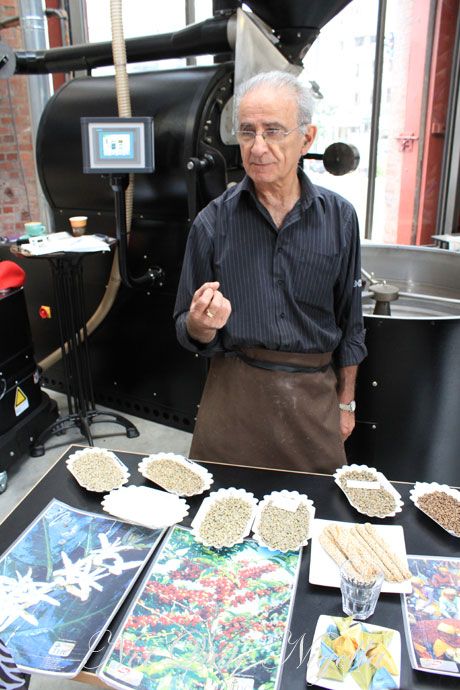 Lambros the father of the owner Steve is busy at the coffee bean roaster. He shows us the beans being roasted until they reach a certain temperature. At 215-220C the beans are then  cooled rapidly to avoid condensation and heating. The machine then sorts the beans from all the debris-in a typical bag there are rocks and nails as the coffee beans originate from areas where the factory floor may have other objects and debris. 93% of their coffee beans are organic and the owner Steve travels to various countries sourcing the coffee beans. They serve us a flat white which is their speciality.
Before the shipping containers arrive, they inspect the containers to see signs of anything suspicious or of issue and if there is, they alert customs. Once inspected, the pallets of bags of coffee beans are unloaded from the shipping container and is offloaded into a cordoned off  yellow area. Quarantine then comes and inspects six bags at random and then it is brought into the warehouse.
Circa Theatre: moved!
On our way to the next stop Stephanie tells us that New Zealanders (and in particular Wellingtonians) like to move buildings. Yes entire buildings are relocated, even heritage buildings and we see several that have been moved from their previous locations.  In fact one of the hotels, The Museum Hotel was called the "Hotel on Wheels" due to the number of times it had moved.
Ciocco Chocolates
We reach Ciocco chocolates where we're in for a blind taste test! If you know me, you'll know I love a blind taste test and there is a list of flavours up on the wall. The sales assistant tells us that most people guess one or two out of the five that they try. We each take a piece of paper numbered 1 -5 and a pen and we write down the flavours  that we think that we are tasting.
I try some and they're delicious and only number 4 stumps me so I get another two pieces to try and ascertain the flavour. She then tells us what they were and I'm relieved to say that I got 5 out of 5 (admittedly it is very easy as the entire list of flavours are there in front of you). The flavours we tasted were toasted sesame (haha a dead giveaway with the whole seeds), seasalt, Earl Grey, lime & cracked pepper and chilli (a dead giveaway too as it was strong in chilli). In case we need it they give us a choice of palette cleanser: white chocolate or white chocolate with lemon. all of the chocolate made for Ciocco is made in a tiny factory in Greytown.
We then receive samples of their hot chocolate which is made from real chocolate, not a syrup. I select the white chocolate and cardamom and it's wonderfully warming on this windy, chilly Wellington day.
Kura Gallery
We then set off for Kura gallery where unique, far flung and young artists are nurtured and their pieces displayed. There's a wonderful collection of art from a frog riding a serpent chandelier to darling 3D cards to fine bone china hand painted bowls. We try three types of honey. the famous Manuka Honey which is strong in scent and flavour and even retains its signature aroma when used in cooking. The wood from the Manuka tree is also used for smoking salmon and is used in burns units to help with skin grafts. We then try a Kamahi honey which is thick and rich and lastly a Rata honey which is mild and delicious and thick and sweet like caramel frosting.
We pass a zebra striped building. Guess what it is? A backpacker's lodge!
Moore Wilson
Our next visit is to Moore Wilson, an upmarket supermarket that specialises in gourmet foods. They stock a huge range of breads and cakes and cheeses and meats and only free range eggs. We're stopping here for a glass of Aroha Elderflower sparkling mineral water and for a cheese plate. The four cheeses that we try are Zany Zeus's Chilli Feta, Whitestone Windsor Blue, Paki Paki brie and a Linkwater Cheddar which is aged for 3 years.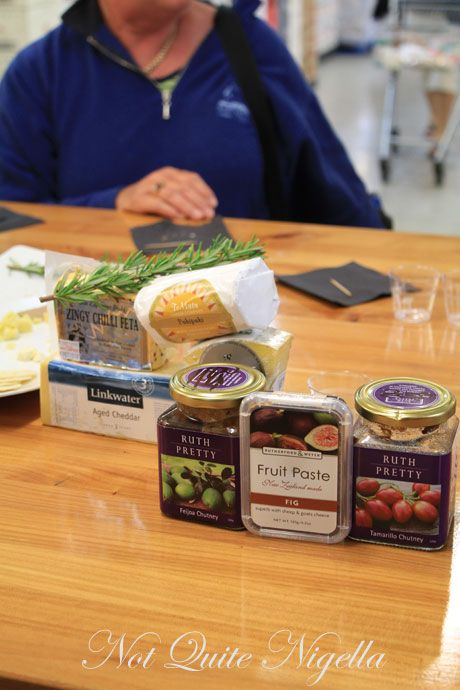 She pairs it with some walnut and oat crackers and some fantastic Ruth Pretty chutneys in Feijoa and Tamarillo. They're fantastic cheeses with the Zany Zeus being a creamy feta with a bite to it, the Windsor Blue which is great with the walnut crackers. The Paki Paki is gorgeously creamy (Paki Paki is the Maori sound of clapping and it was named that as that was what the cheesemaker did when she perfected it).
I become a little obsessed with the 180 degrees walnut and oat crackers and buy some (although the Moore Wilson doesn't take credit cards-arrggh!). We also get a look at the Kohu Road ice cream which is an award winning New Zealand ice cream. The Golden Syrup flavour won an award this year and the Cookies and Cream the year before. Goodness doesn't come cheap at $18.50 a litre although the ingredients list is additive free with no artificial ingredients (hmm note to self, make golden syrup ice cream!).
We then move onto our penultimate stop of our food tour, an affogatto at Floriditas, a Wellington institution. The affogato is a scoop of vanilla ice cream drenched in a Supreme espresso, a pick me up if ever we needed one.
Logan Brown
Our last stop on the official tour is a three course lunch at Logan Brown, said to be one of the top restaurants in Wellington or in fact New Zealand and 2009 recipient of Restaurant of the year. Housed in a former bank it is inauspiciously set across the road from an adult DVD and sex toy store! Despite all predictions about its location it has taken off and the inside belies the neighbours. It has grand, old world charm with high ceilings and the head of a stag and a pheasant that Al Brown hunted himself (his business partner Steve Logan is the chef, Al is more the marketer and wine man).
Steve Logan shows us a paua shell
Steve drops by and shows us a Paua shell and  explains how they are caught.  The Paua is a New Zealand abalone which is a dark colour and very plentiful in New Zealand. Each paua shell (a white or dark on the outside and a beautiful opalescent on the inside) can only be fished once they reach 12.5 cms in length. Paua can be a tough meat but here they mince it up and fill ravioli with it.
Paua Ravioli with coriander, basil and lime beurre blanc
It's a dish that has been on the menu since 1996. They tried to take it off but received hate mail from outraged customers. The pasta is lovely and delicate and the paua inside soft and flavoursome. The lime beurre blanc gives the rich butter sauce a lift but not tartness and the predominant flavours are basil and lime. It's topped with spindly kumera crisps. It's the kind of dish you remember years and years after.
Hawkes bay Lamb rack with Pramesan crusted sweetbread, smoked eggplant and tomato
I do love NZ lamb and these small cutlets are gloriously tender and pink inside and come from Hawkes Bay which is five hours north of Wellington. They're coated in Za'atar and come in a gazpacho vinaigrette and tomato puree. The sauce is given a hint of sweetness and is the perfect foil for the lamb.
Lemon delicious pudding with caramelised apple ice cream
I'm too full to eat more than a few spoonful of this light as air lemon delicious pudding which has a strong lemon curd at the bottom and tiny cubes of lemon zest dotted throughout. The pieces of apple are a little too big for the scoop though although the ice cream is set on an appealing crunchy crumbly toffee which gives the dessert texture.
Martha's Pantry
Although not part of the official tour, Stephanie offers to take us to Martha's Pantry which is just a couple of blocks away. It was closed yesterday when we had walked past but today it is open. Inside is gorgeous with vintage glasses and pretty merchandise. Teapots (Keri Keri organic loose leaf teas) come in striped tea cosies, all of the cups and saucers are different and may feature a pink dot pattern or a flower pattern and each spoon is different with some certainly very kitsch touches like the Prince Andrew and Sarah Ferguson wedding celebratory spoon. There is a Degas print on one wall and a rack of sun hats should you want to sit outside in the sun.
Open for three years, two sisters Ondine and Anita run Martha's pantry along with their mum whilst their cousin Marie Claire helps with the baking. Martha was their great great aunt who used to live in the building. Aha you know why I came here didn't you? The baking!
The oven that everything is baked in!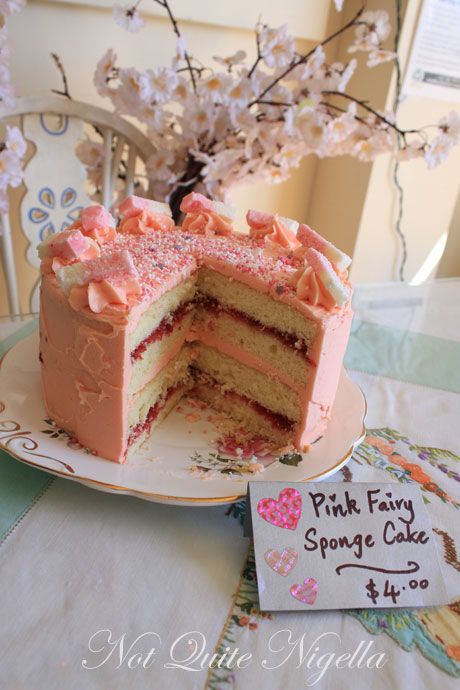 Everything and that means everything is baked here on the premises in this small oven that sits near the counter. Every little cupcake, every scone, every cake, the coconut slice and every other slice is home made. I am fascinated by the Vanilla spiced cake and we try that along with the Bay of Islands breakfast tea and the milk is Zany Zeus organic milk.
Vanilla spiced cake
It has a thick buttercream icing and is full of aromatics not just vanilla but cinnamon and nutmeg. It's moist and just divine. They show us a three tier afternoon tea stand which has nine varieties of goodies  from scones with homemade raspberry jam and passionfruit curd and organic cream and costs $75 for three people.
Te Papa
The new shoots of the famous silver fern
The Silver fern
Our next stop is Te Papa Museum where we're booked in for a Maori food tour. As we're running late (miscommunication arrgh!), we start with a tour of the grounds and our guide Tina shows us the various plants growing in the gardens and we then try the food in the cafe.
Kutai or mussels with Karengo
Sweet Potato wedges
We're offered sweet potato wedges hot and fresh from the oven, Kutai or mussels with Karengo an edible seaweed. The mayonnaise is mixed with Horopito, a native pepper and the Pikipiko which is a young fern frond is ground up into a pesto. The Rewena is a Maori bread where potato is used to make it soft and delicious.
\
Piko piko pesto and Horopito Mayonnaise
Kawakawa is a slightly bitter herbal tea which we sweeten with the famous manuka honey. Despite having tasted a lot that day, the mussel salad is great mixed with the mayonnaise on the potato bread while Mr NQN loves the Pikopiko pesto. One or two cups of kawakawa tea is said to be good but three is too many as it produces a diuretic effect-not glamorous!
Rewani potato bread
Tina then takes us on a tour and it ends up being so fascinating that it goes for two hours instead of one as we wanted to learn more. Te Papa Museum is well worth visiting particularly the Maori and the volcano and earthquake sections.
Fidel's
Another day we take a walk around the main area of Wellington around Cuba Street which is similar to Sydney's Newtown but starts off in a mall environment. We end up at Fidel's which looks to be a hangout for a lot of students and is friendly and welcoming.
Coffee is their speciality but I spy a Snickers thickshake! Service is very friendly and the guy behind the counter asks if I have 50c to avoid getting a lot of change. I don't so he takes 50c out of the tip jar (which only has 50c in it) and uses that. What a nice guy!
_Snickers Thickshake-so over the top that even the cup can't contain it!
_
Oh. My. God. If you love Snickers bars this is for you. Even though I wouldn't consider myself a Snicker's lover, this is an amazingly good and thoroughly thick thickshake. It's also about two meals worth in the toweringly tall milkshake metal cup so we need to ask for a takeaway cup which they happily oblige.
Matterhorn
Later that evening, we meet with Rebecca from Positively Wellington and Rachel from Yellow Brick Road who is actively involved in the Wellington food industry. Rachel supplies fish to most of the restaurants in Wellington and only deals with fresh fish and mostly long line caught fish. She also arranges the Wellington Farmer's Markets held in the centre of Wellington. This is a non profit initiative to get Wellingtonians to get to know the faces behind the brands. We're dining at Matterhorn, an award winning bar and restaurant and winner of restaurant of the year in 2008. It also won fifth best bar in the world in 2008 and the atmosphere is buzzy and very Surry Hills.
"_Would you like a three litre Cosmopolitan?" _our waiter asks?  We demur as we've been having a lot of wine already and stick with the mineral water.
Tuna sashimi with wasabi cream and wakame $12
The tuna sashimi pieces were topped with an Asian style dressing, fried shallots and a light wasabi cream and wakame. It's rich and creamy and delicious.
Carpaccio of yellotail kingfish with shaved rhubarb, grapefruit, ginger buckwheat and radish shoots $14
A little too tart for me, the kingfish carpaccio was full of strong, tart flavours.
John dory poached in chicken stock
A surprise entree is a dish that the chef was working on that day. It's John Dory poached in chicken stock. The meaty white fish and chicken stock plays tricks on one's mind and there are pieces of fried chicken next to it which means that the tender but thick white fish has a distinct chicken flavour to it.
Roast scallops with corn salad, frozen bisque, liquorice ink, octopus bacon and corn sabayon $25
The scallops are nicely cooked and seared on the outside and the corn salad is in fact some corn on the cob that has been sheared off. The frozen bisque isn't my favourite part at all and tastes very strong of alcohol and the liquorice ink is more black than licoricey in flavour and the corn sabayon comes in the form of foam which is very mild tasting.
"Duck" lacquered breast, liver and cognac parfait, rillettes of leg, neck sausage and consomme with pear compote, raisins and brioche $24
I try some of Rachel's Duck. The lacquered pink breast is fantastic as is the rillette but the parfait is too cognacy for me (I guess winning bar of the year means that they are generous with their alcohol).
Cardron Merino lamb with pissaladiere tart, roast peppers, sweet garlic and olive oil sauce $34
Mr NQN's lamb is succulent and comes as a very large serve. The pissaladiere tart is an unusual accompaniment although it tastes great. We always try and eat lamb in New Zealand as it's always so delicious here.
Clockwise from bottom right: Baby spinach tossed with toasted pine nuts, aged balsamic and olive oil $6; Potato puree with red wine sauce $6 Radicchio, witlof & watercress with blue cheese and pear dressing and sugared walnuts $8; Sauteed green beans with hazelnut dressing $6
I'm not usually a bitter leaf eater but the sauce for this is very moreish tasting mostly of pear with a slight richness form the  blue cheese. The sugared and toasted walnuts are superb and I find myself eating a lot of this salad and neglecting the plain green beans and baby spinach salad. This buttery and rich French style mash has a sweet, rich red wine sauce poured over it. Heaven.
Floriditas
The next evening, we are back on Cuba Street where we revisit Floriditas. It is housed in a gorgeous building with art deco touches and feminine flocked velvet curtains. The menu changes daily and there are quirky little touches like "If you love this menu ask your server for a postage stamp and we'll post it to a friend".
We can't resist the sound of some of the soft drinks and Mr NQN orders a Hardie Boys dry ginger beer (the options are dry or regular) whose labels reads "Made by Rebecca in Wellington". I order a Camla Farm Apple Juice "Made by Annabel" which is a single variety apple juice brand where you can choose a variety of apple that you like from Granny Smith, Braeburn, Cox's, Pacific Rose, Royal Gala and Fiesta. The cold pressed juice is lovely and preserves the true flavour of the apple.
Pan fried halloumi, New Zealand grape, flat leaf parsley, mint and nasturtium salad with grilled flat bread $19.50
We're not ravenously hungry tonight so we order some light entrees and mains. We start with a salad of pan fried halloumi, New Zealand grape and flat leaf parsley, mint and nasturtium salad with grilled flat bread. The serve isn't huge it has to be said and we discover that that is the theme but I do love the juicy, squeaky halloumi (I've often thought of entering halloumi eating competitions such is the volume I can eat of this cheese) and the grilled flat bread and halloumi are great together followed by a palate cleanser of the lovely fresh salad and yes grapes really so work in this salad and give it a mild sweetness.
Prosciutto San Danielle and a glass of Lustau "Papirusa" Manzanilla Sherry $15
Our next entree is the prosciutto and it's not bad but it suffers from what I can Jan Brady syndrome. Jan Brady was perfectly nice all by herself but when she's preceded by something like halloumi (aka Marcia) then she often comes off second best. The breadsticks are also too long to wrap the prosciutto around.
Char grilled Hawke's Bay Lamb shortloin skewers and panzanella salad $27
Not a huge serve for a main we paired it with a side of creamy parmesan polenta ($7 in background). The lamb skewers are however delicious and we loved the sweet tomato and crunchy, buttery bread in the panzanella salad. I think Mr NQN could have easily finished quite a few of those skewers.
Organic cherry tomato, anchovy, caper, basil and parmesan spaghetti $15 (entree size)
Again a bit of a Jan Brady, this pasta isn't bad at all but it is not as delicious as the lamb and almost lacks something. The basil leaves although nice are strong and large and plentiful and would overwhelm the delicate cherry tomatoes.
Brown Sugar Pavlova with poached Black Doris plums and cream $9
I know ordering pavlova in New Zealand might get you started in a war of words over who invented it but we had to try the brown sugar pavlova as I love the stuff. It's good although the star are the poached soft, sweet Black Doris plums.
I bet you thought we'd never stop eating did you? ;)
So tell me Dear Reader, do you like taking organised food tours? Or do you prefer to wander around by yourself?
NQN and Mr NQN travelled to and explored New Zealand as a guest of Tourism New Zealand
Zest Food Tours
PO Box 6030, Wellington 6141, New Zealand
Tel: +64 4 801 9198 (GMT+12 hours)
http://www.zestfoodtours.co.nz/
Mojo Coffee
Shed 13, 37 Customhouse Quay, Kumutoto Plaza,Wellington Waterfront, Wellington, New Zeakand
Tel: +64 4 385 300
Ciocco Chocolates
11 Tory St, Wellington, New Zealand
Tel: +64 4 382 8907
Kura Gallery
Courtenay Quarter, 19 Allen Street, Wellington 6011, New Zealand
Tel: +64 (04) 802 4934
Moore Wilson
Cnr of Tory and College Streets, Wellington, New Zealand
Tel: +64 04 384 9906
Logan Brown
192 Cuba Street, Wellington 6141, New Zealand
Tel: +64 (04) 801 5114
Martha's Pantry
276 Cuba Street, Wellington, New Zealand
Tel: +64 4 385 7228
Te Papa Museum
55 Cable Street, Wellington 6011, New Zealand
Tel: +64 (04) 381 7000
Fidels Cafe
234 Cuba Street, Te Aro 6011, New Zealand
Tel: +64 (04) 801 6868
Matterhorn
106 Cuba Street, Te Aro 6011, New Zealand
Tel: +64 (04) 384 3359
Floriditas
161 Cuba Street, Te Aro 6011, New Zealand
Tel: +64 (04) 381 2212