Waitomo Caves
We're on the move again on our whirlwind trip in New Zealand but before we can bid Waitomo goodbye we have to stop by the Waitomo Caves, a glow worm cave where we will take part in a quick Spellbound tour. There are several different types of tours available where you visit a variety of caves and the tours last anywhere from 45 minutes to more than three hours. On our 45 minute tour we will get to see the various formations that were created in these very special and atmospheric caves as well as take a boat ride along the water.
Flash photography isn't permitted in the caves to protect the glow worms although below is a photo from the NZ Department of Conservation showing how pretty they are close up. The glow worm larvae make delicate and breathtaking strands which glisten like a diamond drop necklace under the light. Up top the glow worm clusters shimmer with a blue green luminescence.
After watching the glow worms tinkle above us we board a boat where we glide across the water under the cave formations that resembles a sky dotted with stars or at times a tree canopy with the sun shining sun underneath the leaves.
**Bosco Cafe
On the drive from Waitomo to Taupo we stop at Bosco Cafe because I have a slight obsession with Denheath custard slices which are more of a south island sort of thing but a little birdy told me ghat you can get them here on weekends.
Bosco Cafe is a popular spot with tables coming and going. Ordering is done at the counter and there are a range of wrapped sandwiches to go as well as freshly cooked items. The towering muffins were too hard to resist and I have to make an order for these (and if you're curious how they make these, they have specially created tins for these!).
Eggs Benedict
The eggs benedict with smoked salmon are paired with spinach. The salmon is slightly cooked under the eggs and my eggs have a solid yolk while Krissy's is runny. It sits on a toasted English muffin.
Meatloaf
The meatloaf comes as a small football of seasoned minced beef wrapped in prosciutto and it is gloriously soft and before you know you end up eating all of it along with the beetroot relish and lightly dressed salad.
Muffin
The muffin is soft and served warm so that the white chocolate melts appealing and is a contrast to the zing citrusy orange.
With a Denheath custard slice in tow we take to the road and for the two hour drive to Taupo. We bid goodbye to the hobbits and the hobbit feeders as we embark on our next adventure!
Acacia Cliffs Lodge
I try not to brag. Really, I don't. I don't think that it's a particularly attractive quality but then again I found myself doing just that. It was a combination of two things that I love, a good view from an amazing lodge and something good to eat. I was staring out my room at the heart stopping view from Acacia Cliffs Lodge in Taupo and I was eating one of my favourite New Zealand things, a Denheath custard slice. Sometimes life is good and sometimes it is phenomenal.
Denheath Custard Slice
Acacia Cliffs Lodge was originally a deer farm set on the cliffs overlooking Lake Taupo and is a four room luxury lodge that accommodates up to eight guests. These lodges are of course that wonderful type of accommodation that New Zealand does so well. The owners Linda and Rick are gracious and welcoming and show us the grounds and tell us that should we wish (I do!) we can pat their sheep. "He think he's a dog" Linda says pointing out Tom her mobile lawnmower.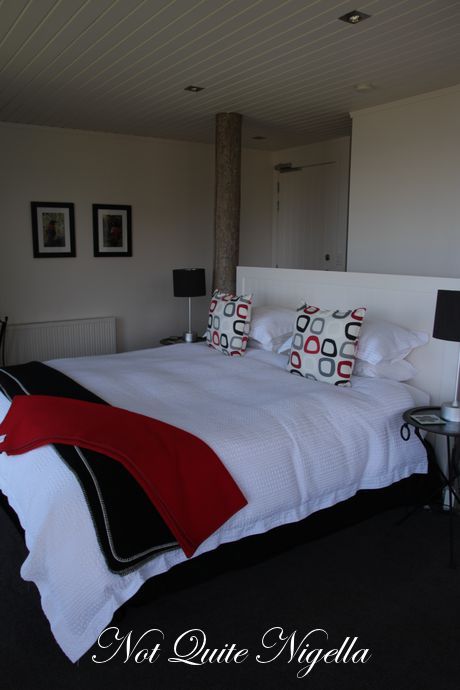 The room that I am in is the left most one nearest to the front door and it is a spectacular corner room which is just all view with expansive views of Lake Taupo, Mount Tauhara and the Kaimanawa Ranges afforded by floor to ceiling windows. The bed is king sized and the room is decorated beautifully by Linda in a modern style without being stark and themed in red, white and black. Two large support beams that we at first thought were for decoration stand at each end of the bed. If I tear myself away from the view of Lake Taupo I can see the rolling hills where their flock of sheep graze just to the left.
There is a good selection of teas and a complimentary bottle of Acacia Cliffs Lodge Sauvignon Blanc for all guests (airport transfers are also complimentary).  The bathroom has a shower, double sinks, New Zealand boutique brand Nellie Tier shampoo, conditioner, moisturiser, makeup remover, soap and a shower cap. There are two shower heads and a non fogging shaving mirror in the shower and every creature comfort is taken care of.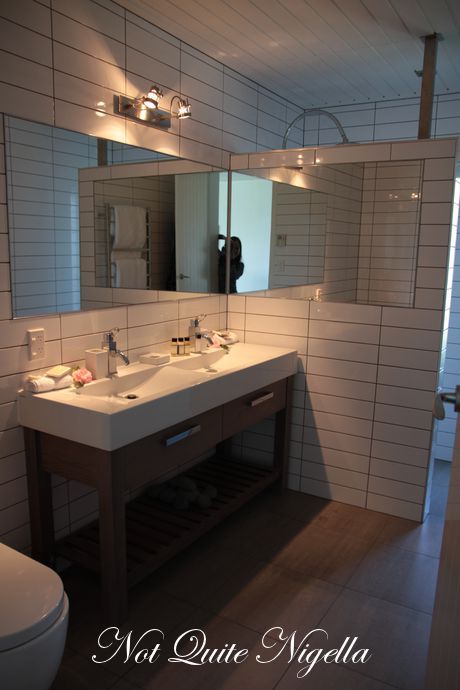 Wairakei Terraces and Spa
About ten minutes away from Acacia Cliffs Lodge is the Wairekei Spa and Terrace. I've become somewhat addicted to Miri Miri massages on this tour of New Zealand. Miri Miri massages are based on spiritual healing along with long, light touches and I like the fact that either by instinct or feel that they zero in on your sore spots, even ones that you don't know about and work on those.
My therapist Karen gives me a 30 minute massage using body oils but she also can use her own kawa kawa balm. And for no extra charge you can complete the experience by having it in the special room above. The massage is $80 for 30 minutes so it's not cheap but it's an excellent one that leaves you without an iota of stress left in your body.
Outside are the spectacular thermal pools which range in temperature from 38C-45C. The primary mineral in these spas is silica which is said to be good for skin allergies. This water has less sulfur than the ones in Rotorua so the smell is milder although there is some sulfur in these pools.
Meanwhile, back at the lodge ... as lodge life dictates, or really gently suggests, you can join the hosts for a pre dinner drink if you wish. Apart from doing the gardening (no small task given the rolling hills and the grounds) and taking care of my enormously heavy bag, Rick is the chef here. Having owned three restaurants in Auckland he recalls the offerings in Taupo in the late 80s and felt embarrassed for international visitors coming to visit here. So he aimed to increase the quality and breadth of the food offerings.
Stuffed pepperdews
I adore stuffed pepperdews and these are delicious - I can't resist trying two as I love the piquant flavour combined with the creamy centre. We are joined by friendly New York couple Kim and Nick who are honeymooning in New Zealand.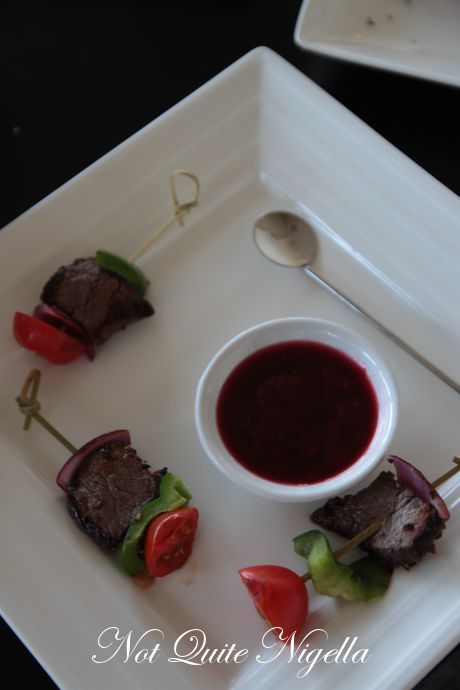 _Venison kebabs _
The venison kebabs are marinated in kiwifruit to tenderise them and they are served on a stick with onion, capsicum and half a cherry tomato and seasoned with black pepper.
Vegetable tarts
The mixed vegetable tarts are delicious. In fact I contemplate asking Rick for the recipe-you know those cocktail parties when you come across something and you just want to eat the whole tray? Yep these are it!
_Asparagus, halloumi and bacon with hollandaise _
A lovely starter, the spring asparagus is a treat and is paired with crispy bacon and two seared slices of halloumi to give it saltiness and a creamy hollandaise sauce.
Mushroom tortelli with truffles and parmesan
The plump mushroom tortelli is well cooked and filled with mushroom. It sits on top of a grilled field mushroom with melted grated parmesan on top. There's more parmesan to give it saltiness and the aroma of truffles is strong and intoxicating.
Tarahiki with capers and mango on somen noodles
The freshness of the tarahiki is obvious - Rick collected at 2pm from Napier and he cooks it with skill leaving it beautifully juicy. In fact I don't really need the mango, it's best with a squeeze of lemon and a little salt and some of the divine hasselback potatoes and zucchini.
Sides: zucchini and hasselback potatoes
Raspberry and orange ice cream with home made chocolate dipped biscotti
I'm afraid that the dessert had me beat because I had eaten so much of the mains. This was Linda's arena and it was a home made raspberry and orange zest ice cream, rich and creamy with plenty of fruit flavour to it and not too sweet. I really liked the large biscotti which was crispy and had a large slice of apricot through it dipped in chocolate.
Throughout the night Rick and Linda sit down and talk to us and they're great hosts to chat to as are Kim and Nick who give me a fantastic list of New York must visits. Linda has thoughtfully turned on the heater so that the room is snuggly warm when I get back and there's a chocolate fish on my pillow. And a good night was had by all...
The next morning the rise is a difficult one but one made better with the knowledge that I will be having one of Rick's breakfasts. There is a continental breakfast served on the table with muesli, fruit salad, toast with a range of preserves as well as a bountiful bowl of fresh strawberries and grapes. I'm much more of an egg person though so I put in an order for Rick's Eggs Benedict.
Eggs benedict with salmon
The eggs benedict with salmon are very good indeed with a layer of spinach on a lightly toasted bun. And it is enormous, truly so and I think I should have probably just ordered the one egg!
Omelette with tomato, mushroom and cheese and bacon
The omelette comes out layered with tomato, mushroom and cheese and topped with crispy bacon. It's a delicious ending but we aren't quite done with Acacia Cliffs Lodge-there is of course toast with Tom the sheep!
Tom the sheep
Tom and his flock of ladies and friends come as soon as they see Rick. Tom especially loves people and socialising with them and he and his friendly group eagerly gobble up the dry toast that we give them.  With a pat for Tom and a wave to Linda and Rick, we are off!
Ciao!
Chris Jolly Outdoors
Our next stop is to do some trout fishing with the Chris Jolly Outdoors adventure company. Did you know that in New Zealand it is illegal to sell, import or serve trout at a restaurant because of the huge sport fishing industry? As a result the only trout that you an eat is trout that is caught with a fishing license. And that's what I am holding in my hot little hand.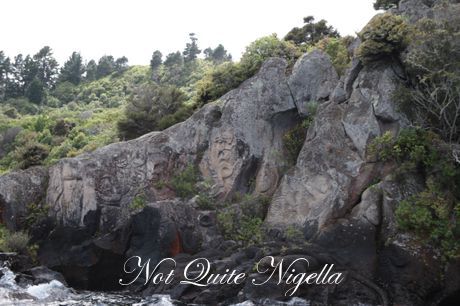 Charlie Brown the gorgeous chocolate brown Labrador is taking up space at skipper Simon's feet. We are on the Waianiwa about to embark on a luxury trout fishing trip out on Lake Taupo. Our first stop is to see the Maori carvings etched in the rock on Mine Bay 10kms from downtown Taupo which can only be seen from the water. The carving is enormous, about 10 meters high and was completed in1982 with the help of scaffolding and abseiling for the upper portion.
There are two glossy duck that bob on the surface of the water eyeing the boat. "How peculiar" I thought to myself as they landed smoothly just as our boat pulled up. And then Nic hands Krissy and I a Ritz cracker and instructs us to hold it up in the air. The two birds fly towards it, the female duck just looking at it while the male duck hovers closely looking at me carefully before taking it gently from my fingers.
Then comes the trout fishing. We fill in the forms for a fishing license which is valid for 24 hours. There is a limit to the number and size of trout you can catch and you also are not allowed to use bait, only lures. We wait patiently for the lines to give that telltale zipper sound but alas, there is nothing. They start on the shallow water and then progressively go into deep water. There is no trout biting so after a while we move into deeper water where we are fishing at about 38 metres deep. Here they use a system of weights to weigh down the lures and there are four lines going at the one time. Nic says "I know when one will come, it will be 11.30 when I've just put lunch down on the table."
And like a well behaved invited guest, around that time there's a little jolt of the rod. We all spring up and I take the rod. I've never fished before but now is a good time as any to try. Nic and Simon tell me to gently wind in  but if the rod goes down then I am to let go as the fish will try and rip the hook out of their mouths whole struggling violently.
It takes a few minutes and while the trout is in deep water there is the occasional resistance where the line spins backwards as she tries to escape. I keep going and occasional the trout struggles in a game of cat and mouse and then when the trout sees the boat there is more struggling.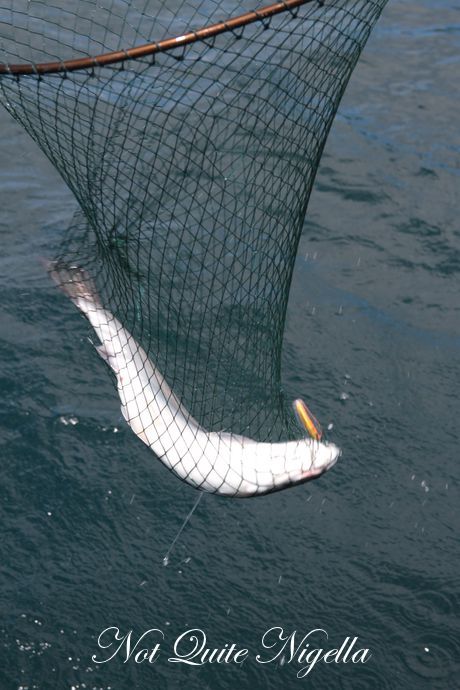 We reel her in (and it's a her Simon confirms as the males have a hook under their mouth) and he quickly knocks her on the head twice and she stops wriggling. We bag her and we will get to take her to our next destination for fresh sashimi.
Salmon
Lunch is served and its a lovely salmon fillet cooked perfectly so that it melts in the mouth. It is topped with an Asian themed cherry tomato salsa with herbs, spring onion, fish sauce and chilli. There is also asparagus, potatoes and salad to accompany it as well as bread rolls.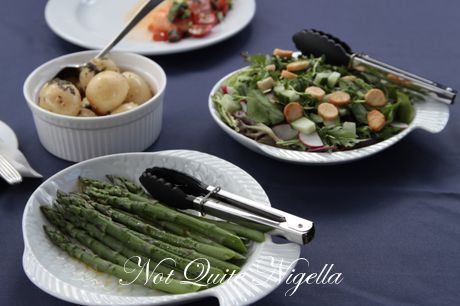 Dessert
The dessert squares of chocolate brownie had a nice crunchy top and thick texture. There are also absolutely divine passionfruit tarts in a crispy short tart shell.
Cheeses
They're not done with us yet! There are also cheese including a blue cheese, a brie, fruit and delicious oat crackers from 180 degrees! Our day has only just begun though and we hit the road for our next destination -  beautiful Hawke's Bay!
So tell me Dear Reader, do you prefer eating in where you are staying or going out for dinner to a different location? And have you ever been fishing before and what did you think of it?
NQN explored New Zealand as a guest of Tourism New Zealand
Waitomo Caves
39 Waitomo Caves Road, RD 7, Waitomo Caves, Otorohanga, New Zealand
Tel: +64 (07) 878 8227
Bosco Cafe
57 Te Kumi Rd, Te Kuiti, Waitomo
Tel: +64 (07) 878 3633
Acacia Cliffs Lodge
133 Mapara Road Acacia Bay, Taupo 3377, New Zealand
Tel: +64 (07) 378 1551
Wairakei Terraces and Spa
Wairakei Road State Highway 1 Wairakei, Taupo 3351, New Zealand
Tel: +64 (07) 378 0254
Chris Jolly Outdoors
16 Rauhoto Street Nukuhau, Taupo 3330, New Zealand
Tel: +64 (07) 378 0623