"I could be a sloth" I plan to myself quietly. "I really have no need to move anymore and I think that if I kept really still perhaps they wouldn't notice me and then I could just come and live here forever".
"Ms Elliott?" Michele my massage therapist at The Farm at Cape Kidnappers says me to gently placing my robe on top of me.
"Drats!" I say to myself, now that plan was far too easily foiled.
Looks like I have to find myself another plan to live here that sadly doesn't coincide with my predisposition for lying around. The lodge cat perhaps?
I'm at Cape Kidnappers in Hawke's Bay, one of New Zealand's most luxurious lodges and part of the family of lodges that also includes Matakauri Lodge and Kauri Cliffs. I'm at the very end of my New Zealand trip and I reluctantly move my body from under the soft white blankets where I've spent the last 50 minutes being massaged and slip into my Frette robe. I am convinced that my mind is somewhere across Jupiter and somehow I find my way down the stairs to the main lodge area There are two types of accommodation at Cape Kidnappers-the cabins above near the spa and the rooms that are part of the main building.
Just hours earlier as soon as we arrived I had a splitting headache (brought on by my own misdeeds from the previous night, no doubt). So when we are greeted by Julia, the lodge manager and another member of staff and told that afternoon tea and a massage were waiting, I was inconceivably happy. We make our way to the lounge area and take a seat, honing on on the couch with the furry pillows.
The Farm at Cape Kidnappers is actually a working farm where they raise sheep and Angus beef cattle. Cape Kidnappers was named so as Captain Cook or Cook as he was back then lost one of his party there to the local Maori.  The golf course is what Cape Kidnappers is known for-indeed chefs Heston Blumenthal and Thomas Keller cooked here last year for a very quickly sold out dinner and got to enjoy a week there playing golf afterwards.
Formerly grazing and pasture land, they built the lodge in 2007. The sheep motif with photographs and cushions dot the room landscape. Everything about it is country charm carefully thought out or chosen. And some of the furniture has some interesting stories behind it but more on that later! ;)
A staff member brings over a selection of Harney & Sons teas to choose from but rather than showing it as a menu he brings small snifters of them. I choose the cinnamon hot spice for a warming pick me up and the tea along with the afternoon tea arrive a few minutes later. There's nothing quite like the anticipation of an afternoon tea at a place like this-I know it won't be like any other and I'm not disappointed. The afternoon tea is $45 per person and you don't have to be a guest to book it although it does need to be booked in advance and is not available on Thursdays and Fridays.
It comes out country style in a metal tray with handles. there are three delicious sandwiches: a cucumber and cream cheese; a smoked salmon, lettuce and red onion and a ham sandwich, all fresh made with fantastic bread. Next it was a case on eeny meeny miney moe. I tried a scone as they tend to be served warm. This one wasn't and they came already sliced in half horizontally (I would have loved these served warm).
I was rather excited that there were three preserves to choose from including a raspberry jam, a kiwifruit jam (the pick) and a marmalade. I don't mind marmalade but I do think the sweeter jams suit scones better but that's just my preference.  A whippy, light cream accompanies this, not a clotted cream (which I haven't seen a lot of here in NZ).
Onto the rest of the sweets-there was a large macaron filled with a vanilla buttercream filling and has a pink shell outer -although I don't really go for vanilla macarons finding them a bit plain and preferring the tangier flavours the macaron is well rested and delicious.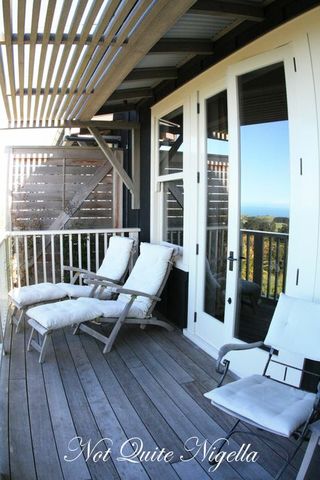 The Afghan cookie, a NZ classic is crunchy and topped with chocolate icing and half a walnut. The star of the sweets is the sublimely moist carrot cake topped with a swirl of vanilla bean cream cheese icing. One small slice is enough to happily break any dietary resolve which truthfully would already be wavering with the presentation of this tray. The chocolate fudge is also wonderfully smooth as is the lemon white chocolate truffle.
I float to my room, number 1. Julia shows me the various features of the room. There is easy to operate fireplace, one of my favourite features which is underfloor heating, a walk in closest that you could house a small boat in, a two sink bathroom with an enormous bath (yes you know I'm looking at that) and amenities like shower gel, body lotion, soap, shampoo and conditioner made for them by the Evolu brand.
A nice touch, and something that always seems to vex me, is that the switches are all labelled so that there is no fumbling around when you're trying to go to bed to switch off all of the lights.
The bedroom has a large king sized bed, a television hidden behind a painting, a lovely arrangement of daisies and comfortable country style. It still feels like a farm but not your every day kind of farm. I also find the sheep theme quirky and very New Zealand.
There are complimentary snacks like pistachios, licorice, bhuja mix as well as a jar of cookies and brownie squares. Soft drinks are also complimentary.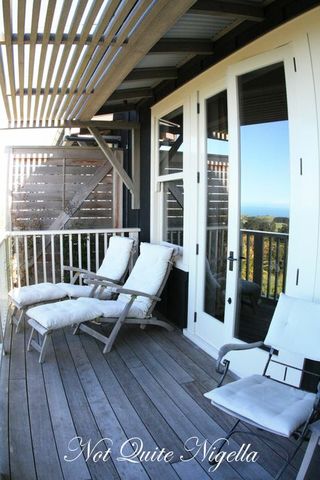 Hidden television
The Demi Bruce couch
"That couch that you're sitting on was owned by Demi Moore and Bruce Willis" the staff member says. He's not bragging, I was just asking about the curious table with two doors facing the ceiling that I was resting my pre dinner drink on-that one was a hutch that was used to feed rabbits. But the light blue grey couch, well that's just what the family and the designer collected (and there are some curious splash marks on it-a drink spilled under their ownership or after? ;) ).
A Tui bird just outside the window
Guests are starting to gather in the lounge or the ones more acclimatized to NZ's slightly chillier weather are sitting in the pretty flower filled courtyard. The pre dinner canapes are a blue eyed trevalla (called blue nose in NZ) gougere in a tartare sauce, a roesti with mushroom and sour cream which is fantastic and a  beef meatball on a bed of fresh tabouli. Chef Tim Pickering who was brought up in Hamilton, NZ comes out to talk to us and explains that they have a vegetable garden that supplies the kitchen with some produce. His travel to various areas in the world influences some of his dishes but he tries not to incorporate too many cuisine types in one dish.
Krissy and I move into the main dining area where there are two rooms. The first room has a large Dick Frizzell work dominating it along with a fireplace giving it warmth and the other is an enclosed area that looks to have been added onto the main house. This section has a beautiful view of Cape Kidnappers and the rolling greens and blue water far away.
We are offered a choice of tomato bread or white sourdough, both made in house with a choice of salt topped butter or a mortar and pestle with some Matapiro olive oil that is specially blended for them using three types of olives: leccino, frantoio and koroneiki. The rosemary oil goes well with the white sourdough roll and the butter the tomato bread.
Amuse bouche
The amuse bouche is a neat mouthful of grouper fish with fennel, orange and barley which does the trick of making us hungry despite how much we've eaten!
Seared Atlantic Scallops, cauliflower puree, raisins and capers, red wine and shallot dressing
There is a tasting menu which is five courses or you can choose a la carte and both dinner menus are included in the tariff. Going a la carte gives Krissy and I the chance to try more food so we go for that. The Atlantic scallops are seared on the outside until deep golden but still with a lovely texture inside and they are paired with a cauliflower puree, plump soused raisins and capers and a little red wine and shallot dressing to give it a bit of sweetness.
Pork fillet and crisp pork belly, vermicelli with chilli and crushed peanut, coconut and lime sauce
The pork was done three ways: three loin pieces sous vide, a rectangle of crisp pork belly and then a deep fried minced pork wonton. As a bonus there was a delicious vermicelli filled rice paper roll filled with chilli and crushed peanut that was full of flavour.
Local John Dory, spring vegetable and tarragon risotto, fresh tomato coulis
This was Krissy's first time trying John Dory, a fish that I love because of its buttery texture. This was a local Hawke's Bay John Dory served with a simple spring vegetable and tarragon risotto with a light creaminess and a fresh tomato coulis.
Hawkes Bay Lamb loin with spiced red wine cabbage, fondant potato and baby vegetables
The lamb loin was soft and rich and paired with a lovely spiced red wine cabbage salad, three discs of fondant potato and some zucchini, baby beetroot and radish. I was halfway through this before I realised that I was really getting full.
We still found space to eat these buttered vegetables!
Frozen Hokey Pokey mousse, caramelised puff pastry,praline sauce
But of course being a hard core dessert addict we had to order two desserts (research! Yes I'm still using that line!). The frozen hokey pokey mousse has large chunks of honeycomb between the creamy filing, a crisp caramelised puff pastry, soft apple segments and a delectable praline sauce.
White chocolate and passionfruit cannoli, coconut sherbert, madeira cake
The cannoli comes out looking quite different from a regular cannoli and it is much thinner and similar to a really thin brandy snap. It is made into a square sided tube and filled with white chocolate and passionfruit and is beautifully paper thin. It comes on a square of madeira cake and an orgasmic coconut sherbert. Yes orgasmic, I don't use that word often but it was really wonderful.
The next morning I experience one of the rarest encounters of all kind. Cape Kidnappers has not only a gannet colony but their grounds also has a group resident kiwi birds. For the youngest country on earth, New Zealand definitely has an old soul. I do mean that in the way that elders often teach the youngest the ways of the world. The colony of kiwi birds at The Farm at Cape Kidnappers has been passed from one "hapu" or clan to another which means that the birds are looked after, tracked and helped to fledge but a hand isn't added to experiment with them. The Kiwi Discovery tour is a new one that started where people have the privilege of coming along when people like Sue check on the welfare of the small, endangered and flightless bird.
It's really no wonder that the kiwi bird is endangered and several factors contribute to this starting with the relatively long incubation period of the egg at around 78 days. It is a flightless bird that lives and sleeps on the ground in little burrows and when they are 3 weeks old the parents leave the bird to fend for itself which is when most are killed.
The size of a kiwi egg
Kiwi bird females can only give birth after the age of four and only half of the eggs laid will survive as they are buried under the ground which also put them at risk for microbial infections from the soil. The size of the egg is enormous-it's a good 15cms long and three times the length of a chicken egg yet the kiwi when it gives birth is about the same size of a chicken. The male kiwi fruit sits on the egg for the 78 days and kiwi birds partner for life although there is a couple of older "confirmed bachelor" kiwi birds who are constantly together.
The kiwi bird itself are shy, solitary and nocturnal creatures. New Zealand's native wildlife has no mammals apart from bats and the kiwi bird actually possesses some mammalian characteristics. They have solid bone marrow in their bones and nostrils in the tip of their beaks.
Kiwi bird droppings
The 2,500 hectare reserve has about 60 adults kiwi birds and 22 chicks of the bird kiwi variety Apteryx Mentelli. There are five varieties in total and all of them are endangered. All eggs are incubated and hatched in captivity and then released into the reserve as there are no natural predators here (stoats, ferrets and dogs) and there are no animals like hedgehogs which compete as a food source. Once they are adults the transmitters are removed and they are taken to another area where they can roam free. "I just have to tell you there is a chance that the kiwi that we find may not be...alive" Sue says. It is not a staged kiwi walk, what ever we find is serendipity. Sue takes an aerial out of the back of the ute and we walk throughout the reserve. There's a crackle of static and then a faint constant beat like a heartbeat.
We walk over the soft beds of fallen pine needles which gently cushion our treads. The beeping from the aerial transmitter gets louder and we point it around to detect where the signal is loudest which is where the kiwi will be located. It's almost a false alarm, after 10 minutes or so the signal indicates that the bird called "Matey" is located at the steepest, furthest part of a very steep slope so Sue regroups and sets the tracker to find number 75, Beam (named because his father was called Scotty). He's very close indeed and within minutes the signal beeps loudly. Sue turns it down and the beeping shows that our little kiwi friend is located under one tree (where a rabbit who appears to get along with the kiwi has made a burrow).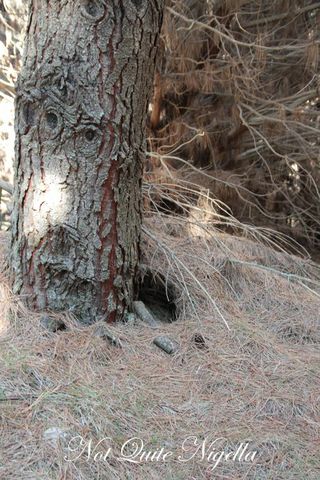 Sue smiles and floats the transmitting device above the soft covering of pine needles that look freshly fluffed like a thatched roof. "Come on little one" she says as she coaxes the bird out. She has only seen Beam once since he arrived here so they are not disturbed frequently.
Kiwi birds need to be handled carefully. They have no breastbone and they have delicate beak that doesn't regenerate. As a result many of them can be crushed to death easily. To hold them, you put all of the weight on the legs and simply cradle the body like a baby. Beam emerges from his house and he is a bundle of brown, soft, furry looking feathers in shades of white and brown.
His squawk is unusual, almost like a piglet and Sue tapes his legs together so that she can weigh him. He is 520grams at 6 weeks old which is a good weight and when he reaches a certain age and weight they will release him. Beam is quite likely a kiwi bird that will survive, he is feisty and vocal which will mean that he can look after himself. Rocking him gently he feels like a ball of the softest feathers while squatting on the ground seems to calm him although he can only tolerate a minute of holding before he protests.
Sue quickly weighs him in a pouch and then cuts the tape around his legs and then puts him back in his home again, solo again. "They're a bit like us kiwis" Sue says.
So tell me Dear Reader, did you think that the kiwi bird was extinct (as I did)? What animal encounters have touched you?
NQN travelled to and explored New Zealand as a guest of Tourism New Zealand
And because it is Wallpaper Wednesday, please find your wallpaper from yesterday's story! I hope you like it :) xxx
Cape Kidnappers
448 Clifton Road Hawkes Bay 4172, New Zealand
Tel: +64 (06) 875 1900