I often annoy my friend Queen Viv who calls me Pollyanna because I am hopelessly optimistic. Simplistically speaking, I do believe that things happen for a reason although with a tragedy as large as an earthquake, who knew that serendipity would occur after a the 1931 earthquake in Napier? Not to understate what the citizens of this pretty seaside town went through at all, but as a result of the destruction of the entire town, a stunning town emerged.
These delightful little doll's heads move and nod-available from the Art Deco Store, Napier
Napier is known as the Art Deco city and it is absolutely worth a visit for the architecture buff although I suspect non architecture buffs would find this divine little town fascinating too. It is the only town in the world with so much Art Deco architecture as the whole town was rebuilt after the earthquake (within 22 months!). Art Deco was the style of the time which also suited the earthquake wary inhabitants with its reinforced concrete surfaces. The signature details of Art Nouveau were the zig zag designs, Egyptian themes and the geometric or ziggurat pattern as well as pastel colours.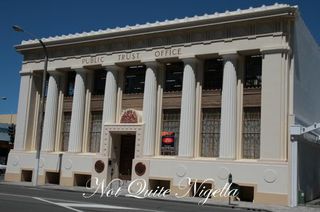 One of the only buildings that survived the earthquake
In fact the only two buildings to have survived the 7.8 magnitude earthquake were ones that were made with reinforced concrete. We stop in at the Art Deco Trust in Napier where our guide Tony tells us that they're constantly having little earthquakes that you can't feel but that is a good thing as that means that there won't be so much pressure building up to create an enormous one.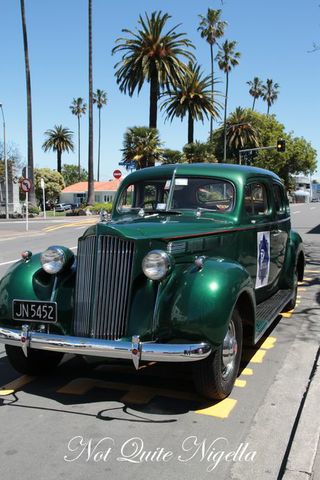 And the best way to see it all? On an Art Deco tour in a vintage 1938 Packard car or "the Rolls Royce of American cars" our wonderful guide Tony says. Tours leave from the Art Deco building and generally take about 1 hour 20 minutes. They take you for a drive to show the Art Deco outskirts of the town as he recommends seeing the Art Deco buildings in the centre of town by foot.
Driving through the town in a car like this is magnificent. Every year in the 2nd and 3rd week of February they hold an GEON Art Deco weekend festival which takes over the whole town and people get dressed in the 1930's costumes, jazz bands play and bi-planes fly overhead.
Inside their art deco theatre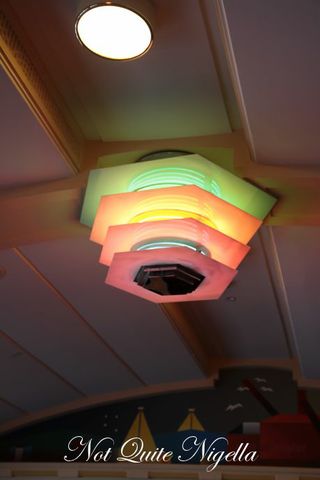 The original lights
There were four main architects that were responsible for the design of many of the buildings and on each tour Tony focuses one one or two. He points out his influences of Frank Lloyd Wright and the signature "eyebrows" on building. One building in particular has two styles of designs which would no doubt horrify purists-the mixture of Art Deco and Art Nouveau which preceded Art Deco. The Art Nouveau touches are the nature inspired details like leaves and flowers whereas Art Deco was certainly more about geometric angles and shapes.
1916 the first Art Deco building (now budget accommodation)
Hollyhock designs on the front of the building
The Art Deco trust is a strong movement that relies on people and businesses wanting to preserve the Art Deco buildings. The compromise in the building above was that the facade of building remained intact but this applied just to the front of the building, just behind it is a new block of apartments.
Johann Husheer was an extraordinarily successful tobacco tycoon who ended up being a philanthropist in later years. The Swiss German moved to the area after anti German sentiment pushed him out of Europe and he set up a tobacco factory in New Zealand. When he commissioned this building, he spared no expense and he was particularly fond of flowers so many floral details were incorporated into the design and these were placed in situ which contributed to the expense. In fact one of the front doors cost about 600GBP which at that time, could have bought a house.
Flowers placed in situ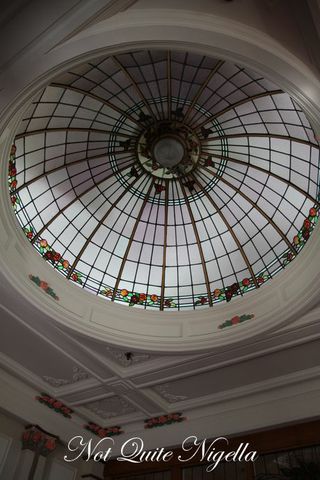 The dome ceiling in Husheer's main lobby
And interestingly, for a town that is so steeped in history, there is free wifi available in the town centre! A few other modern cities could stand to do this ;)
No visit to a town is complete without a meal and we have lunch at Madisons which is a stunning store and cafe full of natural light, blossoms and beautiful homewares. Each day they have daily specials and today we are in the mood for a light but tasty lunch. The service is absolutely wonderful from the staff there and when we can't find a wireless signal in the cafe, they set us up outside and check to see whether we can get the wireless.
Seafood laksa (sorry I can't remember the price-oops!)
I've been craving some spice and this laksa made with fat udon noodles, king prawns and scallops fits the bill quite nicely although I know laksa purists might question the use of udon noodles. It is served with a mound of cucumber salad in a soup bowl and it lightly spicy and thick with creamy coconut.
Melon with prosciutto and feta
Just the ticket for a fresh, flavoursome lunch there was sweet juiciness from the melon and salty richness from the prosciutto and feta.
Macarons
We couldn't help but try the macarons in passionfruit, salted caramel and sour cherry flavours. It was hard to pick a favourite out of them as they were really my favourite types of flavours (salty or slightly tart). So I'm going to say I liked them all :)
Lemon cupcake
Changing daily the cupcakes are cute and spread with a thick vanilla icing and on the bottom, a moist lemon cake.
Pizza paddles
_
_
We have a quick browse through the store with their very covetable items. But we can't dawdle as we are running late! Our next stop? Exploring more of beautiful Hawke's Bay...
So tell me Dear Reader, which design movement do you like best?
NQN travelled to and explored New Zealand as a guest of Tourism New Zealand
Art Deco Trust
163 Tennyson Street Napier 4110, New Zealand
Tel: +64 (06) 835 0022
Madisons
47 Tennyson St,Napier 4110, New Zealand
Tel: +64 06-835 0056