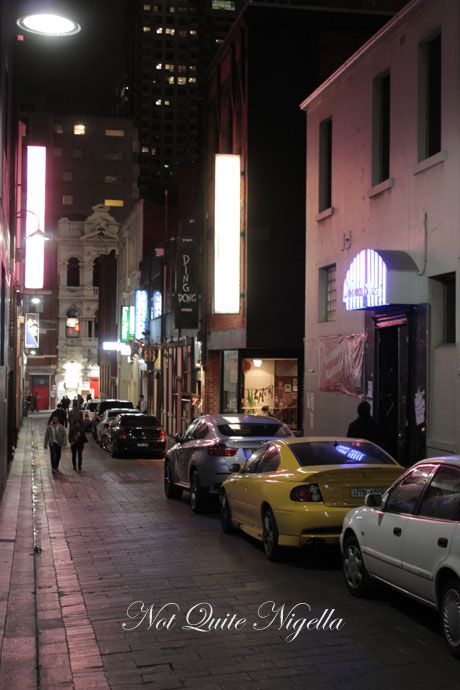 One afternoon I found myself busy packing ready to hop on a plane. Mr NQN being Mr NQN had left me to pack his things. So far I've got black pants, black tops, black boots and a black coat. Guess where I'm headed with this wardrobe? Mr NQN and I were off for a weekend adventure in Melbourne!
I had first had a quick glimpse of the Crown Metropol when Nic and I had dined at Maze a month or so ago. It was a modern building, all sleek surfaces, glossy black glass and mirrors and large sculptures in the lobby.  So when Mr NQN and I checked into the hotel a few weeks later I was intrigued to see what the rooms were like.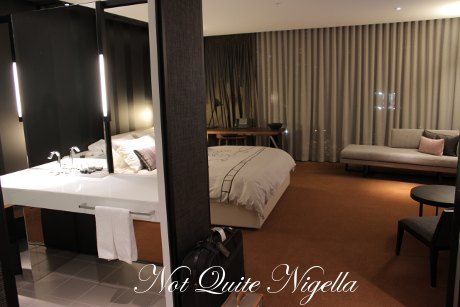 We are given an oversize room on the 12th floor with access to the 28th floor guest lounge. We settle in and unpacked. The room is spacious with a great view of the city and water with a good selection of Madame Flavour teas, a proper sized working desk (I hate small desks), an excellent magazine selection, an open plan bathroom with privacy screens and the most heavenly robes you could conjure up (and yes I contemplated buying them as I didn't remove them the entire time I was in the room). No wonder we see fellow guests wandering the halls in these. Is it wrong to want to do everything in them? And is this how Hugh Hefner got started? I only wish that there were slippers (thongs are provided) and there was a bit more shower pressure and amenities.
We head to Hu Tong, a dumpling bar that is said to serve brilliant Xiao Long Bao (or Shao Long Baos as they  call them). Housed down a laneway opposite the iconic Flower Drum restaurant that could be any laneway in Asia it looks promising. But you know I'm tough on XLB's and a little bit obsessed ;)
It's not at all what I expected. I was expecting something like Sydney's Shanghai Night, all plastics and "don't linger" vibes but this is funkier and with a host of men and women with ear pieces guiding us through to the second floor to our table. If anything it reminds us of a Surry Hills restaurant and there's a definite buzz. The menu features a red stamp next to the signature dishes. Service is brisk and brusque with just one or two waitpeople offering a smile.
Shao Long Bao $10.80 for 8 (East china)
When you're at a dumpling bar and when you're with Mr NQN there is really no choice other than to order dumplings. We start  with the Shao Long Baos. At first glance I'm a little crestfallen. Half of the little buggers seem deflated as soon as they set them down and sure enough they're bereft of soup. Disappointing. We pick up a plump one that looks to be full of soup and that is much better, the lovely ginger flavour coming through. They're very similar to the ones at Shanghai Night although the mince in a Shanghai Night dumpling is firmer whereas this mince is softer. Other than that they could be doppelgängers (down to the soupless ones which we've experienced at Shanghai Night too). They are also more expensive here though.
Wontons with hot chilli  sauce $8.80 (Szechuan)
Mr NQN didn't want to order these wontons as he isn't a fan of chilli oil. Luckily I overruled him and we end up adoring these wontons. It's the sauce that they're in which is made up of soy sauce, chilli, vinegar, Szechuan peppercorns, sesame oil, dried chilli seeds and fresh spring onions and is absolutely moreish. In fact I keep the sauce for other dumplings and contemplate ordering more. I'm even drooling thinking about them now!
Steamed Shrimp Dumplings $6.50 for 4 pieces (East China)
We were less enamoured of these dumplings. The skin on these was very thick and rather than being prawn dumplings, they're pork and prawn dumplings with a dominance of pork and not very good prawns.
Boiled pork dumplings $11.50 for 12 pieces (North China)
These are Mr NQN's favourite dumplings and they're ones I usually only have one of.  He likes them as he can stuff himself silly on these for a relatively modest sum. The filling for these is delicious, much more flavoursome than any that we've had before but the pastry on some of these is too thick and some end up being raw doughy.
Pan fried dumplings $10.80 for 8 pieces (Shanghai)
These are similar to the pan fried dumplings that we get but the skin is completely different, more like a the steamed shrimp dumplings rather than the fluffy white bao type outer. They're filled with soup and fried on a thin layer of egg white. They're not bad at all though with the bottoms being nice and crispy.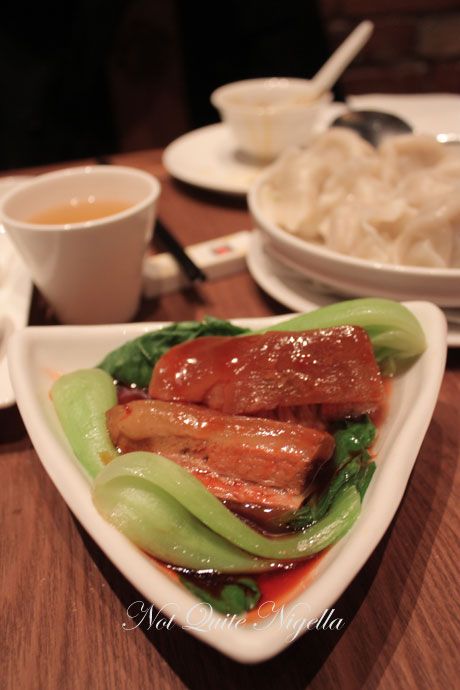 Dong Po Square Soft Pork (Hangzhou) $7.80
I had to order this as the mere words "soft pork" are too hard to resist. It comes out cut in two with three pieces of soft bok choy. I pick one piece up and it almost falls apart making its journey to my plate. It's wondrously, unctuously soft and delicious although it necessitates a bit more pouring of that mystery red sauce onto it for flavour. It reminds me of the lovely soft pork belly filling you get in the leaf wrapped glutinous rice dumplings.
Szechuan bean cud with minced pork $13.80
Our last dish is the Szechuan bean curd with minced pork. Even though there were two chillies next to this entry on the menu, the chilli barely registers on our tastebuds. We should have perhaps stuck with the original plan and had our dumpling fest and eaten it without peering at the rest of the menu. Viva la dumpling!
So tell me Dear Reader, what is your favourite dumpling joint?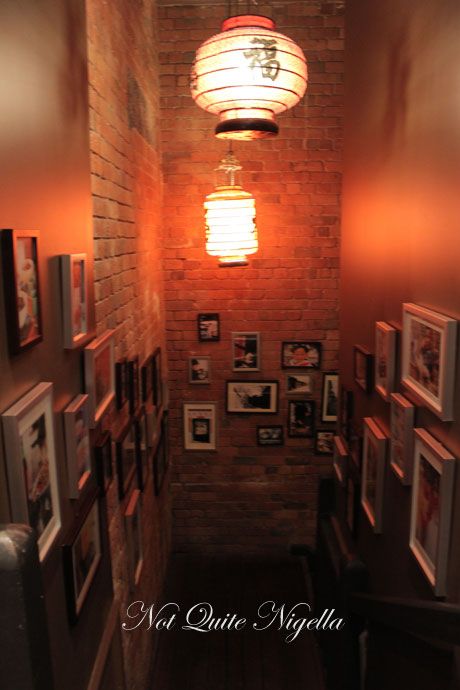 NQN and Mr NQN travelled and explored Melbourne as a guest of Tourism Victoria. They stayed at the Crown Metropol as a guest of Crown Metropol and Tourism Victoria.
Hu Tong Dumpling Bar
14-16 Market Lane, Melbourne, Victoria
Tel: +61 (03) 9650 8128