Hardy Suangin of Harrison's
It was an offer sent to me via email a few months ago. As soon as I opened it I was instantly intrigued. It involved twenty four meals, six hours and the chance to imitate the daffy judges on Iron Chef Japan. Yes please! Answering the invitation to judge the Taste Paradise Food Fight at the Port Douglas Carnivale, was impossible to resist. I had always wondered what it was like to judge a food event and I was about to see it first hand. Would my fellow judges and I agree? Would there be disagreement arguments about whose cuisine reigned supreme? Would there be vast ratings swings with many of us unable to decide a winner? What about collusion or bias? Well I had to see for myself!
Ricky Jordan of Bucci
The Port Douglas Carnivale is a celebration of the local food industry and the "Taste Paradise Food Fight" is one of the more fun events. It's part of the local scene and we've all made it into today's paper too and prior to the event I also did some radio interviews.
Evan Seaward of Bistro 3
The brief was simple. I along with my fellow judges wine and food critic Winsor Dobbin and chef Nick Holloway were to sample and judge two dishes made by some of Port Douglas's leading chefs. There would be three rounds, the first two with four chefs each and the third round the deciding round with the two winners from the first two rounds facing off. Each chef would be challenged to cook in an unfamiliar environment with a surprising list of ingredients and an entree and main must be prepared within the 40 minutes allocated. In a twist, the chefs were given mystery boxes and each box had five ingredients in them. They needed to use at least two ingredients from the mystery box and the more they used the more points they would receive. They would receive ten points for each of these categories.
Difficulty of preparation and skill proficiency of each contestant(10 points)
The creative use of the 'mystery' ingredient and if what was originally planned has been prepared (10 points)
The innovativeness of the dish and how it relates to current cuisine trends (10 points)
How good the dishes taste and look (20 points)
Along with this we were also given a judging guideline which described what a score of 0-10 would involve and under which circumstances we should award the scores. Still since many of us were new to the whole judging process we were nervous although there was agreement that we wouldn't discuss scores in case that created bias. We're given our score card for each round with the chef's names as we talk as the crowds gather. Each of us has a different background so we were curious to see whether our palates would rate things similarly or not. Only time would tell!
Vikas Chandra of the Sheraton Mirage
Round 1: The Gentlemen
Mystery box ingredients: cream, hard persimmons, cardamom pods, chillies and soft coconut meat.
Jed Sneddon of Nautilus
Enter the four chefs who nervously pace around their station. The crowd is mild mannered, it's 5:30pm on a Friday and they're politely awaiting some food fighting action. There are four cooking stations, each with two gas burners and a barbecue and there is a shared deep fat fryer, oven and hand wash facilities. Chefs are allowed to bring in cooking utensils, pots, pans, knives and appliances and any crockery to plate up on but are not allowed to bring any ingredients.
Behind the four cooking stations there is a huge fruit and vegetable display from Blood Orange, a local deli and a fridge full of meat, dairy and other assorted necessities, a pantry and a fish and seafood display by Coles which includes banana prawns, live mud crab (but very sleepy!) and several types of fish like red emperor, trevally and Spanish mackerel. The chefs are allowed to beg or borrow items from each other and they can keep going back to shop for more items after the initial shop. However there may not be enough of an item and it is on a first in first served policy although points are deducted for wastefulness!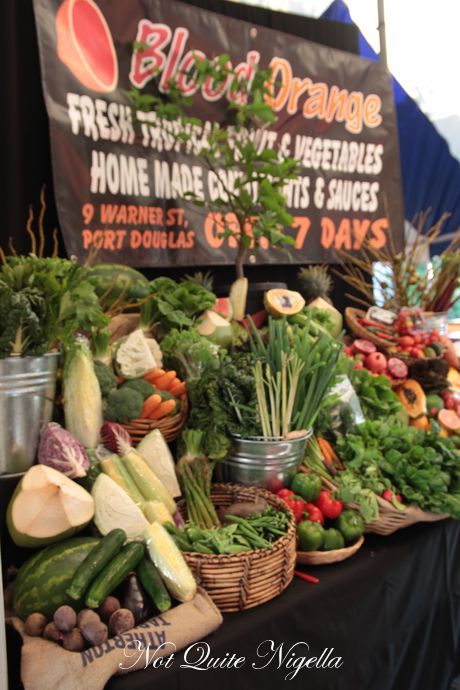 The four chefs look nervous. We are sitting on the left hand side to them and after introducing them and us to the audience the two hosts, radio MCs Sal and Roy let them go for a shop. They're surprisingly restrained and not in a hurry at all given the time constraints. They bring around their goodies to the station and we walk around and take a look and see how they are doing, what their knife skills are like, how messy and how ordered they are.
We note that one chef Vikas Chandra from the Sheraton has even written up plating instructions. Last year's champion Tommy Young is on hand to defend the title in this round. Sal and Roy encourage the chefs as the crowd and we the judges look on. Any gaps in silence are punctuated by some bizarre Jamie Oliver sound bytes.
Dom Uhlig from Salsa
The 40 minutes goes surprisingly quickly for us and we're just the judges - imagine how quickly this would go for the chefs! Before we know it, chef Dom Uhlig from Salsa is standing in front of us telling us about his two dishes.
Noodle salad
The three of us crowd around the dishes and we take some and put them on our plates to try them. The noodle salad was good although there was a bit of a presentation glitch when the lemon segment still had the sticker on it which prompted judge chef Nick to explain that if details like that are forgotten in his kitchen then one may wonder what else may have been forgotten. I found this a bit on the sweet side. With Thai and Asian style salads, there is that balance of sweet, sour, spicy and salty and this was a bit too sweet for me.
Lamb chops
The lamb chops are very well cooked and seasoned and come with a delicious mash, flaked almonds and greens. But no time to dawdle, we are tapping our pens onto the clipboard and writing down our scores before the second chef comes up to give us his dishes.
Jed Sneddon from Nautilus
Fritter
Chef Jed Sneddon of Nautilus is up next and he presents us with his two dishes. The first is a fritter and the texture is very soft and not crispy which is a surprise for us. It is paired with creamy exotic mushrooms.
Fish with salad
_ _The fish is nicely cooked although Winsor finds the centre too raw for his liking but I do like the seasoning and the searing on the outside. It is paired with a salad which is a little tart for my liking and a creamy sauce as well as a couple of prawns.
Vikas Chandra from Sheraton Mirage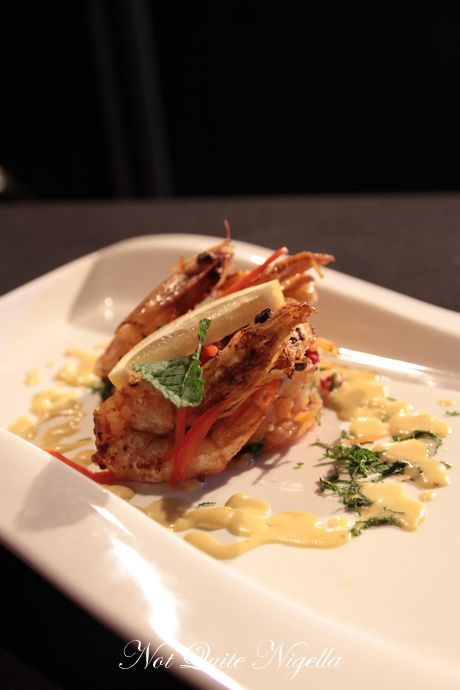 Grilled prawns served with salad of pomerieno, raw papaya and pomegranate with cream and green cardamom sauce
The third chef is Chef Vikas Chandra from the Sheraton Mirage and he presents us with a prawn dish. As soon as we all taste it we are in agreement, the seasoning for this is just right and the balance of flavour is great. The herbs used in it were very well balanced and the prawns had a good texture. There's much scribbling and I'm curious to know how the other judges rated it but resist from peeking!
Semolina crusted travelly fillet with light coconut curry and puff bread with fresh coconut chili salad
The curry was also well balanced and came with a buttery roti on top which was very well received. And the true test is whether you want to take a second bite given how many plates we were about to eat and we really did with this dish.
Tommy Young from 2 Fish
_ _
Fish
Our fourth chef Tommy Young from 2 Fish was the defending champion from last year's Food Fight. The fish fillets were quite thin and they were a little tough to cut which lost some points although it was prettily presented. It sat on a bed of coconut meat and was surrounded by finely diced tomato which didn't quite lend it enough flavour or moisture.
Duck
The duck was skillfully cooked and pink inside but it was crusted with large cardamom pods and they overwhelmed the dish and they were all I could taste in the dish. Because cardamom has such a strong flavour and there were whole pods used they can easily overwhelm. The salad below was a tad underseasoned too.
The judges from left to right: Nick Holloway, myself and Winsor Dobbin
The first round is over and they take all of our scores and compare them. And here's where it gets interesting. Even though we barely discussed it with each other, our scores are all very similar and we all judged the winner to be chef Vikas Chandra by a clear margin.
Time for a break! We head out and I know it seems crazy to eat more food but we had to sample some of the food at the stands outside. We tried a fresh and flavoursome miang at the Bistro 3 stand (who have a chef competing in the next round). I also try a dense, nutty brownie to eat back at the hotel with me because there is no mini bar!
We also try a seafood plate from the Junction cafe which I enjoy as it has a fresh oyster (yum!), a small mound of crab salad and a prawn fresh rice paper roll which are all very good.
And because I can't resist, I also try the cheesecake from the Sheraton Mirage stall with passionfruit and mango which proves very moreish and hard to not finish in a few mouthfuls.
Round 2: The Boxing Ring
Mystery box ingredients: longans, fresh mint, macadamias, coconut cream, mixed unpitted olives
Hardy Suangin from Harrison's goes shopping
It's now 7:15pm and something has changed in the air. There's a rowdiness to the crowd which prompts judge Nick to say that it's a typical FNQ (Far North Queensland) event. There's whooping, cat calling and the chefs are different in personality and seemingly packed full of testosterone as they pace back and forth egging their respective supporters along. There's a chant of "Ricky!!" and then "Evan!" and the atmosphere is that of a boxing match.
Jarrod Silver of the Sheraton Mirage cooks while Nick looks on
The mystery box is revealed and the chefs go shopping in the larder. This time they do it with more purpose and they're more determined and quicker perhaps having witnessed the first round. The crowd by now have relaxed and they egg the chefs on with encouragement. There is a roar and an almighty rumble from the crowd and it's like being at a sporting match. There are more of those odd little Jamie Oliver sound byte played as well as a raspy Gordon Ramsay quote interjected apropos of apparently nothing which only serves to heighten the excitement. They crowd cheers as on of the chefs sets something alight and we walk around observing them at their task. The forty minutes passes by quickly in what seems to be ten minutes.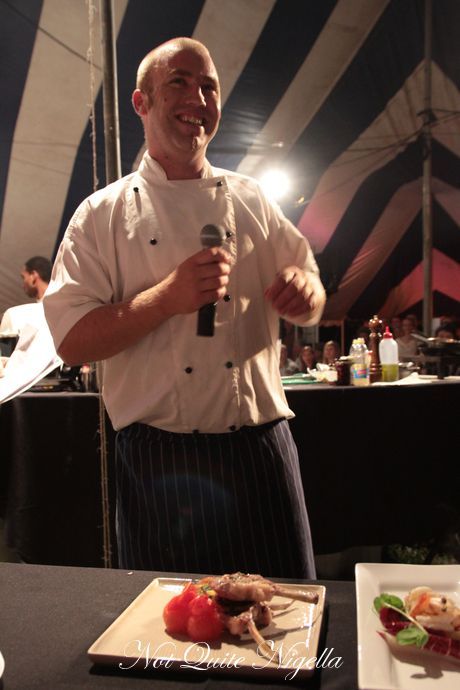 Ricky Jordan of Bucci
Bucci's Ricky Jordan is first. He's one of the crowd favourites and he has created a dish of prawns with a longan salad. The prawns are a tad overcooked and the salad is sweet but not quite seasoned enough.
Lamb cutlets
The lamb cutlets are a little tough to cut although they come with "sexy tomatoes" which are tomatoes which have the skin pulled up showing the red tomato flesh underneath. It is paired with a grilled zucchini wrapped vegetable salad which was nicely executed.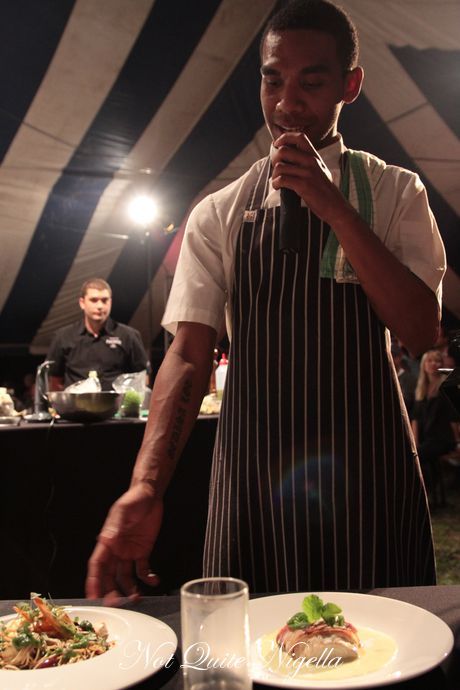 Hardy Suangin of Harrison's
Soba noodle salad
Harrison's chef Hardy Sanguin was next with his two dishes. His first dish was a soba noodle dish with sun dried tomato strips and olives which was actually quite delicious and well balanced. The only reason why I didn't rate it more highly was because it is similar to something that I make at home for a quick weeknight dinners and we thought that there needed to be something a bit more restaurant quality especially as other chefs had upped the ante.
Fish wrapped with bacon
The fish was wrapped in bacon and cooked simply and served with a puree and although there was excellent technique and seasoning in both his dishes, this was perhaps a bit too simple and didn't use enough of the mystery box ingredients.
Salad of steamed mud crab & tiger prawn with logans, pink grapefruit, roast candlenuts, green curry sauce
Bistro 3's Evan Seaward pumps his fist and tells us that he is feeling very confident. I swear if he weren't a chef, he'd probably be a boxer! His first dish is a mud crab and tiger prawn salad with longans, pink grapefruit, roasted candlenuts and a green curry sauce. Much like round 1's winner chef Vikas Candra's dishes, as soon as we tried this it was very well balanced and just hit the palate perfectly singing.
Grilled lamb cutlets with celeriac puree, warm salad of rocket, olive, mixed tomato, basil
His main was lamb cutlets was a herby mix with tomatoes and was cooked well with good technique although the mud crab really won me over more than this and was probably the star dish of the night.
Jarrod Silver of the Sheraton Mirage
The Sheraton Mirage's second chef Jarrod Silver was the fourth and final chef from the second round to come up and offer his dishes. His dishes were duck with longans the lamb cutlets (and by now we were all hoping that we'd never see another lamb cutlet again!) were good but they were a bit too simple when compared to the rest of the dishes with not enough of the mystery box ingredients used.
And again the scores are tallied and again our scores mirror each others! The winner is clearly chef Evan Seaward of Bistro 3.
Round 3: The Final. The Justin Bieber concert
Mystery box: sultanas, fresh ginger, green papaya, Mossman raw sugar and Gallo blue cheese
It's down to the finals and the two chefs are preparing. The two personalities couldn't be more different. In one corner chef Vikas Chandra was clearly nervous and even got a big pep talk from his executive chef. In the other corner chef Evan Seaward is all machismo and is like a bull in an arena being shown a red flag. The music this time is played at an almost concert level and the crowd is divided. On the right is the Vikas crowd and on the left is Evan's. "Another one bites the dust" plays along with some techno music and every few minutes or so, a crowd of girls screams out Evan's name which prompts another crowd to scream out Vikas's. The bizarre little Jamie Oliver and Gordon Ramsay sound bites have now morphed into a rap and are played with the music.
It's a little surreal and I have to remark that we seem to have moved on from gentlemanly silence to blokey cheering to a Justin Bieber concert with the amount of girls screaming. The three rounds couldn't have been more different. Chef Seaward is showing off his knife skills to applause and then this prompts the quietly hard working Chef Chandra's supporters to egg him on. To add to the tension there's a kerfuffle in one corner. Apparently the deep fat fryer has gone on the blink and chef Chandra can't deep fry an ingredient. Of course this would happen in the final and the chefs carry on as there's not a minute to waste as they've come so far and beaten so many of their peers.
Vikas Chandra from Sheraton Mirage shows us his two dishes for the final
Poached Mud crab tomato roll with ginger, dragon fruit and carambola, raisins salsa with ginger sauce
The plating is very pretty indeed and again Chef Chandra has written a diagram for how he will plate his dishes. His first dish slightly misses the mark, there are a lot of flavours but there seems to be a lack of harmony. Also I find two pieces of mud crab shell and Winsor finds some too perhaps left in haste of making the deadline.
Rosemary grilled beef, with shitake stuffed young potatoes, caramelized raw papaya and red wine jus
The fillet steak is a little overcooked at medium and we all prefer medium rare. Both the steak and the mushroom filled and topped potato is also missing seasoning although we do like the flavours. Presentation wise though both dishes were lovely. He lost a point for not using enough of the mystery ingredients, he used 4 out of the 5 whereas Chef Seaward used all five.
Evan Seaward from Bistro 3 shows us his final dishes
Ceviche of large mouth nannygai fillet with salad of green papaya, cucumber ribbons, shaved fennel, roast peanut, coriander, chilli, mint with ginger & vanilla dressing
This wasn't a bad dish but I'm not so taken with liberal use of vanilla. Apparently the Daintree vanilla that they use is a stronger vanilla than regular vanilla so I found this has perhaps too many flavours all at once but then again that was what they asked of the contestants. However the other two judges liked it. I think this is the only dish that we differed in our opinions on and I was interested to see how our scores would look.
Crispy skin duck breast on carrot & ginger puree with sautéed forest mushrooms, fresh fig & gorgonzola with a sultana & currant reduction
Now when he described the dish to us, I thought "Uh oh this could go terribly wrong" with the amount of ingredients on one plate. Thankfully his gamble using all of the mystery box ingredients paid off and it was a nice balance of flavours that would ordinarily not be seen on a plate together. I doubt he would put this on a menu but it was good. And because he used all of the mystery box ingredients, he was awarded more points for innovativeness and use of the ingredients. As they tally up our marks there was silence in the large crowd. And how were our scores? Astoundingly, they were within 1 or 2 points of each other out of a possible 50!
And who was the final winner? It was chef Evan Seaward of Bistro 3 who demonstrated good balance and finesse while understanding the brief clearly.
The chefs did a masterful job, particularly given that they had to do everything from scratch themselves including all of the mise en place and the mystery box ingredients were truly a surprise to them. They adapted well to a larder that was not stocked the way that they wanted it to be (there were grumbles of no sesame oil among a couple of other ingredients) and to using two gas burners and a barbecue.
And as for us judges despite any apprehensions we may have had, we came to the conclusion that whilst food can be subjective, when you try as much food as we do, good food is good food and it is obvious when a chef understands balance and has good technique. That perhaps allowed us to get such similar scores to each other despite our varied backgrounds in food. And it was a relief for all of us that worried that we might be end differing wildly from each other!
So tell me Dear Reader, have you ever judged a cooking competition or competed in one and how did you go? And what sort of food competition would you like to or judge?
NQN travelled to and the Taste Paradise Food Fight with Taste Paradise, Tourism Port Douglas Daintree and Tropical Tablelands Tourism.
Taste Paradise Food Fight 2011
Port Douglas Carnivale May 19-29 2011