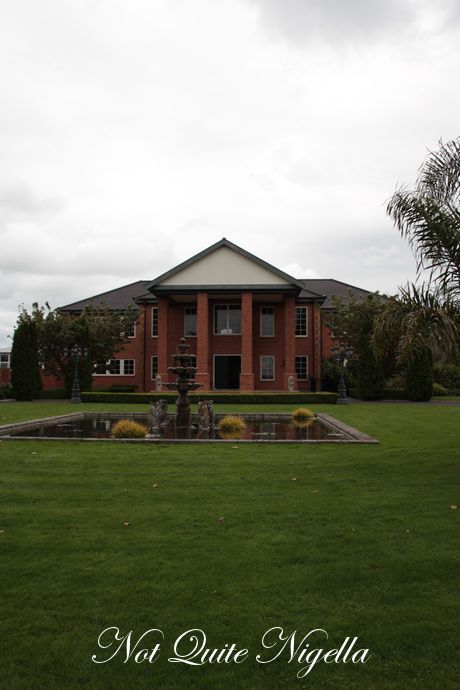 Two fat ducks waddle away slowly in the distance while fat droplets of rain fall. The seemingly never-ending green lawn goes for as long as the eye can see and the manicured trees and pink blossomed trees sway in the wind. Two stone lions sit guard outside the entrance to the lodge and look straight past me ignoring my rush inside.
I rush up the soft blue carpeted stairs, hearing the ladies clinking glasses and china and I can imagine their hats bobbing in conversation. I open the double doors at room number one and enter the room and plop down on the king sized bed, limbs tired. I'm not in a fairytale, I'm at Sarnia Park, Cambridge in the Waikato region and I've just entered my room, the Kotuku Room, or the Bridal Suite.
The king bed is enormous, much like the room and on one side is a spacious balcony which looks out onto the freshly mowed lawns. On the adjoining side there is a long window seat with another spectacular view and large painting and bride worthy sized mirrors cover another wall.
The bathroom, about the size of some hotel rooms nowadays has a free standing claw foot bath with a handy rack in the centre, a bidet, two sinks and a separate shower as well as a large soft rug under my feet as well. And if I need to recline or find somewhere to towel off, there is also a chaise lounge in the bathroom. The amenities kit is deluxe and includes, shampoo, conditioner, moisturiser, make up remover towelettes, shower cap, shaving kit, swing kit and soap. And you can adjust the temperature of the hot water in the shower-or your butler can! ;)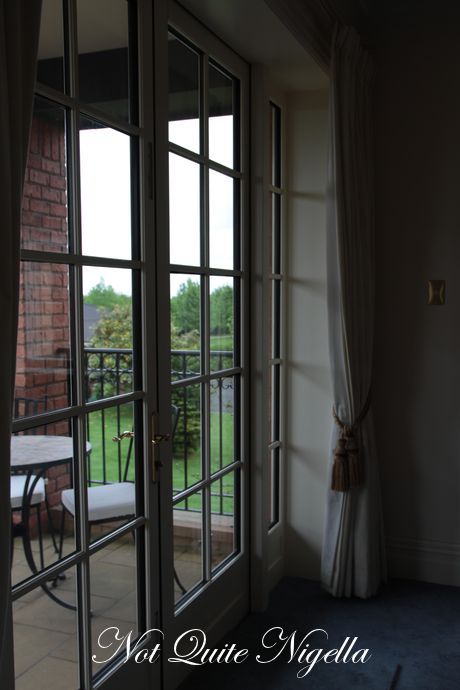 But please excuse me for a while, while I cut off a sliver of black truffle brie...
Over the Moon Dairy
**
Now where did I get that black truffle brie? A most wondrous gift it was from Over the Moon dairy which is based in Putaruru in the Waikato area of New Zealand which is known for its lush greenery and dairy industry. Here, owner Sue Arthur built up a multi award winning artisan cheese making business. She started it three and a half years ago built on the fact that she simply loved eating cheese.
Sue Arthur from Over The Moon
Sue recruited the help from Australian cheese master Neil Willman who helped her set up the operation and develop recipes for the cheeses which are soon to become available in Australia. Neil later bought into the business and then became her live in partner (she tells us they're both similarly obsessed with cheese!).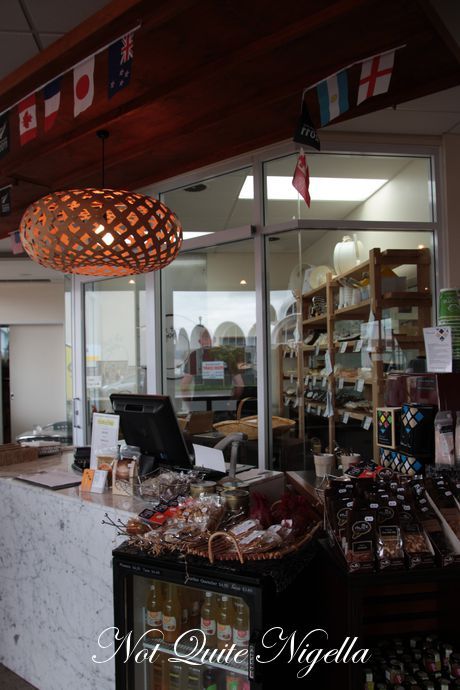 Over the Moon dairy specialises in blends of cheeses and creating unusual cheese. Sue uses cow, goat, sheep and buffalo milk either by itself or in combination with others with one cheese, the Southern Cross as a combination of all four milks (and it is divine, with each milk coming to the fore at different stages on the tongue).
Her best seller is the OMG (or Oh My Goodness, changed from God after some complaints). It is a buttery textured triple cream brie which is all about the texture although there is a light flavour to it too. It was so named because when people tried it and felt the buttery slip of cheese on their tongue their first reaction was for their eyes to roll back in their head and to say "Oh my god". And I try some and I have to say that those three words do slip off the tongue very easily.
The signature cheese however is a stronger washed rind cheese called Galactic Gold, a multi award winning washed rind cheese. During their first year it won them their very first medal at the Champion of Cheese awards (artisan) and has continued to collect awards since. It is rich and subtle at first but then towards the middle and end and towards the back of the palate the flavour comes to the fore.
Customers can try a range of their cheeses in their cheese tasting room. Many people say that they don't like goat's cheese-in fact I walk past a man saying exactly that so she mixes a goat and a buffalo blend for the Tomme cheese and there's a firmer goat's cheese called Moonshine which I particularly like. There are also flavoured cheeses like cumerino and pepperino as well as seasonal cheeses like a Wensleydale cheese studded with cranberries that has a distinct sour taste.
Over the Moon also hold cheese making classes and their one day classes are popular. They make brie, blue vein, washed rind and havarti as well as a 25 second mozzarella cheese!
The last cheese that I try is the black truffle brie. Sue slices off a piece for me and I try it. It doesn't look like there is much truffle there but once I raise it to my nose that distinctive aroma is there. I try a little and I melt (a little OMG moment here) and seeing my reaction Sue offers me the rest of the cheese to take with me. I can't refuse an offer like that and I keep it in my bag cradling my precious truffly cargo so that it is nice and melty by the time I get to the hotel.
Zealong Teas and the Camellia Tea Gardens
Being the first and only tea grower in New Zealand can't have been easy but for Oolong tea grower and owner Vincent it was all started with camellia flowers. A student from Taiwan his father noticed that camellia trees grew well in the Waikato region because of the rain that the area experiences. It stood to reason that tea would grow well there and they sought about getting oolong tree clippings from the Fujian province in China. He took them back to New Zealand where the clippings were quarantined and 10 months later he returned to collect the clippings which has passed. Most had died leaving just over 100 clippings but that also meant that the clippings that remained were strong.
He was then faced with the challenge of propagating the clippings which was difficult as in it is usually done at high altitudes of 2,500 metres whereas Hamilton is 400 metres above sea level. To do this they enlisted the help of overseas experts to help them overcome this. Now there are 1.2 million tea plants on the property that produce 20 tonnes of organic tea leaves. They have opened their first concept store in Taiwan at the Sogo department store.
From three fresh leaves...
To curled balls of leaves
There are three types of tea available: pure (unroasted), aromatic (roasted at high temperatures) and dark (repeatedly roasted). When the tea leaves are picked they are picked by hand in small bunches with three leaves and each one is then machine rolled for a period of 12-36 hours  to become a curled ball.  They harvest in November, January and March and fly over their team leaders from Taiwan to help at every harvest.
We sit down in the Camellia Tea House for the tea ceremony which is $18 a head with a $5 rebate on tea. You can also have it as part of their afternoon or morning tea and tea ceremony package for $35. Here the tea ceremony starts with a heating of the teapots and cups using hot water poured from vessel to vessel and the careful dipping of porcelain cups.
There are two cups given - a tall thin cup called the snifter and the the round flatter cup. The tea is poured into the snifter and then you place the rounder cup on top and then flip it over. You then remove the snifter rubbing it between your hands and inhaling deeply with your nose and then drink the tea. Roughly five grams of tea are used per person and you can keep refreshing the tea with fresh water up to eight times and each refresh will taste different as the tea leaves unfurl.
Customers can also walk along the tea walk which shows them various facts about tea. Did you know that there are only two words for tea used throughout the world? Te and Cha and slight variances of those words are used.
Bi Bim Bap $30 with tea and sweets
But I know how much you like afternoon tea Dear Readers and that's probably what you've been waiting for! But first we try some of their savouries on offer. There is a  choice of main meals along with the tea and a duo of sweets at the end for $30 a person. I adore the Korean dish Bi Bim Bap and it's tasty mixture of beef, rice, vegetables and raw egg served in a sizzling bowl and it is mixed with two sauces, one to give it spice and one to add to the flavour. It's delicious and we all wish we could have eaten more.
Japchae $30 with tea and sweets
I love japchae so I couldn't resist ordering it. It comes with some agedashi tofu which is full of flavour and soft inside and the japchae is well seasoned, slippery and very tasty. And like the Bibimbap I end up eating more of this than I intended to0-oops!
Afternoon tea $48 for two
The afternoon tea for two has three savoury items and two sweet items per person (if you have it singly, there are four savoury items and three items). They gave us a bit more variety than normal to show us what they were like. On our tier there was a Vietnamese roll, prawn cocktail, salmon, asparagus & cream cheese sandwich, teriyaki chicken sushi, pesto and vegetable topped bruschetta and an Asian mini burger. They were all very good and packed with flavour-their chef Brenton is from Toowoomba in Queensland and he particularly likes Asian and Japanese flavours and food.
The top layer has three different types of sweets-a blood orange and chocolate tart made with New Zealand brand Whittaker's chocolate, a lime and passionfruit thick cream filled pastry horn and a panna cotta made with layers of their aromatic tea jelly which I manage to eject out of the cup and onto a plate accidentally-slippery little suckers!
Macarons 4 for $10
Last but not least are the macarons, pretty as a picture. They come in two flavours lemon and blueberry and they're nicely made and with a good, strong flavour to them, particularly the lemon which is filled with lemon curd. They do need to rest for a little longer but they are aware of this (we are visiting on a Tuesday and as these are baked in house and the kitchen is closed Mondays).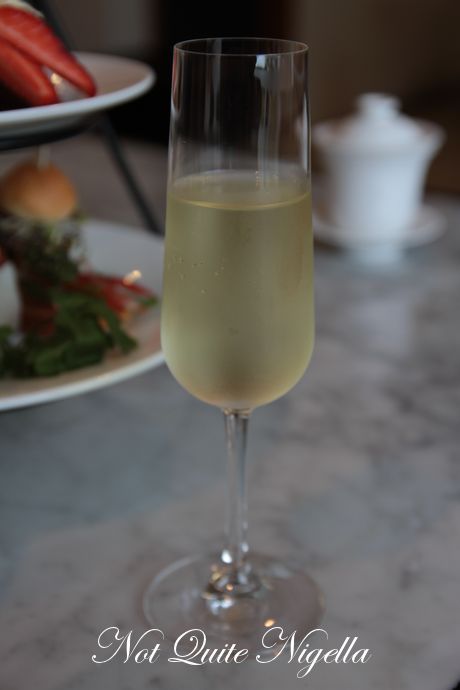 Iced oolong tea
We finish off with a glass of iced oolong tea-refreshing and made using the aromatic tea cold infused in spring water for eight hours. See, the life of a princess is really quite enjoyable! ;)
Palate
Now princesses need food, they even eat dinner so after doing some work with a cup of tea and a house baked chocolate chip cookie larger than the cup, I am picked up in a carriage (ok it's a car) and we drive to downtown Hamilton, about half an hour away from Sarnia Park. Palate is a recent winner of the Cuisine magazine awards for the best regional casual dining in New Zealand.
Inside the corner restaurant there is exposed brick, wooden tables and it is warm and cozy. I'm torn between ordering oysters which I adore but I rethink that. Chef Mat McLean is a chef ambassador for  the lamb and beef industry and they have their very own herd of full blood wagyu that supplies the restaurant exclusively so wagyu it is!
Wagyu bresola, globe artichokes, manuka smoked prawns and truffled mayonnaise $18.00
The wagyu breseola with tender globe artichokes, luscious manuka smoked prawns and a truffled mayonnaise. It also comes with a crispy deep fried soft centred egg which was a surprise as it wasn't mentioned on the menu but it was a very welcome surprise as the soft, gooey egg yolk burst and spread like luscious lava over the cured wagyu beef breseola. It reminded me of a lusciously rich breakfast.
Rabbit ravioli, portobello mushroom, puy lentils, crisp bacon and vanilla pea puree $18.00
_
_
Goats cheese soufflé, roasted macadamias, rocket and pear salad with chardonnay vinaigrette $17.50
_
_
Trio of pork: crisp belly, ham hock beignet, cheek dumpling with black pudding and apple $17.50
As a stomach saving measure I decided to go for two entrees instead of an entree and a main as I knew that we had dessert coming. The pork dish has two squares of crispy pork belly, with a lovely blistered skin and a soft, yielding meat underneath, a delicious ham hock crumbed beignet, a ravioli type of cheek dumpling with soft, sweet cheek meat, a disc of crispy black pudding and a gingery apple puree. And it is rich as you can imagine but every mouthful is savoured.
Honey spiced duck with kumara and coconut puree, citrus cous cous, orange salad and cointreau jus $35.00
Granny smith apple cheesecake with ginger apple puree, and apple sorbet $14.00
Dessert time! The granny smith cheesecake had a top layer of apple jelly and a thin bottom layer of biscuit crumbs whilst the middle layer of cheesecake was soft and moussey. It was paired with a ginger apple puree and an excellent house made apple sorbet.
Palate's bread and butter pudding with cointreau custard and ras halnout ice cream $13.50
The bread and butter pudding, always such a lovely comfort food, was a rectangular piece of spongey bread and butter pudding with a Cointreau custard and a most intriguing ras el hanout ice cream. Ras el hanout translates to the "top of the shop or shelf" and varies with each spice shop as they all have their particular blends. The ice cream gives it a rich spiciness but it's not out of place and suddenly something as English as bread and butter pudding is a natural pair or something as exotic as ras el hanout ice cream.
Citrus scented crème brulee with lemoncello sorbet $13.50
OK well I was a bit silly here as I didn't realise that that was a ceramic lid and starting trying to lightly crack it with my spoon before my more learned dining companions pointed out that it was a lid. Oops! The creme brulee below the lid had a lovely crack and it was scented with citrus which helps lift the brulee. It came with some orange segments and a lovely limoncello sorbet which was so very refreshing!
"I have a date with a bath" I tell my dining companions Kiri and Rebecca. The bath is the claw footed bath and after the drive home I sink into the water of the bath and relax with a magazine before crawling into my king sized bed.
Morning view from the bedroom
There's a gentle knock at the door the next morning. I pull open the curtains and two birds flutter past the window. Bev who owns Sarnia Park walks in carrying a tray of fruit salad and a juice. I'm not much of a breakfast eater as I'm usually busy working when I wake up but if it means breakfast in the room - something that I adore, I most certainly am a breakfast eater!
Fruit salad
The evening before I had ticked my preferences and the first item is a fruit salad, sweet with pineapple, banana, orange, mango, kiwifruit and divinely sweet fresh raspberries and dotted with mint leaves, borage flowers and passionfruit. This isn't your ordinary fruit salad and it is delicious.
Full cooked breakfast
This two part breakfast but it was really for research purposes right? They have two chefs here and chef Carlos is from Mexico and he makes an excellent full breakfast with two perfectly poached runny centred eggs, a roasted vine tomato, a large field mushroom, hash brown, sausage, rashers of hotel bacon and toasted multigrain toast. Having a breakfast like this will turn anyone into a breakfast eater, myself included.
On our way we make a little stop in the town of Cambridge for some antiquing and we find some lovely stores that sell all sorts of vintage goodies. I fell for this cup at Gordon's Antiques on the corner of Empire and Alpha Streets.
Whilst Alys Antiques had some most unusual items like this sketch book.
And a funereal tear collector bottle!
See, living life as a princess really isn't so hard...
So tell me Dear Reader, do you like shopping for antiques and have you ever made any interesting finds?
NQN explored New Zealand as a guest of Tourism New Zealand
Sarnia Park
151 Maungatautari Rd Cambridge 3450, New Zealand
Tel: + 64 07 823 3421
http://www.sarniapark.co.nz/
Over The Moon Dairy
33 Tirau Street, Putaruru
Tel: + 64 07 883 8238
http://www.overthemoondairy.co.nz/
Zealong Tea House
495 Gordonton Road, Hamilton, New Zealand
Tel: + 64 07 853 3018
http://www.zealong.com/
Palate
170 Victoria St Hamilton Central, Hamilton West 3204, New Zealand
Tel: + 64 07 834 2921