Mr NQN and I are spoilt. We are used to relying on our GPS and our reliance on the stiff speaking male voice is apparent. We're an hour late to our Maori Food Trail cooking class at the elegant Treetops Hunting Lodge (we quickly learn that "Lodge" is code for ultra  luxury hotel here in NZ). We're embarrassed and ring a couple of times and finally find our way down the secluded track to Treetops lodge where two large metal deer hold sentry. The gates slide open and we drive up the 2.5km hill to reach the lodge itself passing several of the 300-400 deer that roam the 2500 acre property.
Eru Tutaki
A smiling face greets us in the kitchen and it's Eru Tutaki the Maori chef that is going to show us some native Maori foods. We start with a coffee and a cookie while he gets to know us and we him. The 36 year old father of three grew up in a town which was so small the population there was 30 people. At 17 he moved to Wellington where he studied for a Bachelor of Visual Maori Arts. He then studied  sculpting creating figures in chocolate which then sparked an interest in food. Growing up, Eru wasn't taught Maori so he rediscovered his roots when he started cooking. He learnt the Maori language and he uses it and his knowledge and research in his food to conduct these food trail tours which are based on Charles Royal's tours but with an additional component of culture and language.
We were originally told that we'd be looking for native ingredients in the 800 year old forest and then coming back to the  kitchen here to cook it. "Not quite..." Eru says and shows us to the room where I am to change out of my leather boots into a pair of gum boots (and yes the only ones that fit were Zebra ones ;) ). For not only are we going out for a trek among the forest but he is also going to cook the food that we pick out there. I squeeze Mr NQN's hand in excitement.
We head off with several layers on as the temperature changes as we head towards our final destination, the Bridal Veil waterfall. The forest is quite young in terms of what it can produce so whilst he doesn't use the ingredients in the cuisine at the lodge as they need more to keep up with the number of guests, he uses them in these tours. He expects that in 15 years, the forest will be able to produce what is necessary to serve at the lodge. Eru conducts 6-7 tours a month although some days he can conduct up to four tours as word spreads around the lodge about the tours.
Pikipiko fern
Eru tells us that Maori food and ingredients are said to be traditionally quite bland without a lot of seasoning but have a lot of medicinal properties. Seaweed was used as a replacement for salt when preserving fish. He shows us the Manuka fern that produces Pikopiko (the young fronds of the fern). There are over 350 ferns in New Zealand and we had eaten the trunk of the punga fern at the Hokitika Wild Foods Festival.  He turns over the fern and breaks it and then explains that the Maori tradition is to thank the fern by massaging or stroking it releasing the spores.
Tawa Berry
Our next find is the bird attracting tawa berry which he uses to stuff pigeons. It's similar to a plum with a sour taste and a large seed. During hunting season he  will make up bird snares with the syrup. Another item that we come across is the Kareau vine which is a strong, flexible vine that grows from the ground. These are strong enough to make crayfish pots and are ready to snap off when they reach a certain height. They can be eaten with the outside bark and all and have the texture of asparagus with the flavour of watercress.
Kareau Vine
The hike is initially a little hard for me and I hear Mr NQN say "You can tell she's from the city right?" but after a while I am fine. Eru tailors each walk to the ability of the people on the tour, some elderly guests who can't walk far can pick from the nearby garden and they can enjoy a hangi at the lodge. For us though, we're in for a real treat and what proves to be the most memorable experience that we have in New Zealand.
Mushrooms
Mushrooms
Mushroom season lasts for a month only. He shows us a fascinating mushroom  called taringa which means "ear mushroom". The baby ones are good to eat but when they get old and large they become stiff and inedible. They are also called painter's palettes because of their shape.
Manuka Tree Bark
Eru then picks some bark from an old Manuka tree. Manuka bark and honey is known for keeping its flavour when cooking so he uses some of the old bark and twigs for smoking the duck that we are having for lunch. He only uses the trees that have broken or died rather than the alive ones. He picks some horopito leaves ( a native pepper) and asks us to put them between our front teeth and bite down on them. They're spicy and peppery and quite strong.
Patete leaves
He tells us of how Maoris use cobwebs instead of bandages. Lastly he picks some Patete leaves or five fingers which he will use in teaching us how to make a hangi in a frypan.  He stops in front of a small waterfall and explains that "I thought this was the Bridal Veil waterfall the first time I came here so I turned back" he laughs before indicating that we are to keep going.
The stunning Bridal Veil Falls
"I'm just going to wash these leaves in my kitchen sink" he says bending down and washing them in the stream. We walk a bit further until Mr NQN points up and touches my arm. We're awed at the waterfall above us and then delighted at the table that Eru is setting up. He grins broadly, probably familiar with this moment when visitors look up and see the scenic beauty and what he is about to make.
Slicing the kareau
He wipes down the table and takes out a gas cooker and all of the ingredients. Everything is prepared in boxes and there are placements, linen and cutlery. The duck is precooked and vacuum packed as are the vegetables and salads. He pours the kawa kawa dressing over the salad and pours us a kawa kawa tea sweetened with honey from a thermos. He then slices the washed vines and places them in the salad.
The salad with sliced kareau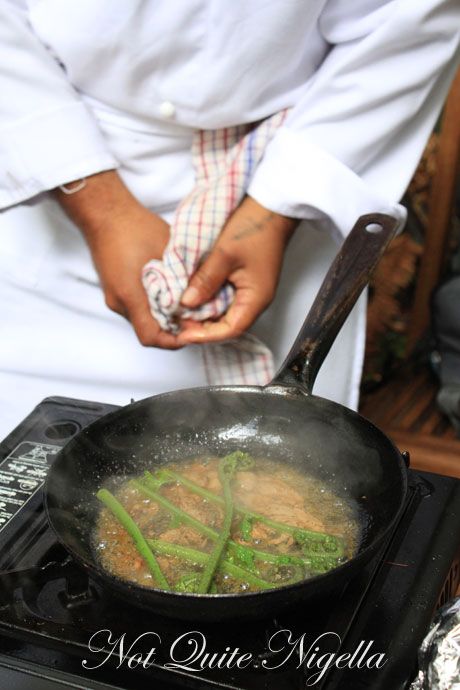 Simmering the pikopiko fern fronds
Constructing the portable hangi
Eru then makes the frypan hangi and places slices of sweet potato, field mushroom, Dutch carrots, pikopiko and duck on top of the manuka tree twigs and bark. He then covers them with the patete leaves and a wet hessian sack and then the lid and smokes them.
Smoked duck breast
Our lunch!
Once done, he sets them out on wooden plates and we try the food. It is fantastic food, the smoky flavour never overwhelming and gorgeously delicate. The sweet  beetroot and horopito relish, buttered bread and salad pairs well with the smoky duck, sweet potato and mushroom. The stunning waterfall just metres from us adds to the surreal, other worldly atmosphere.
He tells us that another Maori tradition after the meal is to do a haka to thank the gods of the fresh spring. Women do a karanga. Most people know the haka as the rugby union haka but this is a different haka. The difference between this and a violent war haka are gestures such as the throat slitting gesture. Each haka tells other people where you come from and he says that if he goes anywhere in new Zealand and does his haka they will all know where he comes from. Eru's haka is absolutely mesmerising to watch.
We end off with the traditional nose touching which is a lovely and fitting way to end our adventure. Eru then radios ahead for the car to pick us up and take us back to the lodge. Thus ends our fairytale afternoon and one of our favourite experiences during our New Zealand trip!
So tell me Dear Reader, are you a city person or a country person?
NQN and Mr NQN travelled and explored New Zealand as a guest of Tourism New Zealand.
M?ori Indigenous Food Trail at Treetops Lodge
351 Kearoa Road, Horohoro 3077, New Zealand
Tel: + 64 (07) 333 2066
The food trail costs $185NZD plus GST per hour and can be tailored to physical ability.