I'm gutted. Truly, madly, deeply. If I could wish anything it could be to wish Mr NQN by my side because I've finally found a win win place for both f us to visit and that is Rotorua in New Zealand. I'm all about spa and he is all about adventure and quite honestly we end up doing my sort of holiday because I am small, opinionated and bossy and the planner he is easy going and doesn't plan anything. See what a good match we make Dear Reader? ;)
The Regent
Rotorua is a town of 70,000 residents but their top industry is tourism so there are plenty of places to eat out. And one of these places is The Regent. When we designed our apartment I was so smitten by the black and white rooms that I had seen on various design blogs that I decided that we would decorate our bedroom in the black and white colour scheme as I love its classic elegance. And when I step into The Regent the room is decorated in this chic combination of colours. Owned by the same owners of the new Black Swan Hotel their aim was to make it a hotel that they wanted to stay in. There is an outdoor area with a pool and even though it isn't chilly we take a seat indoors.
The Regent Room houses the restaurant and cocktail bar and there are bone china fixtures on the walls,  French style sofas and an indoor/outdoor fireplace. The hotel adjoins it and it is made up of a renovated area and a newer area.
We're having problems deciding what to eat. I want to try anything local so after a while Kathy and I choose a few things keeping an eye out for the rocky road pavlova on the dessert menu. I know that servings in New Zealand tend to be on the generous side but you can't help but taste a few things can you dahlinks?
Crispy fried squid, coriander, mint with palm sugar dressing $15
The crispy fried squid is very lightly coated and deep fried and is tender and sprinkled with black sesame seeds. The salad that it is sitting on is made up up coriander, mint and salad leaves with a chilli and palm sugar dressing that is a little too much on the sweet side for me although I'm really liking the fact that there is a good punch of spicy chilli there.
New Zealand mussels with coriander and spiced coconut broth $16.50
The mussels are plentiful, not too chewy and come with a creamy, rich and well spiced coconut broth that is mild on the heat.
Mushroom and potato croquettes with aioli $9
The croquettes are very soft and barely survive the transport from serving plate to share plate. They are part of the tapas menu which ranges from edamame beans, garlic prawns, braised chickpeas with chorizo and stuffed mussels. The croquettes are quite different to the tapas ones you find in Sydney with the fine breadcrumbs and tightly packed filling. The outside is made up of very crispy panko breadcrumbs and the filling reminds me of mushroom soup with pieces of mushroom and a thick mushroom sauce.
Regent antipasto platter for 2 people $29
I mentioned they do generous serves right? This is the antipasto plate which was meant for two people but I would think could serve four as an appetiser. There are a range of New Zealand cheeses from boutique companies like Pakari Aged Cheddar (a favourite), Kikorangi Blue Cheese which is a medium blue cheese -not too mild but not enough to send you declaring that you're not a blue cheese lover. There is also a New Zealand Mainland creamy camembert which is a supermarket cheese and is served slightly colder than I like it as I like them almost runny.
There is also a range of house made items like the prosciutto and salami, home made kawakawa ciabatta, fig jam, chilli jam with a real bite to it, horopito butter and walnut and poppyseed cream crackers and grapes. The fig jam and the chilli jam are standouts and the crackers are excellent. The horopito is a native pepper and kawakawa which is a slightly bitter leaf with useful medicinal properties.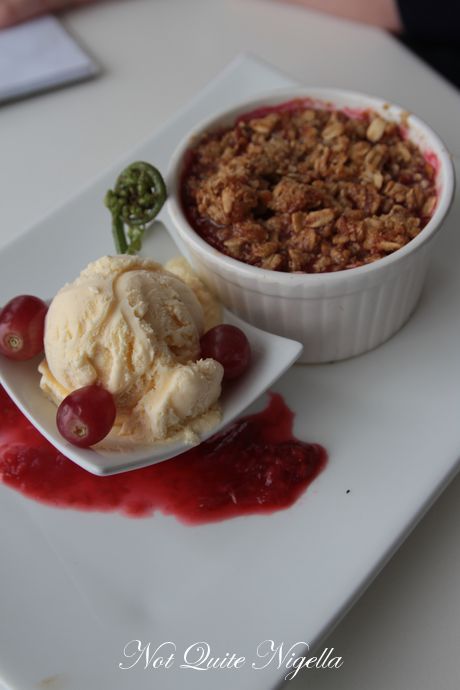 Rhubarb crumble with pohutukawa honey ice cream $12
We just have enough time for dessert and what a dessert it is! The rhubarb crumble topping looks thin and at first I think there isn't enough but it is so buttery and crunchy that all is forgiven once you take a spoonful. And the ice cream? It's a pohutukawa  honey which is a mild honey and this ice cream is by Kapiti who are known for their cheeses and ice creams and it is absolutely divine. Is it possible to marry an ice cream? Watch me try ;)
Rocky Road pavlova with rhubarb compote $12
The rocky road pavlova looks nothing like we had expected. It's filled with a chocolate centre coated in egg white and crushed nuts and whilst it has all of the rocky road components it ends up, curiously, reminding us of those sweet cakes that your mum used to buy at the supermarket when you were little.
And I should have explained what I was doing in Rotorua in the first place. I have arrived at Rotorua for a conference-the Australian Society of Travel Writers conference and AGM. I check into my first accommodation, the Millenium hotel that sits right on the lake. Oh that lake, when we alight the bus the aroma hits us and we make our way into the lobby. And they say you get used to the sulfur smell which we learn is quite true.
My room is on the fifth floor which is the top floor. It's welcoming and most importantly given the chill, it's toasty warm-I just cannot cope with cold hotel rooms. Yep that most magic of features, a heated floor defrosts me feet and makes them warm and toasty and I start to relax. There is broadband here (no wireless though, except for in the lobby) and there's a large king sized bed, a balcony looking out onto the lake and an extensive toiletries kit with moisturiser, body wash, shampoo conditioner (I know, not a favourite item those 2 in 1's) an emery board, sewing kit, razor kit, toothbrush and a show shine kit (I always love these as I love polishing my boots).
The mini bar has a few fridge selections of more the Coke, orange juice and beer variety and a few spirits and thankfully there's a good selection of tea although some biscuits would be lovely.
But who needs biscuits when you have a mud pamper pack and heated floors?
The mud at the "Mud Pools"
Now comes the adventure part.  Are you feeling as uncomfortable as I am at the whole idea of adventure? I was just looking for the spa! I'm reassured that we're starting on something calm, sedate even. It's a 1 hour walk around Wai-O-Tapu which is an 18 square kilometre geothermal attraction where you can see all sorts of geothermal activity. People can spend all day there having a look at all of the formations and the springs underneath the earth.
The reason why geothermal activity can be seen from the surface is because the magma layer sits so close to the surface and Wai-O-Tapu sits on the edge of the volcano's caldera within the Pacific Ring of Fire. Many of the pool are about  one metre deep but these are not for wading in as they range from lukewarm to up to 95 °C/203°F  in heat and also contain amounts of mercury and arsenic (no fish live in them). Most of the pools aren't suitable for cooking in because of the levels of mercury and arsenic in them.
Devil's home-created about 700 years ago
We take a walk around and see various craters and holes made as a result of the geothermal activity. There is the rainbow crater, a Thunder crater and Devil's Ink Pots where the crude oil sits on top (very topical!).
Devil's Ink Pots
The Artist's Palette
A closer look at the edge of the Artist's Palette-see the bubbles?
The Artist's Palette is spectacular and is where an ad was recently shot and therein sits the champagne pool. The colours are made up of the various minerals present including yellow from sulfur, red from ferrous oxide and antimony and white from silica. The champagne pool is named because of the bubbles that pop on the surface and this is 60 metres wide and deep. And listening we can hear gentle popping noises around us.
The Devil's Bath
The last pool is quite a sight for eyes-it's called the Devil's Bath and is a fluorescent lime green concoction made this colour through arsenic and ferrous oxide!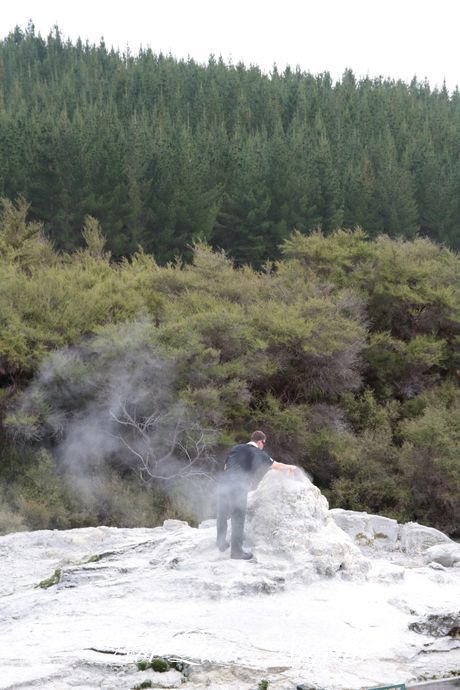 We take a quick stop at a Lady Knox geyser, a naturally occurring geyser. Although it occurs naturally they help it along by adding surfactant and they do this every day in a show for tourists at 10:15am. They give a little talk and explain about the history of how prisoners found this geyser while trying to wash their clothes. As soon as he adds the soap some foam starts spewing out of the hole and within a few minutes there is a large geyser spurting out water!
I am a well known control freak among my friends and family. I like to know what we are doing, for how long we are doing it and what exactly it will involve. So when we were given the option of choosing a day of activities I chose soft adventure because that was the softest option there was. I promptly put it out of my mind until they tell us that we need to be wearing swimmers and we are wading into knee and chest deep water...and of course I can't swim.
Arrangements are made for me and some other less adventurous souls to go on a walk but when I see the pictures of everyone having fun on "The Squeeze" and they tell me that I'll be wearing a wetsuit then I have second thoughts. The Squeeze is accessed through a hidden canyon where people wade in up to chest high water and make their way to a beautiful...hang on! I don't want to ruin the surprise. But read on if you want to know! ;)
So I find myself trying to put on a wetsuit for the very first time. I have a sudden admiration for surfers who seem to slip these on easily. It's like what I would imagine skinning an eel to be like-in the reverse. It takes us all wetsuit newbies a good 10 minutes to get into our suits. I consider calling out and asking for a larger size only to be told that that's the  way they wear them-tight. And I won't even tell you what I wore on my feet...
On top of our wetsuit we don a rashie and a light coat and then a life jacket. Our guide Adam tells us that today we will be going through three things, at first a leisurely cruise down the Waikato River, a very significant river for the Maori people. In the many centuries past, living alongside the thermal river was a very sought after place. There was plenty of wildlife to catch and it was easy to cook things as they would simply go up to one of the thermal pools and place the fish in the water to cook it. Adam stops the boat to make a bird call for the Tui bird and moments later it is echoed back in the distance from the surrounding Tui birds in Tutukau Gorge.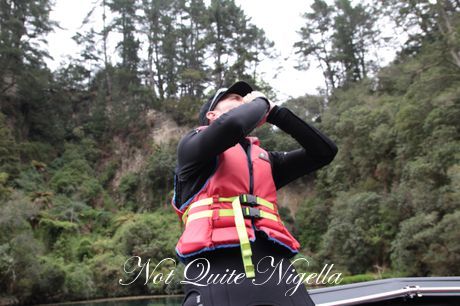 The water is stunning-like a mirror and reminds me of the still, reflective lakes in Finland where the water echoes what was happening above the water perfectly mirroring it. The ride is slightly chilly so I sink down into the life jacket and then we arrive at the hidden canyon where we take off our coats and life jackets and wade into the water.  Now I'm not much of a swimmer (at all, I'm making a gross understatement here) but I'm assured that there isn't going to be a problem, it's wading level only. And when you climb into the water it's like wading in a giant warm bath with temperatures of  25-28°C (77-82.4°F).
We follow Adam shortest to tallest and yes I'm the shortest and we make our way through knee deep water until we get to some narrow crevasses and climbing boulders. Now this is why they call it the Squeeze and there's just enough room for everyone to pass through and we do so slowly warning the next person about any possible obstructions under the water. There's one final rock section that we have to climb over (easier said than done in a wetsuit!) and we reach a waterfall.
Everyone (but me, I hate putting my face under water) gets photographed with their back to the waterfall the water rushing around their shoulders and head like a collar. Everyone takes their turn under the waterfall and feels the massaging an therapeutic effects of the water. After some threats from Adam to make me stand there I run away as fast as my legs can carry me.
We get back to the boat where we take off our wetsuits down to the waist and exchange our cold rashies for warm, dry ones. And that's when our next leg of adventure starts. The jet boat! Now I have a couple of tips for you if you've never been on one before. Sit snugly but don't sit near the edge of the boat as you can tend to bear the brunt of everyone's weight as it swings around. And sit near the front if you get sea sick.
Have you ever wondered what it's like to be a human pinball? No? Neither had I but I definitely experienced it! There were only three of us in the front seat which seated four and as a result I was spinning around wildly. The warning signal given by Adam is one that by the end I found executed far too often with a circular motion in the air with the index finger and that signalled for us to hold on tight. And no matter how hard you try to not swing into someone else, you do!
Now that you've expended the energy where to eat? There's always one place in a town. You know the one that I mean. The place that has crowds flocking and people out the door while another similar looking place nearby sits dormant and silent. Fat Dog on Arawa Street is the former.
It was a rave about their carrot cake from a fellow delegate that spurred a quick visit. So Kathy and I stand in line and I take in the cafe. It's warm and welcoming and people are lined up to order and pay and they will then take a wooden chicken or perhaps a toy dog to their table instead of a number and sit down in of the painted chairs.
Carrot cake $5.20
The carrot cake is a high, thin slice with a thick layer of cream cheese on top as well as oats and nuts sprinkled above. All of the cakes are made there on the premises. The cream cheese icing on top is not very sweet at all but the cake is in a twist on your usual carrot cake. It is full of walnuts and is quite moist and good.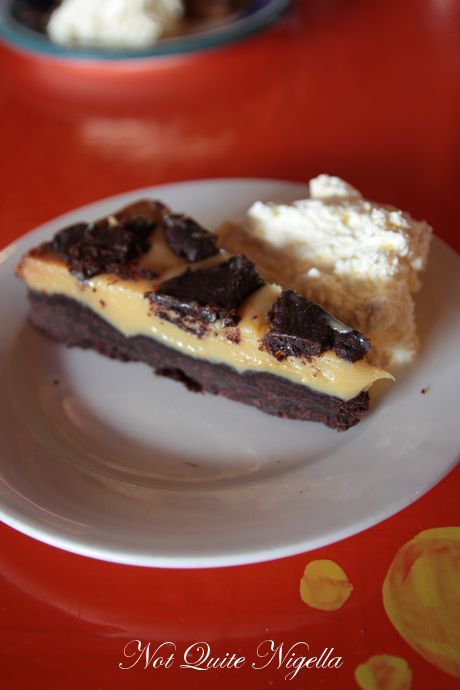 Caramel slice $4.60
The caramel slice is a thick slice served like a slice of pie, unlike the caramel slices that we get in Australia. It is thick, it is super rich and it is gooey. It is about half thick with a slightly salty chocolate base and the other half is thick caramel and then there are splodges of chocolate biscuit on top. I would save this for when you've been active as the sugar content is likely to tip a normally stable person (not me) over the edge!
And if you like beer, another tip from a fellow delegate was Brew where they served hand pulled craft beer. This includes their own award winning beer Croucher as well as other New Zealand beers. Apart from beer, they are also Rotorua's only coffee roaster and serve single origin coffees.
But you know me right, I'm not about beer, I'm about food and when a little fairy whispered to me about a beer cheese that they serve here I just had to poke my head in for a try!
We also try some of their award winning pale ale which has a fruity flavour to it with some lychee in it.
Beer cheese
OK what is beer cheese I hear you ask? Well it is a mixture of three cheeses, a cream cheese, cheddar and a "secret cheese", spices, spring onion, chilli and Tabasco. It is served looking like a cottage cheese dip alongside some warmed bread triangles and pretzels. I try a little-the flavour is quite pleasant and then mid way to the end the hops flavour comes forth. It is more pronounced when eating it with the bread and the pretzels lessen the hops flavour and give it a nice salty crunch which I prefer.
But as they say the more energy expended, the more you can eat so perhaps this adventure stuff isn't so bad when you get to eat all of this ;)
So tell me Dear Reader, do you try and offset the food that you eat with exercise and if so, what is your exercise of choice?
NQN explored Rotorua, New Zealand as a guest of Tourism New Zealand and Destination Rotorua Marketing
The Regent
1191 Pukaki Street, Rotorua 3010, New Zealand
Tel: +64 (07) 348 4079
The Millenium
Corner Eruera & Hinemaru Streets, Rotorua, New Zealand
Tel: +64 (07) 347 1234
New Zealand Riverjet Thermal Safari
Corner of State Highway 5 and Tutukau Road (beside the Waikato River), Rotorua, New Zealand
Tel: 0800 748 375
Fat Dog
1161 Arawa Street Rotorua 3010, New Zealand
Tel: +64 (07) 347 7586
Brew Craft Beer Pub
1103 Tutanekai St, Rotorua, New Zealand
Tel: +64 (07) 346 0976