"The best time to see the rainforest is...when it is raining" our guide tells us as we take a walk around Daintree Eco Lodge and spa. This particular lodge has an amazing setting - right in a 100 million year old World Heritage listed Daintree Rainforest no less! The Daintree Rainforest in tropical North Queensland is 65 million years older than the Amazon rainforest and it's quite mindblowing to think that you can stay at accommodation inside the rainforest. And to think that by the end of the three days, I'd be pampered, fed, enlightened and shot at! And be warned, this is a long story so settle in with a cup of coffee or tea.
There's the chirp of birds (135 varieties are found here at the lodge) and the noise of frogs, a light gentle rain patters down and the lush greenery, humid but not overwhelmingly warm 27C/80F weather. The Daintree receives an astounding 4-6 metres of rainfall a year and unlike other country areas which have drought the greenery is abundant and lush. Daintree village has a mere 90 residents. And the news has been confirmed that Daintree Eco Lodge is playing host to some of Oprah's guests! I wonder if Lady O will make it to the forest herself and try some native bushfoods?
Can you see the stick insect?
We arrived here after a three hour flight to Cairns from Sydney and we take the 90 minute scenic drive to the Daintree Rainforest with our guide Juan Walker, who despite his name is not South American, he is an indigenous Australian. And he happens to be able to answer every single question that we throw him (and being with a group of journalists, we are a curious lot!). Stalks of green leaf topped sugar cane whizz past and this is one of the biggest industries in the area. Did you know that it takes 10 tonnes of sugar cane to make 10 kilos of sugar?
We arrive at the Daintree Eco Lodge and Spa which was built 15 years ago on 30 acres of virgin rainforest adjacent to the Daintree River. The point of difference for the Daintree Eco Lodge is the way they integrate into the community and the indigenous community in particular and the local Kuku Yalanji people from this region. We meet Terry and Cathy Maloney who own the lodge and they work there along with their three daughters.
The bayans
It is really a family business and one of their daughters is married to an indigenous Australian and another is dating Juan. There are Aboriginal guided rainforest walks, a cultural workshop and half and full day walkabout tours. The revenue generated from the indigenous activities is reinvested into the indigenous programs. The Maloneys consulted with the Aboriginal elders in many elements from the spa to the design of the lodge and also hire indigenous people from the local community as part of the Champions program-one of whom just joined NIDA as an actor and Juan himself was a part of the Champions program.
Another key element to this lodge is the women's only area near the waterfall and the creek down stream to one of the bayans (rooms) where women bathed and cleansed and men weren't permitted. The women's and men's separation is a key distinction in indigenous culture and at times Juan tells us that there are things that only women can speak about and vice versa for the men. In fact women do not play the digeridoo as it related to birth and fertility and it is believed that if a woman plays one then she will not bear children.
The waterfall where only women can bathe
The bayan or room
We check into our bayans (which means home in aboriginal language). The bayan are free standing buildings on stilts designed to minimise the environmental impact. Outside on the balcony is a spa bath where you can sit at night-there are screens all around so no mosquitoes or flies get in and there is a gentle running creek below. In each room there are basic features like air conditioning, television (four channels) and a mini bar. The bayans are clean and low key but not lavish or luxurious. There are the signature Daintree Essentials organic products that you can use which are kind and mild on the skin. In fact the water used at the lodge is spring water from the waterfall!
Outdoor spa bath
There are aboriginal paintings and an example of a balji or a dilly bag which is a basket that Aboriginal women weave. There is air conditioning too but the weather is a pleasant 28 degrees. Things do get wet here though-obviously it is a rainforest so you do get wet looking hair quite quickly (let's call it Soul Glow!). In fact when I put a piece of paper on the balcony, within less than half an hour it was damp. So forget your heels and your hair straightener and succumb to nature.
Linda Burchill holding a bulji or dilly bag
After checking in we take a seat at the table where Linda Burchill, mother to the young NIDA actor Leon Burchill (the first indigenous Australian to have attended and completed the course) teaches us about Aborignal painting. We're all given a coloured canvas each and choose from a set of paintbrushes. She shows us how to make the dots from the famous Aborignal dot paintings-you simply use a skewer! Larger dots are made using the flat end and smaller dots are made using the sharp, pointy end.
My painting!
She explains that the paintings represent journeys or to tell a story. She also explains that elders teach their young about animals through drawings and that they draw the internal organs inside the animals to teach them. It is important information as some animals such as turtles or dugong have a gallbladder that turns poisonous if it leaks after they die which can kill people.
Painting class
We have a few hours relaxation time before heading downstairs to the Julaymba restaurant for cocktails and dinner (Julaymba means "the Daintree area from the river to the ocean" in the local Kuku Yalanji dialect). You learn quickly that as this is tropical rainforest, things get wet and iced drinks drip many beads of water but life is nice and relaxed here so it is all just brushed away. We take a seat at a table hungry and ready to try some bushfood.
Inside the Julaymba restaurant
Damper with bush tomato butter, Australian dukkah and macadamia oil $8.50
The damper, served warm is moreish and served with three accompaniments: a bush tomato butter which has an almost light garlic flavour, a macadamia nut and herb dukkah and a macamadia oil. I particularly like the bush tomato butter.
Julaymba Journey $34 for two
Described as a journey down the Daintree River from the waterfalls high in the hills (red claw yabby) cruising the river (crocodile salad), to the mangroves of the entrance (oysters) to the waters of the Coral Sea (prawns). The four part platter features four of their more interesting dishes including crocodile! I've eaten crocodile once before and it reminds me of a rubbery chicken or a type of seafood. Here a smoked crocodile fillet is sliced into half a centimetre pieces and is tossed with black sesame seeds, Vietnamese mint, red onion, hearts of palm, honeydew, chilli and a ginger and mirin dressing. And how did I find the crocodile here? Well it's similar to a type of fish cake that you can get in Asian supermarkets, lightly chewy and spongy it's closer to white fish than anything else.
There is also a grilled freshwater yabby split in half on a sweet coconut rice-so sweet that it could almost double as a sticky Asian rice dessert. The yabbies are tossed in a lemon myrtle, pepperberry, pineapple juice, sugar cane syrup and mysterious rainforest liqueur. Then there are my favourite -the oysters with diced watermelon, pickled ginger and lime which are lovely and refreshing. Lastly there is a fabulous gulf tiger prawn salad which is one of their mains. It comes with cubes of locally grown Hawaiian paw paw, tiny little lilly pilly berries (which Cathy tells us is something that grows all over Sydney in random car parks, parks, backyards etc), red onion, mint and coriander with a sweet rosella coulis drizzled on top. The food here we observe features a lot of fruit with protein which is more successfully combined in some dishes than others.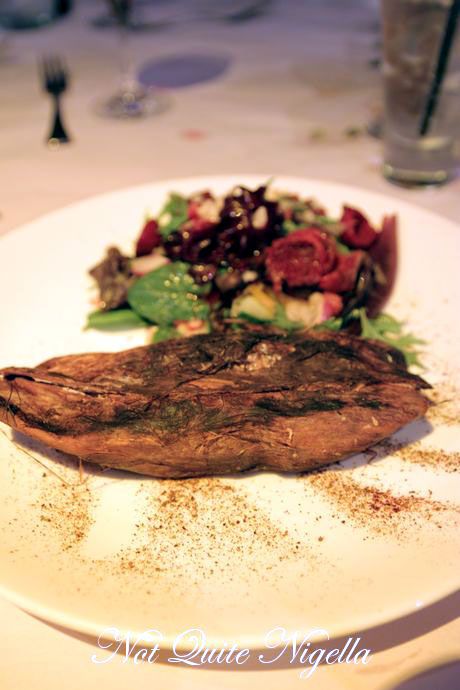 Barramundi in Paperbark $31
The wild local caught barramundi grilled in paperbark is firstly wrapped in native ginger leaf and sprinkled with native pepper and then wrapped in paperbark and grilled. The native ginger leaves are mild in flavour whilst the roots are very strong in flavour. The barramundi is a bit dry but I enjoy the colourful and sweet and tangy rainforest salad which has quandong plums, lilly pillies, riberries, munthari berries which resemble little capers, hibiscus flower as well as yellow capsicum, cherry tomato, cucumber slices and soft oak lettuce leaves and macadamia nut pieces. The salad is dressed in a tangy lemon myrtle vinaigrette. The blue quandong plums and riberry can be found on the grounds of the lodge.
Kangaroo $29.50
The kangaroo comes out in medallions and cooked medium rare as kangaroo should be as its so low in fat it gets stringy and tough otherwise. It comes with some southern golden potatoes which are starchy and oven baked but need more crispiness (although crispy does mean oil and I guess that's not really spa cuisine) and it is paired with steamed bok choy and a wild hibiscus verjuice reduction which is quite tart. The kangaroo is well cooked although the sauce is a little too tart for my taste.
Pasta $28.90
The pasta is a lemon myrtle fettucine tossed with forest mushrooms, chilli, Italian parsley, eschalots, pine nuts, a little unwooded chardonnay and finished with truffle oil and shaved parmesan. It's unusual, like a mix of Asia with the wood ear fungus mushroom and chilli and some Italy with the truffle oil although I don't taste much truffle oil which is not a bad thing as it might have been too many different cuisines in one plate.
Oysters $3.40 each
North Queensland warm banana and torch ginger flower pudding with vanilla bean ice cream and butterscotch sauce $12.50
We do a bit of a dessert pass around and the banana pudding is my pick, soft, light and delicious it is flavoured with banana and a light touch of ginger and sits in a moreish caramelly butterscotch sauce.
Moist flourless Chocolate and macadamia nut torte with a ram chocolate Jamaician rum ganache with native peppermint mint ice cream $12.50
The chocolate cake is very moist and rich and studded with macadamia nut pieces. The Jamaican rum ganache has a nice little kick to it and the native peppermint ice cream is unusual. Native peppermint is quite different from regular peppermint and it has an almost peppery aspect and almost reminds me of Vietnamese mint in some ways.
Native fruit strudel $12.50
The native fruit strudel is made using house made filo pastry and native fruit such as munthari berries, quandongs and lemon aspen with riberries. The native fruit filling has a tartness which suits strudel which is often filled with sour cherries.
Creme coconut brulee cooked and served in its own coconut shell with caramelised muscovado accompanied by a wild rosella reserve $12.50
The coconut creme brulee is innovatively served in a brown coconut shell. The coconut shell half is quite shallow and the custard is thick, almost like a gelatine based panna cotta rather than a creme and it doesn't really have much of a thin toffee layer on top although in the dense humidity it may have disappeared.
Hello there Kermit! A white lipped green tree frog!
After a late night spa bath on the balcony I collapse into bed and sleep like a baby (lizard).
The next morning I try my hand at Qi Gong before breakfast. No reflection on the Qi Gong therapist but I've never been able to meditate. Instead I go through to do lists, shopping lists, to cook lists, to review lists, people to answer back on email lists and breakfast options before I drift off to sleep. Waking up after about 10 minutes with my left arm asleep I decide that perhaps I'm not in the right frame of mind for mediation so I go downstairs to have some breakfast.
Jetlag juice
The jetlag juice is fantastic-with apple and ginger it really sings with freshness and is well balanced with flavours.
Eggs Benedict
There is a selection of breads, jams, honey and butter and a fruit salad but I'm a little taken with the sound of poached eggs with sugar cane cured ocean trout on English muffins with hollandaise sauce. It's good although one muffin has a decent amount of the ocean trout whilst the other only has a tiny piece. The eggs are cooked perfectly although it is a little small-perhaps it's that spa cuisine thing again.
And then, against all wants and wishes, I turned into Woody Allen.
Allow me to explain. Talking to my lovely fellow travelling companion Renata over breakfast she mentioned the dreaded word: leech.
Juan Walker
We were setting off to go on a rainforest walk with Juan and Linda but after she mentioned the L word (even typing it repulses me) I went a little crazy dousing myself in Aerogard and wearing a bizarre outfit to avoid the horrid little creatures. The chances of coming across a leech are very slim apparently but when I was in primary school there was a giant huntsman spider in our bag room and guess whose bag it went into? Mine. So I know if there's a hungry leech it will go for me. Ok it's not logical but neither is my inner Woody Allen. I turned into a neurotic mess quite frankly.
As we are literally inside the forest, Daintree Eco Lodge use biodegradable cleaning products not just because they believe in them but also because they must in order not to upset the natural balance of the ecosystem. We walk through the bush and Juan shows us the various plants that are found in the Daintree. The range is spectacular. He starts off showing us the Black Palm which is the hardest of all the woods. From the crown shaft or the bulbous part of the black palm comes the fibres from which they make balji baskets and the hard and strong timber is used for hunting tools.
Spider Lily
The Spider Lily is a plant in which they use the root to boil up in case of stingy ray barbs and stonefish wounds-it helps to dissolve the slime from a stingy ray barb and remove the toxins.
Can you see the directions bent into the tree?
He shows us the various types of ginger including chinese ginger and native ginger leaves and bulbs and he also shows how the Aboriginal people used to bend branches which would grow back in one direction and then bend it again so that a branch helped point them in the correct direction in case they got lost.
Wattleseed
There are three types of edible wattleseeds from the acacia plant and they have a distinctly hazelnutty, coffee and chocolatey flavour. Juan also shows us the sap from the root of the native ginger bulb which is used to soothe bites and it feels just like one of those after sun aloe vera gels!
Wait-a-while or Lawyer Cane Palm
One of the most interesting and useful plants is the "wait a while" or lawyer cane palm so named because if you got caught by one of their slender barbed prongs you'd "wait a while". A flick or brush by one of these seemingly innocent looking strands will easily rip at skin or grab clothes. It is also one of the most useful plants as the barbs can be used to get grubs out of rotting timber and the cane can be used for string and the timber to build shelter frames, traps and balji baskets.
Juan then shows us the leaves of the wait-a-while palm which have very fine spiky hairs on top of the leaves. They're a good repellent for leeches (can you tell the topic was very close to mind for me?) as leeches and slugs won't crawl over them. Juan also calls them "Nature's bubble wrap" as they wrap turkey eggs in them and carry them back in the balji baskets.
And then we arrive at The Waterfall. Breathtakingly beautiful, it is also a women's only area so Juan has to turn back and Linda stays with us. Some of us take the chance to frolic inside the soothing water and everyone that does reports receiving a therapeutic value from it.
We make the walk back through the forest for a fascinating lesson in Aboriginal tools. These enormous Matchbox seed pods below hold "emergency food" in the form of round shiny brown nuts.
Matchbox seed pods
Bailer shell
A handy tool-a stingray barb nestled in a mud crab's claw
There are bailer shells and clams and Juan also shows us a stingray barb (yes like the ones that killed Steve Irwin). The barbs are coated in a slime and if you are hit with one (and they go for the most electrical current which would have been Irwin's heart) the only way to get it out is not to pull it straight out which actually would hurt or kill as the serration are reverse edged, but to cut a hole on the other side of where it has pierced and pull it out the other way. Easier said than done! ;) He also shows how a weapon or tool can be made using the claws of a mud crab and the sting ray barb. He also tells us that there are five seasons in the aboriginal calender which are divided up according to weather and harvesting conditions.
Cone Shell
We also see the moist poisonous sea creature-a very innocuous looking cone shell. This very mild looking white shell sits on the surface of reef beds and releases a sting and if you are hit, then you face death and there is absolutely nothing that medicine can do for you whatsoever as there is no antivenom. Death comes within 1- 1.5 hours (we really do have some scary creatures in Australia! :P ).
Fire sticks
The most important tool in the kit though? Fire sticks! Because they are in a rainforest, they need a cover which they make using giddee giddee seeds stuck in native bees wax to decorate the cover which keeps the tips of the sticks dry. They make a groove in the sticks and rub back and forth from up to down and back again as quickly as possible on top of some kindling. When an ember drops, they gather up the kindling and blow on it which ignites the fire. And men are the only ones that are allowed to make fire. Women are permitted to carry fire though which they do using fashioned termite nests.
The "Bush Telephone" or object to curse
If you ever watched Crocodile Dundee, you may remember the "bush telephone" which he used by spinning the rope in the air and emitting a whoop whoop noise. However in the Daintree it is not used for that, it is used for casting a death spell. Interestingly, the only way to lift one of these death curses is if you curse someone and they find your Bull Roarer and they give it back to you (but they would then curse you ;) ).
A green ants nest
The Green ants nest is said to be one of the best cures for a cold. You'd simply crush the whole thing and soak it in water until all of the ants had died and then drink the water-they are said to taste like citrus and it is full of vitamin C.
Playing the digeridoo
Digeridoos, interestingly are mostly an item that are used in the West of Australia. In the Daintree, they aren't able to find the correct type of wood. And yes a digeridoo is a man's only instrument. The way to play it is to "blow a raspberry". Juan shows us how they make various animal noises like a kookaburra. And did you know that if you put your ear to a digeridoo (without someone blowing on it) that it makes a distinct sound just like a digeridoo?
Immunity juice
We have a spot of lunch starting with an immunity juice which consists of carrot, celery, beetroot and ginger juice and is cleansing and delicious. This is spa cuisine after all!
Wild caught barramundi fish and chips $15.80
OK this is not exactly spa cuisine but I was eager to try it. In a crunchy, thick, dark golden batter is a juicy fillet of beer battered barramundi with fabulous chips and a lemon myrtle dressed garden salad and a tartare sauce. I much preferred this barramundi to the paperbark wrapped one although I know the other is healthier! But I did my good deed for the day by having the Immunity drink and (attempting the) qi gong? Ok ok....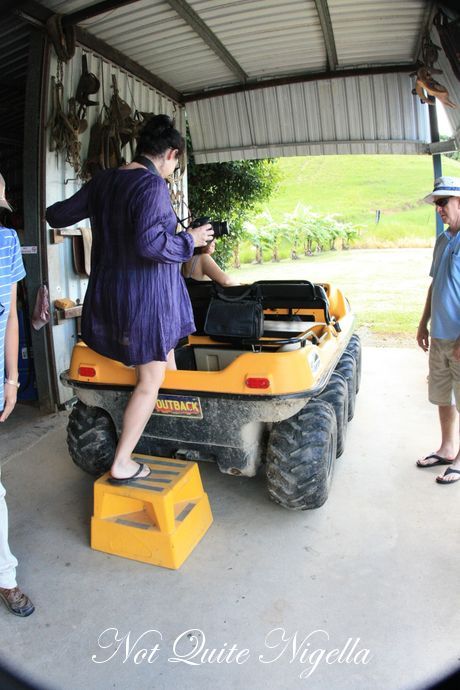 After that we are off on an Argo tour of the Daintree rainforest. And what is an Argo? You've heard of 4 wheel drive vehicles? This is a 8x8 drive amphibious vehicle that resembles a topless Tonka truck on steroids. It is also importantly a low impact vehicle which is important so as not to disturb the Daintree rainforest too much.
The views are spectacular and it is an exhilarating ride reminding me of a cross between a rollercoaster and a 3D Disneyland ride. Sally points out various flora along the way. We come across a pile of macadamia nut crackers and rocks to pound them against. We see huge blue quandong trees and the Matchbox seed pods hanging from trees.
A macadamia nut cracker rock with indentations so that the macadamias wouldn't fly away
Sally takes us up to a lookout where we gaze at a stunning 360 degree view including the Daintree river down below. The greens are incredible, like a palette of every shade of green imaginable "It's like someone went overboard with the Photoshop" she says. A beautiful Ulysees butterfly in technicolour blue flutters past.
What is particularly interesting is the Hopes Cycad which, unlike the rest of the fauna in the Daintree, grows at a very slow pace-about 1 metre every 100 years which makes the cycad palm pictured about 1200 years old. From the Dinosaur age, the dinosaurs would have feasted on its leaves and it is believed to have evolved some 600 million years ago. And other forest dwellers along with the beautiful cassowary birds are wild pigs, an introduced species from the European settlers. And as the aborigines never had pigs, their Aborginal name is "Piggy piggy"!
Our last activity for the day is the river cruise. Why? We're hoping to spot some crocodiles! Our driver for the afternoon tells us there are some very simple rules for living in the Daintree. Most important do not swim in the river. Crocodiles are territorial animals and this particular saltwater breed is a non social breed and one crocodile usually takes up 1km of territory. They will also not appear if a boat is unfamiliar to them. Crocodiles can measure around 5 metres for a male and weigh 750kgs. They have a very efficient digestive system that means that they only need to eat 2 kgs of food a week and a very slow metabolism. They will eat anything (and that includes all of it including bones) and he tells us that he finds that they are particularly attracted to dogs and are also known to take cattle too.
He points out Dinosaur age tassle ferns and various types of mangroves from the intriguingly named cannonball mangrove to the "blind your eye" mangrove which if you get any sap in your eye it will blind you. However it also has antiseptic qualities.
We see tiny nests for the brown backed honeyeater-look at how adorable this is-like a letterbox!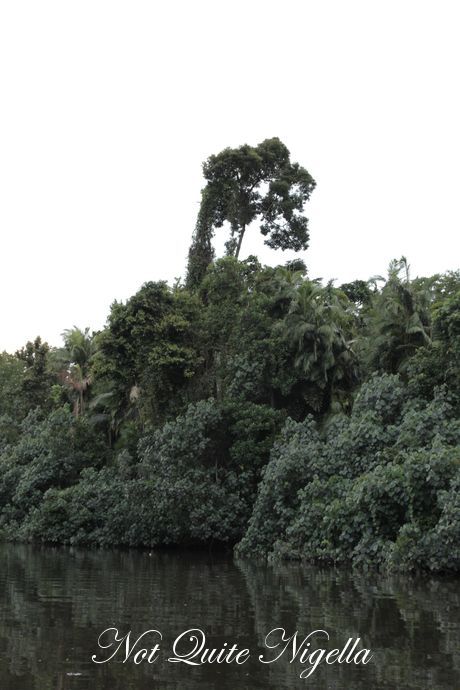 There are strangle figs which strangle and take over the tree that they wrap themselves around. On one stranglefig tree we see a variety of plants including elkhorn, crows nest, velvet fern. We then spot a common green tree snake which slithers away quickly when we get closer!
Lizzie the crocodile
And we're lucky today as we spot a crocodile! Lizzie the crocodile is lying still half submerged in the water. She's a relatively small one at two metres. Female crocodiles lay about 40-80 eggs in one clutch and they lay about 60 clutches in a lifetime. The eggs can be fertilised by different male crocodiles even within the clutch. Crocodiles are independent from an early age and even when newborns they need to find their own food and after 2 weeks, they will go off on their own. Only 1 in 100 will survive to become a full grown crocodile. Crocodiles also live about as long as humans and they never stop growing.
Scooter the male crocodile
We then spot another crocodile called Scooter, a youngish male. Crocodiles are known to eat each other and a young male is particular vulnerable from the older males who want to kill him before he reaches a size that will become too hard to fight or kill. Yes they're not very friendly buggers are they?
Suddenly a gunshot rings out in the distance.
"Is that a shot?" Nikki asks and we  all look around.
Minutes later a shot rings by very close which frightens us all and makes us jump.
"Probably a farmer" our guide says looking around warily but not wanting to chance it open his lungs yells, "OIIII OIII!!"
We don't hear another shot. A croc encounter, a snake encounter and an encounter with a gun toting local complete! We high tail it back to the jetty mangrove identifying quickly abandoned.
Spa entrance
The next morning I awake at 9:30am and decide to forego breakfast for more sleep. I have an 11:30am appointment at the spa so it's not a particularly taxing day. Voted the Best Nature Spa Retreat in the world by Tatler magazine among a huge 40 plus list of accolades the resort's spa experience is tailored to individual's choices and preferences of aromas and scents. They also only do treatments for two people at a time to make it more personalised.
Before the treatment, I sit down with Jancy Leigh my therapist and choose which products I like based on which aromas I like the best. I choose the wild lime and ginger sea salts and the soul healing body oil. If you are having a body wrap they use three different types of clay: red from ochre rocks and red clay is said to ground people, green clay is detoxifying and white clay. And for the truly spoilt and at one with nature there is also a waterfall treatment for people where they close off the walk to the waterfall and they apply an ochre mud masque and women are allowed to cleanse under the waterfall (sorry guys, you have to cleanse elsewhere!).
Custom made ylang ylang leaf bed for Vichy shower
She leads me to the first room where she applies a generous amount of "soul healing" oil for the massage. Before she starts she burns some rainforest leaves in a smoking ceremony which is said to center people. After a soothing massage where she gets the pressure just right we then move to the rainforest shower room where I lie down on the custom made ylang ylang leaf bed and another massage is administered this time with a hot oil and a light spray of cold water on the body. The wild lime and ginger sea salt scrub is applied and massaged in. I turn over and the same is done to the other side and then she runs the Vichy shower jets to cleanse my body and leave it with a nice coat of oils. During treatments I always count down the time hoping that it will never end.
I look down and 90 minutes of bliss is over. I look down at the towel draped stool on which I am to alight from the bed and there are slippers laid out for me and a hibiscus flower. I rest in the relaxation area and sip hot binju tea and snack on a fruit skewer and return to earth slowly. I make my way to the bayan where I am stopped by the cleaning staff. They have the next guests arriving so apparently I need to be out of my bayan as soon as possible. Arggh! I've crashed back to earth and I shower and pack and go down to the Julaymbah restaurant for something to eat.
The day is not over yet though for there is devonshire tea to be had! You can have them on some of these one table pavilions outlooking the water.
Devonshire tea with cream and jam and Binju tea
The devonshire teas here are made with a slight difference-the whipped cream is made with lemon myrtle and the jam is a wild rosella jam. The cream is a little too flyaway for the hot weather, it pretty much dissolves from knife to scone but the scones are nicely made and the jam is gorgeous. It is served with the Binju tea which is the lodge's signature tea made out of native lemon wardnee, Davidson plum and lillypilly berries.
A few of us do a bit of shopping for the bushfoods and the skincare. The foods start at about $13 for a jar whilst the body skincare averages about $40 for a 250ml bottle. Luggage full my skin glows (a rarity, trust me) and somehow, against all odds I have lost some weight and I feel utterly relaxed. And there were no leeches!
So tell me Dear Reader, what scares you?
NQN stayed as a guest of Daintree Eco Lodge and flew to Queensland as a guest of Tourism Queensland
Daintree Eco Lodge & Spa
20 Daintree Road, Daintree QLD
Tel: +61 (07) 4098 6100
90 minute drive from Cairns airport
Walkabout Cultural Adventures
Juan: +61 0429 478 206
www.walkaboutadventures.com.au
Daintree River Experience
From Barratts Creek Landing
Dawn: +61 (07) 4098 7480
$50 per person 4-6pm in Winter, 4:30-6:30pm in Summer and sunrise bird watching tours
Daintree Argo 8x8
Tel: +61 0409 627 434
$40 per person