If it looks like I'm spending a lot of time in Queensland, you'd be right. I'm not complaining at all, in fact come Winter here and considering the weather lately, I'm cooking up fantasies of living in the sunshine state. Where when I visit I just have to pack my summer clothes. Summer clothes! Can you believe that? Bliss....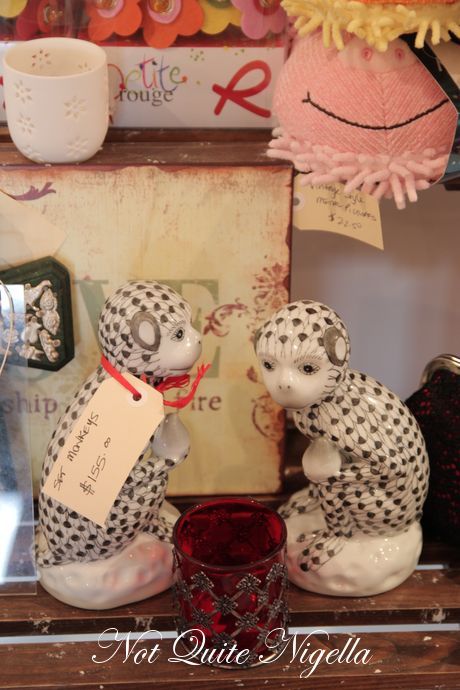 Do you know how I like to start the day? With some food and shopping! Breakfast while we're on the Sunshine Coast hinterland is at Elements, a cafe and shop in the pretty town of Montville in Queensland. The store features all sorts of goodies to buy so we spend a bit of time browsing before settling in for some breakfast.
_Boylan Cane Cola $3.50
_
I'm not a really big breakfast person and I should tell you that I have my breakfast prejudices. I don't really eat muffins for breakfast because I think that really they're just cake and eating cake for breakfast is a pretty quick way to adding some weight  to your frame and when you're 5 foot 3 inches you can't play around with that sort of thing. I also don't drink Coke much-I think once or twice a year is all I drink so drinking cola for breakfast is entirely strange for me. But today I'm trying the Boylan cola which has caught my eye as I do love their retro packaging. The cola is made with sugar cane and is actually imported from America but I can't resist it and it is a nice slightly different version of Coke (although not really that different except for perhaps cola aficionados).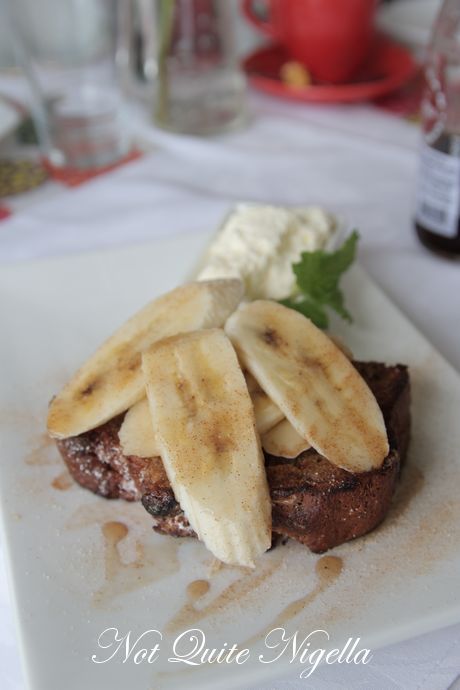 Banana and fig bread toasted with fresh banana and maple syrup $8.95
I try Element's specialty which is a moist banana and fig bread, lightly toasted and appealingly drenched in fragrant maple syrup and topped with slices of banana and a dusting of cinnamon. It's very moreish and I do my best to resist knowing that we have a seafood feast coming up shortly. It is served with some whipped cream which is more an accompaniment that I think might go well in the afternoon but perhaps some ricotta might be good for a breakfast.
Eggs with sourdough $8.95
Eggs Benedict $14.95
Breakfast trifle, layered yogurt, organic muesli, fruit $10.50
I do a bit of shopping (props darling props!) but we need to keep going as we're scheduled for a little boat cruise to glimpse a preview of Noosa's premier annual food event, the Noosa Audi Food & Wine Festival and to have a sneak peek of the seafood trail, one of their many events over the 3 day weekend from the 13th to the 15th of May.
Sadly I had to miss last year's Noosa Festival because I was busy writing the book. In its eighth year it attracts about 20,000-25,000 people to the sunny beachside town. This was my first time arriving at Noosa. All I know about it is that food celebrities love it here including Donna Hay due in part to the beach and laid back atmosphere. Oh and apparently Prue and Trude from Kath & Kim love it here too! Grrraaaaysh! ;)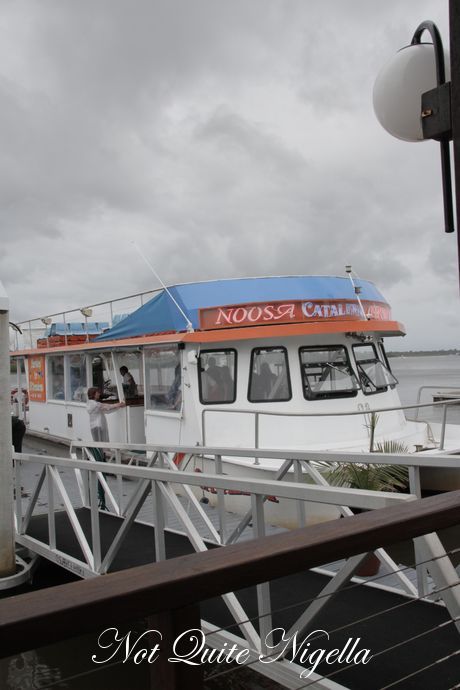 We board the Catalina where we are to have a lunch cooked by chefs Maurice Esposito, David Pugh and Hajime Horiguchi. Noosa has a long history with food and the key difference is that producers live a mere 5 minutes away from the main street so that local produce is easily obtained. Jim Berardo who heads up the festival tells us of an influx of gentleman farmers from city areas who want to reconnect with nature after having demanding corporate jobs.
The key to the festival and why it attracts so many interstate visitors (45%) is that chefs and food identities like Matt Preston and Gary Mehigan are not put up on a pedestal and people can easily talk and interact with them on the same level.  Also for the first time is the World's Best Dinner where they have flown over 7 of the world's best chefs according to the San Pellegrino list to cook for diners. These include chef Yoshihiro Narisawa who runs a restaurant "Les Creations de NARISAWA" with just 40 seats but has a kitchen of 56 chefs!
Assiette seafood plate
_
_
Today we're experiencing a sample of the seafood trail which Gary Mehigan is hosting (sold out sadly as is the Matt Preston hosted Asian food trail). The plate is a four part assiette plate of the sea created by Wasabi restaurant's Horiguchi. It features a Sydney rock oyster topped with a dashi jelly and hijiki which is this strange little thing that I used to like eating when I lived in Japan. It is a browny black seaweed which is high in nutrients and fibre and my Japanese neighbour used to tell me that it was good for lush, thick hair! I did find that it was perhaps a bit too strong along with the dashi jelly almost masking or competing with the oyster flavour. There is a Moooloolaba prawn which is well cooked with tobiko and kombu on top as well as small black caviar.
My favourite was the Mooloolababa tuna cooked "zuke" which is cured for a few hours in an soy and ginger sauce. It is topped with a sauce of edamame, soy and citrus as well as some edamame beans. The last piece on the plate is a Fremantle octopus which live on lobster (oh to be  a Fremantle octopus!). There are two pieces of octopus, each with their own cooking style. The top piece was blanched and topped with bonito and tart umeboshi sauce and the bottom piece was tender  and braised.  I preferred the bottom piece as it was more tender whilst the blanched piece was chewier.
Jason from Spanner Crabs Noosa
Before we get onto our mains, there is a speech from Spanner Crabs Noosa's  Alison and Jason. They specialise in live spanner crab and he brings out a ale specimen for us to look at. During the seafood trail event people will learn how to choose, pick the crab for meat and participate in a spanner crab meat tasting. Sales have gone so well for them that business is up 30-40% over the last 2 years which must make the 3am start and 3pm finish quite rewarding! They are a sustainable business and they fish to order because it is a live product.
Spanner Crab salad
Our main is a spanner crab salad which features microherbs from a local woman called Betty Berger who grows them in her garden. She picks the herbs at 4:30am before the sun wilts them, washes them in rainwater and delivers them to their door. Accompanying the delicate spanner crab meat are an avocado puree, citrus salt, pink grapefruit segments and a small pile of finger lime caviar pearls. The dish is delicate flavours and the salty fish roe pop, creamy avocado and dill infused salad all combine to complement the crab.
Vanilla Panna cotta with dragon fruit jelly and fresh berries
The last course was a petite but perfect sized vanilla bean flecked panna cotta which was polished off by yours truly in a matter of seconds. A bottom layer of dragonfruit jelly was mild flavoured and instead the contrast came from the Queensland berries on top and sprigs of mint.
Around this time the gentle rocking of the boat is putting me to sleep along with a few others so we must alight and avail ourselves of a coffee! We take the drive to Noosa Local's favourite Belmondo's Fresh Food Market. There are some fabulous finds here including great meat, pre-prepared foods and groceries all very high end. Our coffee is excellent and I perk up immediately.
View from my room
Lucky thing as I'm checking into our accommodation. Netanya Noosa is all about location. Literally beachfront, ground floor guests can walk through a gate and onto the waiting sandy beach of Laguna Bay. I've got myself a Penthouse suite which is decorated in all white and taupe which is very comfortable and gives me access to not one spa bath but two.
Spa 1
Yep that's right, two. One in my room and one up a private winding staircase to on the very top over looking the beach. Why have one spa bath when you can have two no?
My penthouse spa bath-note ominous clouds!
Cheeses and butter
The next morning I'm up at the crack of dawn (ok 6:30am for an 7:45am start but hey it's a Sunday). But things such as farmer's markets will tend to get the perennially sleep loving like me up even if it does involve hitting snooze three times. Noosa's farmers markets are held ever Sunday morning.
Gorgeously sweet Bethonga pineapples for a mere $2!
Potatoes including those lovely sapphire potatoes (available some weeks, sadly not this week!)
It's a relatively compact market although it is full of quality offerings. Noosa has such a longstanding food history and there is a good diversity of fresh produce. And like the fabulous markets in Montreal offer, here slices of fruit are readily offered in bowls for sampling allowing you to taste the produce before you buy. Plus just randomly, everyone is ridiculously good looking here! I'm just sayin'... ;)
French Sin stall complete with men with French accents
Almond croissant $4.65 (approximately, both items were $9.30)
And what does every market need? A French pastry stall complete with a range of rillettes,  pates and terrines on sale too. For research purposes I tried a sweet and savoury pastry. The almond croissant is flakey with a good frangipane filling. However it isn't quite the traditional almond croissant which is filled with frangipane, dipped in sugar syrup and then rebaked again. Oh yes, the traditional ones are calorific and could power you to the moon and back but dare I say worth every single lip smacking calorie.
Spinach and feta pastry $4.65 (approximately, both items were $9.30)
The spinach and feta pastry was made with a crunchy, chewy pastry that tasted almost deep fried. It was filled with a spinach and feta filling which was good as it wasn't watery at all.
So going to make this bread at home!
We lingered a bit longer, some of us flirted with the local talent in the name of interview (not me! :P ) and browsed the stalls lamenting the fact that we couldn't bring the goodies like finger limes and Noosa reds tomatoes which are said to be sweet and juicy.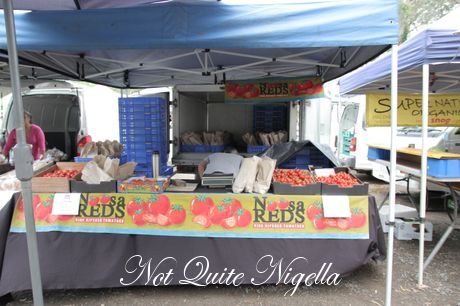 Noosa reds tomatoes
Happy boy with a Eumundi sausage haul
And don't you just love the brightness of tropical flowers?
So tell me Dear Reader, do you prefer warm weather or cold weather holidays?
Steve Irwin Drive
NQN travelled to and explored the Sunshine Coast as a guest of Tourism Queensland
Elements at Montville
38 Kondalilla Falls Road Montville, QLD
Tel :+61 (07) 5478 6212
www.elementsmontville.com.au
Noosa Food & Wine Festival 2011
http://www.celebrationofaustralianfoodandwine.com.au/
Belmondo's Fresh Food Market
59 Rene Street, Noosaville
Tel: +61 (07) 5474 4404
www.belmondos.com
Netanya Noosa
75 Hastings Street, Noosa Heads
Tel: +61 (07) 5447 4722
www.netanyanoosa.com
Noosa Markets
155 Weyba Road, Noosaville
www.noosafarmersmarket.com.au