At the risk of sounding a little Hannibal Lecter-y here how I'd imagine I would be featured on a menu.
"Snack sized, well fed (mostly free range ,organic) female human, massaged frequently for even fat distribution. Inactive and butter fed for buttery, tender meat."
I'd perhaps be the wagyu of humans. This is why I might be the perfect bait for sharks and why the idea of stepping into the ocean terrifies me. But somehow, by the beauty of the underwater world, Mr NQN can't keep me out of the water.
Allow me to rewind a little.
We arrived only a few hours ago via a flight into Cairns and took a short car ride to the Hinterland airport where we boarded Hinterland Aviation's flight to Lizard Island. On our flight are another couple from overseas. In fact 80% of the customers are from overseas and given the tariffs they are of the well heeled variety. Lizard Island is a national park and spans 1013 ha and has 24 sandy beaches to its name. It is the place where Prince William and Kate Middleton were rumoured to be honeymooning. It is located 240kms from Cairns and 27km off the the coast of tropical North Queensland. It is remote, beautiful and it is exclusive. It is also paradise.
The dress code reads: barefoot casual. Mr NQN extends a wide grin. He has finally found his place-a place that understands his love of walking everywhere barefoot. It took me about eight hours to get used to the solitude and accompanying lack of connectivity to the rest of the world and about as many to get used to the fact that this is a keyless resort. I quite frequently go without make up but internet? Hmmm I'm not familiar with being out of touch. I blame hectic city life for the poor time adjustment. The lack of internet is a tactic in order to get guests to relax and I can imagine that there is much frantic checking of phone signals before the seduction begins. Firstly there's the plane ride in, an hour over beautiful coral reefs in a small plane that seats twelve.
And then there are the greetings from the enormous goannas that populate the island, aptly named Lizard Island. They're enormous, muscly looking beasts and stare defiantly and warily at passers by. You can catch them digging holes so efficiently that the sound resembles a gardener with a large shovel. Or they may pass you by swinging their almighty tails behind in opposite time to their bottoms.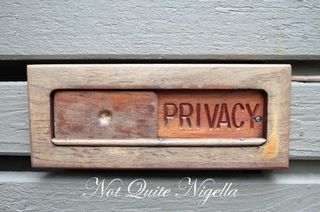 We check into our rooms where we can slide the sign for privacy-there are no keys here (although there is a small safe for valuables). We are staying in an Anchor Bay suite facing  Anchor Bay in suite number 25 which is a great location right near Ospreys restaurant and the Beach Club. The suite is is sizeable and contains many trappings of the luxurious. We like.
I know it sounds spoilt but I'm getting used to seeing Bose sound systems and pillow menus by now but here there is also a very generous complimentary mini bar with macadamia nuts, Pringles, chocolates and alcohol including wine and beers provided plus the. best. chocolate. chip. cookies. you. could. dream. up. When checking in, they ask us to let them if there is anything in particular that we like to enjoy and they will ensure that this is restocked. However with these cookies, after eating four of these while writing the story I contemplate asking them not to refill it on their daily clean because I cannot be trusted with them.
There are Aesop products (no body lotion but there is soap, liquid body cleanser, shampoo and conditioner) as well as lemon myrtle soap, bath robes and slippers. There isn't a bath in any of the villas but there is a two person shower with two shower heads (monsoon and massage head) and both fans and air conditioning. My thing is my luggage, when I travel I really hate carrying heavy bags and when we check in I have to ask where it is. It has apparently all been taken care of and is sitting in our room.
The outside balcony spans the side of the whole suite and has a large day bed as well as chairs and a coffee table and sits right on the beach so the sand is just past the grass below the balcony steps. There is no television in the rooms as reception is limited because of Lizard Island's remote location. There is a large flat screen tv in the guest lounge where there are the daily newspapers, local and interstate as well as current magazines and wireless internet access. In the room I check for mobile signal. They weren't kidding, there is none. I'm anxious as its a Friday and no doubt my inbox is filling up with its daily quota of 200+ emails that will go unanswered.
Given that Sydney is getting chillier by the day and I was on the verge of getting the dreaded flu that seems to be going around, I've just discovered the best cure for it. Arrive at a tropical island! In fact when we were invited by the nice people at Travel Candy and Lizard Island I was already packing before I had finished my acceptance email. The heat is pure bliss which we bathe in gratefully and fling our Autumnal gear off for (the average year round temperature is 27C/80F) and the humidity around this time of the year is perfect-enough to make your skin nice but not enough so you just want to do nothing all day and sap your strength.  We relax with a tropical juice welcome drink which is refreshing and slightly tart with passionfruit.
My stomach is complaining to me. You see we rose at 4am to get the 6am flight to Cairns and my stomach was wondering what on earth was going on. So we make our way to the restaurant where we will have lunch.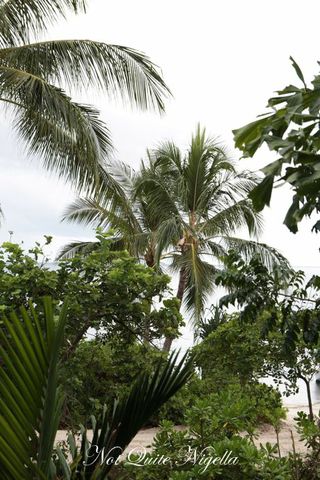 The executive chef at Lizard Island Mark Jensen is an award winning chef who earned two hats in the Good Food Guide and has worked here and overseas. The menu at the restaurant changes daily and during the day the meals are lighter serves. All meals from breakfast, lunch and dinner are included in the tariff and there is a very generous selection of cocktails, wines, spirits and French champagne included in the price or some additional ones can be purchased for extra.
We start with some mocktails. The Antz Pantz is Mr NQN's choice with mango, pineapple, orange juice and raspberries and isn't bad although it is slightly too much on the tart side with the generous use of raspberries. My lychee hurricane is redolent in mint and lemon and ginger ale as well as lychees and is much more balanced and refreshing with lychees, lemon, grapefruit juice, mint and dry ginger ale.
There are three mains to choose from on the lunch menu which are a size somewhere in between an entree and a main. On the menu there is always a fish item, a vegetarian item and a salad. Guests can choose to share them or eat them separately but we decide to share all three. The lightly pan fried ricotta gnocchi is soft and melts in the mouth. It is served with wild mushrooms, gremolata, shavings of parmesan and pesto in the centre nad is rich and garlicky. Mr NQN finds it a tad too rich for him given the weather but I enjoy this.
_ _His favourite was the coral trout in tempura batter which was wonderfully soft and luscious inside its crunchy shell. It was served with lime aioli and a herby fresh Asian salad which was strong in Thai basil.
My favourite however was the simple salad with parcels of twirled prosciutto, halved cherry tomatoes, spears of grilled asparagus and torn pieces of bocconcini tied together with balsamic vinegar and olive oil. This a simple but delicious dish that was as Goldilocks would say, juuust right.
The dessert menu is presented to us and there is a dessert of the day which is a vanilla panna cotta with poached berries which we order along with a serve of three scoops of ice cream. The panna cotta is wobbly, creamy and vanilla-ey and pretty much everything you would want in a panna cotta. It is paired with a raspberry sorbet and a fruit salad with a mix of berries-the strawberries are good in this but the blueberries aren't as plump as we'd like.
We ordered two sorbets: mango and coconut sorbet for Mr NQN and a honey and fig ice cream for me. Normally these are made in house but due to technical difficulties with equipment these are made offsite. Being a remote island means that everyone has to fly in to fix things and it takes a bit longer to do these sorts of things. The mango is slightly astringent and seems to be made using green mangoes which the coconut sorbet is excellent and moreish. The honey and fig ice cream is really more honey flavoured than fig.
It's now about 2:30 in the afternoon and we have a few options for the afternoon. We are keen to try snorkelling. Well actually Mr NQN is, I'm less keen as a poor swimmer and someone with a fear of the ocean. In fact all I can hear is George Costanza's words ringing in my head "The sea was angry that day my friend!" Nevertheless, in light of the fact that I just can't do any work as I am cut off from the internet we walk across to the beach club and asses our options. Several items are included in the room tariff including snorkelling, a coral viewing on a glass bottom boat as well as dingy use and picnic hampers for guests to take to one of their beaches.
We fill in the picnic form and tick the boxes as to what we would like for our picnic hamper tomorrow and book a dingy and the use of a catamaran too. After much quizzing of the resort staff as to the types of sharks found in the ocean here (reef sharks and no jellyfish apparently) we take snorkels and flippers.  I resisted until the end but eventually got my goggles and snorkels on thanks to a very patient Mr NQN. And just a few metres from shore are the reefs which hold a treasure trove of colourful fish weaving in and out of the huge coral beds. Clams open and close like speaking mouths in slow motion and coral sways and undulates with the current. The whole underwater scene is one of breathtaking beauty. Colourful fish such as yellow tailed fusilier and striped zebra fish float past and everything pulsates and sways to some sort of secret underwater orchestra. Before we know it we've spent over an hour out there holding hands snorkelling and marvelling at this magical world populated with its colourful residents.
After showering and having one of those gloriously lazy afternoon naps when the fans slowly and hypnotically circle above you and lull you to sleep, we wake from our nap at 6:15pm which is just in time for the pre dinner drinks. On Friday evenings, the resort features a seafood barbecue rather than the four course dinner. Prior to this there are pre dinner drinks on the lawn where we meet one of the 70 resort staff as well as the other guests. We chat to a friendly couple from Sydney who give us some tips on beach locations. And I think you can spot the newly minted island inhabitants by the people that forget to wear the insect spray! At dusk on the green there are sand flies and mosquitoes.
Champagne, wine and mocktails flow and trays of canapes arrive including an intriguing tomato soup served in a Chinese soup spoon where the soup in encased in a thin soft membrane. There is also a ham croquette which is moreish with thick meat inside and a salmon roe and cream cheese canape.
Chef Mark Jensen comes out and chats to us. He, along with the rest of the staff live on the island. He tells us that he likes changing the menu every day as he would otherwise be bored. One of his first jobs overseas was working at Gordon Ramsay's Royal Hospital Road and I ask him about that experience which he says he learned a lot from. He tells us that if you were doing a bad job you heard about it straight away but if you were doing a good one, you didn't hear anything at all! The other guests compliment him on the food and everyone is in a wonderful mood. We smell the barbecue being heated up and head into the restaurant.
Now I'm not a big buffet person but when my eyes spy the enormous king prawns and Tasmanian oysters on offer I immediately reconsider my position. The king prawns here are indeed king prawns and almost double the size of the ones that we get at home. And as we are tired this is the ideal meal to have on the first night which allows us to be back in our room by 8:30pm to catch up on lost sleep.
I put four prawns on my plate which doesn't leave much room for anything else and some oysters and some Japanese seaweed salad whilst Mr NQN helps himself to the tuna sashimi platter which features tuna sashimi and a seared tuna slices. The prawns are sweet and succulent and the oysters, with a squeeze of lemon are good although I do think that serving them with ice on top of the oysters dilutes the oyster flavour.
We try two more mocktails. I'm finding a lot of the mocktails here have a sourness to them which is nice in moderation but some are a little too sour for me. I'm on the hunt for something a bit sweeter.
The barbecue beckons and this is done via table service with the friendly staff. Our waitress suggests a mixed seafood and meat barbecue plate which has a bit of everything and we order this. We originally wanted to have one plate to share as we had seen the prawns and the oysters but they end up bringing two plates for each of us.
The fish, a marinated reef fillet is wonderfully moist and juicy and this along with the tender scallop on the shell are both of our favourites. The half green balmain bug and king prawn are also good with the king prawn being served with a gremolata. All of the BBQ is expertly cooked and all of the meat and seafood retains a moistness and tenderness.
We weren't asked how we wanted our Angus steak cooked but they cook it medium rare which is just how we like it. It is served with a jus and a bearnaise sauce just to cover both bases and the spiced chicken is also tender.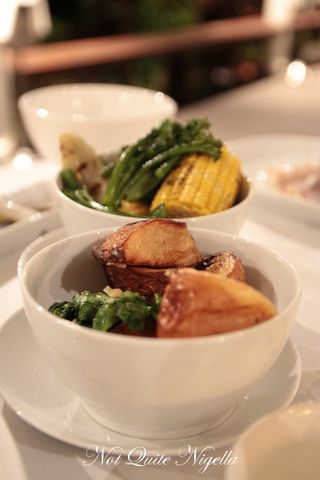 The sides including a lovely roasted sweet white potato, chard, grilled fennel, corn and broccolini which are generously portioned. We think back to the honeymoon resort we went to 5 years ago which was a similar price with all of the food included and agree that the quality here is infinitely better.
Now given that I have eaten four of the mini bar cookies I decided to forego dessert. To be honest none of them were really calling to me although there was a selection of blueberry frangipane tart, chocolate terrine, orange cake, a tropical fruit platter and a cheese platter (the creme brulee selection either was very popular or absent from the lineup). But you can't keep a dessert fanatic down and I try some of the brownie squares which are fudgey and chocolatey. I also try some of the gorgeous Jindi triple cream brie which is served in a lovely almost melty state. We return to our rooms as some very happy island inhabitants.
The next morning I say to Mr NQN "I don't want to check the internet!" Within less than 24 hours I've become an island convert. To me the idea of checking the internet and email, something that I do umpteenth times a day seems as natural as having wheels for arms and it is with some reluctance that I do. We've both had a blissful sleep having caught up quite nicely.
Breakfast on the island is served up until 10:30am and true to form, we are the last to arrive for breakfast. Mr NQN has been up early checking out some of the island's history where the now famous resident Mary Watson lived. She and her husband Robert established a bêche-de-mer (sea cucumber) operation on the island in 1879. While Robert and his crew were away fishing Mary recorded an entry in her diary that said that there was a murder on the island and that one of her Chinese servants were killed and one injured. Fearing for her life, she, her baby and Ah Sam the injured servant took to the sea in an iron tank that was used to boil bêche de mer. They ran aground onto an uninhabited island. Nine days after they arrived they had died of thirst. The remains of her shack are all that remain of her time there.
I'm hungry (how does doing nothing do that to you?) so breakfast is next. There is a choice of five hot items including eggs florentine as well as a cold selection of Bircher muesli with stewed fruit. I always love eggs and protein for breakfast whilst Mr NQN is a continental breakfast person and goes for fruit or cereal. The freshly squeezed juice of the day is a watermelon and blueberry which is good with the predominant taste of watermelon.
They bring us a tiered stand of pastries and fresh fruit including deliciously sweet dragonfruit and pineapple as well as orange, kiwifruit and rockmelon. The croissant is very good-usually in tropical climates pastries often lose their crunch but these remain crunchy.
The free range poached eggs have a lovely runny yolk and I decide to try a more unusual offering that you don't often see as an accompaniment to eggs-grilled rock fish. For good measure I include some sausages in my order just because I love sausages. The grilled reef fish feels almost healthy but is moist and flavourful while the sausages give me the meat that I desire in the morning in place of bacon.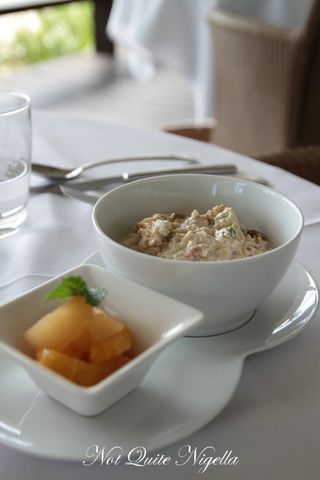 I try a little of Mr NQN's Bircher muesli and it is full of apples and fruit and is soft and soaked and easy to eat.
We have a hectic day planned for our second day (insert sarcasm here ;) ). In fact it involves a 10:30am pickup of a catamaran and then a midday dinghy ride with a picnic basket laden down with food to go to nearby Mermaid Cove. The catamaran ride is fun and I sprawl out on the centre and let expert sailor Mr NQN do his thing rolling over and ducking when he tacks the boat.
When we return we take the dinghy out and they've loaded it ready for us with food, drinks and towels. We pass Watsons Beach and Turtle Beach and on our way Mr NQN points out a turtle that has recently floated to the surface! The turtle takes a couple of big breaths and then disappears back down to the depths presumably to feed on sea grass and hang out with other turtles and party or whatever it is that turtles do in this secret underworld.
In fact there is rather famous turtle here on Lizard Island called Sammy who was rescued when he was spotted having difficulty swimming. He had "floaters disease" which is where air becomes trapped between the body and the shell and the turtle is unable to dive deep and stays on the surface. This means that they can't feed on the sea grass and they become weak and eventually prey for sharks. Sammy spent some time at the turtle rehab facility in Cairns (isn't that so Lindsay Lohan!) and now pops up at Lizard Island every now and then. He also has a GPS tracking device so that you can track his whereabouts on seaturtle.org (go to track a turtle and enter "Sammy" under wildlife tracker). I'm going to pretend that that was Sammy that we saw saying hello to us. Don't kill the fantasy please ;)
Arriving at Mermaid Cove I recall the warning from the beach club staff member that tells us that the beach at Mermaid Cove isn't one of those soft sand beaches but one that is a little rough on the feet. He's not wrong and the beach is actually quite uncomfortable under my feet (although admittedly I have very sensitive feet and Mr NQN runs along this easily). I wish I had taken along some of those booties that they offer guests.
We take out our picnic supplies and leave them on one of the two picnic tables provided and put on our snorkel, goggles and flippers which give me big old Ian Thorpe sized feet (and a hint, don't walk forward in them but backwards!). We take to the water to go snorkelling and here we see quite a few new varieties of fish. We see burrowing and giants clams, blue Lincoln sea stars, sea cucumbers, black back butterfly fish, ornate butterfly fish, thread fin butterfly fish, saddled butterfly fish, beaked coral fish, regal angel fish, schools of blue green chromis fish, Moorish idol, yellow tailed fusilier, humpheaded wrasse, schools of spangled emperors, coral trout, bright blue coral and the beautifully coloured parrot fish which appear incandescent and lit from within.
After our second underwater adventure (and I was too afraid to go far out where there was much more coral) we make it back to shore where our picnic awaits. The servings are enormous and generous and we had filled in the menu not realising that they were very big serves. Luckily snorkelling makes us hungry.
We unfurl the tablecloth and open up the boxes. The roasted chicken with aioli is great in a sandwich and I make my own chicken, aioli, bacon and lettuce club sandwich with half of the Turkish bread provided as well as a prawn sandwich with the fresh chilled prawns and cocktail sauce with the other half. I make Mr NQN a smoked salmon sandwich with his bread and we share the Asian noodle salad which is crunchy and fresh with sweet yellow capsicum, herbs and a chilli dressing. The seasonal fruit salad is refreshing for salt water parched mouths although the cheese and crackers weren't quite as successful with the crackers becoming soft in the esky and we both weren't really taken with the cheeses.
After lunch we take a ride around the leeward side of the island before returning the boat and having a long, languorous nap in bed. This life is tough I tell you! I awake a couple of hours later to find Mr NQN reading on the day bed outside and we get dressed for dinner. Oh and did I mention they refilled the cookie jar? I did manage to sample more of the cookies and sadly, and I mean this for the sake of the diet, they were just as good the next day as they were the day before (they are baked fresh daily). That's six cookies down for me for someone that likes cookies but often stops at one.
I do some work in the guest lounge while Mr NQN goes off to take some sunset photos.
Aren't they purty? He is such a clever chicken my Mr NQN...
We arrive at dinner and ask them if they wouldn't mind if we don't wait too long between courses as we'd like to spend more time in the room and this isn't a problem at all. The amuse bouche is a take on the classic prawn cocktail and it is a spoonful of poached prawn with the classic marie rose sauce (ketchup and mayonnaise), with cucumber infused flying fish roe and a crispy, buttery salty crostini wafer. It's superbly fresh and well seasoned.
It's cocktail time! You know me and cocktails. It's a love hate relationship-actually a love drunk relationship! Mr NQN orders a lychee martini which is generous with the alcohol, a bit too generous for me. I really like my Honeycomb Delight which is creamy with all of the good stuff like butterscotch schnapps, Baileys, Malibu and mango-a real girl's drink and the cocktail you have when you don't want the taste of alcohol!
The Hervey Bay scallops each sit on a disc of cotechino, a divinely rich and salty pork sausage. Accompanying this is shaved fennel, orange segments and salmon caviar as well as orange zest and a vanilla syrup which has some salt added to it so that it isn't too dessert like. I adore this entree, it is bursting with flavours and although they are quite different they work well together, even the vanilla syrup works in tandem with the other ingredients.
Duck liver parfait, cornichons, muscaatels, ver jucie jelly, toasted brioche
On the menu it appears that there is a seafood and a meat dish in each of the entrees and mains and the duck liver parfait is smooth and creamy and comes with two slices of toasted brioche (although perhaps 3 or even 4 pieces of brioche might have done given the portion size of the parfait) and it is served with lightly macerated muscatels in a cinnamon and lemon zest syrup and a tangy verjuice jelly.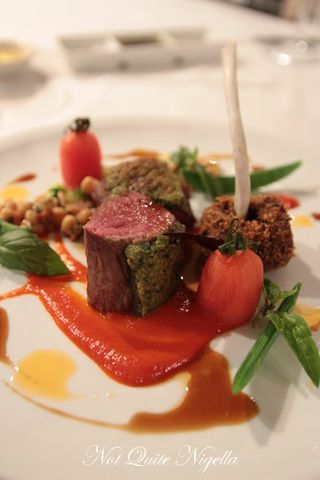 What sounded like it could be possibly too rich for us is just right. The basil crusted lamb loin is tender and it comes with a soft, moist, braised shank and sultana croquette. Instead of serving it with a mash and a heavy jus it is lightened by the spiced chickpea and zucchini ball salad and a roasted capsicum sauce and just a little cinnamon jus. There is also a clever presentation of the skinned tomatoes that have their bottom half sliced off. They are filled with a creme fraiche and displayed head up. This dish encapsulates what chef Mark Jensen was telling us yesterday about cooking food that is suited to the weather.
_ _The overall feel of this dish is that it is quite strong in sweet flavours, although you wouldn't necessarily tell this from the description. The burnt orange dressing is quite sweet and the shelled tomatoes and beetroot also add to the sweet aspect which isn't a bad thing at all, it's just quite pronounced. The fish is well cooked in the dry Indian pastry shell which is similar to an Indian roti.
It's cocktail time again-here in the tropics, nothing gets downed quicker than a cold drink and Mr NQN's strawberry mule is deliciously sweet and refreshing with strawberry liqueur, vodka, strawberries, ginger beer and lime.
The strawberry daiquiri is again very generous portioned with alcohol. Perfect for those that like it but a bit too strong for me.
We are offered an oshibori (wet towel) to refresh and cleanse our hands. Oh how I wish everywhere gave one of these! The dessert of the day is a deconstructed vanilla cheesecake. It's heart stoppingly beautiful and we admire the time that it must have taken to plate this dish. The cheesecake comes as four spurts of a foamy, rich vanilla cheesecake and it is paired with an excellent raspberry sorbet and sweet fresh strawberries, raspberries and blueberries, a strawberry and raspberry coulis in dot form and some artfully scattered crumbage. It's a lovely dish and if there was one thing that we could change it's a bit more of the cheesecake.
The sorbets today are mandarin which is my favourite (I call mandarins "magic oranges" because I do love them so), a tangy passionfruit, a praline with delicate crumbs of praline (I prefer bigger bits) and a rum and raisin which perplexingly tastes more of almond than rum and raisin.
We adjourn to our room where there's a knock at the door. They have kindly furnished us with some freshly baked chocolate chip cookies straight from the oven. See? There's nothing quite like paradise...
The last day is a bittersweet day. We rose early to have breakfast eager to get in one last snorkel which we do with heavy feet. This time we try the lycra suits on which help to keep people warm (as it is early the water is a little colder but not cold) and the slip on booties would have helped infinity at Mermaid Cove and they also ensure that rocks don't get caught in your flippers. We see more marine life including an incredible sea cucumber that looks as though it is covered in starfish.
Our breakfast was our last meal here and it didn't disappoint. The breakfast menu was again different and we chose an omelette and the hash brown.
The omelette was rich and well proportioned. In a cafe this may be considered small but when you're on an island and you have so much food and activities it actually seems appropriate. It's filed with mushrooms and a rich, Jindi camembert, truffle oil and it is scattered with chives. Plus I'm sure they wouldn't mind if you ordered a couple of things each.
The pumpkin hash brown is crunchy, soft and sweet and is paired with crispy bacon, a runny centred poached egg, wild rocket and balsamic to give it that little bit of tanginess to counter the sweet pumpkin.
We spent a little time reorienting ourselves with the outside world by checking our emails before we make our way back to the main lounge where we're offered drinks. Our transport arrives to take us to the plane and the staff wave us goodbye. We board the plane and it's a slightly smaller plane than the one that we arrived in. This time I wasn't asleep and I breathed in and devoured every luscious gorgeous view.
So tell me Dear Reader, where do you consider to be paradise? And how would you be listed on a menu if you were a menu item? ;)
NQN and Mr NQN travelled courtesy of www.TravelCandy.com.au (click for deals for NQN readers-this is not an affiliate link and I do not receive any monetary compensation for bookings) and Lizard Island
Lizard Island
Lizard Island is accessible by plane from Cairns. Rooms start at $1160 per room for a single person and include all meals, drinks (including wines, cocktails and French champagne) and many activities (excludes SCUBA diving and cruise charters). Transfers from Cairns cost $225 per person each way by Hinterland Airlines. Dry season is from the end of April until December.