How does that real estate mantra go? Location, location, location? When I see where my behind is located, on top of a rainforest drenched hill with rain pitter pattering on the roof and an outdoor pavilion decked out with modern equipment, tables groaning with fresh figs, strawberries, sobrassado and tartuffo truffle sausage, I'm glad that my location is right here.
I'm at the Freestyle Escape farm kitchen, a two hour drive from Brisbane on the Sunshine coast (except the Sunshine Coast weather forgot to read their brief today and have given us buckets of rain). We've gone past landmarks such as the big pineapple, an igloo and other esoteric directions furnished to us by dessert king chef Martin Duncan who owns Freestyle Escapes. They hold cooking and art classes and team bonding experiences all in the comfort of this stunning location.
Martin Duncan
Today however we are lucky enough to be taught jam and relish making by local Sunshine coast chef (but Leichhardt Sydney born) Jamie Milverton who markets his jams under the brand Jamie's Gourmet. He is a chef of 18 years experience and he holds classes where he turns up at someone's home and shows them and their friends how to cook. The Masterchef home dining phenomenon means that a class like that (at $75 per person) sells like hot...jam?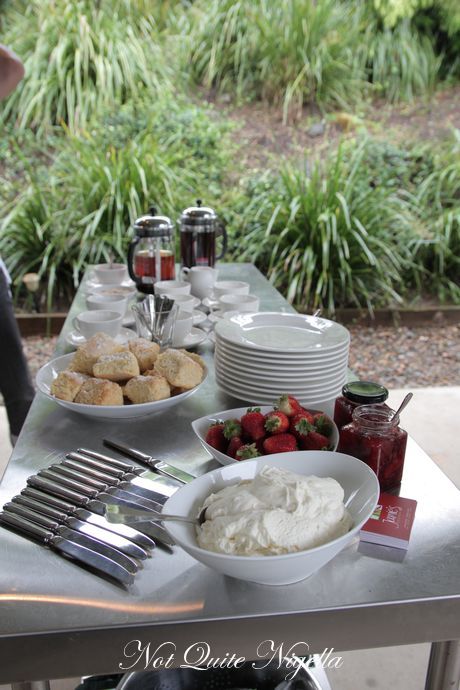 We are greeted by fresh coffee, tea and scones and thick whipped cream and Jamie's own rain berry (lilipilli), cherry and strawberry jam which has a nice contrast of sweetness levels-slightly tart from the rain berries, medium sweetness from the cherries and luscious sweetness from the strawberries.
Jamie Milverton
For this class he uses modifications of his mother's traditional recipes-and his mum is not your regular mum. She has been awarded gold medals for 10 years in a row at the Rockhampton show for her jam making efforts. We're going to make and be furnished with the recipe for a tomato relish and a fig, strawberry, rhubarb and orange jam. Not only that but we're also going to make pizza in their wood fired oven affectionately called Myrtle the Turtle (you can see why she has that name right?). Jamie shows us a container of curry powder that he made only this morning and it smells incredible-like a regular curry powder has suddenly woken up and started dancing.
But as for me I'm starving and it's only 10am and I wander over to try some of the sausages being sliced. "Taurean!" Martin pronounces as I sample a bit of this and that and it's true, you keep a Taurean happy by feeding them and not making them "rough it". We're simple creatures really.
We split into two teams and start chopping up our tomatoes and onions for the relish. Next we chop the figs roughly and remove the calyx from the strawberry and then slice these in quarters for the jam. He tells us that apples contain the most pectin and that by simply using the apple skin placed in muslin and cooking that with your jam, it will set. He recommends using the Maslin pans for preserving as they have a measure inside the pot so you know exactly how many preserving jams you will need and because they are sturdy and have a handle to help with pouring and carrying.
Another tip that Jamie tells us if that you can test for the pectin content before any sugar is added to the cooked fruit by taking 1 teaspoon of juice from the fruit and putting it into a  glass and leaving it to cool. Add 3 teaspoons of methylated spirits and stir. If a large clot forms in the juice, adequate pectin has been extracted from the fruit and the sugar may be added. If there is medium amount of pectin, several small clots will form but if there is very little pectin, it will break into small pieces and you will need to add additional pectin. And don't drink it whatever you do!
For this tomato relish we will use tapioca flour to thicken it instead of cornflour which can make it cloudy whereas tapioca flour will leave it with a glossy sheen. I'm hungry (what's new) but before we can eat lunch, we have to do some foraging. Martin and his guests which include chef Katrina from the Spirit House are all passionate supporters of local food and slow food. In fact there is a slow food festival happening on the 10th and 11th of September this year.
Finger limes
We go up into the hills and see Martin's kitchen garden which is sprawled across the hills with 250 trees dotted across the orchard. There are fabulous things such as finger limes, carambola, lychee, bay tree, tamarind, rose apple and feijoa growing here among others.
\
Kaffir lime tree
I'm tasked with picking some finger limes which are that amazing indigenous fruit that are long slender finger shaped fruit filled with  little caviar like type of beads of fruit that pop in the mouth. It makes for an incredible fruit curd although the branches are a bit spiky it has to be said! We also pick some wasabi parsley which has the briefest kiss of wasabi before it disappears on the tongue.
Wasabi parsley
We can't leave before poking our head into the accommodation on the hill. There are two places to stay in, an artist's cottage as well as another cottage but this has guests in it so we take a peek at the artist's cottage. In the bedroom there are two easels on which you can draw and the cupboard is stocked with painting supplies. And there is an outdoor bath situated a few steps below out in the open so it's a perfect honeymoon destination-or second honeymoon hint hint Mr NQN! ;)
Myrtle the turtle
The Long Apron's chef Cameron Matthew
My pizza
Enough of this fantasising! We have to make lunch. Myrtle is fired up and  it takes a mere 2-3 minutes to cook a pizza in her. We are provided with dough by the Spicers Clovelly chef Cameron Matthew (where we are staying and dining tonight) and we stretch it out. I'm doing mine with a thinner centre and thicker edge. I top it with my favourite toppings of sobrassada, tartuffo, bocconcini and sun dried tomatoes. Tom slides this onto the paddle and voila! Two minutes later I have my very own pizza in all of its char grilled glory. It makes you want to build a myrtle of your own.
Tom aka Morty attending to the oven
_
_
Ta da!
Sobrassada: so delicious but so dodgy looking! ;)
Sadly it is the end of our time here and whilst pattering rain is not your usual cue to leave a place, we must. We take the slow and rain sodden drive to Flame Hill vineyards. Now of course when this was planned torrential rain was not expected so Flame Hill is the ideal location for a sprawling view of Noosa. But not today-it's pure mist as we can barely see metres in front of us.
Tony Thompson from Flame Hill
Flame Hill's Tony Thompson offers us a wine tasting with a selection of their whites and reds. Tony is not the winemaker but the owner and calls himself "The people's palate" and if he likes a wine he will ask the winemaker to make the wine for him. Many of the grapes are grown here and they only use Queensland only grapes. Vines were first planted here 15 years ago and it is also a 250 hectare cattle property with the beef being served in the award winning restaurant. The menu is full of seasonally driven produce including guinea hen and pheasant. The menu is designed around the wine that they produce and not the other way around.
Next we are headed off to Spicers Clovelly where I'll be staying for the evening. There are just 10 luxury suites and I've nabbed room #8 in the cottage. It's a large 22 acre estate first settled in 1908 and it is decorated in a chic white and taupe plantation style. My suite has a king sized bed, a balcony with table and chairs outside and there is champagne and canapes in the lounge every evening from 6pm and mountain bikes are provided if you do get the urge (and I never do ;) ).
The bathroom has heated marble floors (mine are sadly on the blink) and is stocked with L'Occitane products and I'm delighted to see that the shower water in the rooms in rainwater collected from the property (although the shower needs more pressure ;) ). The bathroom looks out onto a small courtyard garden. There is also a pool (although in this rain I'm not game) and a spa and of course the piece de resistance, the restaurant! A kitchen garden provides some of the goodies that we'll be eating that night. I do some work while sipping on a Teadrop lavender grey tea and await our meal at the chef's table which is situated smack bang in front of the kitchen.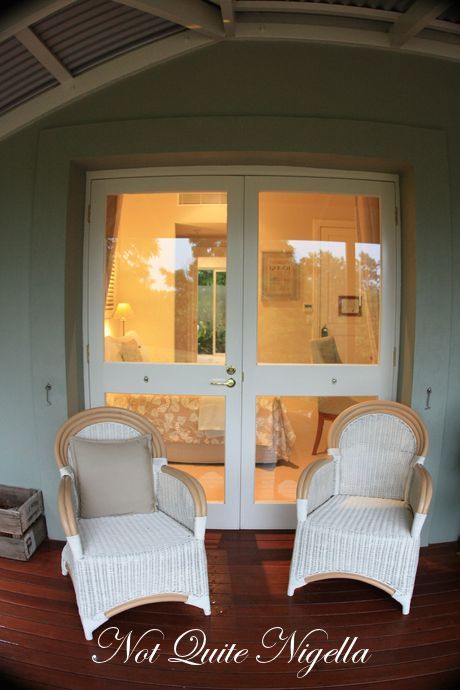 The Chef's Table at The Long Apron
This is also where students of the cooking class sit and watch chef Cameron Matthew create his works of art. And if you're willing, for an extra fee, guests can help him prep their evening meal in the kitchen-that may lay to rest any chef fantasies of working in a commercial kitchen although with a team of three things are calm in the kitchen and run with a sense of efficiency-we would have heard otherwise if that weren't the case. Guests can choose from a la carte, menu de 'Hotel (set menu) or a 5 or 10 course degustation. And guess what we're having? Yep the 10 courser (and then some!).
Cheese & tomato sandwich (amuse bouche)
No don't worry you haven't read incorrectly. Chef Cameron likes to name his dishes simply and with a little irreverence. This is his tribute to a tomato and cheese sandwich. It is a small glass of tomato consomme, strong and pure in tomato water flavour finished with fluffy egg white foam and it is paired with a reggiano gougere which is freshly baked and hot that it seems almost a shame to start on such a damn tasty morsel-I mean who wants to peak early? The only way from up is surely down?
Harvey Bay squid
I really shouldn't have worried although I do have the tendency to. For starters when something this comely is set down in front of you, you tend to smile rather than frown. It has small pieces of raw Hervey bay squid with a cucumber roll filled with yogurt, avocado puree shaped like a log which is lightly charred at the top, a cos lettuce heart and a crunchy squid ink trail meandering over the top. Now one thing I realised a couple of dishes in is that these dishes are so multi part which means that it's quite impossible to put a bit of everything on your fork but that's not an issue, any combination of the food on the plate is fantastic together. The squid is tender and it is a natural partner to the cucumber, yoghurt and avocado which are all mild flavours that don't overwhelm it.
Jamon Ibertico de bellotta
Do you know when you see a dish coming out of the kitchen and you hope that it is headed towards you? We had seen a couple of these go out to another table and hoped that one was destined for us. These elegant morsels come out in stemless glasses and feature a cheesy grissini stick, some jamon iberico de bellotta (the good stuff!) shoulder wrapped around the end of it. There are also fresh peas from the garden which they snap freeze for a ready supply and a dreamy pea mousse, mint, compressed melon ball, Cedar Street buffalo mozzarella and a ball of their own vinegar in a jelly form. This is the dish that I didn't want to end. I feel like Alice falling down the hole just falling and falling down the glass and when I hit the bottom I scrape away at the last scraps of pea mousse sadly. The end.
Mooloolaba Prawn
After that high the only thing that is going to get me back up is seafood. A perfectly cooked single Mooloolaba prawn with two glasshouse mountain snails which they are sent regularly and a moreish prawn and garlic kiev which is a crumbed ball that squirts out hot garlic butter when cut. There is also the vegetable component via a nasturtium flower risotto and emulsion, dots of aioli and carrot puree and carrots with greens. I try the carrot greens and oddly enough they remind me of kang kong aka chinese water spinach.
Gin & tonic
A palate refresher to prepare us for our next dish this gin and tonic is a terrific lemon sorbet, pieces of gin & tonic jelly and a sour juniper-lemon syrup. The whole effect is very refreshing indeed.
Surf and turf
This is Cameron's version of a surf and turf. A Hervey Bay scallop paired with Dakota Vale duck it is presented on a black slate plate. There are toasted cashews, delectable mango slices, candied coriander (probably the only thing I didn't enjoy on the plate) , black garlic, a dine dice of scallop tartare and a mini scallop boudin (sausage) and puffed rice rice which gave it the necessary crunch. It's an ode to a scallop and a fitting one indeed.
Steak and mushrooms
What he calls steak and mushrooms is actually Black Angus beef sirloin cooked medium rare paired with flash fired mushrooms,  a nifty onion skin cup filled with caramelised onion puree, piquillo pepper puree and a most interesting treatment of the red pepper pieces where they appear charred beyond recognition except for a fleeting glimpse of red underside. He fries them in a batter coloured with vegetable carbon which is what cake makers use to achieve black colours in cakes. And the whole thing comes out of burnt cedar "plates" which he sets alight so that it smokes and gives the aroma of a winter's night in by a log fire.
Dutch cream potato
Now this isn't going to be the way that you do potatoes at home although Kerry points out that it is similar to what you might do to a potato when camping. Here a Dutch cream potato is cooked in a toasted hay cream (yes!) and then is rolled in burnt hay ash. Cameron tells us that he uses organic pet hay to do this. This is also where the mystery ingredient called Egyptian walking spinach crops up. Our lunch companion Julie who is part of the Real Food Festival finds these fabulously unusual things and brought the Egyptian walking spinach to Cameron today. He gives us a stalk of it raw and it's very mild tasting with a slightly grassy aftertaste. Underneath is a goat's cheese fondue, mushrooms and asparagus and a leek with strands of root which are also meant to be eaten. It's the kind of dish that has you running your finger along the plate to get the last bits.
Egyptian walking spinach
Sandy Creek Carrots
Despite the fact that this sounds like a savoury dish this is a sweet dish with a small nod to savoury.He tells us that he hates the term deconstructed but it is a deconstructed carrot cake. There are carrots, pain d'epice ice cream, crunchy pain d'epice crumbs, sugar tuile in the form of white sugar curls, crunchy persimmon squares and a sticky, syrupy honey bourbon and carrot mix. It's one where there is a mixture of sweetnesses and you can tailor your bites to the amount of sweet you want.
Raspberries and Cream
Three desserts we hear! And this is our second. For this dish and if guests pre order this, they will remove the tablecloth, drinks and cutlery and put down a rubber mat on the table and plate up the dessert at the table. There is a quennelle of raspberry sorbet in the centre and little discs of hazelnut gel, Nutella powder, hazelnut powder, fresh raspberries, freeze dried raspberries and tiny dollops of wild violet gel. What is a surprise is to learn that he doesn't have a Pacojet or Thermomix in his kitchen. Everything is made using regular equipment.
Earl Grey tea cake
My favourite dessert, not just because I love Earl Grey tea is also a favourite because it has a dollop of the smoothest lemon curd in it. It's the kind of lemon curd that is so dangerously good because you could just eat it as it was from the jar if there were a jar. They Earl Grey tea cake is an airy sponge which is light in Earl Grey and I would have liked a bit more tea flavour. He pairs it with a "pot pourri" of pomegranate, rose pate de fruit, crunchy candied rose petals (from the garden), a pinenut praline and ricotta and a white chocolate squiggle. And yes every drop was finished.
I go back to the room where a thoughtful housekeeping fairy has left me a box of chocolates. Well ok...if I must! ;)
So tell me Dear Reader, on rainy days where do you like your location to be?
NQN travelled to and explored the Sunshine Coast as a guest of Tourism Queensland
Freestyle Escapes
Tel: +61 (07) 3262 3077
freestyleescape.com.au
Flame Hill Winery
249 Western Avenue, Montville, Sunshine Coast
Tel: (07) 5478 5920
www.flamehill.com.au
Spicers Clovelly and The Long Apron
68 Balmoral Rd, Montville
P 1300 252 380
www.spicersgroup.com.au/property/spicers-clovelly-estate