So after my judging and eating hijinks in Port Douglas where's a girl to go but south, literally in search of some of the Tablelands most well known producers including two coffee plantations, a distillery, a Swiss Italian restaurant, a coffee museum, cheesemakers and a rain forest retreat. Come along with me for a ride Dear Reader, but do have a cup of coffee ready for this is a long story (and the coffee will help with the coffee cravings, trust me!).
Skybury Coffee Planation
I always thought that one would have to travel overseas to see a coffee plantation but apparently I was so very wrong. We are at Skybury Coffee Plantation, Australia's first and largest coffee plantation in the Atherton Tablelands in Queensland which is about 1.5 hours drive from Port Douglas. We have just enough time to have a coffee (and a very good one just as one would expect) before we get onto a bus to take a tour of the coffee plantation. Curious coffee connoisseurs can take a 45 minute tours which depart two to three times a day and cost $25 a person.
John our guide first drives us for a drive through the farm that also grows papaya and lady finger bananas as well as coffee beans. When a banana flower appears on a banana tree, they wrap it in a sack and allow it to grow bananas for a period of 16 weeks. There is a mother and a child or a sucker tree which is the smaller one and a banana tree can only produce one lot of bananas in its lifetime. After that they need to cut it down and they will grow the bananas off the child or sucker tree. Who knew right?
We are next onto where the coffee bean trees are growing. Coffee is a tropical plant and here they only grow arabica beans (as opposed to the robusta which is an inferior bean used in less expensive coffees). This arabica coffee bean comes in both red and yellow and is best grown at altitudes of 500-1500  metres high (it is 525 metres here). Did you know that coffee trees are said to produce the best beans between the ages of 5-10 years and these trees are currently even years old. They are thirsty trees indeed requiring 1 litre of water a day each.
A coffee cherry
Inside a coffee cherry-two beans
We pluck one of the cherries and they are a rubied red and resemble small, hard berries. There is a thinnish but firm outer layer, like a thick grape skin and inside is a very, very sweet, thin juicy layer which is similar to a longan or lychee. Inside this is the actual coffee bean which is pale yellow in colour and covered in a slippery membrane called a mucosa.
To pick the beans they use an automated picker from Brazil which is very similar to an olive harvesting machine. Fibreglass rods rotate through the trees and the cherries fall off and harvesting takes about two months in total. Per hectare they get about 1 tonne of wet cherries which are then dried out and lose 75% of their weight to make 250kg of beans. They then lose another 17% in the final drying process to remove as much moisture as possible as moisture can cause mold.
They sort these first through water and the premium beans float to the top. Most of their beans are exported overseas to markets such as London, Paris, Berlin and even Italy and they export a special bean to Japan called a peaberry as it is a whole bean rather than two halves and the Japanese like it because it has a sweeter taste.
The coffee roasting machine
These are then stored in a 40 tonne storage tank and can be kept for years there or shipped out straight away as green beans. At Skybury they also roast on site using a coffee roaster and the beans get roasted twice and they take out the beans just before they reach 212C for a medium roast whereas they have an extra minute or two in the dark roast. They have three trays of coffee which you can use a spoon to taste and to do so you suck or aspirate it over your tongue (like wine or olive oil).
It's lunch time and having missed breakfast I'm starving! There is a cafe style menu available with a caesar salad with a twist, instead of offering it plain with bacon or with chicken, there is the option for salt and pepper squid so I take that up along with a papaya shake and a slice of bannoffee pie.
Creme de Papaya shake $7.50
The drinks are not cheap but the papaya shake is delicious without that really strong papaya aroma that divides people. There's just the right amount of creaminess. I rarely have more than a sip of a milkshake as they can be meals in themselves but I find myself drinking half of this.
Lime crush $7.50
The lime crush using their Mexican limes with a distinctive orange skin is refreshing. The limes aren't sold commercially because their skins are hard to keep clean and they have too many pips but they taste just like regular Tahitian limes.
Salt and pepper squid caesar salad $17.50
The thing about travelling to other areas is seeing great ideas such as salt and pepper squid on a caesar salad and doing it at home. The squid and the salad go well together but then again the anchovy component and caesar dressing go well with salt and pepper squid. There is also a generous amount of bacon among the cos lettuce leaves and cheese.
Lamb, red wine and rosemary pie $15.50
The pies are said to be homemade and they come with a crunchy crust and nice chunky lamb pieces with a bit of gravy. The fries are a little cold though.
Pancakes and maple syrup $8.80
When asked if we were ready for dessert there was a resounding yes. We start with the pancakes which were said to be served with maple syrup but instead they put a butterscotch sauce and bananas. Delicious! Four bites later and I was still going...
Caramel and macadamia tart $8.80
The caramel and macadamia tart is very sweet, thick and rich and should best be attempted with low blood sugar levels (which never happens on these trips).
Bannoffee pie $8.80
I wasn't such a huge fan of the bannoffee pie crust and there was an odd slightly tart chopped up fruit in the caramel part which I didn't think worked. If they had used the caramel filling from the above tart then it would have been much better. But who's quibbling, I'm back on the pancakes...
Mount Uncle Distillery
* *
Our next stop is to Mount Uncle Distillery who produce a range of liqueurs and spirits including their best selling marshmallow liqueur called Sexy Cat. Even though none of us are quite their target market we must give it a go and it does take like marshmallows. They actually make it by mixing up 3,000 litres of actual marshmallow and they pump the vodka into it under pressure. Owner Mark tells us that it is the world's first confectionery liqueur and when chilled it goes cloudy and when frozen it sets as a gel.
We also try their mulberry liqueur which they make using mulberries grown on the property and each bottle or syrupy raisiney liqueur has half a kilo of mulberries in it. We also try their 100% honey mash vodka which is called Anjea and at $65 it is their priciest product of the current range. There is also a Platinum sugar cane rum which is triple distilled and is said to be ideal for caipirinhas and mojitos.
He shows us their Holstein distiller which distills the liqueur into three levels: the "heads" the 90% alcohol  which is acetone (nail polish remover) and ethanol and is the kind of thing that can send you blind; the "hearts" which 68% alcohol and is the good stuff and the "tails" which is anything between 10%-67% alcohol and he tells us smells or tastes like wet dog!
Mark then shows us the French oak barrels of whisky that are aged for our years and the American oak barrels which contain their sugar cane rum.
Meanwhile the vermin control team take a break...
Nick's Swiss Italian Restaurant
**
**
**
There's a row of cow bells in one corner. Swiss paraphernalia dots every corner of this restaurant and Nick, the owner and chef is holding court in the bar. He has Italian flag buttons on the right hand side of his chef's whites and Swiss flag buttons on the left. The restaurant menu is a bit of Italian with a slightly larger proportion of the food as Swiss. And just through the door is the more casual pizzeria which also sells home made gelato.
Bruschetta $10.50
We are here for dinner after our mega tasting and eating spree that afternoon. The atmosphere is comfortable and welcoming and the restaurant is full this evening. We start with the tomato puree topped pizza bread which is made here. The tomato isn't as concentrated as I normally like it but the garlic hit is strong and for that I am grateful as I adore the stuff.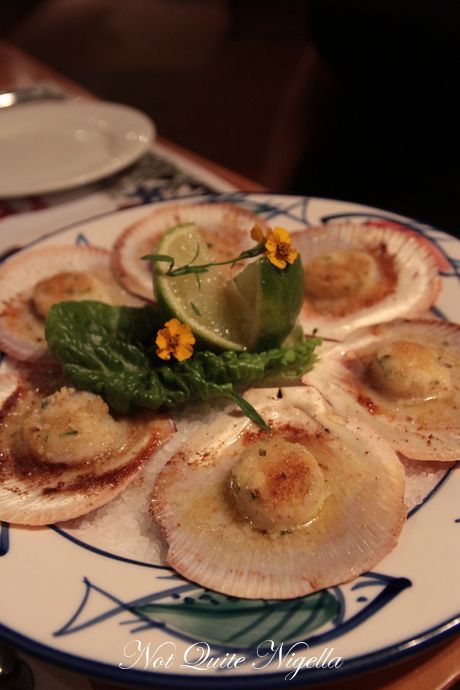 Scallops in garlic butter $17.50
The scallops are well cooked and come with a strong garlic butter and it reminds us of the strong garlic butter that you get with escargot. If only I had some bread to mop up the garlic butter with :)
Throughout the night Nick who is really more front of house than cooking he brings us over curiosities that he thinks we will be interested in. He's almost like a kid excited to be showing his toys to people. He brings an item over and asks Mia to be his guinea pig. She sits down and he instructs her to put her nose on a particular part of the wooden apparatus.
Then the machine lets out a loud bang and snuff goes up her nose with a loud crack and bang which startles everyone much to his amusement. He then instructs her to clear her nose by passing it near the brush! The moral of the story is if you see a contraption like this don't be the guinea pig as it's a snuff machine (tobacco snuff, not scary movie snuff) ;).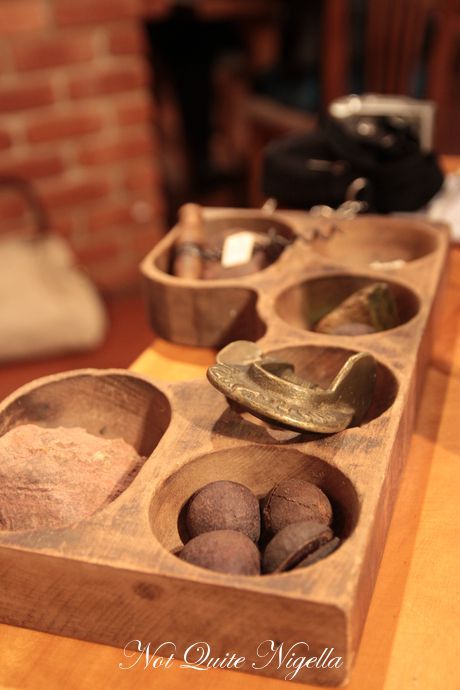 Nick's Hot stone grill house specialty $38.50
The lamb loin comes to the table in a sizzling hot plate and sparks and splatters in protest. "So sorry!" I say to the lamb loin, "I'm eating you  tonight." It comes with a brandy garlic butter, a mango chutney sauce and a seeded mustard and out of the three I like the brandy garlic butter.
The lamb slices easily and comes to the table rare so you can choose to take it off the grill or you can keep cooking it which I did until it reached medium rare. It comes with herbed sweet pumpkin, carrots, red onion, beans, broccoli as well as mushrooms, capsicum, zucchini and eggplant on the grill. It's a substantial meal with the lamb tender and juicy and with a generous serving of vegetables.
Yodeller's Delight $28.50
The smoked porn loin is made for them using a family recipe and it is soft, smokey and moreish. It is paired with a delicious homemade sauerkraut and a smokey frankfurter sausage which is made in house. There is also a portion of scalloped potatoes, carrots, beans, pumpkin and red onion to complete the meal.
Swiss bratwurst and roesti $26.50
I didn't try the veal bratwurst but the roesti was crispy with bacon and onions and delicious and less oily than I've had it before.
Suddenly there are hats being passed around as well as slew of instruments. Nick has everyone in the restaurant in hats and playing instruments. He has an accordion and other people bang the huge drum and blocks and even the cow bells. Somewhere in the middle of all of this, dessert is served.
Apple pie $12
Now this is more of an apple flan than what you would think is an apple pie with pastry on top and bottom. This apple flan is said to be a traditional Swiss apple flan and has ground nuts and thin slices of soft apple.
Coupe Danemark $10.50
The couple Danemark is essentially an ice cream sundae made with home made vanilla ice cream, chocolate sauce and hazelnut chocolate wafers.
And before we've finished dessert, the accordion comes out...
Gallo Cheeses

For those of you that think I have a tough job (insert sarcasm here ;) ) allow me to present you with a dilemma. Knowing that I was having cheese and chocolate for breakfast caused some friends to moan and extend sympathies to me. However I wasn't about to accept those sympathies. Do you know how fabulous it is to legally be allowed to eat cheese and chocolate for breakfast in the name of a job? Yes it's a great job indeed and you won't get an ounce of complaint from me!
Oh hai puppy!
Our first stop on our next day of the Tablelands is at Gallo cheeses where they also hand make chocolates on site using Felchlin Swiss chocolate. An adorable and very enthusiastic puppy greets us and we walk up to the door and Gallo's owner Linda joins us as we indulge in a little cheese and chocolate tasting platter.
Gallo makes 12 cheese varieties using the cheese that come from the 450 jersey cows that graze in the pasture across the road. They've been a family run dairying business since 1937 and the cows are milked 42 at a time using a rotary  system and at 3pm every day people can watch a cow being milked.
Large Cheese platter 4-6 persons $22.00
We try one of the 4-6 person cheese platters which has their camembert, tilsit, gruyere, gallozola (their take on a gorgonzola) and a cheese and onion cheese which are all quite pleasant cheese and a good crowd pleasing cheese with the Tilsit winning a gold medal in the 2009 and 2010 Brisbane cheese shows. Linda also tells us that they do a lot of lactose free cheeses which are very popular.
The chocolates are busy being made behind the counter and there is a large selection with some dark but mostly milk chocolates. The berry is lovely and glossy and tastes like a cherry ripe without the coconut and most of the fillings are ganache styles rather than liquid centres. We try the Irish cream milk, Highland whiskey in dark, dinner mint, pistachio and lastly is the sweet honeyed vanilla honey white truffle.
Yes it's a tough job but someone has to do it ;)
Mungalli Creek Dairy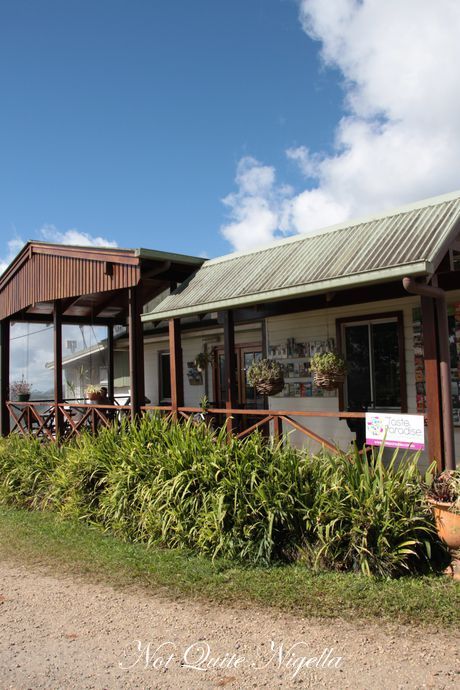 More cheese? Is there such a thing as too much cheese? Well no! Our next stop is Mungalli Creek dairy in Millaa Millaa. Here they create award winning bio dynamic dairy products using a non animal rennet, local fruit and nuts and they also do a range of quark cheese which is a soft European cheese that is a little hard to find. The wall of a room is emblazoned with awards and owner Michelle shows us a pile of new awards that have just arrived.
Their range also includes yogurts with a regular pot set yogurt as well as a Greek yogurt which is strained to remove the whey so that it is thick and creamy. There are also dips and cream marketed under Misty Mountain Farms.
Rainforest refresher $4
I often find the native fruit Davidson plum a little tart for me but this drink is sweet, bubbly and thirst quenching and uses a Davidson plum jam which settles at the bottom.
Ginger refresher $4
_ _The ginger refresher is redolent in aromatic, warming ginger and is served non fizzy. All I can think is how much Mr NQN would adore this. It is not for the ginger fearing (I'm a affirmed ginger lover) and is sweet and pungently gingery.
Cheese platter $28.50
_ _Said to be for two people (two hungry people!) the cheese platter has three soft cheese, a ricotta made from whole milk rather than a whey based ricotta and two types of quark including a rainforest blend quark with Davidson plum. The rainforest quark is particularly good balancing the sweet and savoury flavours (and has won them a Gold medal). The little cubes of feta provide a salty hit and gorgonzola is excellent with the dried figs. We also try a creamy havarti but I'm not quite as taken by this and a strong 12 month aged cheddar which is excellent with the mango, ginger and  date chutney.
Yogurts
_ _We try some yogurt samples including three of their pot set yogurts and three of their Greek yogurts. The pot set yogurt as expected is slightly thinner but there is an appealing layer of cream on the top. I became obsessed with thick, creamy yogurts after living in Japan where they tend to be beautifully thick like cream and so I gravitate towards these types of yogurts. The seedless passionfruit yogurt is particularly good (and the winner gets the top layer of cream). The Greek yogurts are creamy and thick and the mango is a favourite with a summery hit of mango sweetness.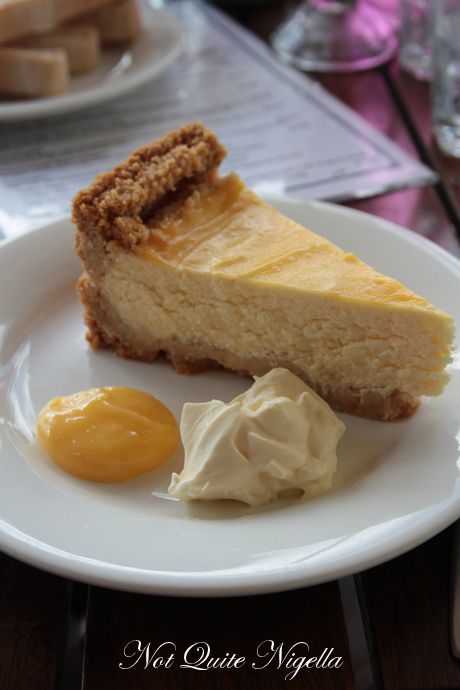 Lemon curd cheesecake $6.50
We try a range of cheesecake including the lemon curd baked cheesecake which is rich and creamy with the distinct taste of lemon curd (and an extra dollop of it on the side just in case you're running low in lemon curd in your blood sugar levels ;) ). The Sicilian cheesecake with orange and chocolate is also a standout as it's beautifully moussey and fluffy and I don't even like chocolate and orange together. The flourless chocolate cake is also very good.
And it's not even lunchtime!
Coffee Works
If you can believe it, we're off to have some lunch. Because and this might make you hate me even more but we have to eat as we're going to a wine tasting after this! We stop off for a bite to eat and a browse at Coffee Works which has the world's largest collection of coffee and tea related memorabilia. But first things first, having a look through their shop! It's an enormous space and there are tea cups, clothing, homewares, aprons etc as well as a dedicated chocolate room where people can taste chocolates and watch them make it.
Before we sit down to lunch we take a coffee tour of their coffee museum which they bill as the Disneyland for coffee. It certainly is a comprehensive view on coffee and one where surreal moments abound. After sampling your way through 21 types of coffee (Black Mountain is a favourite and a local blend) you walk through displays and five mini theatres which are motion activated which play music. There is the carpeted Turkish room with videos of belly dancers and Turkish coffee equipment.
There is a display of the coffee pots throughout the decades and a most surreal (think Alice in Wonderland wacky) display of a Miss American teapot pageant complete with flashing lights and an American accented voice reading out the coffee pots from each state of the USA! Upstairs is the smaller teapot collection including this very curious double spouted teapot!
Also included in the entry price of $20 is unlimited coffee, tea and chocolate tastings (all day apparently!). I adored these white coffee chocolates in the shape of coffee beans and as I write I struggle as they stare at me from across the room. Does Mr NQN want them? Probably not right? ;)
So, so moreish!
Grilled chicken sandwich $14
The grilled chicken sandwich is the pick from the lunch menu as they have a gentleman barbecuing the meat outside. It comes with a basil mayonnaise, tomato, cucumber, lettuce, red onion and jarlsberg cheese in a Turkish bread roll with a little blue cheese dressing on the side and a plate of potato chips! I prefer this with slightly toasted Turkish bread so I leave the bread and eat the insides which are actually quite good without the blue cheese dressing as it already has the basil mayonnaise. It's actually just what I was craving, something simple but done well after nights of degustations.
De Brueys
* *
Our last stop before we head to our accommodation for the evening is at the boutique fruit winery De Brueys where Elaine gives us a tasting of their fruit wines. They range from a dry wine style (the Brazilian fruit jaboticaba) to a sweet dessert wine (star apple). They also have an interesting range of liqueurs and fortified wines including a mulberry port and a "Pirates Treasure" which is a chocolate and rum liqueur. The Flagship is a coffee liqueur which when you lift the glass up to the nose smells exactly like those little Kopiko lollies.
There is also a range of cream liqueurs using a non dairy cream in flavours such as melon, tropical temptation and strawberries which tastes of a strawberry milkshake.
Cedar Park Rainforest Lodge
So the saying goes that if a black cat crosses your path then you're in for some bad luck. What say they about a wallaby that greets you? We've arrived at our final destination for the day and our accommodation for the evening, Cedar Park Rainforest Resort deep in the rainforest. Given 5 stars on tripadvisor, this is a very unique resort, and not just because the porter is a wallaby*.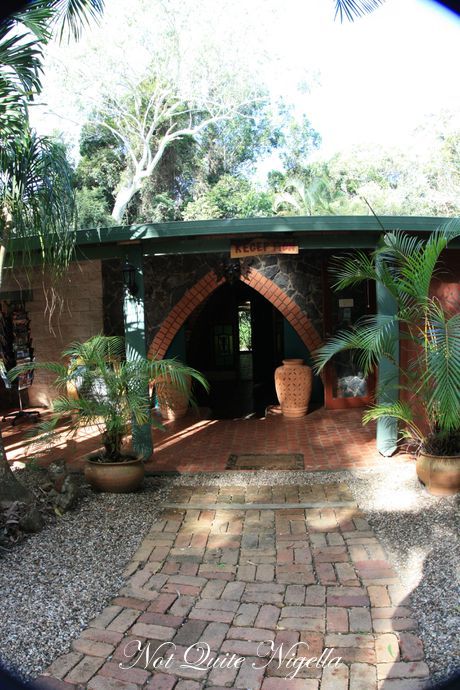 *OK just kidding, he will not bring your bags to your room. I tried.
The rooms are just like Mr NQN's family would decorate a resort, well if they were more business minded and had organisational skills. It's an environmentally friendly eco resort run by welcoming Swiss German Couple Rosy and Christoph. Rooms run off  along the 31 metre hallway and doors are framed by gothic arches and each room has its own verandah and bathroom. Ganyon Creek runs alongside the  resort and is accessed by a short stroll (and you know me, when I say it's a short stroll I mean it, none of these short strolls that take 10-15 minutes, that's a hike!).
There is also a lagoon with frogs, wallabies and birds. The activities on offer from external suppliers are hot air ballooning, golfing with the kangaroos (although I don't think they're great with the golf clubs), helicoptering or diving and snorkelling. And despite the fact that there is no phone reception at all there is a wireless internet connection!
Christoph who is the chef has cooked for Elizabeth Taylor, Lady Spencer, Isabel Lucas and the Prince of Malta. Here they don't do so much fine dining as their clientele has a lot of local people who don't necessarily want it but it is simple but well executed cuisine.
We settle into the restaurant for dinner. There's another couple there as well as a woman by herself who wanted a night away in silence. And that's when I realise there's no other noise except for the gentle orchestra of nature around us. Rosy and Christoph are excellent hosts and very accommodating and they tell us stories of when guest Daryl Hannah came to stay here and how the other guests knew who she was but didn't bother her as they understood the resort to be a place to escape to. The menu is a mix of European dishes along with some Asian dishes as it has to cater for locals as they open up the restaurant to the public on Fridays to Sundays.
Pate (foreground) and ciabatta Bread (for 2 Persons) Served with Dukkah and oil
I'm not a huge eater of dukkah as I find it quite dusty tasting but this one doesn't have any ground cumin or ground coriander which usually contributes to the dusty aspect and instead this is full of toasted seeds and nuts which is much more appealing. The ciabatta bread is soft inside and more like a Turkish bread and it is served warm and is excellent dipped in the olive oil and dukkah. The chicken liver pate is slightly coarser than how I make it and it is topped with a layer of aspic. It has a great flavour and is so moreish even though we don't intend to eat much of it we end up finishing it!
Pumpkin and coconut soup
The pumpkin and coconut soup is served with feathering patterns and is divinely smooth with the right amount of coconut and seasoning. And it is nice to have a big bowl of hot soup because whilst it isn't what one would call cold, it is chilly at night!
Pan fried duck breast $26.50
The pan fried duck breast comes topped with an onion confit and a tangy but sweet balsamic jus served with a lemon risotto cake. It's a sizeable serve and the duck is cooked right through.
Spicy Fish cakes served with fresh Greens and Mango Chutney $18.50
_
_
Creme brulee $9.50
Now what I didn't quite budget on was the sizes of the dessert. In fact this half scallop shell dish was deep and large (I didn't bring my measuring tape, sorry!). There is a thin toffee crust and the brulee underneath is smooth and redolent with lime and ginger. All I can think is how Mr NQN would love this. It comes with a portion of dragonfruit which reminds me of a mild kiwifruit (but in a vivid fuchsia shade) and a moreish vanilla butter cookie. The pistachio ice cream is more almond than pistachio (it's that pistachio paste that is mixed with the almond I presume).
Swiss Chocolate Mousse Authentic Swiss recipe $9.50
Using Swiss milk chocolate the chocolate mousse is enormous and boat sized! It has swirls of airy, smooth chocolate mousse, whipped cream and a vanilla butter biscuit on top.
Love this cover image!
I'm a little more full than I had intended, we had all intended to eat lightly this evening and we retire to our rooms where there's nothing but the sounds of silence. The walls are a little thin, I was watching True Blood on my laptop and I disturbed the fellow guest who could hear it from their room and came a knocking on my door.
In the morning I rise well rested having slept in complete silence. Who should greet me when I walk out to take a lagoon but a peacock. As you do...
And what do you think these white gossamer patches in the grass are?
They're spider webs!
Even though I'm not a breakfast eater, I do have a complete fear of being left without food so I make myself up a little roll to take with me with the cheeses and meats from the Continental breakfast. I know I'll never really starve but it's my safety blanket.
Rico the cockatoo watches
See ya! he says
Jaques Coffee
Our first stop for today is another coffee plantation in nearby Mareeba. The Jacques plantation has 25,000 arabica cherry trees spread over their 8.5 acre property.  Their coffee is distributed within Australia as opposed to Skybury's which is exported and the family has gone through several hardships and several crops to get to where they are today.
They also hold coffee plantation tours although they are from a bus and you stay on the bus and watch from the window. The tour has a pre recorded soundtrack and lasts for about 10 minutes (tickets are $15 for adults and $8 for kids).
Their plantation is insecticide and fungus free and they have over head irrigation as olive trees receive most of the nutrients through their leaves rather than their roots as they have a shallow root system.
Ice cream fruit
To supplement they also grow pineapple , oranges, mandarins and other topical fruit as well as an intriguing fruit called ice cream fruit which comes as a pod and if you place it in the freezer, apparently it tastes just like ice cream.
The Jaques family is originally from Tanzania in East Africa and they settled in Mareeba due to the eternal sunshine (it typically has 300 sunny days a year). The way their harvest the trees is to water stress the trees which brings the flowering into line at the same time so that the trees are ready at the same time. They use a harvester that beats the trees and then trims them so that they remain at a manageable and pickable height. The cherries that dry on the vine are still usable and are called buni.
We try a cup of coffee which is as expected quite good. The lure for a hungry me is the scones freshly baked and already spread with strawberry jam and whipped cream I don't think anything could beat a freshly baked scone and I enjoy them very much indeed. Every year they receive 50-60,000 visitors to the site.
Kuranda
**
**
On our way to the airport we stop by the town of Kuranda or as I immediately called it, Elliottville. Yep if Mr NQN's family ever founded a town it would look like this. We have a look at the markets which sells bric a brac, tie dye clothing, a bit of food (crepes, fresh fruit slushies, coconut water and Japanese tea). I buy Mr NQN a packet of mango roasted macadamias.
A colourful local
Is it ok to steal a little puggie?
The honey store on Therwine street has some interesting varieties all available for sampling including an avocado honey from the avocado flower as well as lychee, bloodwood and passionfruit which all comes from the plants as opposed to being infused with these flavours. The resulting honey does taste distinctive, the avocado has a slight unripe avocado flavour to it, the passionfruit has a touch of tang.
There is also a range of infused honeys with a gingerly, lemon myrtle, vanilla ( my favourite) as well as an intriguing garlic honey which would be good in cooking savoury foods (I'm thinking chicken wings).
And because it is lovely and warm I buy a cup of ice cream. $6 will buy you three flavours in a cup as well as perhaps a little chat with the ice cream vendor Cliff whose wife Betty makes the ice creams. Flavours range from from the regular ones as well as a banana and lemon, custard apple and dragon fruit ( not on that day), macadamia nut and black sapote aka chocolate fruit (again not available).
I tried the Ginger which is a strong Buderim ginger, mango which is more like a cream than a mango sorbet and a coconut ruff which is a milk chocolate with coconut pieces. The mango is the pick of the three.
Can you believe how much I ate? OK it was across the space of a few days but it's all in the name of research right? You believe me don't you Dear Reader?
So tell me Dear Reader,  do you eat more when you're on holidays?
NQN travelled to and Port Douglas and Queensland with Taste Paradise, Tourism Port Douglas Daintree and Tropical Tablelands Tourism.
Skybury Coffee
136 Ivicevic Rd, Mareeba QLD 4880
Tel: +61 (07) 4093 2194
Mt Uncle Distillery
1819 Chewko Rd Walkamin, North Queensland
Tel: +61 (07) 4086 8008
Nick's Swiss Italian Restaurant
33 Gillies Highway, Yungaburra Qld 4884
Tel: +61 (07) 4095 3330
Gallo
Malanda Road, Atherton
Tel: +61 (07) 4095 2388
Mungalli Creek
254 Brooks rd, Millaa Millaa QldTel: +61 (04)4097 2232Open 10am-4pm daily
Coffee Works
136 Mason Street, MareebaTel: +61 (07) 4092 4101
De Bruerys Boutique Wines
189 Fichera Road, Mareeba Qld, Tel: +61 (07) 4092 4515
Cedar Park Rainforst Resort
http://www.cedarparkresort.com.au/
Jaques Plantaion
232 Leotta Road, Mareeba QLD
Tel: +61 (07) 4093 3284