It wasn't a great morning. It started as all ungreat mornings do with a  6am wake up call and a loud groan coming from me.  The internet went down as it seems wont to do lately and I cursed irritatedly. I was running late so I contemplated driving into the city for a breakfast event but parking would be a bother. My stomach, awoken unexpectedly started to protest and growl in hunger as if to say "What have you done to me?".
And then I stopped myself. I was definitely having first world problems and the irony was that I was on my way to the media launch of a pop up restaurant that was designed to address a community issue and help a sector of society: refugees. The idea of setting up a restaurant that helped train former refugees interested in entering the hospitality industry was that of 22 year old Elle Formica she was mentored by actress Mirando Otto and her entry was chosen by the public to be brought to fruition. The original idea called Room For Thought was from American Express and is part of their Realise Your Potential campaign.
The restaurant is open for a mere three days and is located in the centre of the Sydney CBD. The idea behind the location and idea was to humanise and make the refugee situation more real for the public and doing it through food which is a common interest. Apart from a community project there is a fashion project with fashion category winner Kate Applegarth and mentor Peter Alexander and music category winner Dee Dimmick paired with musician Paul Mac and each of the three winners will get the venue for a three day period. Each category mentor selected the three finalists and it was up to the public to choose the ultimate winner in each category via facebook votes.
The restaurant on the ground floor is a Sudanese restaurant that seats 30 people and on the top floor is a Burmese themed restaurant which seats about 20 people with the centre level being the kitchen. The two cuisines were chosen as the two countries are in the top 10 of refugees coming into Australia. Elle tells us that she researched the cuisines and visited restaurants in Sydney that specialised in these cuisines as well as soliciting input from the refugees themselves. She tells us that she liked the idea of doing this in the CBD as it would expose people to these cuisines which may be unknown to them or not available in the CBD area. They also have professional waitstaff so that diners can stop and talk to the former refugees if they want.
All of the food has a suggested donation amount so that you can pay what you feel is appropriate but even the suggested donations are a very reasonable price with a three course dinner having a suggested donation of $20 or a lunch dish for $10. The suggested donations go back to training for the refugees on location and extra RSA certifications and all gratuities are donated to the UNHCR Famine Relief. A surprising challenge according to Miranda Otto was sourcing camel meat-they wanted local but unfortunately camels are a little scarce in NSW and they had to scratch that idea. The menu is a feature too-it is printed on seeded paper, you can soak it in water until soft and then plant it in a pot or in the ground and it should germinate in 7-12 days and should grow to become a Swan River daisy. Also the placemats have a background story and photo of the staff.
Roasted peanut biscuit (Sudan); Spiced orange syrup and pistachio cakes (Sudan) and Fenugreek and currant cookies (Burma)
I had to be honest, I thought that the food would be more a secondary consideration and the experience and idea behind it was the real attraction but I was very pleasantly surprised by the food. We get to try a good range of food from the menu. We start off with some items from the breakfast and afternoon tea menu which is available from 7:30am-11:30am and 4pm-6pm. There are biscuits and sweet morsels just begging for a cup of tea and I think they're more of morning tea items than breakfast items. The roasted peanut biscotti has a lovely flavour which I prefer to almond biscotti and would be great dipped in a cup of tea or coffee. The spiced orange syrup and pistachio cakes are moist and sweet and very moreish and the fenugreek and currant cookies from Burma look just like those currant cookies you would get in a box of assorted biscuits yet the fenugreek lends a lovely, unexpected flavour to them.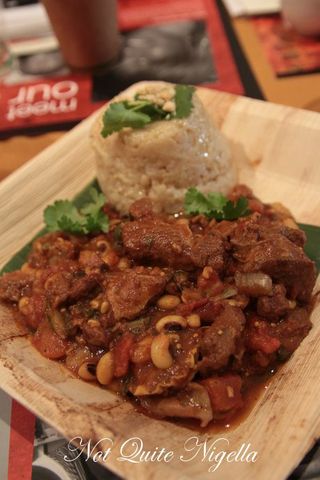 The lunch meals are served between 12pm-3pm and we start with the goat stew was slow cooked until the goat was soft and it was served with black eye beans, cashews, tomato, spinach and had a rich, robust flavour to it. It is paired with some brown rice which is sticky and wetter than I've had but I don't actually mind it with the stew.
We all loved the steamed sustainably farmed barramundi fillets from the Northern Territory, partly wrapped in a banana leaf and filled with a fine filling with coconut, tamarind and peanuts to give it a robustness and flavour. The fish is nicely cooked and still retains a moistness inside.
For the dinner courses we start with the Ful dip which is made up of mashed fava beans, garlic, tomato and green onions and light cubes of feta and is a very nicely balanced dip that I could easily finish all by myself. It is served with the flatbread along with some of the pretty stamens from the banana flower.
Dinner menu _starters: Selection of three dips with flat bread (Sudan)_
I realise how little I know about Sudanese cuisine and how accessible and close to what we eat nowadays it is. There are three dips, a sweet pumpkin and peanut dip which is sweet and smooth, an eggplant and yogurt dip which is also delicious and a cucumber and yogurt dip served in the banana leaf. They're all served with a buttery, pan fried, layered flat bread similar to a thicker version of a roti.
I must admit I wasn't quite as taken with these as I was the other dishes as they were a touch dry.
We try the peanutty salad of green papaya and mango flavoured with kaffir lime leaves and chilli with large plump and succulent prawns and served on a banana leaf with a banana flower petal. The serve is a good size especially for a starter and we are told that these are slightly smaller sizes than what would normally be served.
We were warned that this was spicy but I didn't find it spicy really (and neither did Peter Alexander who was sitting at our table and can't eat spicy food). The chicken was tender and juicy and served with chickpeas, tomato, brown lentils and okra and was also a crowd pleasing dish.
The last main is a vegetarian dish highlighted with tangy sour tamarind but still balanced enough with other flavours and it is filled with vegetables like carrot, beans, potato and small cubes of fried tofu which soak up the curry sauce.
_Dessert: Black sticky rice with mango salad and toasted coconut ice cream (Burma) in foreground, _Crema Caramela (Sudan) in background
The black sticky rice is always a favourite of mine and here it is served with a sliced mango cheek salad and a toasted coconut ice cream. The crema caramela is inspired by a similar Sudanese dessert and has a nice creamy and jellied texture with a caramel layer of syrup.
We make our way up to the kitchen but they're at the end of the service. Interestingly many of the refugees are in waitress roles and Elle tells me that is because they chose those roles as they prefer to be on the floor and it improves their communication skills.
I sit down and talk to our waitress Marlin who hails from Sudan and is 19 years old. She tells me that her journey as a refugee started when she was 10 years old and as a result she has very few memories of Sudan. She arrived here 5 years ago in 2006 after living and waiting in Egypt for four years. They had originally gone to Egypt in the hopes for a better and safer life but found that the conditions there were similar to that of Sudan. A family friend in Australia sponsored them and it took about four years of waiting for them to become approved to live in Australia which is where she says that she found better life, education and health. She has seven sisters and brothers and she and three siblings live here with her parents while the other live in areas as scattered as the United States, Uganda, Holland and Egypt; as they were 18 at the time they didn't come over on the same refugee status.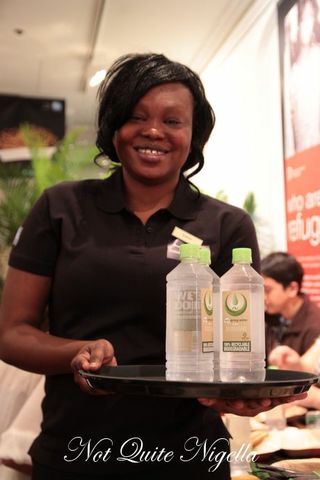 She along with the ten refugee workers were selected from the Fairfield Migrant Resource Centre. Here she learns training like how to talk to customers, clean really well, hold a plate and about personal hygiene but she is currently studying Business Admin Certificate 3 and her ultimate dream job is to be a bank manager "or something bigger than that." And what does she think of the food? Well she says that it is authentic and exactly what they would have at home.
Elle's idea for the restaurant was conceived and formulated for the competition and  tells me that she was inspired by the Melbourne based firm Social Studio who provide training for refugees. She was also influenced by the SBS series Go Back To Where you Came From which she felt humanised the refugee situation and she used food as it is a universal language. "Refugees because of their background find it hard to get jobs and face discrimination...when talk becomes a generalisation that becomes a problem"and she wants to celebrate rather than criticise what refugees bring to the country. Her aim with the additional $10,000 grant given to her as a surprise by American Express is to continue her social enterprise work by pairing with celebrity chefs and established restaurants and setting up special dinners on nights when the restaurant is closed. The only shame of course being that this restaurant is only open for three days!
So tell me Dear Reader, do you have any friends, family or colleagues who are refugees? And what do you think of the idea of this restaurant?
The Drummer Restaurant
72 Erksine Street, Sydney CBD, NSW
Tel: +61 (02) 8333 0010 (booking recommended although spaces are held for walk-ins)
Open Wednesday 14th September to Friday the 16th of September from 8am-10pm
Check in on facebook to get a complimentary dessert