Vi·king? ?[vahy-king]
noun ( sometimes lowercase )
1. any of the Scandinavian pirates who plundered the coasts of Europe from the 8th to 10th centuries.
2. a sea-roving bandit; pirate.
3. a Scandinavian.
4. U.S. Aerospace . one of a series of space probes that obtained scientific information about Mars.
Probably not the last definition in relation to the dinner.
I tend to feel a connection to Nordic countries through the half Finnish Mr NQN although from all reports his family were the opposite of Scandinavian pirates. Rather they were a several generations long vegetarian family who treaded gently on the earth which is quite the opposite image of a Viking really. And even though Finland isn't technically part of Scandinavia nevertheless Mr NQN and I are making our way to our first Crave event of the month - a Viking Feast chosen because I wanted to try an event that was unusual and something that was unique to Crave.
And where do Vikings dine? Well tonight they dine at a photography studio, Studio Neon which also has a liquor license and a commercial kitchen where chef Bec Chippington is busy preparing the food. There's a large rustic share table fit for a longship of Vikings and because it is a photography studio, a range of props that the stylist inside me covets.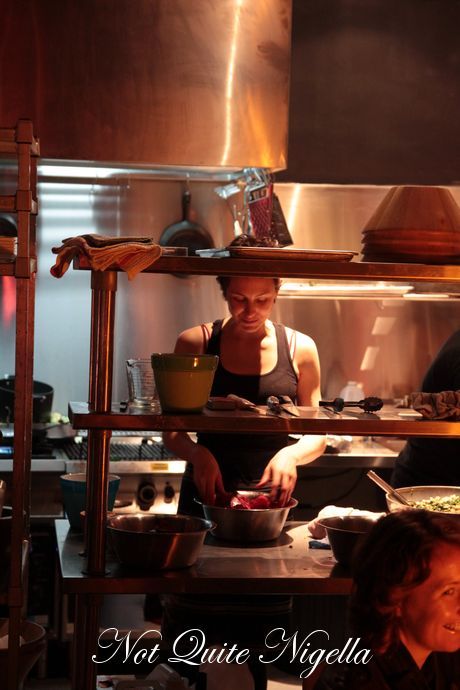 Two old model tvs are on the visible blink and there's a range of chairs in every which style you would want. There are candelabras with dripping white wax as well as imposing and intricate cast iron chandeliers. And I almost expected someone with a horned helmet to greet me although it seems the Viking theme is only lightly referenced at this dinner (probably a saner idea than the Swedish dinner party we held with friends years ago where we ate Swedish food, drank Swedish drink, listened to Swedish music and got dressed up as famous Swedes).
We take a look at the menu on our tables which features smoked salmon, sardines, venison and lamb with five courses in total and for the price of $140 you also get four drinks included. Studio owner Matt Lee explains that the menu was more a homage to what Vikings would eat if they lived in Australia because once they researched Viking food, it wasn't as appealing as once thought. I am sitting next to a Swede and he says that if it were a modern day Swedish feast the first three courses would be herring!
Cucumber pickles, lemon myrtle smoked salmon, cured sardines
We're asked to sit down and they make their introductions and chef Bec explains the food for the evening which starts coming out straight away. They are placed on round wooden Lazy Susans perfect for sharing (me wanty!). The thin, round sliced cucumber pickles are sharp and tangy and a nice contrast to the lemon myrtle smoked salmon which doesn't really have much of a lemon myrtle flavour to it and needs a little salt. Also on the platter are cured sardines-and I'm not a big sardine eater but they are good and meaty with a robust saltiness.
Beetroot carpaccio with buttermilk, potato salad
The servings were on the generous side (appropriately Viking sized I suppose) and I really liked the paper thinly sliced beetroot carpaccio with a foamy buttermilk sauce which had a generous kick of chilli although I hear another guest saying that the chilli is too hot for her and the platter closest to Mr NQN has no chilli in it at all so there may have been an uneven chilli distribution. The potato salad had smoked duck eggs which imparted a distinct smokiness to the kipfler potato salad and there was a bit of crunch from the thinly sliced radishes. There was said to be brie and fennel in this but I couldn't see either of those ingredients.
Braised venison shank
Onto the main courses and they are quite meat heavy with two main meat courses. Bec explained that she took the meat off the bone because everyone was sharing  with strangers but left the bone for display purposes. It's certainly Viking looking insofar as your image of strapping Swedish men in horned helmets eating food with their knives goes. The enormous venison shank is slow braised with tomatoes and the venison meat, usually served rare, obtains a gamey flavour from the slow cooking. It is filling and at this point I start to get quite stuffed. Which is a shame because we have another meaty course, sides and dessert to come!
Sorrel and snow pea shoot salad with hazelnuts
The salad with sorrel and snow pea shoots had a light, creamy dressing and roasted whole hazelnuts. I always find snow pea shoots quite grassy but when the salad is combined with the meat and the leeks then it becomes quite nicely balanced.
Charred spring onion leeks with prunes
The charred spring onions with sweet prunes were sweet and went very well with the braised venison and sorrel and snow pea shoot salad.
Roast leg of lamb with ale, honey and thyme
The roast leg of lamb is sliced thickly and is flavoured with ale, honey and thyme which is a nice flavour combination although at this point I was too full to contemplate more than one slice especially as I had filled up on the addictively sweet corn and chestnut salad below as that came out first.
Char grilled corn on the cob and braised nettle, chive and aged cheddar
The char grilled corn on the cob is sweet and juicy cut straight from the cob with a cleaver and has rough halves of chestnuts in it as well as a whole corn cob but most people leave the whole cob behind perhaps not wanting to appear greedy as you can't really share a corn cob with a stranger (well you can, but you know what I mean ;) ). The braised nettles with green lentils and chives and a creamy dressing are quite gritty although I quite like the flavour but the grittiness lets it down.
Apple and almond cake  with cinnamon custard
It's 9pm and dessert time. The Swede sitting next to me did say that this cake was certainly something that would be served up in Sweden. You can smell the buttery cake as it is brought to the table and even though I reached satiety several courses back I have to have a second helping It's a moist buttery almond cake topped with apple slices and then drenched in a smooth, silky cinnamon custard. And yes I asked Bec for the recipe which she promised to share. It is about 9:30pm when the food has all come out and been eaten people eagerly scraping of the last bits of the luscious apple cake.
So tell me Dear Reader, do you like or hold country themed dinners? And have you been to any Crave events so far this year and if so, what have you enjoyed?
NQN and Mr NQN dined as guests of Destination NSW and Studio Neon
Viking Feast
Level 2, 136 Raglan Street, Waterloo, NSW
Tel: 0404 555 098
http://www.studioneon.com.au/restaurant-bookings/
Tickets to the Viking Feast are $140 per person, the next Viking Feast will be on the 13th and 14th October, 2011