It was a Taylor Swift concert that had me undone. On my way with plenty of time to spare, I hit a road block where cars inched forward gradually in increments of inches. Neck craning, cursing and general confusion reigned in the streets near the concert. Luckily my sometime vegetarian friend Laura was on time and was holding the table at Rushcutters. And by a stroke of luck a parking spot emerged right next to the restaurant and I rushed in.
Located on Neild Avenue where the eponymous restaurant once sat, it looks like quite a different space. Open, airy and green, Rushcutters is designed to be an all day dining venue with room for cooking classes and markets (commencing early 2014). There are plenty of spaces at which to sit from the main dining room, to the bar to banquette facing tables on the right. I take a seat in a comfortable chair in the middle section of the main dining room.
The menu features the produce from the Hawkesbury region as well as the new farming venture by Longrain chef Martin Boetz. The farm is called the Cooks Co-op at Sackville in the Hawkesbury which he has had for about a year. We're told that about 80% of produce on the menu comes from the 28 acre farm.
A huge spray of asparagus ferns adorns a large share table while a massive fern hangs from one wall. "We feed it bananas" our waiter tells us and I'm not sure if he's joking or not (he assures us that he is not). Service is friendly and knowledgeable for the most part and they take us through the menu which starts at small dishes and progresses towards heavier ones. Head chef Kasper Christensen is from Denmark.
Our first dish is the sardines and they end up being our favourite dish of the night. It's an enormous serve for an entree and features fresh pan fried sardines, pickled red onions, rosemary, almonds, roasted tomatoes and lemon zest curls. It's a dish full of flavour and punch and the sauce is perfect for mopping up with the bread or spooning on another dish.
The school prawns are tossed in tapioca flour and then flash fried til crisp. They come with a green sauce that tastes like herbs and peas. The dish needs a drenching from the lemons and we would have loved an aioli or something to dip the crunchy prawns into.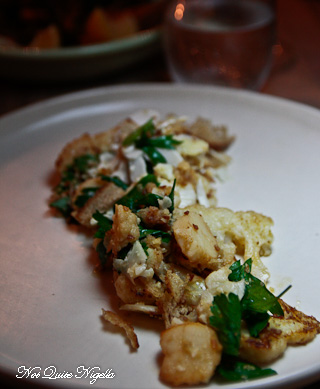 Sometime vegetarian Laura is actually a pescatarian as well so we ordered the sea scallops. It's another sizeable portion and would qualify as a main elsewhere. There's a generous number of sea scallops and these are a tad overcooked. They come with cauliflower floretsm parsley and grated cheese and the dish is very mildly flavoured, especially after the bold and flavoursome sardines. We would have loved something like a cauliflower puree as an added creamy texture to the dish.
"Are you sure you want the rest of your meals?" our waiter asks us. Little does he know how much two petite girls can eat. The potato dumplings spark some debate - they taste like polenta dumplings to us and have the same fall-apart texture and distinctive polenta flavour but the waiter tells us that they are indeed potato. They come with a burnt butter, parsley and prawns with a strong prawn flavour. The burnt butter is quite mild and not as nutty as we were expecting with the prawn flavour dominating and there's a good amount of prawns in this dish.
The corned veal brisket is enormous and enough to serve two which makes the pricing all the more curious. It's buttery soft and comes with sour cream, malt and a canopy of braised kale on top. It goes well with the side dish below.
This was a recommendation from our waiter and it was a goody. A simple side dish it had ribbons of grilled zucchini, parsley, a dash of lemon, garlic and crunchy rye seeds on top.
Admittedly, we were quite confused by the pricing - most of the dishes were very well priced but a dessert at $26 just seems out of place. A new waiter explains that the strudel is not what you'd expect strudel to be so intrigued, we order it. Except that bless his cotton socks, it is just like a strudel is meant to be except there are four serves of it! Four slices of strudel is a lot of strudel served with a very, very vanilla beany ice cream. There's a nice crunch on top from the flaked almonds and raw sugar although the raisin filled jammy strudel is too sweet for salt loving Laura but the level of sweetness suits me just fine. We're just not convinced about having four serves of it.
Described to us by the waiter as like a panna cotta, it's actually nothing like a panna cotta. It's more an Eton Mess with crunchy biscuit, white chocolate mousse, blackcurrant sauce with the strong aroma of lavender. It's for those that love the floral lavender scent while others may wonder if it is too soapy. The blackcurrant sauce goes a long way to balancing it.
As per the usual, we end up with some dishes to take home-we both love eating but hate waste. And of course, we are one of the last to leave too.
So tell me Dear Reader, how important is pricing when dining out? Do you always look at the prices before you visit a restaurant? Is value important?
Rushcutters
10 Neild Avenue, Rushcutters Bay, NSW
Tel: +61 (02) 9326 9348
Weekdays - 7:00am til late
Weekends - 7:30am til late
www.rushcutters.com.au