Dear Reader, what do these two pairs of women have in common?
Oprah and Gayle
Thelma and Louise
They both went on a road trip across America. Vastly different ones mind you but road trips nevertheless. My friend Belinda and I were discussing food one day and she told me that she adored a site called www.roadfood.com.
Roadfood is dedicated to the quirky little places that you find while driving through the country or deserted roads through America. Places might be homely, they may be mom and pop eateries, they may be slightly eccentric but one thing was for certain - they are full of great eats and great stories and food that you wouldn't see anywhere else. We'd be seeing the real America the way that we wanted to.
After more discussions, we met up several times beforehand over dinner and mapped our route - we'd be driving across country pursuing areas that had piqued our interest through television shows (Breaking Bad, True Blood) and stopping on the way for road food meals. Both Belinda and I had never travelled together but we've known each other for years and we have the same style - we can eat anywhere no matter how quirky or crazy but our hotels would have to be five star. I figure that's where tensions arrive with travelling companions if someone wants to go budget while the other one doesn't.
So there we were. We were in Los Angeles and were about to commence on our road trip. My wonderful "mum" Barbara from Barbara Bakes was terribly worried once she saw our schedule. Even we are unsure and are certain that we would be the only people in America that weren't armed with a gun (yes too much Law & Order). "Pepper spray! We need to buy pepper spray or a taser!" we say to each other. Yet, every single person that we had told about our trip wanted to come along. Barbara was even joining us for the Dallas portion of the trip.
L.A. to Indio: 2 hours
The drive from Los Angeles is riddled with minor obstacles. The car pick up is hard to locate and once we finally arrive we find that the car we reserved isn't there. There is a mix up with the GPS ordering and only car with a GPS is a Chevrolet Tahoe which is enormous and like driving a boat.
An hour later than scheduled, we are on the road. We're listening to our GPS trying to make sense of the morass of intersecting roads and highways in LA while Belinda tries to concentrate on driving on the other side of the road.
Once we hit Interstate 10, we eagerly shout out names of the fast food places that we've seen on television and in movies. The view turns into an expanse of wind turbines, their long white arms moving the time to music as if a troop of dancers were issuing our way through the desert and the sun shines boldly through the glass.
Broken tyres litter the highway and we pass a sign for "Desert Centre, population 125." There seems to be endless tufts of desert grass against a background of the wrinkled surface of the Santa Ana mountains.
I point out a sign to Belinda that reads "State Prison" and then there's another sign under it saying "Do not pick up hitchhikers" and we look at each other raising our eyebrows before bursting out laughing. Which leads into a discussion where she tells me that she was a penpal of a prisoner in Florida. As you do.
After two hours of being overtaken by practically everyone on the road we arrive at the town of Indio, a pretty town with Spanish style buildings. Our first port of call is the Shields Date Gardens where they make their famous date shakes.
It's blisteringly hot when we get out of the car and we rush inside to soothe ourselves in the air conditioning. There are a range of shake flavours but we go for one original date and while they make it, we walk around the store.
Date shake $4.95USD
The date movie (get it?) is at the back and I start to open the door to go on although it is closed. I pick up my shake at the counter. It's enormous and heavy and they give us two cups - they're very well aware that the shake is filling and it's a delicious milkshake with a good amount of sweetness to it and that rich date taste.
There are also free date tastings including fresh yellow dates, date crystals, dates rolled in oatmeal as well as quirky items for sale in their gift shop.
I am also curious about a range of calorie free food and I inquire about a jar of apparently calorie free peanut butter. The sales assistant says that it is popular and tastes just like peanut butter. I hand over the $5.99 and ask for two spoons and we head back to the car.
I dip a spoon in and try a little. It's quite easily the worst thing that I have eaten in over ten years. I'm not sure who thinks that this tastes like peanut butter but it doesn't at all. It doesn't even taste like food...
"We've got to buy some fruit and something healthy to snack on" I say determined to balance our meals. Unable to find a supermarket, we stop at Walgreens where we emerge with bottles of water, coffee, bags of Ruffles, oatmeal bars and Funyuns - giant onion flavoured rings. There was no salad or fruit there I promise...
Indio to Blythe: 1.5 hours
Back on the road, we follow the I10 again and one and a half hours later, we arrive at "Steaks and Cakes" in a small town called Blythe, California. I mean people like us just cannot resist a name like that.
It's exactly what you'd expect from a small town diner. Two pairs of men sit at separate tables nursing cups of brewed coffee and sweet tea. Our waitress is a Kaley Cuoco lookalike and is bright and chirpy and offers a seat at any table.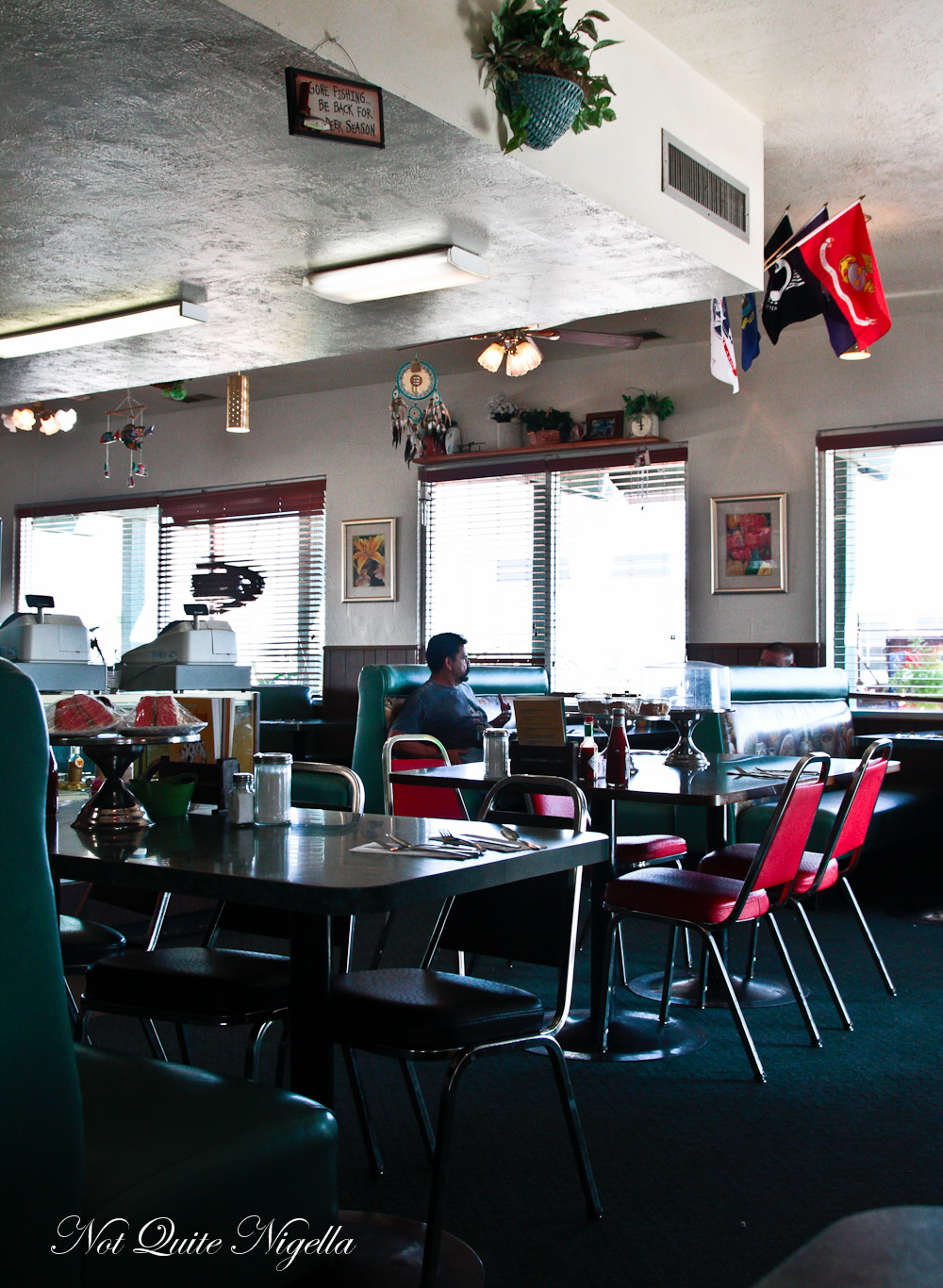 A Yelp reviewer had said "4 out of the 5 waitresses there had gigantic hickeys" which was why he visited but we must have gotten the fifth because I checked for signs of hickeys and there weren't any.
On the table are books like "The joy of being broke" and "How to share a bad attitude." At the back of the restaurant is a small rack of second hand clothes for $1 each. But serendipitously and unexpectedly, they have free and fast wifi!
Chicken fried steak meal $6.99USD
The offer for a cold drink is fast and I take a raspberry tea. It's icy cold and refreshing. We ask what's good and Kaley II tells us that today's special is a chicken fried steak with mashed potato, beans and Texas toast. What is Texas toast? Well it appears to be toasted white bread with butter and garlic salt. The chicken fried steak has a peppery, thick, creamy white sauce on top and the mash gets the same treatment.
Lo-cal Plates $7.69USD
I also order a low cal plate because I think I saw it on The Golden Girls about fifteen years ago and it's not the kind of thing that you tend to see in Australia. It's four triangles of caraway toast, a pot of cottage cheese, a hamburger patty and a pot of cling peaches. It's the kind of food that I'd imagine that they might serve at nursing homes minus the patty.
Strawberry cake
"Do you mind if I pretty this up for you?" our waitress says and she adds cream and strawberry topping. It looks pretty but it's very dry and I'm not sure when it was baked. A better bet might have been to go for the apple cobbler.
As we leave we spot a shirtless man with a baby stroller. He lays out a towel and stretches and lies on it in the shade in the the 40°C/104°F degree heat. Belinda turns to me and gasps. "Oh my god! I've only just noticed the rear view mirror! I've been driving using the side mirrors the whole time" she says laughing.
Blythe to Phoenix: 2 hrs, 15 minutes
There's a long stretch of drive as watch as the sky turns blush pink to dusk. We pass signs like "Sore Finger Road" and "Coyote Wash" (not a washing station for your pet coyote).
Belinda turns to me "Look I like Chris Isaak as much as you do but..."
"But what?" I ask innocently.
"But we've heard Wicked Game three times now" she says grimacing as if talking to a mental patient.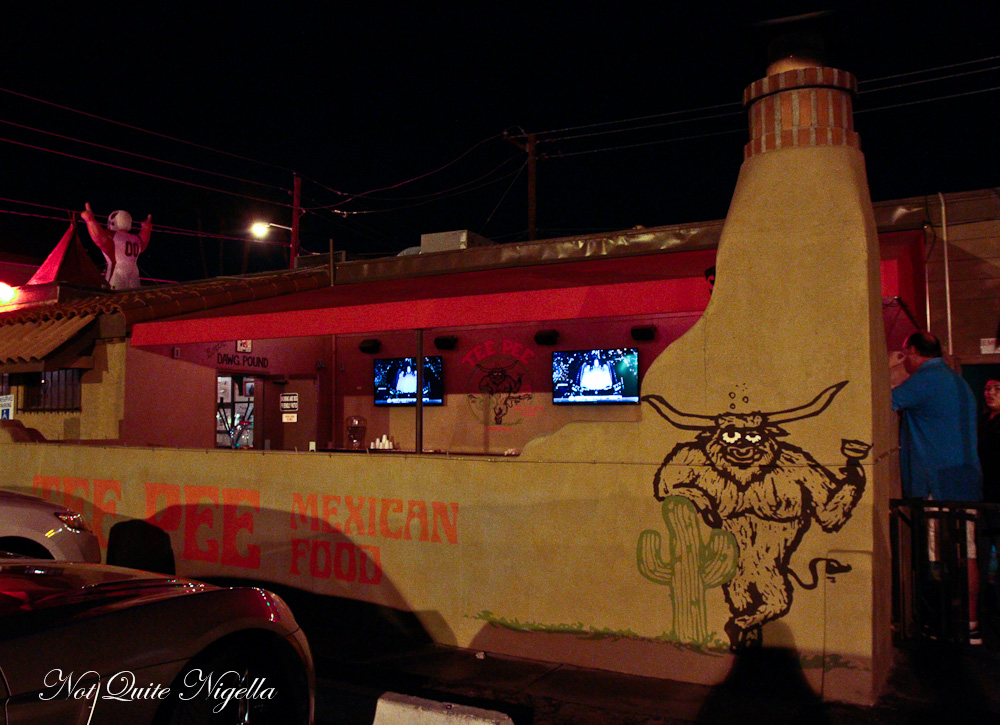 We arrive at Phoenix around 8pm that evening but what we hadn't quite counted on was that Sunday night is a quiet in Phoenix and all three restaurants that we had on our schedule were all closed by the time we arrived. We quickly search for an alternative and find it at Teepee Mexican food, a fifteen minute drive away.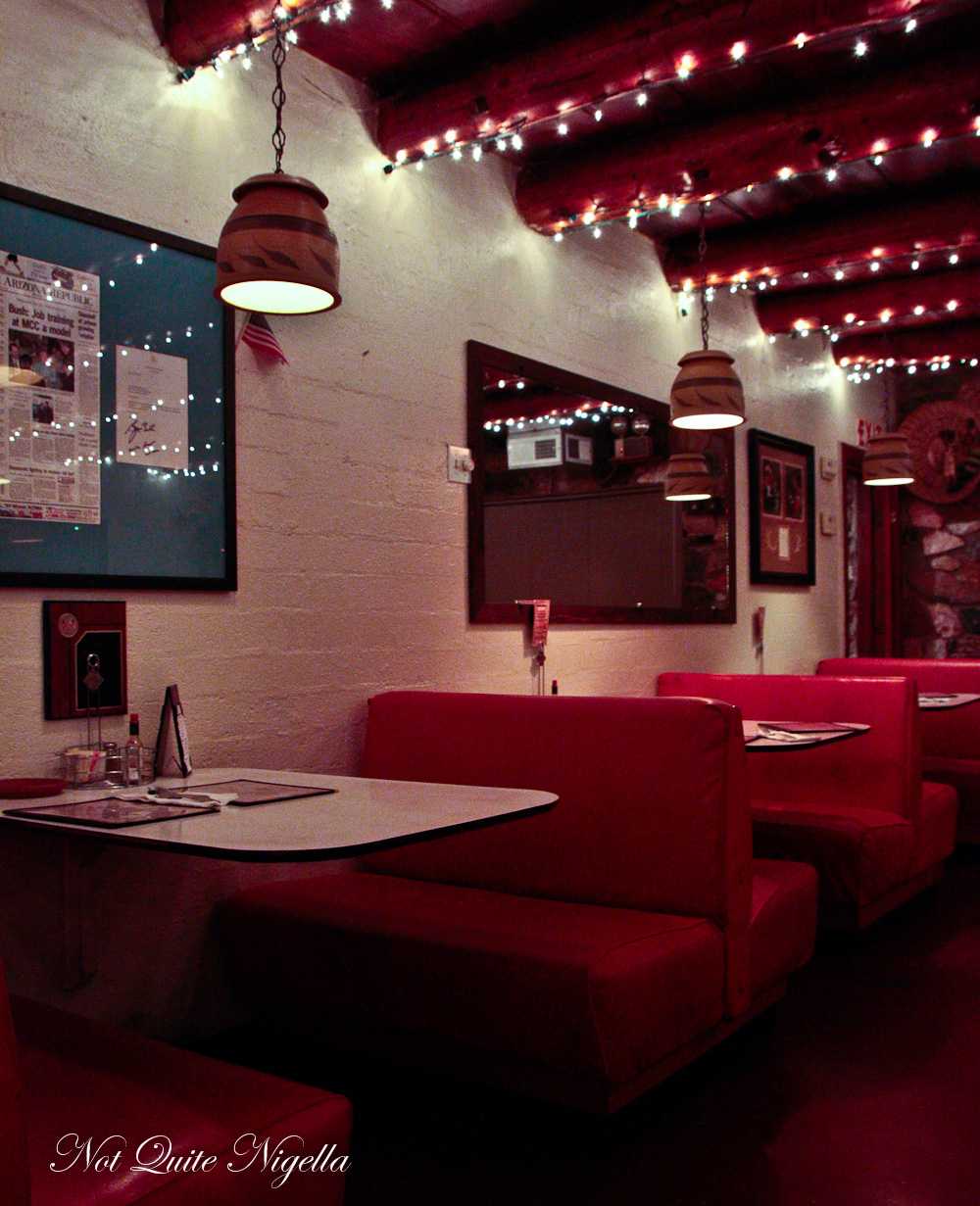 The presidential booth
You definitely know that you've ordered too much when the waiter gently suggests that you move to a larger table. We pick up our bags and move to a bigger table which incidentally turns out to be the table at which former President George W. Bush sat.
There's a letter from the White House thanking them for their hospitality. Crispy corn chips and salsa hits the table.
Homemade Albondiga Mexican Soup $6.00USD
The soup is the first to arrive. It's a meatball soup with two large meatballs and a vegetable broth with pieces of pepper, carrot and cabbage. It's a tasty comforting soup.
Machaca Chimichanga $10.50USD
The plate of chimichanga is enormous and I think immediately of Mr NQN who would happily and greedily polish off the entire plate. The chimichanga is filled with soft beef and sits under a blanket of melted cheese with rice, refried beans, tomato, lettuce, guacamole and sour cream.
Tee Pee Original Chili Relleno Dinner $12.25USD
The piece de resistance is the chilli Rellenos. We've had chilli rellanos before and we were expecting something similar. But when our waiter checks our order and mentions the seven egg omelette I am perplexed but I shrug it off with a bright "Of course, that's fine!". Well what came out was nothing short of enormous.
Seven egg whites are whipped and served as an egg souffle. Underneath is a bed of melted cheese and green chillies. To the side is a plate with Mexican tomato rice, refried beans, melted cheese and a flour tortilla wrapped in foil. There's also a bowl of mild Spanish sauce which tastes like a sauteed vegetable medley.
We listen to whooping and hollering as the crowd in the adjacent bar watch the football. We drive back to our hotel, the Palomar which is a modern boutique hotel with quirky touches, lovely furnishings, designer skin products, free wifi and a extraordinarily comfortable bed (although the drilling and construction at 7am the next morning was very unpleasant!).
As we round the street for the hotel we notice a police car and Belinda shrieks "Oh my god, I've just driven down the wrong side of the entire street!"
So tell me Dear Reader, do you enjoy road trips? And do you get nervous driving on the other side of the road?
Driving times:
L.A. to Indio: 2 hours
Indio to Blythe: 1.5 hours
Blythe to Phoenix: 2 hrs, 15 minutes
Shields Date Gardens
80225 California 111, Indio, CA 92201, United States
Open daily from 7:00 am to 2:30 pm for breakfast and lunch
www.shieldsdategarden.com/‎
Steaks and Cakes
1871 E Hobsonway, Blythe, CA 92225, United States
Phone:+1 760-922-4241
Tee Pee Mexican Food
4144 E Indian School Rd, Phoenix, AZ 85018, United States
Phone:+1 602-956-0178
Sunday to Thursday 11:00 am – 9:00 pm
Friday & Saturday 11:00 am – 10:00 pm
teepeemexicanfood.com/
Hotel Palomar
2 E Jefferson St, Phoenix, AZ 85004, United States
Phone:+1 602-253-6633
www.hotelpalomar-phoenix.com/‎