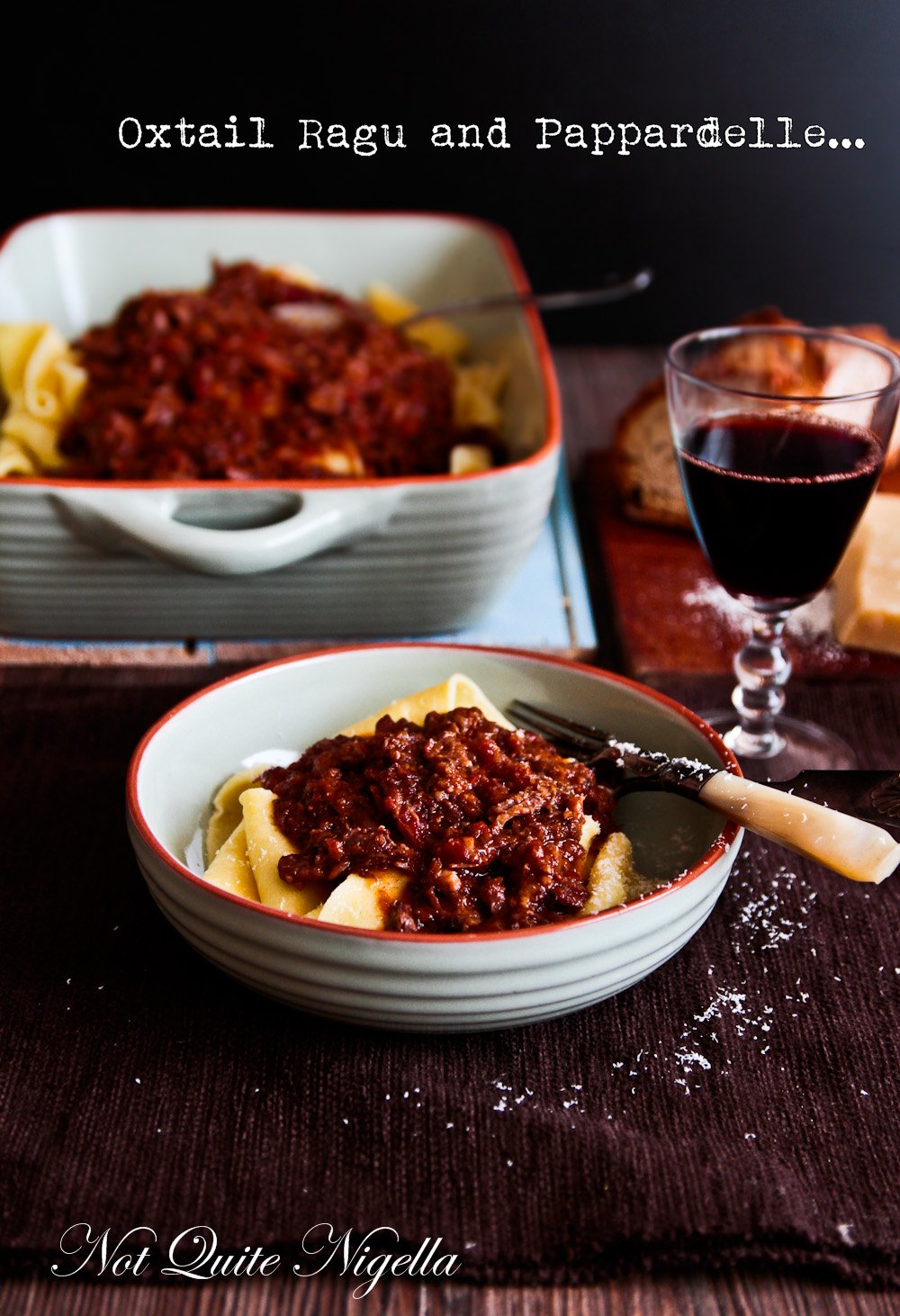 "It concerns me that we're shopping in the pet food aisle," Mr NQN said to me as I popped a couple of packets of oxtail in the shopping trolley.
I like shopping in pretty much every type of store except hardware stores and even grocery shopping excites me. But not Mr NQN, he loathes the task. So he was suspicious when I grabbed two trays of beef tail or oxtail and added them to our shopping.
I should clarify in case you are as alarmed as he was, that we weren't quite buying from the tinned pet aisle. I had found the oxtail among other dog friendly treats like pigs ears and marrow bones. I promised Mr NQN that out of what sounded like an unappetising ingredient would yield a delicious ragu for home made pappardelle. He still gave me a dubious look though.
This is a perfect dish for winter or if you are in need of something delicious and comforting. It is delectable enough to serve to guests as the ragu is cooked until fall apart soft, the gelatin rich bones imparting all of the marrowy goodness into the sauce giving it that distinctive creamy mouthfeel. Oxtail is an economical cut with the 1.2 kilos of oxtail coming in at just $12. Much of it is bones that you will discard but there is also plenty of meat there too. The tail is cut into short lengths and bundled up together so that they look almost like flowers.
Cooking the oxtail is a very easy process and really just requires patience. How much patience you're willing to expend determines your cooking vessel. It can be cooked in a slow cooker for 8 hours, in a cast iron pot for 4 or in a pressure cooker for 2 hours.
I've also given the recipe for home made pappardelle although of course you can always buy the pappardelle. My pasta machine decided to break just as I started to roll this out so I rolled the dough out by hand with a rolling pin. Let's just call those thicker pieces "hand made" variations shall we? ;) The recipe below serves four people if you're serving this with bread and a side salad. Oh and it helps if your significant other doesn't pipe up to guests that the oxtail was bought in the pet food section!
So tell me Dear Reader, do you like to cook with non prime cuts? Have you ever cooked oxtail before? And which cooking vessel would you choose out of the three?
DID YOU MAKE THIS RECIPE? Share your creations by tagging @notquitenigella on Instagram with the hashtag #notquitenigella
Oxtail Ragu with Pappardelle ##
An Original Recipe by Not Quite Nigella
Preparation time: 10 minutes for ragu, 25 minutes for pappardelle
Cooking time: 2, 4 or 8 hours (depending on how you choose to cook it) for ragu, 5-10 minutes for pappardelle
2 tablespoons olive oil for frying
1 onion, peeled and diced
2 carrots, diced
3 sticks celery, diced
4 cloves garlic, peeled
2 bay leaves
1.2kgs/2.64lbs oxtail
1/4 cup porcini mushrooms soaked in 1/2 cup hot water
410g/14oz tin crushed tomatoes
1/2 cup tomato paste
1 cup red wine
Salt, pepper and sugar to taste
Wedge of reggiano cheese to serve
Pappardelle
3 cups 00 flour
1.5 teaspoons salt
4 eggs at room temperature
3/4 cup water (or thereabouts)
Step 1 - In a saucepan, saute the onion, carrots, celery and garlic in the oil until soft. Add the bay leaves, oxtail, porcini mushrooms including the soaking water, tomatoes, tomato paste and red wine. If you are making this in a pressure cooker, set it to high pressure and cook for 2 hours 10 minutes. If you're doing it on a stovetop, simmer it for four hours with the lid on and in a slow cooker, cook it for 8 hours. When it is ready, the meat should come off the bone easily with a couple of forks.
Step 2 - To make the pappardelle, place the flour, salt and eggs in a mixer fitted with a dough attachment. Add the water in and knead until elastic. To do this by hand, place the flour on a board and make a well in the centre. Add the eggs and combine and then knead adding as much water as necessary to create an elastic dough. Wrap in cling film and rest at room temperature for 1-2 hours.
Step 3 - Divide dough into six pieces and roll through a pasta maker making sure to dust the pasta machine and dough with flour until you get it as thin as possible without tearing. Start on 0 or the widest setting and keep putting up by one increment. Cut into thick ribbons. Allow to dry for 10 minutes and then store on parchment or boil in plenty of salted boiling water for 1-2 minutes until cooked. Serve with the ragu with some reggiano on top.