Don't wait until Winter to head to the Blue Mountains. Autumn is a stunning time to visit with vividly coloured foliage lining the streets of areas like Blackheath. Lavender Manor in Blackheath accommodates groups from 2 to 15 people in family style comfort. There's on site massages and wine tastings to make your stay even more special!
It has been an hour. I'm hunched over, staring intently, anxiously awaiting a response.
The fire remains silent, an occasional flicker showing a weak sign of life. And I've never felt as "city" as I do now.
I am at Lavender Manor in the Blue Mountains, on a weekend away with friends. I've arrived earlier, keen to get photos while it is still light. Driving through the streets of Blackheath I marvel at the tunnel of colour from the Japanese Maples and flame trees on the roads. Although everyone loves visiting in Winter, I'd say Autumn comes a very close second.
The butler Andrew has already lit a fire this afternoon, a roaring beast, enviable with its crown of flames. As for mine, I stick another piece of kindling in before I go off to watch a youtube video on how to build a fire. The fire contemptuously small.
Lavender Manor is as the name suggests a lavender hue - when I was driving down the street the dead giveaway was the lavender painted house. It sleeps up to 15 people and is used for girls getaways or groups of friends as is the case this weekend.
I had stayed at their sister property Lavender Majestic a couple of years ago in Katoomba. This property is a different proposition: it doesn't have the full butler service and isn't the glamorous princess stay of Lavender Majestic. Lavender Manor is more of a down to earth stay for those that want more privacy.
You are still spoiled though. Food platters are included in the accommodation package. There is a platter from local Blackheath deli (soon to transform into a fromagerie) The Little Piggy Wiggy including mushroom, feta and walnut tarts, two types of crackers, Le Delice de Cremieres, Brebirousse D'Argental, Ashgrove Vintage Cheddar and Wyngaard Chevre Affine, fresh figs and black grapes.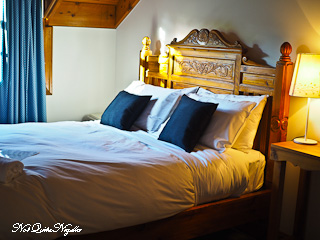 A breakfast/sweets hamper from Whisk & Pin also sits on the kitchen counter that has pancake mix, rocky road, toasted muesli, jam, nuts and honey. There's two light and full cream milk UHTs in the fridge too and tea and a coffee machine. There's also a boxed set of Lavender bath products for guests too.
There are four rooms and three bathrooms with rooms having various configurations of beds. One of the three full bathrooms has a bath while the others have showers and basic fitouts (the bathrooms do tend to be a bit chilly). And Mochi? Yes she gets to come along-they've even left a water and food bowl for her!
Everyone else is driving up a bit later when they can leave work and so I pop the roast dinner that I've picked up from Vesta Blackheath. You can order their fantastic roast lamb or roast chicken with roasted vegetables and gravy with just half an hour's notice and they also include a half loaf of their house baked bread too. The oven at the manor isn't strong so you'll need a bit of extra time to cook things although the gas stovetop is fast.
Around 7:40pm the car lights flash in the driveway and everyone else has arrived. "Oh my god, I thought that would never end!" said Nina followed by Garth and Mr NQN. With peak hour it took them four hours and they are all ravenous. I have finally got the fire going and I hand over the fire task to Mr NQN. The combustion stove although it looks impressive doesn't really heat that much apart from what is in the immediate vicinity.
The evening involves stoking the fire, drinking wine and eating copious amounts of food. Do you ever feel like you could live on cheese and crackers? The cheese selection is superb and after dinner we go upstairs to choose rooms. We take the one with the ensuite (the bed layout is a bit odd as there are two beds in the room but I guess it is to sleep 15 in total) and Nina and Garth choose another.
The next morning I get up with a pane of light streaming through the curtain. The chilly night has given way to a sunny morning and I prepare breakfast. It's avocado toast with beetroot tzatziki, lemon and chilli while Nina and Garth go out and buy coffee and tea.
At 10am we have our massages and facials booked. Each person that books a package has either a 45 minute massage or facial included (facials are $25 extra). The treatments are in the small house adjacent to the main house and there are three treatment rooms.
My therapist is Helen, who did the fabulous facial last time at the Lavender Majestic. Her massages are very good but her facials are worth the extra tariff. She uses Biodroga products and includes a generous amount of massage in the facial. When the exfoliant acids go to work for 10 minutes I get a head massage and while the mask infuses for 10 minutes I get a foot massage. She keeps me warm by bundling me in blankets with the heaters going.
After the massages we change and hit the road for some antiqueing where we become besotted with a Mongolian woven hanging which we buy for our apartment. Then we are on our way to Dryridge Estate in the scenic Megalong Valley.
Lavender Manor can provide transport there and back for guests as the drive is quite winding with a long dirt road and it's best not attempted if you have an afternoon of wine. But since I'm such a cheap drunk I am designated driver using Nina's car-which I have no driven before, eeek!
The view from the Dryridge Estate open cellar door is spectacular. With Narrow Neck escarpment and Megalong Valley below and the Great Dividing Range in the west we are blessed to have a sunny day. We take a seat at one of their outdoor tables, throw balls to the tireless and adorable Groodle George and taste a flight of 6 of their wines along with a cheese and cold cut platter.
We start with an Isabel 2016 dry Riesling that can be cellared for up to 5 years. This is said to be good with seafood. The Olivia Riesling is made with the same grapes but with some residual sugar still in it. Then we try a lightly oaked Chardonnay that goes well with creamy dishes.
The tasting then moves towards a Pinot Gris with bold fruit flavours and then a 2015 Provence style Rosé before finishing on their 2016 Jack Shiraz that was bottled just 6 weeks ago and made with fruit from Megalong valley and Orange.
We grab blankets and sip our wine and nibble on the pulled roast beef, Parma ham, Italian salami with house made flatbread, lavosh, grissini and Milawa Blue, Warrnambool cheddar and d'Artegan cheese. Did I mention that I could live on cheese?
As the sun starts to recede we drive back to Blackheath somewhat with gritted teeth for me on the winding road. We do some supermarket shopping in Blackheath for tonight's dinner which involves soup and toasted cheese sandwiches (you can never have too much cheese apparently). We're delighted to find the fire still burning brightly. I've also learned one thing on this trip: the male ego can be fragile about fire so never criticise a man's fire. When the butler Andrew kindly offered to come over and show us how to create a roaring fire, Mr NQN and Garth looked appalled that we would even consider it!
Everyone else jumps in the hot tub for a dip as dark falls. I snuggle closer to the fireplace with Mochi before getting dinner ready. It's a green curry soup with toasted cheese sandwiches and wine. The evening then turns into a game of charades which is exhaustingly fun. My favourite part was Nina calling eye glasses "telescope eyes".
The next morning Nina and Garth get up early to go for a run while Mr NQN goes out to take photos of the stunning Autumn foliage. During the weekend day it is a very popular place to take photos and selfies so if you want some more nature inspired images you're best to go out early in the morning.
As for me, I stay inside, sleep in and snuggle with my little Mochi and make breakfast. I crack some eggs and add some milk to the pancake mix and then make some strawberry sauce for a stack of pancakes with yogurt and fresh and stewed berries.
I also make plates of garlic mushrooms, scrambled eggs and toast. After that it is time to check out. We pack the car and then I take one look at the fireplace before extinguising the flame.
So tell me Dear Reader, do you ever think you could live on cheese? And how good are you at tending to fires?
NQN and friends stayed as guests of Lavender Manor. See website below for packages that start at $225 per person. These can also be customised for the group.
Lavender Manor
117 Evans Lookout Rd, Blackheath NSW 2785
Phone: 0412 884 061
www.lavenderbluemountains.com/