Looking for somewhere to stop for lunch in the Blue Mountains? These three new places offer great food but different experiences. From the juice bar and healthy eating Meet Me At Matt's to a classic cafe brunch at Synonymous to an outdoor afternoon or morning tea at the Megalong Valley Tea Rooms there's something that will please everyone!
I don't know about you Dear reader, but if you're an entertainer or frequent host, you can't really relax until after Christmas and New Years is over. Once the clock struck midnight on New Year's Eve I turned to Mr NQN and said, "Shall we go to the mountains?" He nodded yes, a deep, serious look on his face and a few days later, we packed up Mochi and headed to the Blue Mountains.
I'm not sure why but we tend to end up at Blackheath. It's sort of near a lot of places and we found an interesting 50's style house to stay in. It spoke to Mr NQN's Finnish aesthetic and was pet friendly too.
Synonymous Cafe, Medlow Bath
But before we checked in we stopped at Medlow Bath, less than 10 minutes away between Katoomba and Blackheath. Lunch was at Synonymous Cafe, the newish sister to the tiny Anonymous Cafe in Blackheath.
Service is friendly and they're very busy. It is located opposite the Hydro Majestic Hotel. Outdoor tables and chairs are coming so Mochi patiently waits outside while we quickly order and eat.
Because it is literally the day after New Years Day some things aren't available like the cold drip coffee that Mr NQN wanted. But as we're famished we go for three things: toasties and a lamb pita wrap. And thankfully they have all day breakfasts.
The Crispy Cubano toastie is thick and large and comes with a side salad and cucumber bread and butter pickles. It is a meatlover's dream with leg ham, pulled pork, gruyere cheese and a paprika and lime mayonnaise. I would have loved a bit more cheese and pickles and it isn't exactly like a Cuban sandwich, more an adaption of it.
The Mr Green toastie is a vegetarian toastie with braised green, grain mustard and chive bechamel with kasundi and pickles. Whenever given the option of adding a fried egg on top or not we always take it. It always brightens up a plate and I like this although it needs more kasundi and pickles to boost the flavour.
The third option comes from the lunch menu and it's spiced lamb mince with tahini, harissa and fried egg with a side herb salad with pomegranate seeds. This is the prize really. The lamb, something strongly flavoured is tempered with the spices and the fresh salad. I plan on making something similar at home.
We make our way to our accommodation. We have few plans apart from napping, reading and playing with Mochi.
She soon finds her sweet spots and snoozes there until dinner time and alternates with playing with Mr NQN while I tap away at the computer in the main bedroom. Oops, I am my own worst enemy...
The next morning we awake and make cups of chai while we watch the rain fall outside. I spread some butter on the cornbread that I've brought up and Mr NQN goes for a bushwalk while I curl up in bed with Mochi and read one of the books plucked off the shelf: Barack Obama's Dream of My Father (he's a wonderful writer by the way!).
Meet Me At Matt's, Blackheath
By lunchtime the rain has stopped and we take a quick drive to Meet Me At Matt's a juice bar and casual eatery that has a devoted following. The best entrance is on Wentworth street (google maps will take you to Govett's Leap Road where there's a tiny entrance passageway). There is an outdoor covered area and some chairs outside that are pet friendly (we have to check out these things now with Mochi). You order and pay at the counter and they call out your order when it is ready.
I ordered a range of things from a Summer at Wentworth juice to a turmeric latte, soup, toastie and oatmeal. Being a juice bar there is a healthy bent to the food but thank goodness they're not mad enough to not have a toasted cheese sandwich on brioche (because life has to be worth living no? ;) ).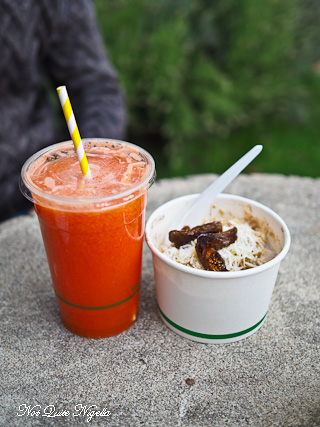 The juice is good-with a mix of orange, apple, pineapple, lemon, watermleon, lime and ginger although I mostly taste orange and pineapple in this.
The turmeric chai does remind me of a curry and that's mainly my fault for ordering it with coconut milk (mea culpa!). The little passionfruit cake is adorable and delicious.
The soup is a potato and kale soup and it's perfectly seasoned and a good size too. I like this and the toastie the best. The rice paper rolls are a bit too stark for me (vermicelli, cucumber and carrot) but I love the spiced porridge with plenty of shredded coconut. It's filling for the chilly mornings that beset Blackheath, even in summer.
That evening, I decide to cook something so we do a quick browse through the Leura shops and then buy some supplies to take back to the house. On the menu tonight are sweet potato nachos and a strawberry and sour cream baked custard pots.
Megalong Valley Tearooms, Megalong Valley
After a long sleep it's time to head off the next morning back to Sydney vowing to stay longer next time. On our way we stop off at a very popular tea room, the Megalong Valley Tearooms.
We have been here previously but we are told that there is a new chef here and the menu has changed. Although it is sprinkling with rain it hasn't deterred the crowds and we take the one remaining undercover table outside.
Tea and coffee are ordered along with a Trunkey Creek bacon and egg roll which comes with a warning on the menu ("not for the faint hearted"). It is indeed huge and served on a crispy bap roll. It's actually best split between two, one person gets half the roll and splits the egg and bacon of which there is plenty because it's just about impossible to fit in the mouth otherwise.
The bannoffee pie is served in a sundae format with slices of fresh banana, meringue, dulce de leche and cream. With this fortifying meal we make the drive back to Sydney already planning our return visit. A much longer one too.
So tell me Dear Reader, where do you go to when you need a break? And when did you feel your real holiday started this Christmas break? Which cafe would you pick out of the three?
All food and accommodation in this post were independently paid for.
Synonymous Cafe
1 Railway Parade, Medlow Bath NSW 2780
Monday: Closed
Tuesday to Friday: 7:00 am – 3:00 pm
Saturday & Sunday: 7:30 am – 3:00 pm
Public Holidays: Closed
www.anonymouscafeblackheath.com.au/synonymous/
Meet Me At Matt's
38/2 Govetts Leap Rd, Blackheath NSW 2785 (entrance best from Wentworth Street)
Phone: 0404 046 153
Closed Tuesdays
www.facebook.com/meetmeatmatts/
Megalong Valley Tearooms
Megalong Rd, Megalong Valley NSW 2785
Phone: (02) 4787 9181
www.megalongtearooms.com.au/