Some people have claimed that donuts are the next big thing after cupcakes, macarons and eclairs. Certainly there's a whole world to be explored with donut flavours. Toppings like these Japanese inspired creatures show that the only limit is with your imagination. Learn how to make these adorable cat, dog, panda, frog, bear and cow donuts in today's post!
I sometimes feel bad for people that have to interact with me because to some people I make no sense whatsoever. I mean sometimes people "get me" straight away and understand my sense of humour but sometimes, I come across people that look at me like I have two heads. To them I'm a Halloween loving mile a minute talking creature that swallows food whole and laughs at strange things. And they just can't with that.
One person that gets me is my trainer Nina. We spend so much time laughing and I spend the other half of the time dodging exercise that it's not so bad. One of both of our favourite television comedies at the moment is "Unbreakable Kimmy Schmidt". It's so funny and quirky and I gobbled up the episodes like it was a packet of my favourite chips (not sponsored, just obsessed!). It has a theme song that I absolutely love so much that I want it for my ring tone. Here it is Dear Reader, and a warning, it's a bit weird, but once you watch the show, it all makes sense...
Nina and I have even incorporated the theme song into my workout. Whenever I have to pick up the 9 kilo medicine ball, Nina has to yell out, "It's a miracle!!" complete with rainbow hand gestures and when I finish a circuit, she has to yell out, "Females are STRONG AS HELL!". I know, I don't know I talk her into doing these things...
Because it was my birthday on Friday Nina is also making me a cake. When she asked me what kind of cake I wanted I told her that I really wanted a pug dog cake because I adore pug dogs but can't have one because I am really allergic to them so a cake is the next best thing. Come this afternoon today she may or may not have one for me (although I was amazed that her turtle cake from last year turned out so well). I promise I'll keep you posted ;)
If you hadn't noticed, I'm also a bit obsessed with cute animal things and nowhere are cute things more prominent than in Japan. I follow a friend @zeboy on Instagram and saw that he put up these adorable cat donuts from Japan. Short of hopping on a plane I decided that I might even try making these myself!
So the next day (can you tell I have an obsessive personality because I couldn't stop thinking about them), I baked some milk and honey donuts and then googled all the other animals that you can get. Of course their donuts are much prettier than mine. Mine are like the discount store version, sort of okay if you don't look too closely. Let's just call these "home made". But these donuts are actually a really clever idea - the ears are made out of almonds and pistachios and you can make so many animal types. Who knew donuts were that versatile?
They're then dipped in white chocolate and then you just paint the face on them. I made a cat and a dog then I branched out to make frogs, cows, pandas and a bear! They are a little messy (the dipping part) but hopefully the cute factor will override any sticky fingers!
So tell me Dear Reader, what do you think is the next big thing? And if you had to choose a favourite, would it be a cupcake, macaron, eclair or donut? And which animal do you like the best?
And in case you want to see how to make these in action (including a blooper, oh the mess!) then take a peek above! Feel free to like, comment, share or subscribe! xxx
DID YOU MAKE THIS RECIPE? Share your creations by tagging @notquitenigella on Instagram with the hashtag #notquitenigella
Animal Donuts
For Milk & Honey Donuts
Non stick oil spray
1.5 cups self raising flour
1/2 cup caster sugar
1 cup milk
1/2 cup honey
1 egg
125g/4ozs. butter, melted
Pinch of salt
For decoration
300g/10.6ozs white chocolate
30g/1oz dark chocolate
Almonds for the ears for the cats and eyes for the frogs
Pistachio for the cow ears
Green and pink fat soluble food colouring
Red hearts
Step 1 - Preheat oven to 180C/350F and spray the cavities of a donut tray well. In a bowl whisk the flour, sugar and salt well. In a jug measure the milk, honey, egg and melted butter until mixed well together. Make a well in the centre of the dry ingredients and add the wet mix and stir until mixed and there are no lumps. Pour back into the jug and pour into the cavities. I could make 18 donuts with this mix. Bake for 18 minutes and cool.
*Step 2 - *Melt the white chocolate. Have a tray lined with parchment ready to place the donuts.
To make cats: with a paring knife, cut little holes into the tops of the donuts and dip the almonds into the white chocolate and then stick the almonds pointy side up. Dip very briefly into the chocolate and then roll the donut around the sides (or do whatever method you prefer but it can get messy). Place the two hearts to the side of the face to form a "bow".
Draw eyes, a nose and whiskers!
Dip face down into the white chocolate (i.e. a donut face plant ;))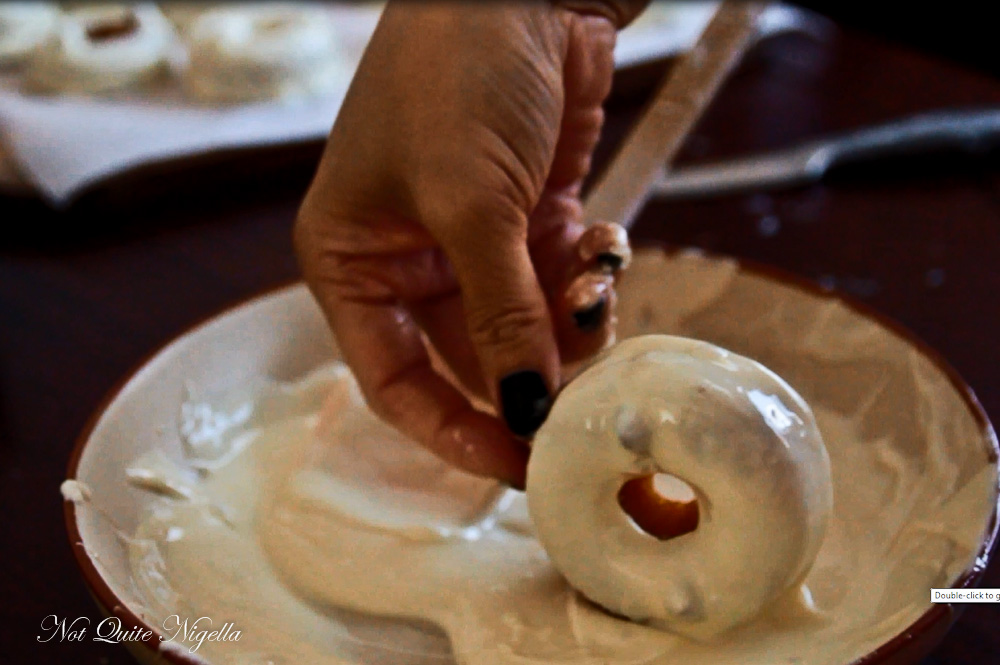 Roll the sides in the white chocolate. You want the sides covered well.
Allow the extra chocolate to drip off (in your mouth if you wish, I'm not judging)
To make dogs: just dip the donuts into the white chocolate and roll in the sides.
Inserting the pistachios for the cow
To make the cows: slice four little spaces in the top of the donuts with a paring knife. Dip the pistachios into the white chocolate and slip in the pistachios into the holes. Allow to set briefly and then dip the donut top down into the white chocolate and roll the sides to get a smooth surface.
To make the pandas: Cut holes like the ones above but this time, use the rounded end of the almond facing up. Again dip and roll the donuts.
To make the frogs: do the same as above but dye a portion of the white chocolate green and use this.