There's a little spray painted sign that tells us to turn right to find the Muddler's Club. Our first meal in Belfast is a cracker and the Michelin starred Muddler's Club restaurant is located down a laneway (past some construction at the time). I whisper to Mr NQN, "Are we going to be mugged?".
A black and white mural (one of Belfast's many) shows a child sticking its tongue out defiantly and we swing open the door to the anteroom.
A skull with a motorcycle helmet sits on the bar. The staff greet us with warmth that is the polar opposite of the 3°C chill outside. Chef Gareth McCaughey is at the pass. We take a seat by the window and there is a choice between a 4 or a 6 course tasting "surprise" menu.
There's no menu, this is furnished at the end. Our waitress is lovely and recommends some excellent wine for us (a Rioja white wine and a red Beaujolais).
Goats cheese cake w truffle Apple chicken parfait walnut tart fine
First to come out are the snacks. There's a sphere of goats cheese cake with a slice of the most fragrant truffle. I inhale deeply and close my eyes and then pop the whole thing in my mouth. Then there is the thin tart fine pastry topped with piped apple and chicken parfait and walnuts.
This is my first time to Northern Ireland or Ireland but having known a lot of Irish people in Australia I am surprised to have some trouble understanding the accent. Our waiter quickly reels off the course and after getting him to repeat it three times I give up because it's getting embarrassing for both of us (ok mostly me). But the next time he comes back he is so kind as to speak much slower which we greatly appreciate.
Onion tart with jamon Iberico
So I didn't quite get the full name of the cheese in this item but I will say that it is utterly divine. It's a paper thin tart-so thin you could probably almost read through the pastry, topped with sweet and tangy onions, a leaf of jamon iberico and cheese foam. I'd happily eat another dozen of these.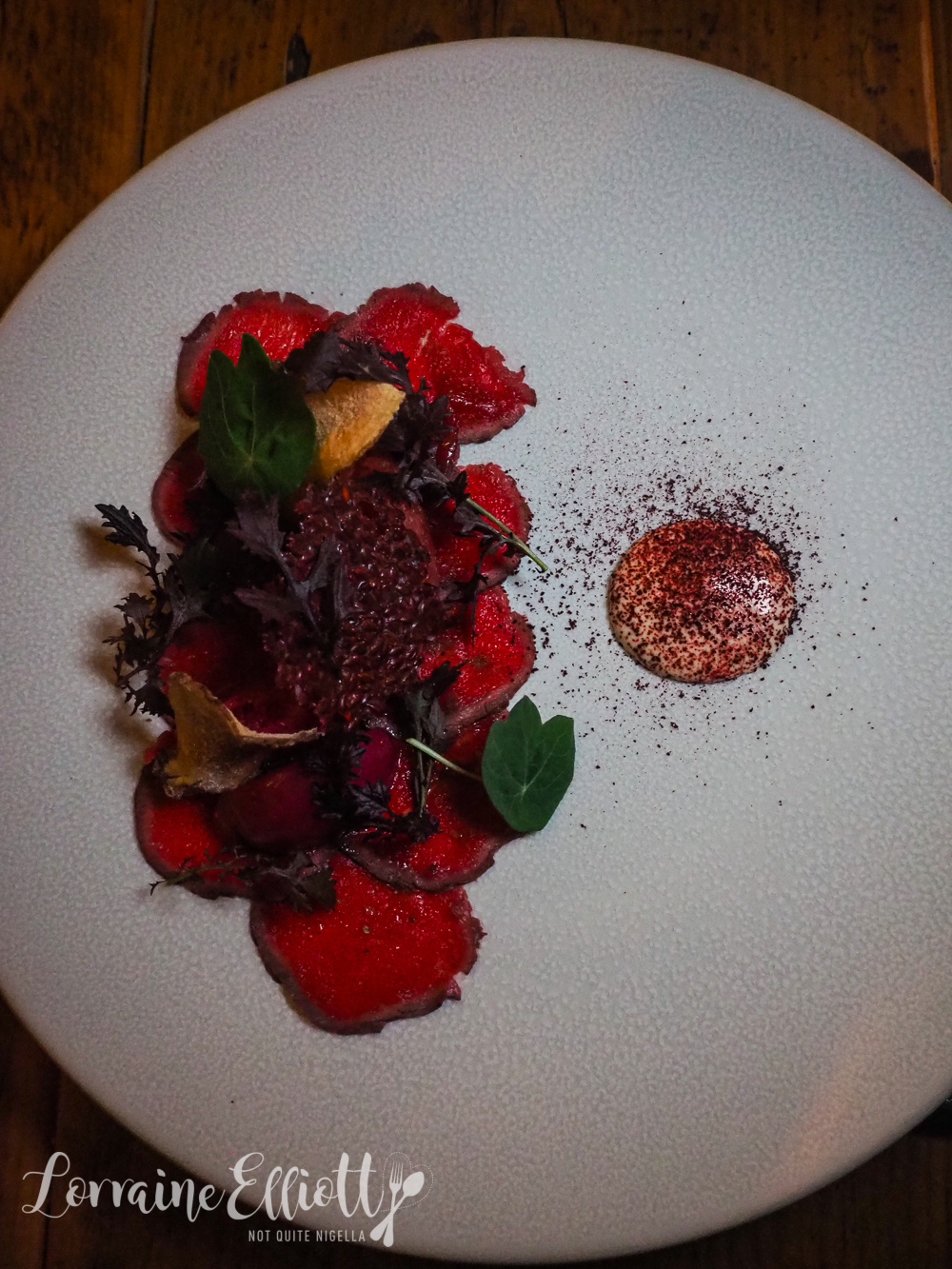 Carpaccio of venison
The next course is a carpaccio of venison. This is paired with baby beetroot, Jerusalem artichoke puree topped with beetroot powder and crisp artichoke with a touch of gingerbread spices and a linseed cracker. It has a lovely contrast of textures to it and I love the earthiness of the dish from the venison to the beetroot and artichoke.
Hand dived scallops
Scallops in the UK have been so good and these are exceptional as they taste like they're been seasoned with some sort of magical umami powder. The two enormous hand dived scallops are paired with an intense prawn bisque, black trompette mushrooms, cauliflower puree and a thin slice of pickled cauliflower. I had intended to give Mr NQN half of this as I was getting full but I eat every morsel going in afterwards with the bread for that gorgeous prawn bisque sauce.
Salt aged chateaubriand
The last savoury course is a divine salt aged chateaubriand that melts in the mouth. It is paired with a chestnut and bone marrow jus that tastes almost like a hoi sin bean sauce and the daintiest selection of vegetables from radish to "Crosne" a tiny Japanese artichoke. I love the range of vegetables with the steak as I always feel there isn't enough interesting veg with meat and I enjoy the different treatments of each.
Plum white chocolate coconut plum crisp almonds
Usually I hand over my pre-dessert after a bite to Mr NQN who loves fruity ices but I'm not handing this over at all. It's a slice of plum with plum cracker with white chocolate, coconut and almonds. I adore this combination of flavours and the plum balances the sweet white chocolate well.
Tiramisu
Dessert is their version of tiramisu. There's a sponge base, almond biscuit pieces and an orange espresso filling with slices of candied orange with the most divine dark chocolate shell.
We are advised to crack it open with a spoon. Despite how much I've eaten I polish this off and marvel at how much it tastes like tiramisu yet isn't at all!
And this is how Mr NQN smacked his dessert-with much less force than me ha!
So tell me Dear Reader, have you ever been to Belfast or Northern Ireland before? Do you finish everything on your plate when you eat out?
NQN and Mr NQN were a guest of Tourism Northern Ireland and Tourism Ireland but all opinions remain her own.
The Muddler's Club
1 Warehouse Ln, Belfast BT1 2DX, United Kingdom
Tuesday to Saturday 12–2:30pm, 5:30–10pm
Sunday & Monday closed
themuddlersclubbelfast.com Phone: +44 28 9031 3199