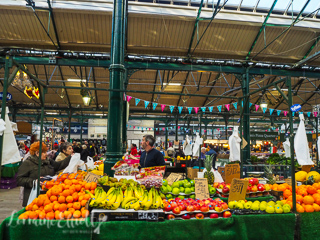 A food tour a simple but interesting way to get to know the pulse of a city-through its food! We go on a half day food tour with Taste and Tour Belfast where we will walk and graze at the city's best food.
The Taste and Tour Belfast tour starts at St George Market that has been operating at this site since 1600. In the 1800's it became an indoor venue and was at one time used as a morgue during the Belfast Blitz. It is now open for three days a week.
Each day is slightly different. Our guide Sinead tells us that on Fridays the more traditional traders offer up linens (Belfast was known as Lineopolis due to the linen trade) and traditional foods. Weekends are more for crafts and musicians and it's a popular place for tourists on Sundays as most places in the city don't open until 1pm.
There's plenty of food during this tour so a warning: come hungry. We spend the first hour of the four hour tour at St George market tasting our way around. Sinead hands us a cup of apple cider vinegar drink which is refreshing and sweet. Nomad Kitchen's owner Orla specialises in quick pickles and healthy but tasty food.
We get a couple of wraps to try. She uses fermented ingredients and fresh ingredients with plenty of avocado, labne and ethically sourced meats. The avocado and bacon wrap is absolutely delicious as are the broken eggs and goes to show that fresh is tasty.
Our next stop is for a cup of tea at Suki tea, one of Belfast's biggest tea brands that started only 14 years ago. The Irish are reportedly the second biggest consumers per head of tea. The market has a small representation of their range and I try a Belfast blend a black assam tea while Mr NQN gets a coffee from S.D. Bell & Co. coffee. He has a cup of their special Columbium blend which he likes very much indeed.
"This has been voted the best bakery" says Sinead and hands us a taster plate of spongy potato bread, treacle bread and an absolutely delightful beef and onion sausage roll flavoured with spices from Ann's Bakery.
"Dulse is like our Marmite and it's also a great hangover cure," says Sinead handing us a bag of dulse purple seaweed. Fishmonger Alan sun dries his dulse seaweed and I slip a little in my mouth. It's profoundly savoury and the first thing I think of is how umami it is.
I can imagine using it in lots of different dishes (although it's a matter whether Australian customs let me bring it in-ETA it was fine!). It is also a superfood and people believe in its medicinal properties. It is harvested along the coastline with great lengths of it washing up on the beach.
Our last stop at the markets is to try dips, olives and hot sauce at Tomato and Olive. Most of their products are exported to America. They've got a Belfast hot sauce which is a mild hot sauce but for chilli extremists try the "Pain in the hole" hot sauce with Carolina Reapers and Ghost Chilli Peppers.
"Do you know the connection between milk chocolate and Northern Ireland?" asks Sinead as we head to our next stop CoCouture chocolates on Chicester Street in Belfast's town centre. The chill has set in in a very short walk so a hot chocolate is very much welcomed.
It turns out that Sir Hans Sloane hailed from Killyleagh, a village about an hour from Belfast. He wasn't a huge fan of bittersweet chocolate as it made him ill so he added some milk to his hot chocolate and invented milk chocolate. Every two years the town celebrates him with a chocolate festival.
CoCouture chocolates started 10 years ago by Deidre McCanny and she is one of the top 40 chocolatiers in the world. They bring us a piping hot hot chocolate with marshmallows on the side and a brownie taster. The chocolate used is Chocolat Madagascar a fair trade 60% chocolate from Madagascar and it is gorgeously warming.
It's a short stroll to our next stop right in the middle of the city centre. Sun shines on the buildings and we arrive at a very busy store in Fountain Centre. In 1897 the Sawer brothers started the city deli which has a cornucopia of foodie treasures from every corner of the globe.
We are trying some Irish wheaten bread spread with butter and topped with Irish smoked salmon. Owner Keiran is a gregarious soul showing us the super hot sauce that they keep under lock and key as well as their caviar selection and Irish chocolates.
Our next stop is in vibrant Church Lane at Muriel's. We are actually eating a burger from Pablo's here as the two establishments are related. The story goes that Muriel was a milliner by day and a lady of the night in the evening and the lacy underwear hanging are a tribute to her.
We are having the 128482 burger which is made with a Hannan's Salt-Aged Glenarm Shorthorn beef patty, gin mayonnaise, salad and cheese. This burger is named after Pablo Escobar's mugshot number (Pablo's is named after him). I prefer my meat more medium rare and my cheese a bit more melted but the gin cocktail is delicious and is made with Jawbox gin, brown sugar, mint and ginger beer.
Jawbox is a small batch Belfast gin. A Jawbox is also known as a Belfast sink located near the kitchen window enabling peoploe in neighbouring houses to talk and socialise.
We have two stops left in the four hour food tour but on our way we pop our heads into the "Friend at Hand" Irish whisky shop with its museum upstairs. If you're looking for a rare drop or some whisky advice or knowledge, you will want to stop here.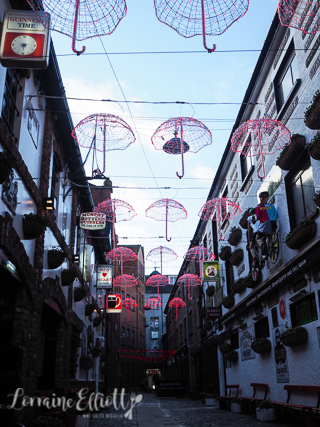 This is located next to Belfast's most photographed street Commercial Court located outside the Duke of York pub. When Northern Irish band Snow Patrol are in town to play, they can be found playing for pints here as they used to before they hit it big.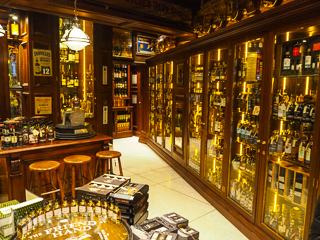 For our main, main meal stop at Coppi, a rustic Italian eatery named after the Italian Cyclist Fausto Coppi. They bring us glasses of Prosecco and our pasta.
Duck Ragu
The duck ragu sits atop a layer of porcini mushroom ravioli, red wine, truffle and parmesan. It's one of the dishes that they tried to take off the menu but customers started a protest about it.
Smoked Chicken Ravolini
We also try the smoked chicken ravolini which is paired with pancetta, leek & parmesan with two slices of smoked chicken on top.
Venetian style pizza
I think out of everything I liked the pizza the best. It's a 6 inch Venetian style pizza with Portavogie prawn, roquito pepper, basil & peperoncino aioli and a lovely crispy crust.
Our last stop is Mike's Fancy Cheese on Little Donegall St for some beer, cheese and charcuterie. Mike was a city boy who grew up 10 minutes away from the shop but began his cheese making venture 5-6 years ago as he wanted to develop the local cheese industry. The business was started using crowd funding and all of the cheese are aged for four months.
The last tastes of this tour are his Young Buck, a raw creamy blue cheese with some Ispini Irish charcuterie with a fennel and pork sausage, coppa and a beerstick made with chilli and black garlic as well as bread from another artisan The Grateful Bread.
So tell me Dear Reader, whenever you visit a new city, do you do a food tour? Have you ever tried dulse seaweed?
NQN and Mr NQN were a guest of Tourism Northern Ireland and Tourism Ireland but all opinions remain her own.
Taste and Tour NI
A1.01 Portview Trade Centre, 310 Newtownards Road, Belfast BT4 1HE, United Kingdom
Phone: +44 28 9045 7723
https://tasteandtour.co.uk/