Arancini rice balls are one of the wonders of Italian cuisine. Shaped like a ball or a cone these crunchy crumbed arancini are filled with a wonderful bolognese ragu with peas and mozzarella. These are a pushy recipe Dear Reader!
I've always wanted to make arancini but I was intimidated by a teenage attempt and failure. How does the rice stay together after rolling? Why did the arancini fall apart while frying. I'm glad to report that with these helpful arancini making tips you'll turn out PERFECT arancini every time. And not just the small balls, but larger conical arancini.
For me arancini is like lasagna, something for a special occasion or to feed guests because it is a bit laborious but so worth it. Also arancini are best made in a larger number because once you start it. Budget on 1 arancini per guest for a starter platter at lunch or dinner.
Arancini are said to have been created in 10th century Sicily although its exact details are unclear. Nowadays they are a street food, perfect for snacking in sizes from the small ball to the larger conical arancini. There's something about the generous size of the conical ones that makes me gravitate towards it. The word arancia comes from the word orange as the round arancini resemble oranges. Arancini is the plural while arancino is the singular. In Catania and Eastern Sicily, arancini are larger in size and conical or pear shaped but on the North coast around Palermo they are round.
There is also a tool to help you shape them into the conical shape called an Arancinotto but honestly this isn't needed (and the rice must be cold when using one). I found I liked shaping them into the conical shape the best and it wasn't too challenging provided you follow the tips below.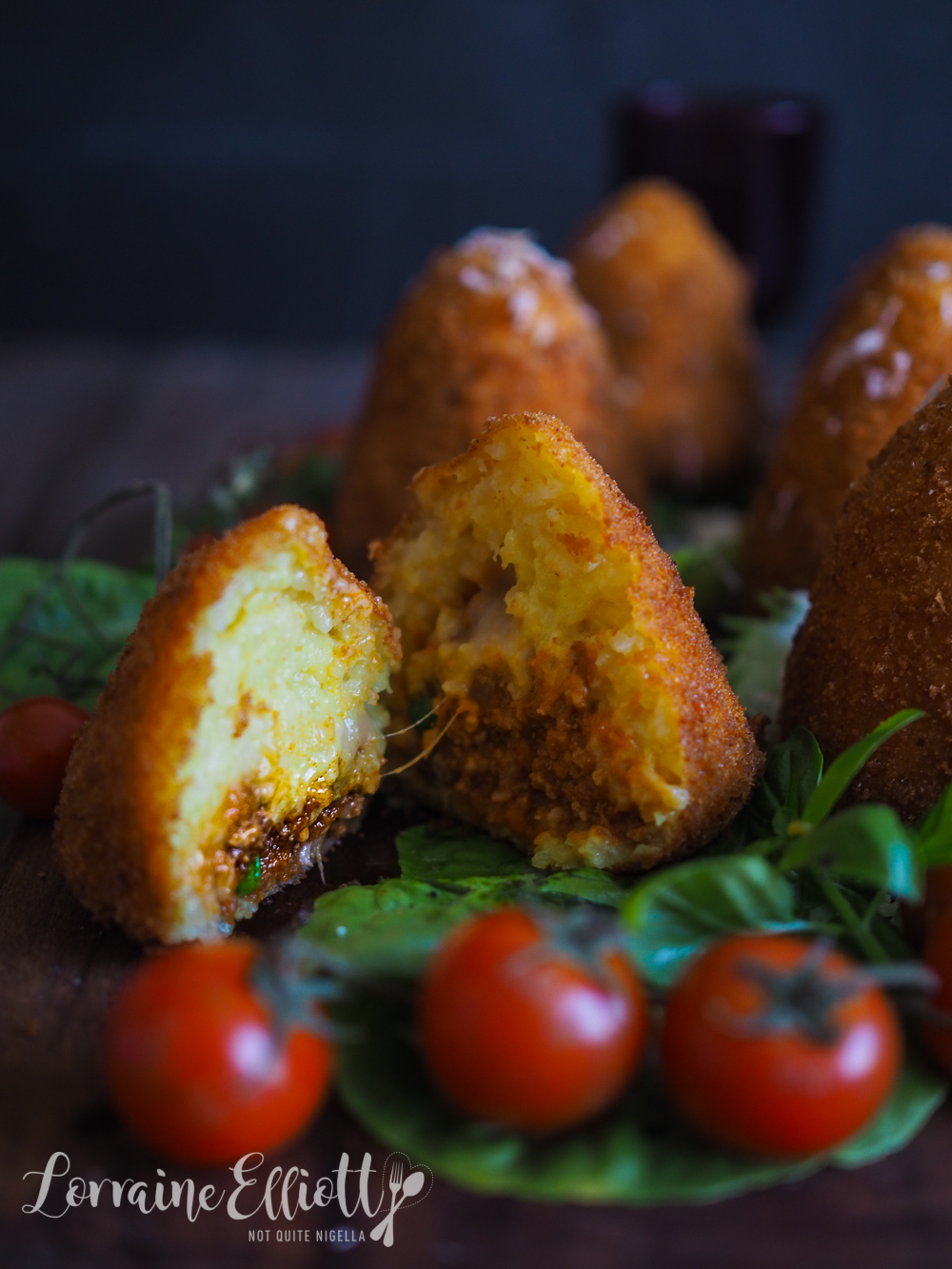 Carm Ruggeri from Sicilian Food Tours quips, "There are 5,000 different ways to make arancini." Prior to 2020, she would bring groups of people to her native Sicily and now she holds classes on how to make arancini and pasta. "It's all about the crust. You want crunch and a thick crust," she says definitively.
Arancini is a dish devised from leftovers. "It's all your leftovers with rice and meat and we're trying to make it as go as far as it's a poor man's food," she says. She says that while there are a couple of saffron farms in the Mount Etna region, nowadays saffron is rarely used in arancini and more seen in Roman suppli.
Carm also explains that in Messina on the north east of the island they use egg yolk at the end of the cooking the rice to stick it together. "Mix it fast to avoid scrambled eggs," she advises. You also don't need to wait for this to go cold as you mould it once the rice is cool enough to touch.
Once the arancini are formed you then roll them in flour, then a pastella or flour and water batter before the final breadcrumbing and frying. Carm has also used egg whites beaten to soft peaks poured over the arancini instead of pastella and then rolls them in the breadcrumbs. "Pastella I find is the best way," she says.
Tips for making perfect arancini
1 - Some start arancini on the day (see above) but I start arancini the night before. I make the risotto and the bolognese ragu then and then just shape and fry on the day.
2 - Always use the correct rice. This will only work with an arborio rice that you would use for risotto as it is a stickier rice.
3 - Do not rinse the rice so that the starches remain on the grains which will help to thicken up the risotto.
4 - Saffron gives the rice a beautiful golden hue as well as a lovely flavour. This is more a traditional touch and not used so much today.
5 - The rice must be cold to shape easily.
6 - Always have damp hands when you're shaping your arancini. This prevents the rice from sticking to your hand. I have a large bowl of water ready to "rinse" my hands in when they are getting too sticky with rice.
7 - Refrigerate your arancini for 4 hours before dipping in the batter and breadcrumbs. This sets it so that it becomes firmer and won't fall apart. Some also place their arancini in the freezer for 2 hours before frying although I didn't try this (and you may have to increase your frying time).
8 - It is not traditional but you can use panko breadcrumbs which are crunchier than normal breadcrumbs. You will have to blitz them up finely first.
9 - The traditional filling for conical arancini is bolognese sauce and round arancini are usually filled with spinach and ricotta or mushroom and cheese. Carm says that round arancini usually contain the vegetarian filling.
10 - You can reheat arancini in the oven just before serving. Bake at 190C/374F for 10-15 minutes.
"Don't forget that recently there was a war on it in Sicily. We were divided. The people from Catania call it feminine arancina. They believe it's female like mamma Etna because of its form so it should end in an A. The people from Palermo call it arancino. No one really won," she adds laughing.
So tell me Dear Reader, have you ever made arancini? Do you have a favourite filling for it?
DID YOU MAKE THIS RECIPE? Share your creations by tagging @notquitenigella on Instagram with the hashtag #notquitenigella
Arancini
Rated 5.0 out of 5 by 7 readers
An Original Recipe by Lorraine Elliott
Preparation time: 60 minutes plus cooling time (3 hours or overnight plus 4 hours in fridge)
Cooking time: 90 minutes
Makes 10 large arancini
For the risotto:
2 litres/0.4 gallon hot chicken stock
Pinch of saffron strands
1 onion, finely diced
50g/1.7ozs. butter
2 tablespoons olive oil
500g/1.1lbs arborio rice
250ml/8.8flozs white wine
100g/3.5ozs. parmesan cheese
For the ragu:
2 tablespoons olive oil
1 onion, finely diced
1 carrot, finely diced
1 stick celery, finely diced
3 cloves garlic
250g/8.8ozs pork and veal mince
2 bay leaves
1/2 cup/125ml/4flozs. white wine
300ml/10.6flozs. spicy pasta sauce
2 tablespoons tomato paste
1 beef stock cube
1 cup/150g/5ozs. peas
Salt, pepper and sugar for seasoning
50g/1.7ozs. mozzarella cheese
1 cup/132g/4.7ozs. flour
200ml/7flozs. water
100g/3.5ozs flour
3 cups/360g/12.7ozs. panko breadcrumbs
2 litres/0.4 gallon oil
Step 1 - Make the risotto first as it needs to cool completely. Soak the saffron in the stock for 10 minutes. Fry the onion in the butter on medium to low heat in a large saucepan and then add the rice and coat in the butter adding oil. Mix the stock and white wine together and pour a little into the rice and allow to absorb. Keep stirring and adding more stock slowly until the rice has absorbed it all. Stir in parmesan cheese and taste for seasoning.
Thermomix directions: Soak the saffron in the stock for 10 minutes. Chop onions at speed 5 for 5 seconds. Add butter and cook for 5 minutes at 100C on speed 0.5. Add stock, wine and rice and cook at 100C for 20 minutes speed 0.5 MC out. Then stir for 5 minutes at speed 1.
Step 2 - Spread out onto a tray and cool. Then cool in the fridge for 3 hours or overnight.
Step 3 - To make the ragu heat the oil in a frypan and add the onion, carrot and celery and cook on medium heat for 5 minutes or until softened and fragrant. Add garlic and cook for 1 minute. Then add the mince and brown. Then add bay leaves, wine, pasta sauce, tomato paste and beef stock cube and simmer for 30 minutes or until the mince is soft and most of the liquid has absorbed. Add peas and warm through. Taste for seasoning.
Thermomix: Chop carrot, celery, onion and garlic on speed #5 for 8 seconds. Add oil and cook for 10 minutes speed 1, varoma. Add the mince, bay leaves, wine, pasta sauce, tomato paste and beef stock cube and cook for 30 minutes, 100C speed 1. Add peas and warm through for 3 minutes, 100C speed 1. Taste for seasoning.
Step 4 - Please note that the arancini need to sit in the fridge for 4 hours before frying. Have a large bowl of water ready to dip your hands in. Have the ragu ready as well as the mozzarella. Line 2 trays with parchment and make room in your fridge for these.
Step 5 - Grab a ball of rice-a tennis ball's size is perfect and shape into a ball. Then using your thumb and fingers hollow out a cavity-this gets better with practice and you will get the "walls" thinner with practice. Add some mozzarella and ragu and then put the ball down and shape another ball and flatten it and place it on the end as a "plug". Seal up the arancini so that the ragu and cheese aren't exposed. If there are gaps take a few grains of rice and plug the gaps. Then shape into a cone. I use my hands as shown below. Place on the tray and repeat with the remainder. Refrigerate for minimum 4 hours.
Step 6 - When you're ready to fry them finely process the breadcrumbs in a food processor or Thermomix (10 seconds speed 9). Place flour in a shallow bowl. Then in another bowl whisk the water and flour together to form a pastella batter. Heat the oil in a large pot or deep fryer and then roll each arancini in the plain flour, then the pastella and then the breadcrumbs. Fry for 8 minutes until golden on the outside and make sure to turn it. Serve immediately so that the cheese is nice and melty.