Lasagna alla Vodka is a combination of a much loved lasagna and pasta alla vodka, a delicious vodka and cream based sauce. It's distinctive orange hued sauce and peppery flavour comes from the addition of these two ingredients and has to be tasted to be believed! This is a pushy recipe Dear Reader!
Pasta alla vodka is an Italian American invention. It's usually associated with penne pasta and involves adding some vodka and cream to a tomato based sauce. The vodka is cooked off but what remains is a remarkable peppery finish to the moreish creamy tomato sauce.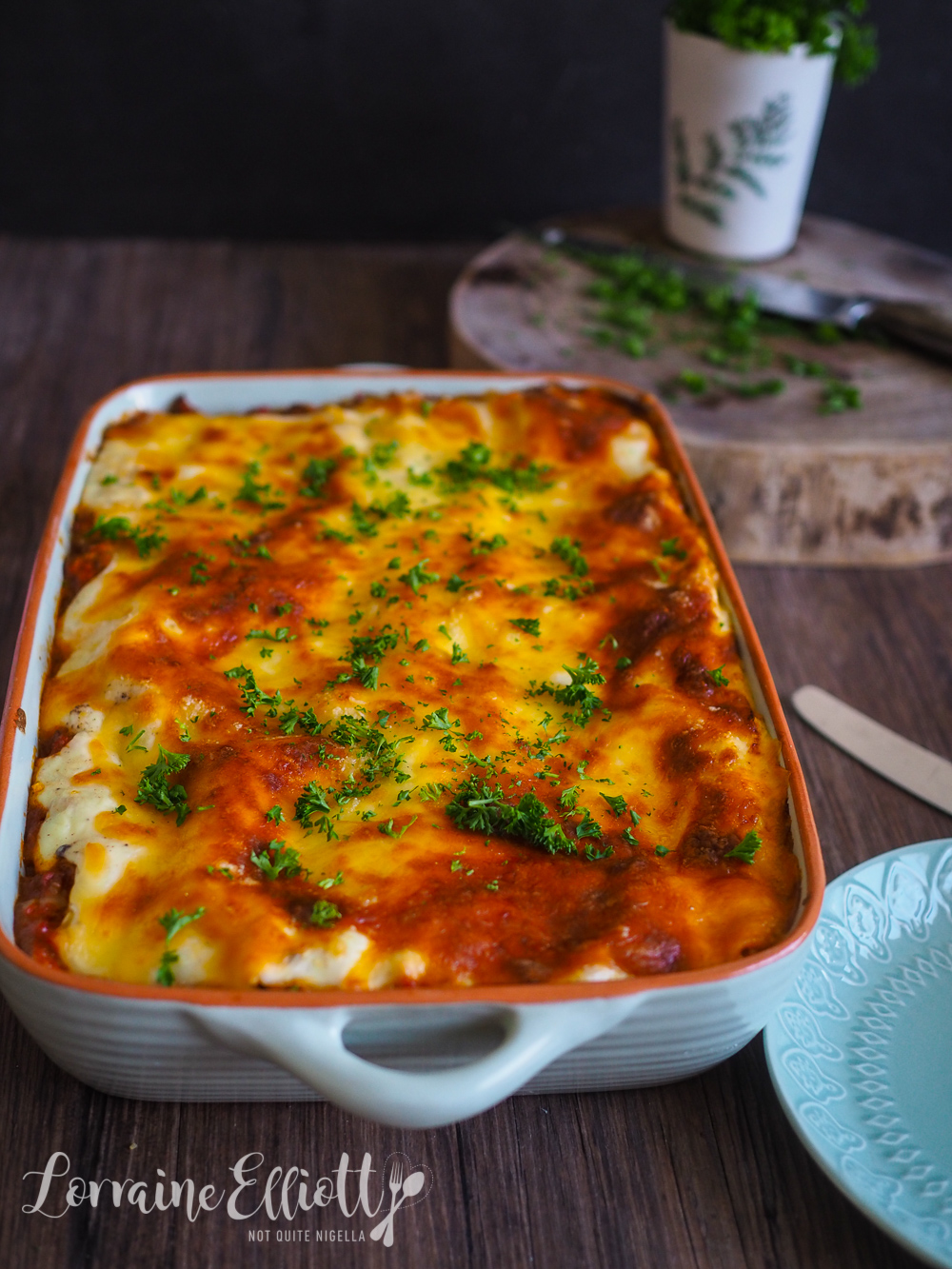 Lasagne or Lasagna? Lasagne is the plural form while lasagna is the singular form.
I made this as a riff on my best ever lasagna. The secret to this lasagna is that I make the mince flavoured like Italian sausage but using my own minced meat. Reader Cath C said, "I made this today and found it a real pleasure to make. It was the best lasagne I've ever cooked. As a rule, I hate making lasagne but my family love eating it, they are ecstatic that I found a recipe I enjoy making and it actually looks like lasagne and tastes soooo delicious. Thanks Lorraine!"
Lasagna is a bit of a production but you can make the saucy mince ahead of time and then just make the bechamel and put it together on the day you want to cook it. I don't recommend making the bechamel ahead of time because it gets quite thick once cooled but you can if you don't have time.
How to make an easy to cut lasagne: Cook your lasagna ahead of time and then chill it and then it will become easier to cut as the layers firm up in the fridge even after you heat it up.
Other types of lasagne? You can perhaps tell that I love lasagna by the many versions I've made over the years. There's Crab & Leek Lasagna, Cake Tin Lasagna, Smokey and sweet bacon lasagna, Open Lasagna with Rabbit Ragu, Kale Lasagna, Polenta Lasagna, Mushroom Lasagna, Chicken and Vegetable Lasagna, Beef Cheek Lasagna with Scalloped Cheesy Potato Crust and Deconstructed Lasagna. I'd be remiss if I didn't include the best ever lasagna recipe too.
Mr NQN declared it his favourite ever lasagna and I make a lot of lasagna because a) I love it so much and b) it lasts for a few days and all you need is a simple salad to go with it.
Another one that was obsessed with this lasagna was Mr Teddy Elliott. It drove him crazy for some reason and he would whimper and stalk us both every time we ate it. Now that he's officially a teenager we were warned to expect some attitude from him much like a human teenager. That is moodiness and refusal to follow instructions. The funny thing is, he hasn't changed much at all but he has always been a bit cheeky and done his own thing. If he wasn't so comical and sweetly endearing we'd probably call him a bit of a ratbag.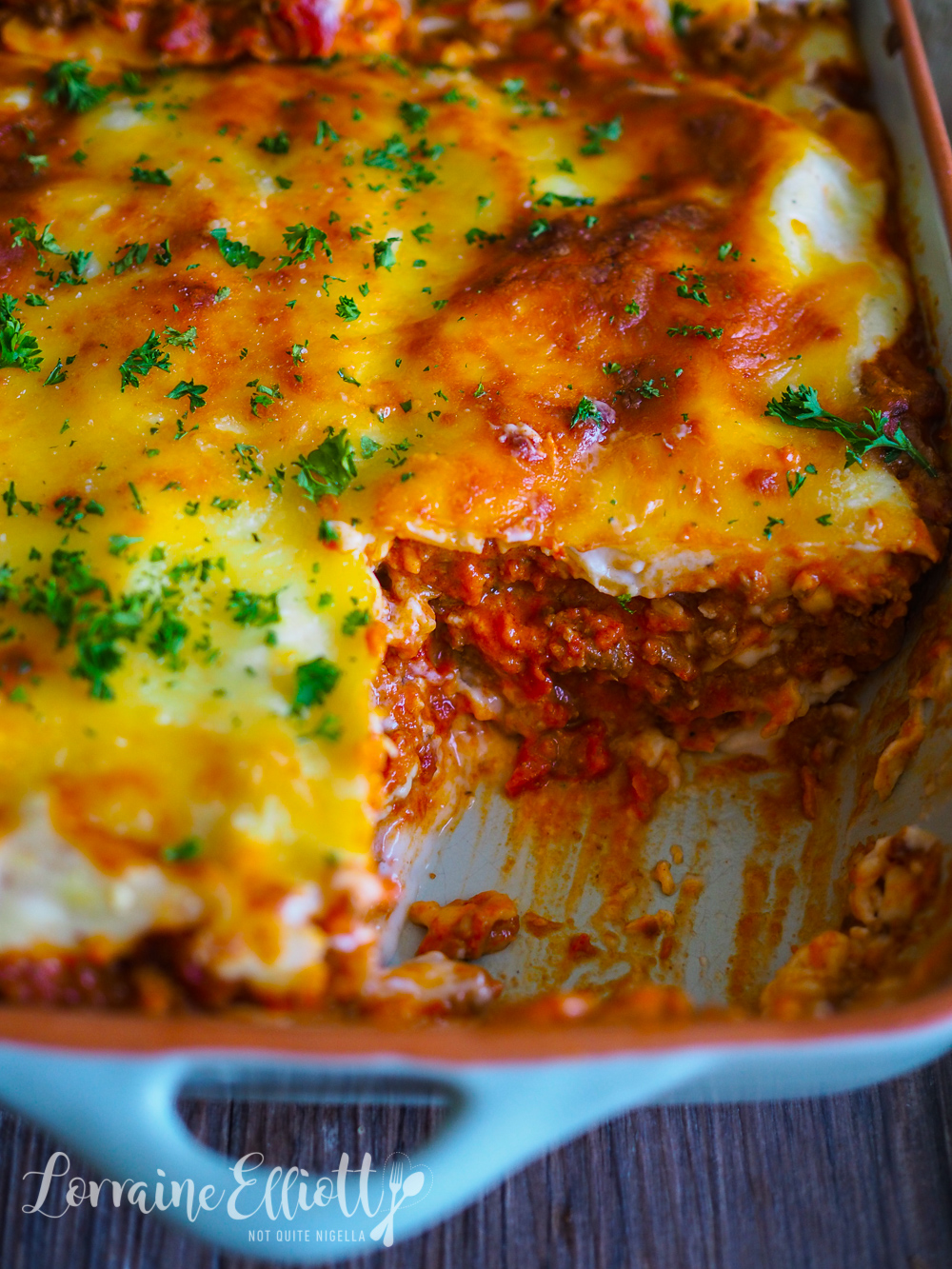 A few weeks ago Mr NQN took Teddy to the park on a weekend. It was a sunny winter's day so there were plenty of people picnicking near the off leash dog area. One group of four had a dog with them and Teddy said hello to the other dog. Then within a flash he stole the other dog's bag of snacks and ran away like a flash of lightning! There's no way anyone can catch Teddy when he has a bag of snacks and I'm convinced that he is part greyhound as he runs rings around other dogs. Luckily the picnickers saw the humour in it and didn't get upset. The moral of the story as far as Teddy was concerned? I wouldn't have done it if you'd just given me some lasagna mummy!!
So tell me Dear Reader, do you like lasagna? Do you make a classic one or a variation? Do you like pasta alla vodka?
DID YOU MAKE THIS RECIPE? Share your creations by tagging @notquitenigella on Instagram with the hashtag #notquitenigella
Lasagna Alla Vodka
Rated 5.0 out of 5 by 4 readers
An Original Recipe by Lorraine Elliott
Preparation time: 30 minutes
Cooking time: 1 hour 20 minutes
Serves: 8
For sauce:
1kg/2.2lbs ground pork and veal/beef mince
3 teaspoons fennel seeds
2 teaspoons salt
2 teaspoons garlic powder
2 teaspoons smoked paprika
2 teaspoons dried oregano
2 teaspoons cayenne pepper
2 teaspoon ground coriander seeds
1 teaspoon black pepper
3 tablespoons oil
3 onions, peeled and finely diced
4 cloves garlic, peeled and finely diced
3x400ml/14oz jars diced tomatoes
250ml/8.8flozs. vodka
250ml/8.8flozs. cream
350g/12.3ozs. lasagne sheets*
1 cup/100g/3.5ozs grated mozzarella cheese
1/2 cup/50g/1.7ozs. grated parmesan cheese
Bechamel Sauce
100g/3.5ozs. butter
100g/3.5ozs flour
4 cups/1litre/34flozs. milk, heated
1.5 teaspoons salt
1/2 teaspoon ground nutmeg
I realise that lasagne sheets in Australia usually come in 250g boxes and that 350g is an irritating amount because you need to buy two boxes but I just love that extra layer of pasta. You can of course just use a 250g box and have less layers.
Step 1 - First make the meat vodka sauce (you can do this 1-2 days ahead of time and just keep it in the fridge). Mix the fennel seeds, salt, garlic powder, paprika, oregano, cayenne, coriander seeds and black pepper with the mince and distribute well.
After simmering for 30 minutes
Step 2 - Heat the oil in a large cast iron pot and fry the onions until soft. Add the garlic and fry for a minute and then add the mince breaking it up. Cook the mince halfway and then add the jars of tomato and vodka. Simmer for 30 minutes. The alcohol should disappear leaving behind a lovely peppery flavour. Add the cream at the end and stir and cook for 5 minutes.
Step 3 - Make the bechamel sauce: Add the butter to a small saucepan and melt. Add the flour and cook the flour in the butter for a minute. Add the milk gradually and stir until smooth. Add salt and nutmeg. OR place it in the Thermomix and cook for 10 minutes at 90C at speed 4. Soak the lasagna sheets in water for 5 minutes.
Step 4 - Oil a large baking or lasagna tray (mine was 33x24cms/13.2x9.6inches) and spread out one layer of pasta sauce, then pasta, bechamel and keep layering with each component. I like to finish on a layer of pasta then bechamel which melds together with the mozzarella and parmesan cheese well (and there's less of a chance of the topping sliding off).
Step 5 - Bake at 180C/350F for 30-35 minutes or until the top is golden.